With the price of gold surging $55, below is a look at who predicted $15,000 gold, $370 silver and $300 oil. Plus a fascinating email regarding inflation, and Japan's road to hyperinflation.
3,300% Price Increase For Beef
October 13 (King World News) – Email from KWN reader George C:  Check this out… 2 charts below.
$1.90 in 1935 for beef equates to $62.72 in 2023, a 3,300% increase.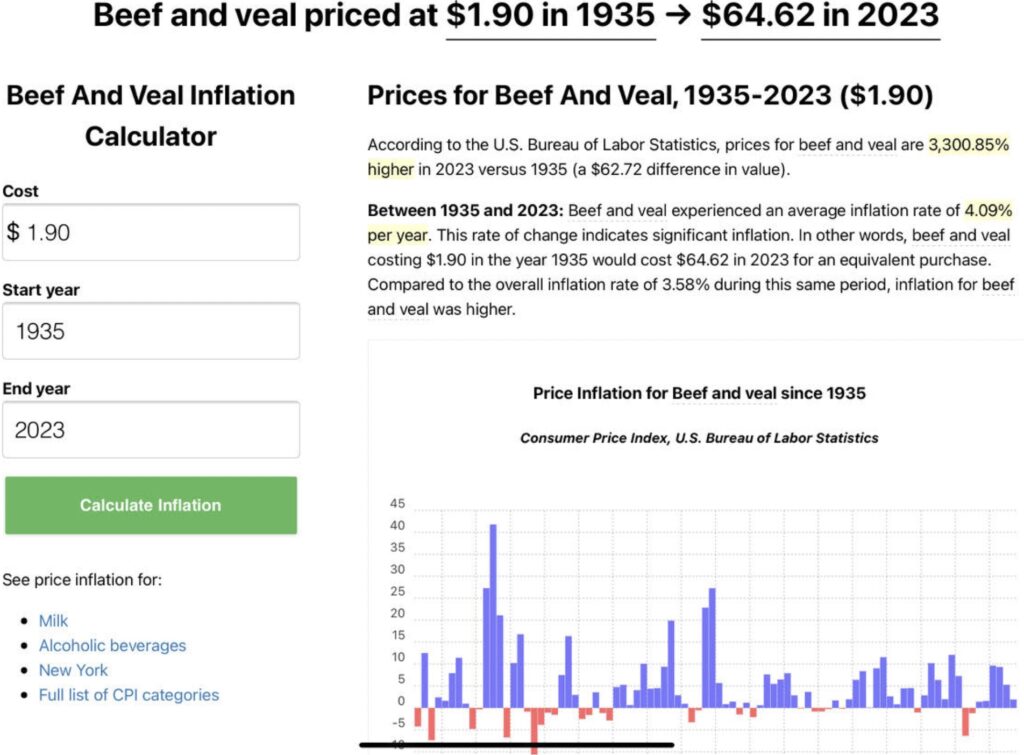 I couldn't find a graph going back to 1913 when the Federal Reserve was established, But it is obviously even worse.
And this 2nd chart shows cost/100 pounds of cattle: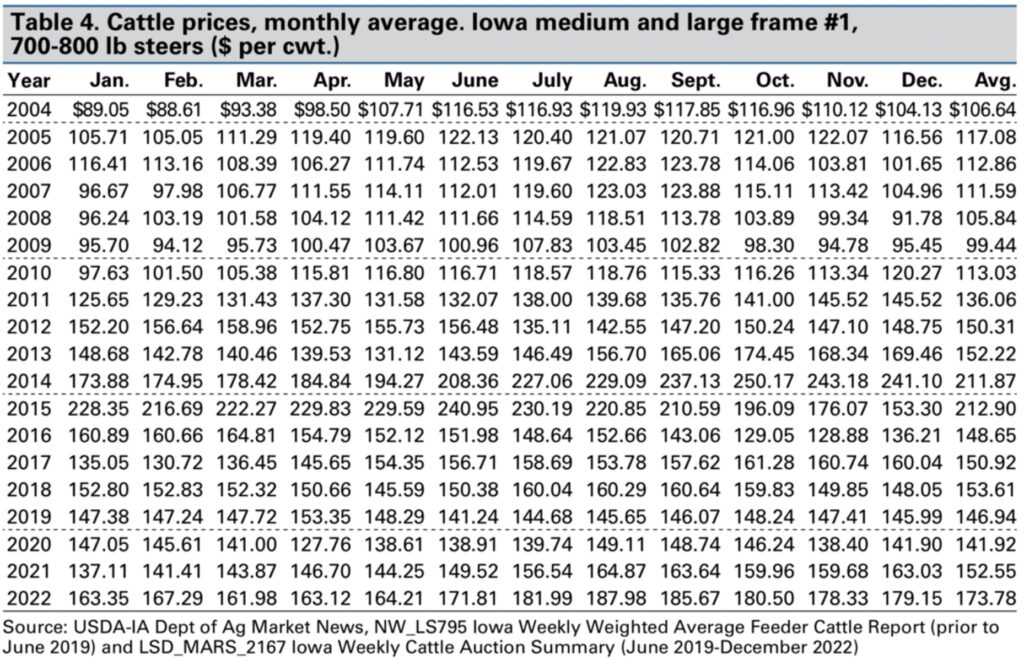 In 2004 100 lbs (CWT= hundred weight) was 89.05 in January!  So if you got a 16 oz Steak for $65, that's almost 100 times the cost…Insanity prevails.
George
The Tide Is Turning
Graddhy out of Sweden:  Think this chart is turning inside the massive blue triangle for the last time.
Oil sector led the commodities baby bull move up from the bear low in 2020.
Chart says it is now time for precious metals to shine.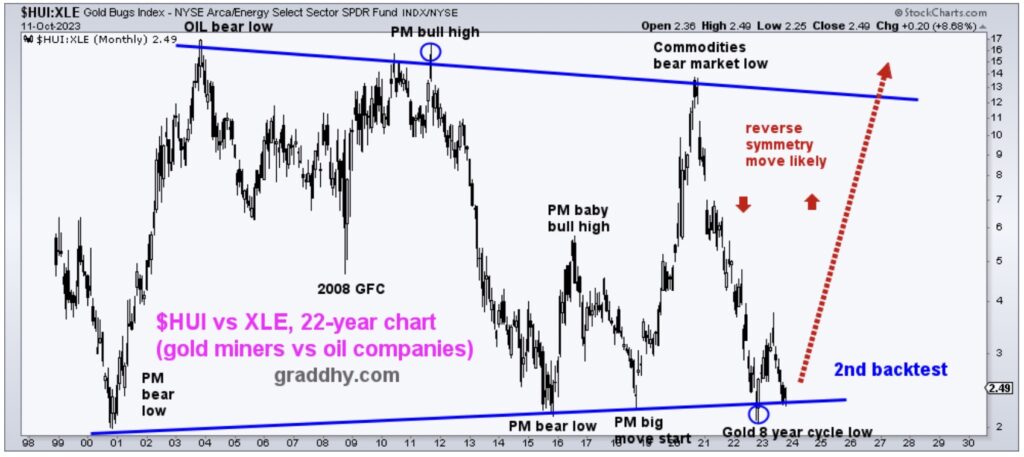 First Major Currency To Collapse
Graddhy out of Sweden:  Japan is a leader in the synced central bank FIAT debasement race to the bottom. It is clear from the $XAUJPY (US dollar vs Japanese Yen) chart that the $YEN is being destroyed.
Japan In Early Stages Of Hyperinflation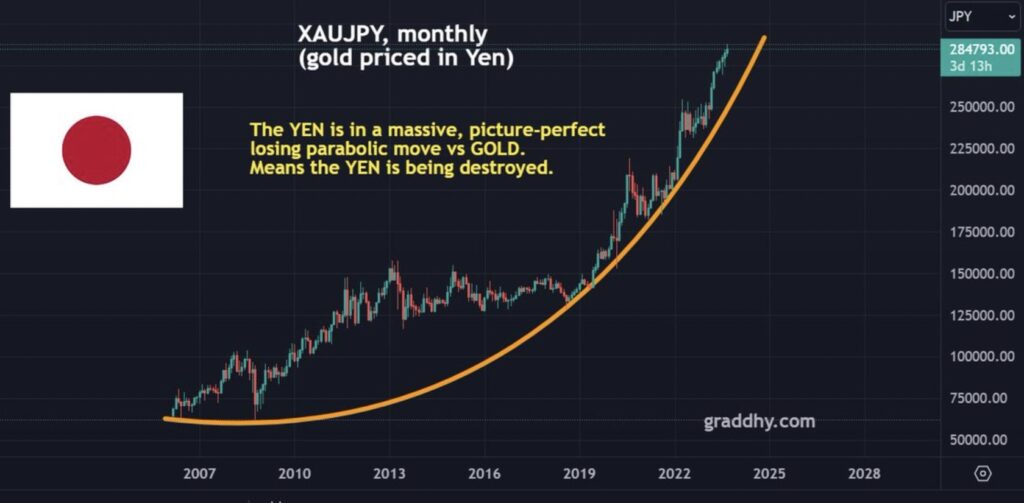 Japanese Must Protect Themselves With Gold & Silver
$XAGJPY here is leading too as it already has a breakout above blue line, now backtesting. Get ready.
Silver Priced In Japanese Yen Ready To Explode Higher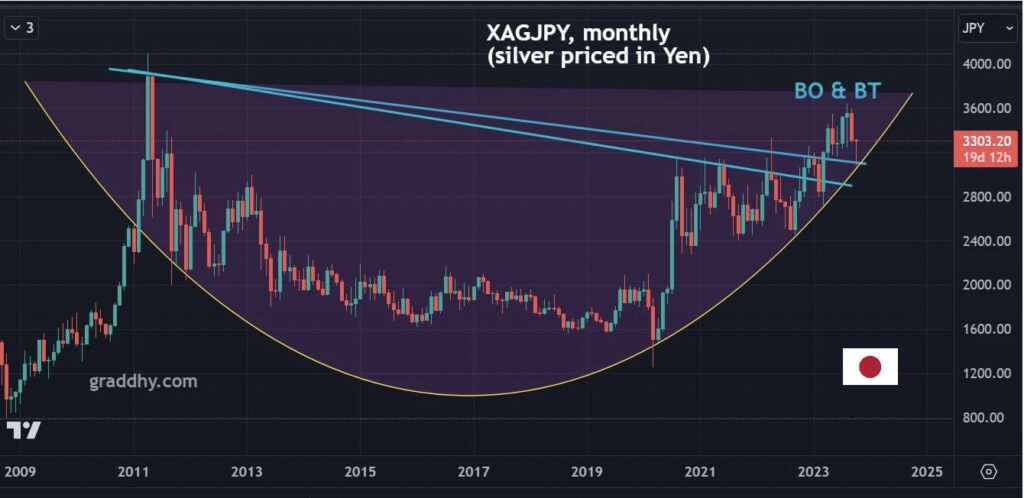 $15,000 Gold, $370 Silver And $300 Oil
Graddhy out of Sweden:  The very big picture charts show the ENORMOUS opportunity for the rest of this glorious commodities bull market.
My targets for the bull are still the same as when I called the start of the bull:
Gold $10,000–$15,000
Silver $370
Oil $250–$300
All targets are conservative…
---
This Company Has A Massive High-Grade Gold Project In Canada And Billionaire Eric Sprott Has A Huge Position! To Learn Which Company Click Here Or On The Image Below.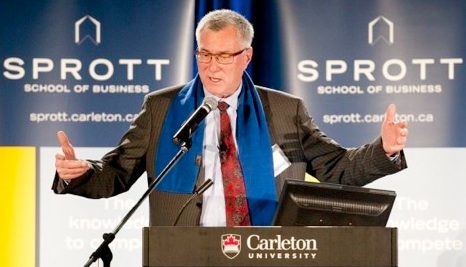 ---
Opportunity Of A Lifetime
Graddhy out of Sweden:  The commodities bull market should last 10 years. When Central Banks and Governments move from hiking+QT to cutting/YCC+QE & bull markets in general equities+bonds are accepted to be history, global capital flows into the space will be historical.
THE OPPORTUNITY OF A LIFETIME. Get ready.
The commodities bull market started 42 months ago.
The commodities index CRB surged 220%+ in its baby bull move.
This secular commodities bull market will last 10+ years.
Use it and win big. Ignore it and lose big. For Heaven's sake – do not miss.
ALSO JUST RELEASED: China's Wealthy Are Desperately Smuggling Cash Out Of The Mainland CLICK HERE
ALSO JUST RELEASED: A New All-Time High, But This Is Not Good News CLICK HERE
ALSO JUST RELEASED: The Beautiful Gold Reversal And The Most Important Chart CLICK HERE
ALSO JUST RELEASED: It's Getting Really Bad Out There CLICK HERE
ALSO RELEASED: At All Costs Remain Focused On The Big Picture CLICK HERE
ALSO RELEASED: Art Cashin – Markets Ultra Complicated After Attack On Israel, Boockvar Also Weighs In CLICK HERE
ALSO RELEASED: BUCKLE UP: A World Hurtling Toward The Inflationary End-Game CLICK HERE
ALSO RELEASED: This Crisis Today Is Multiples Worse Than What The World Faced In The 1970s CLICK HERE
© 2023 by King World News®. All Rights Reserved. This material may not be published, broadcast, rewritten, or redistributed.  However, linking directly to the articles is permitted and encouraged.