This Company A Massive High-Grade Gold Project!
AMEX Exploration has a massive high-grade Perron Gold Project located in Quebec. They continue to make new high-grade discoveries on this massive land package that already has all of the infrastructure in place making it easy to transition into a mine! STOCK SYMBOL AMX IN CANADA, AMXEF IN US!
---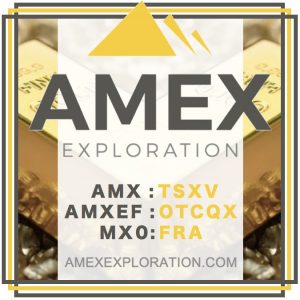 AMEX EXPLORATION (AMX in CA, AMXEF in US, MX0 in FR) – AMEX Exploration, a junior gold mining company, has made a significant gold discovery in Quebec at its 100% owned high grade Perron Gold Project. Amex is led by an experienced management team of gold mine finders who have invested their own capital into the company in corporate financings and are focused on building shareholder value.
Under the current extensive exploration program with multiple drills onsite, the company has so far completed in excess of 300,000m of drilling. Amex has intersected multiple gold and VMS zones that stretch over approximately 4km of lateral strike along the Perron Fault Zone.
CONTACT AMEX EXPLORATION DIRECTLY, or get more info by calling Toll Free (800) 519-2800 or email info@amexexploration.com.
Office: 1-514-866-8209
Email: INFO@AMEXEXPLORATION.COM
410 St. Nichols, Suite 236
Montreal, QC H2Y 2P5