With continued volatility in global markets, at all costs remain focused on the big picture.
Ignore The Noise And Remain Focused On The Big Picture
October 10 (King World News) – Graddhy out of Sweden:  The tide is turning. A global asset paradigm shift is in the making. Away from equities and bonds, etc, towards tangible assets.
The commodities bull WILL be the greatest financial opportunity in your lifetime, by far.
This Global Shift Out Of Paper Into Hard Assets Will Last For Many Years:
Gold Has Solidly Broken Out vs NASDAQ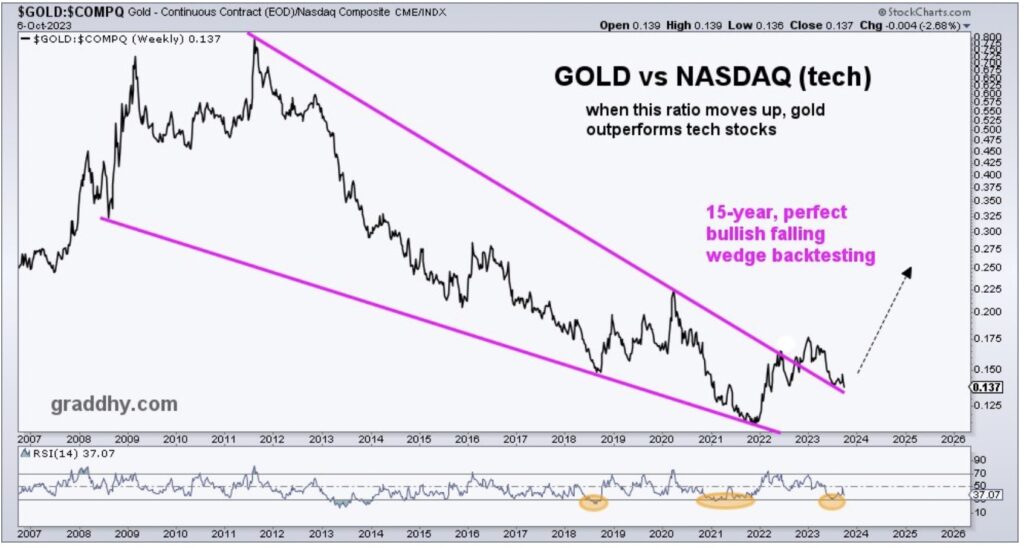 The Big Picture
King World News note:  We continue to tell our global readers to remain focused on the big picture for gold. There is massive money printing taking place. This money printing must be done in order to sustain the system. Therefore Western debt levels will continue to skyrocket, and fiat money will continue to be devalued, resulting in a historic bull market for commodities. All of this is bullish for gold and silver. Do not be distracted by the games that have been played in the paper markets. Continue to trade in fiat money for physical gold and silver and remain focused on the big picture during times of volatility.
ALSO JUST RELEASED: Art Cashin – Markets Ultra Complicated After Attack On Israel, Boockvar Also Weighs In CLICK HERE
ALSO JUST RELEASED: BUCKLE UP: A World Hurtling Toward The Inflationary End-Game CLICK HERE
ALSO JUST RELEASED: This Crisis Today Is Multiples Worse Than What The World Faced In The 1970s CLICK HERE
To listen to James Turk discuss what to expect from paper assets, gold, silver, stocks and bonds CLICK HERE OR ON THE IMAGE BELOW.

© 2023 by King World News®. All Rights Reserved. This material may not be published, broadcast, rewritten, or redistributed.  However, linking directly to the articles is permitted and encouraged.