As we continue to kickoff trading in the month of October, look at what just hit the highest level in history! Plus a look at gold, fear & greed and inflation.
Inflation & Gold
October 6 (King World News) – Graddhy out of Sweden:  Central banks claim they "fight" inflation, though they own both accelerator (QE) & brakes (rates, QT)…
Plus, there is a synced inflation target of 2%, debt ceilings are just raised, CPI definitions are changed.
But, the chart below is really all one needs to realize. Got gold?
REAL INFLATION MUCH HIGHER:
Understated And Phony CPI vs Gold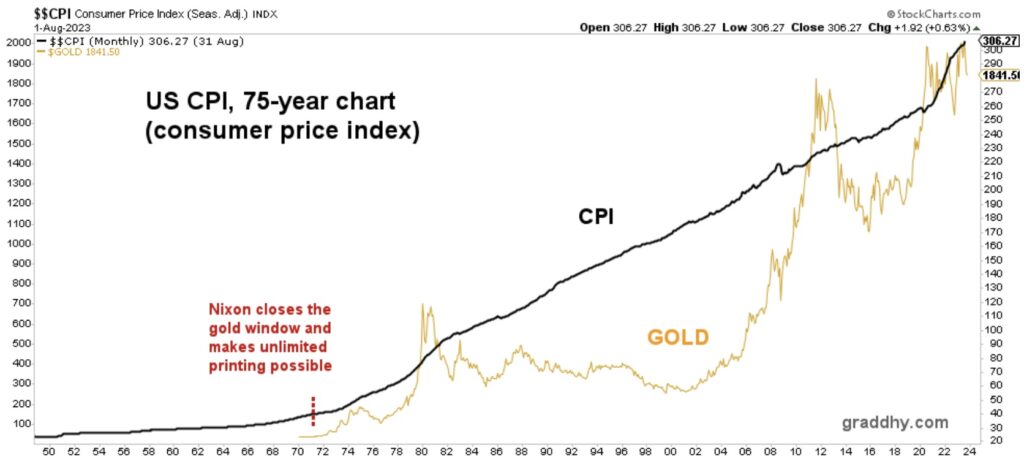 Stock Market Bear Coming Out Of Hibernation
Graddhy out of Sweden:  The breakdown for this 15-year S&P 500 vs Producer Price Index (PPI) ratio chart, with the backtest from below, is bearish for the stock market.
MAJOR DECLINE IMMINENT:
The Stock Market Is In Serious Trouble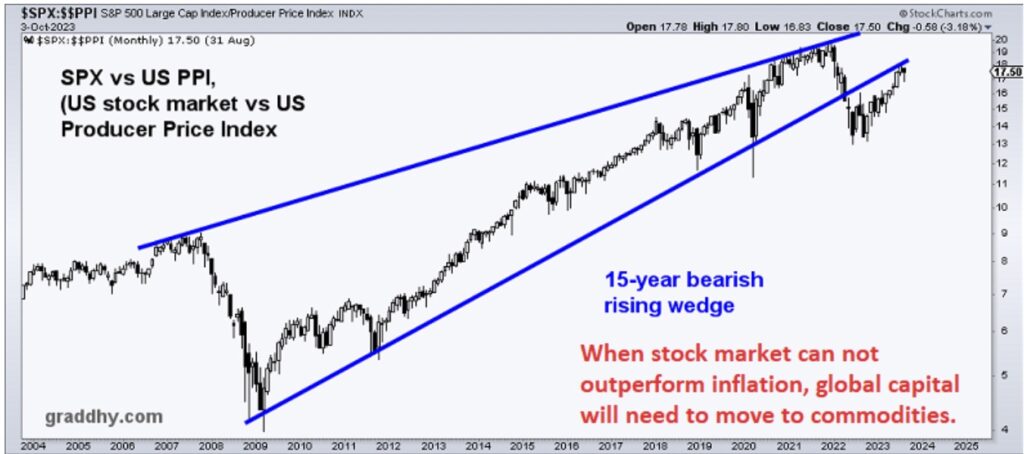 And, they need to pour some QE over the Goldman Sachs chart to save it.
Goldman Sachs Chart Ready For Major Breakdown?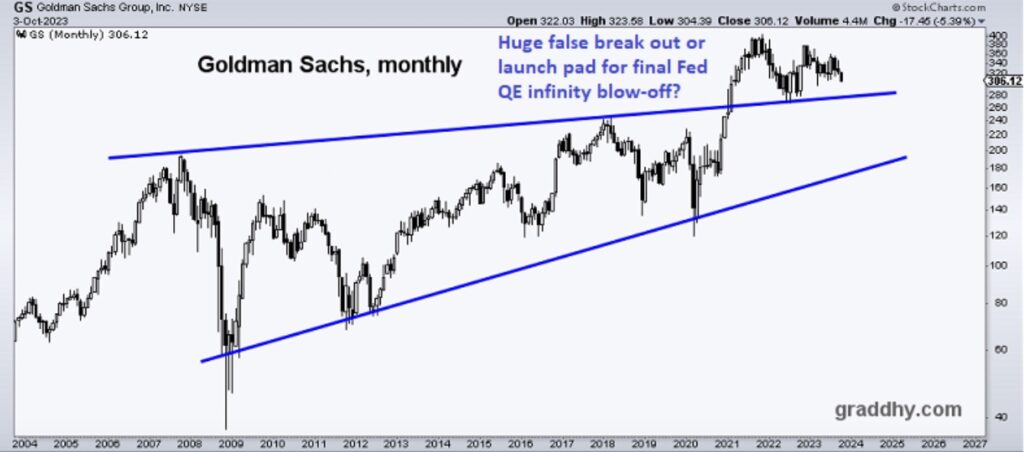 The commodities bull is the place to be.
There Is A Big Problem
Peter Boockvar:  While there is a big problem in itself with an absolute mortgage rate of 7.88%, according to Bankrate, what greatly exaggerates the impact is that it comes after a 40% home price index over the past few years. Another way to compare the home price situation (both price and rates) with previous time frames is to look at the average home price relative to median income.
Looking at the Case-Shiller home price index relative to income, the last time mortgage rates were at current levels in 2000, this ratio was at 1.05. At the end of 2022 it stood at 1.69, 60% higher. So when you hear someone say, 'I remember when I had a 12% mortgage rate and I survived', understand that the price of the home that was bought then was a much smaller percentage of that person's income at the time.
Home Price Index vs Income At Highest Level In History!

Fear & Greed
We saw a 17 'Extreme Fear' level a few days ago in the CNN Fear/Greed index which every contrarian should take note in gauging the state of markets in the short term.
"Extreme Fear" In The Stock Market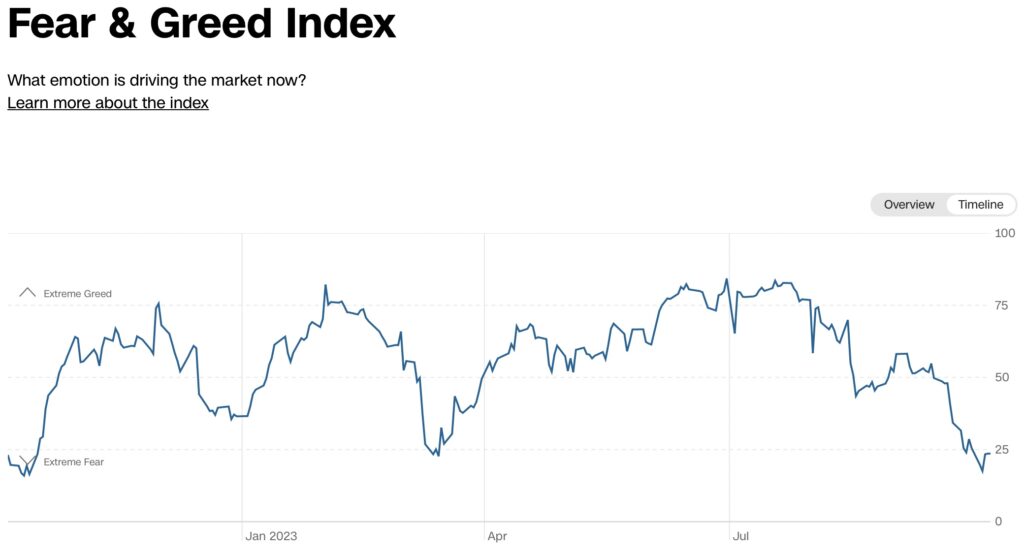 This was followed by the Investors Intelligence index which saw Bulls slip to 42.3 from 43.7 while Bears were unchanged, remaining well below Bulls at 23.9. TAAII said bulls rose 2.3 pts to 30.1 after 3 weeks of declines. Though higher, it remains about 11 pts below the Bears which was up .7 pts to 41.6. The balance of people are Neutral.
Bottom Line
Bottom line, stocks topped just as sentiment got very extended in late July and that excitement has of course reversed to a point where markets could stabilize in the short term. Again, I emphasize 'short term.' The fate of interest rates, most likely higher from here on the long end, though still a squeeze even if they just stay at current levels, will be the ultimate arbiter past the 'short term.'
ALSO JUST RELEASED: More Signs The Economy Is Tanking CLICK HERE
ALSO JUST RELEASED: Worried About Gold & Silver Volatility, Take A Look At This… CLICK HERE
ALSO JUST RELEASED: The Situation Today Is "Many Multiples More Catastrophic" Than 2008 CLICK HERE
ALSO JUST RELEASED: Michael Oliver Just Warned Terrifying Round 2 Of The Global Banking Crisis Is Being Unleashed. Get Ready For Gold To Launch CLICK HERE
ALSO RELEASED: FROM BAD TO WORSE: It's Becoming Catastrophic For Tapped Out Consumers CLICK HERE
ALSO RELEASED: This Global Ticking Time Bomb Is About To Be Unleashed CLICK HERE
ALSO RELEASED: Global Markets Nervous As Government Shutdown Looms, Plus "Rent Too Damn High" CLICK HERE
ALSO RELEASED: IMPORTANT UPDATE: Gold, Commodities And Inflation CLICK HERE.
© 2023 by King World News®. All Rights Reserved. This material may not be published, broadcast, rewritten, or redistributed.  However, linking directly to the articles is permitted and encouraged.