More bad news as we continue to kickoff trading in what could turn into an October to remember. The situation is becoming catastrophic for tapped out consumers as the crisis has gone from bad to worse.
Banks Still Tightening
October 3 (King World News) – Peter Boockvar:  As a follow up to the Dallas Banking Conditions Survey seen yesterday, out last Friday saw C&I loans for the week ended 9/20 fall by $2.2b to a hair above the lowest level in a year.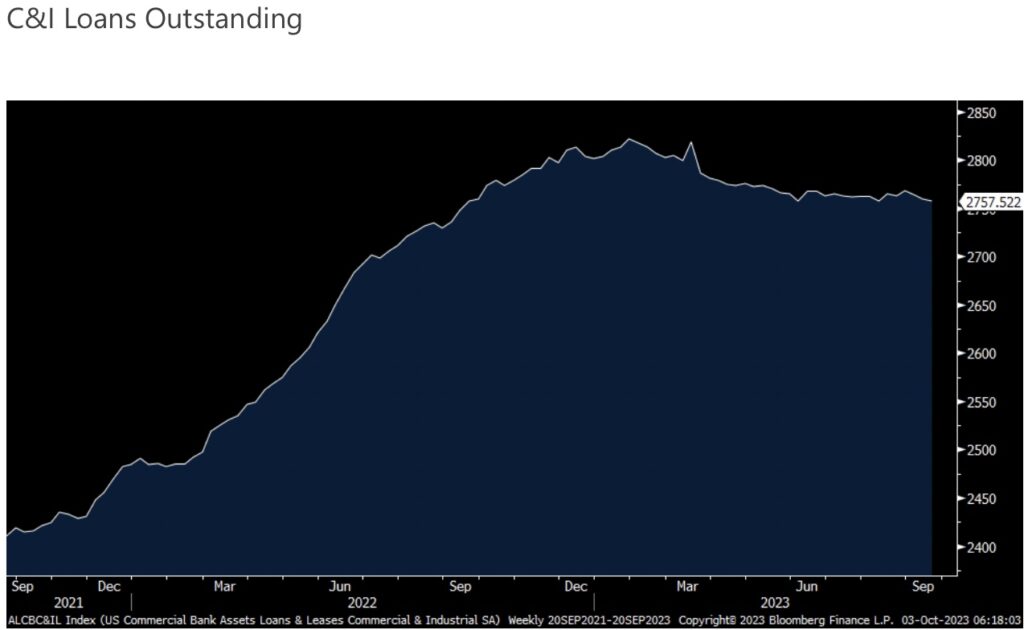 Auto Loans Continue To Tumble
Auto loans outstanding sit at the lowest since December 2021.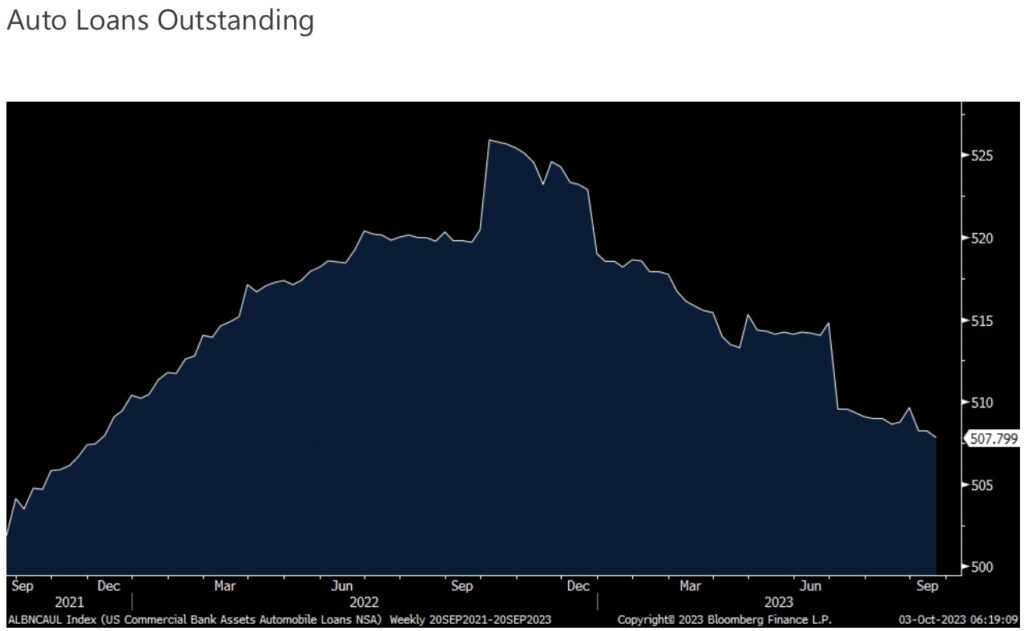 Interestingly, commercial real estate loans outstanding and those for development rose to a record high and I'm guessing it has more to do with legacy properties needing funding and helping borrowers as banks don't want to foreclose for those at that point. 
Consumer Credit Card Debt Soaring While Savings Rate Plunges
Consumer credit card loans outstanding also went to a record as consumer savings rates continue to fall.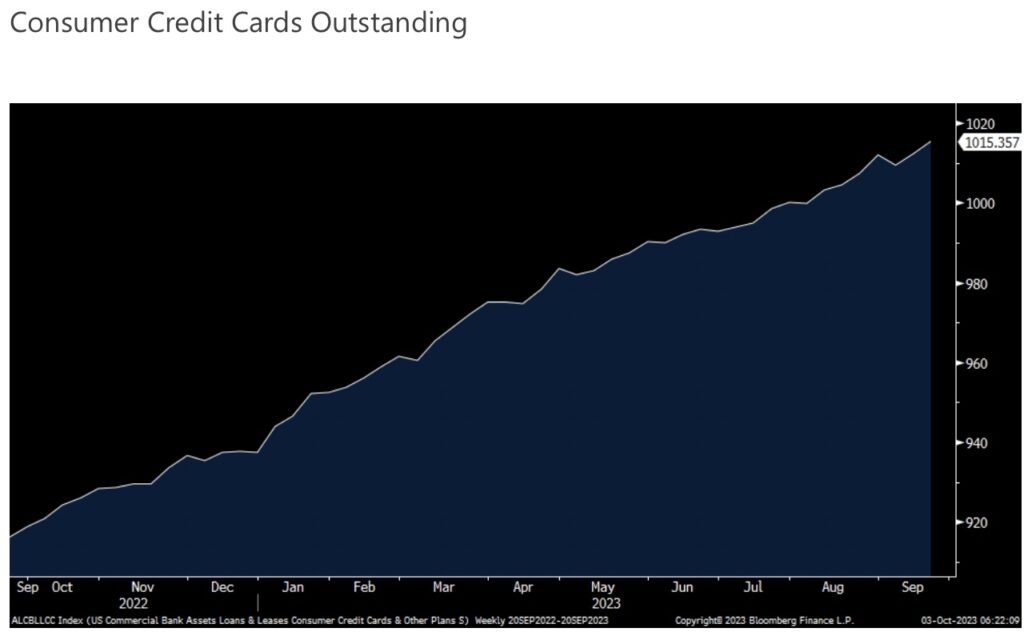 Consumer Expecting To Be Bailed Out By Government
To put the credit debt into perspective, as a % of nominal GDP it is at 3.7% vs 3.9% in December 2019. It peaked at 4.2% in 2010 around the trough of the housing crash.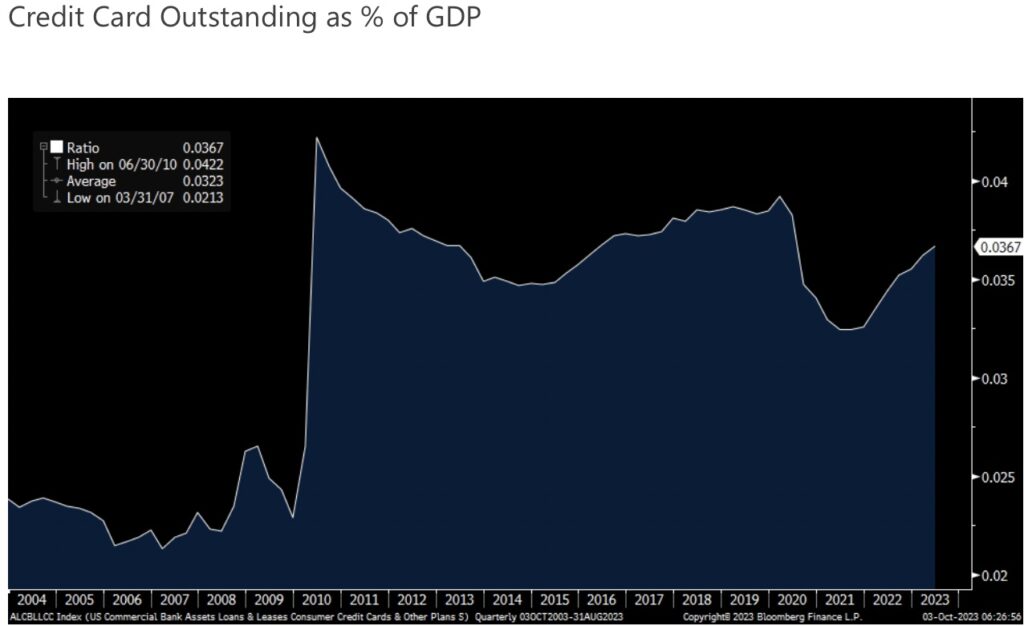 More Rate Hikes?
We heard from a few Fed members yesterday and Governor Bowman and Cleveland president Mester both seem to want to raise rates again. I'm unclear why they don't consider the sharp rise in longer term interest rates, which in turn the average 30 yr mortgage rate has risen by about 50 bps since their July rate hike, as another form of rate increases. Someone should ask them. On the other hand, Governor Barr seems more reluctant to express the need for more hikes. "I strongly agree with what Chair Powell has said about where we are in the tightening cycle. Given how far we have come, we are now at a point where we can proceed carefully" he said.
He also echoed what Goolsbee said last week, "the most important question at this point is not whether an additional rate increase is needed this year or not, but rather how long we will need to hold rates at a sufficiently restrictive level to achieve our goals."
With respect to the rental market, and following up on the Apartment List data which reflected continued moderation in rent increases, you keep hearing me talk about the outlook AFTER all the current supply coming online gets absorbed. In case you didn't see this article in the WSJ, "The Apartment Market is Hitting a Construction Lull," https://www.wsj.com/real-estate/the-apartment-market-is-hitting-a-construction-lull-b85025ae. "Many of the cranes crowding skylines from Phoenix to Denver and Dallas will soon come down. They are likely to stay down for a long time."…
---
This Company Has A Massive High-Grade Gold Project In Canada And Billionaire Eric Sprott Has A Huge Position! To Learn Which Company Click Here Or On The Image Below.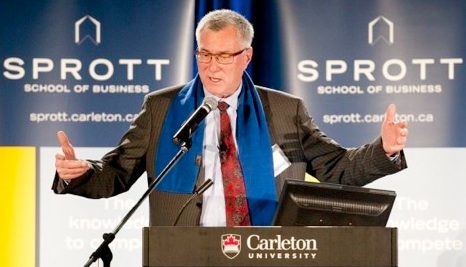 ---
Bottom Line
Bottom line, in the years to come we will become more and more a renter nation if mortgage rates and home prices remain high but that too will be expensive. 
Here is an updated chart thru August of private construction on manufacturing which reflects the government induced spending mostly on chips and battery plants:
Government Induced Spending On Construction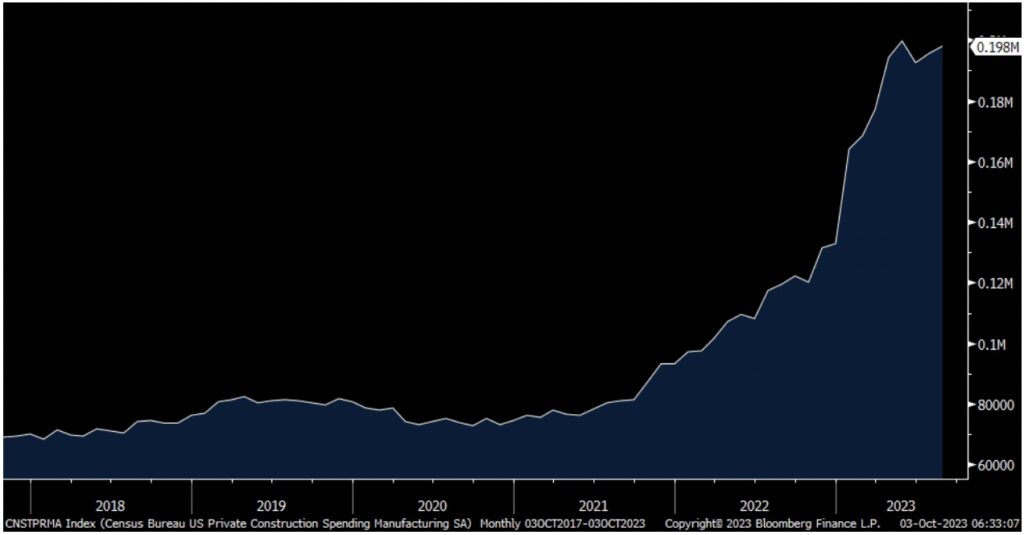 Overseas
Overseas, the Reserve Bank of Australia kept its cash rate unchanged at 4.10% as expected. They have a new Governor, Michele Bullock who replaced Philip Lowe. She said the pause "will provide further time to assess the impact of the increase in interest rates to date and the economic outlook." While short rates were left alone, the Australian 10 yr yield rose another 5 bps to 4.54%, a 12 yr high. The Aussie$ is down again but the dollar continues to rally against mostly everything. 
India remains an economic bright spot around the world as its September manufacturing PMI was 57.5, well above 50 but down a touch from the 58.6 seen in August. Reaping the benefits from those that want to diversify supply chains, "both demand and output saw significant upticks, and firms also noted gains in new business from clients across Asia, Europe, North America and the Middle East." We remain bullish and long on India. 
ALSO JUST RELEASED: This Global Ticking Time Bomb Is About To Be Unleashed CLICK HERE
ALSO JUST RELEASED: Global Markets Nervous As Government Shutdown Looms, Plus "Rent Too Damn High" CLICK HERE
ALSO JUST RELEASED: IMPORTANT UPDATE: Gold, Commodities And Inflation CLICK HERE.
To listen to Gerald Celente discuss the unfolding collapse and what surprises to expect next CLICK HERE OR ON THE IMAGE BELOW.

Just Released!
To listen to Alasdair Macleod discuss the financial crisis that is about to erupt and what this will mean for gold and silver CLICK HERE OR ON THE IMAGE BELOW.

© 2023 by King World News®. All Rights Reserved. This material may not be published, broadcast, rewritten, or redistributed.  However, linking directly to the articles is permitted and encouraged.