As we continue trading in what may very well be an October to remember, the situation today is "many multiples more catastrophic" than the collapse that shocked the world in 2008.
The System Is On The Cusp Of Locking Up, Again!
October 4 (King World News) – Gregory Mannarino, writing for the Trends Journal:  If you were to ask the average person "what happened during the 2007-2008 Stock Market Crash/Financial crisis?" What caused it? You may hear answers like; "it was brought on by banks who were writing subprime mortgages, giving mortgage loans to anyone with a heartbeat-regardless of if they had a job, or even the ability to make mortgage payments."
The truth is an answer like that barely scratches the surface as to what really caused the "financial crisis."
The fact of the matter is this. Artificially low interest rates and loose monetary policy by central banks, none more so than the Federal Reserve which started YEARS BEFORE, is what precipitated the MELTDOWN. 
Does that sound familiar to you? Because it should…
---
Listen to the greatest Egon von Greyerz audio interview ever
by CLICKING HERE OR ON THE IMAGE BELOW.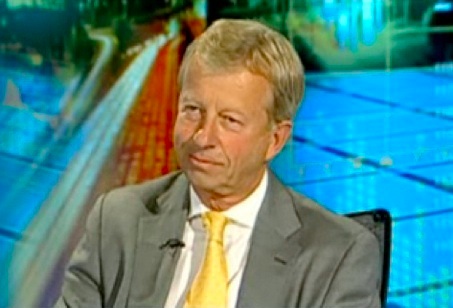 Sponsored
---
Since the financial crisis/meltdown central banks have done the exact same things! But to a MUCH larger degree.
Massively suppressed rates, and even LOOSER monetary policy has 
Inflated the largest debt HYPERBUBBLE in history which in turn has 

Reinflated THE MOTHER OF ALL STOCK MARKET BUBBLES. 

CREATED A REAL ESTATE SUPERBUBBLE BEYOND ANYTHING WHICH HAS EVER BEEN SEEN BEFORE, and,

Set the stage for another worldwide financial crisis which will eclipse the last one by exponents.
A MAJOR underlying component of what caused the financial crisis to unfold into a world-wide meltdown event, came down to liquidity drying up.
"Liquidity" generally refers to how fast assets can be converted into cash, but in the case of the financial meltdown, the availability of cash to fuel the system was grinding to a complete halt– the system was "locking up."
A locking up of the system is also called a "credit freeze." 
A credit freeze occurs when the system becomes illiquid. In a full-on illiquid condition/credit freeze all transactions stop, AND THE ENTIRE FINANCIAL SYSTEM LOCKS UP. 
The heart of the "financial crisis" was this, THE SYSTEM STARTED TO LOCK UP.
It wasn't so much that the stock market had crashed, and the housing bubble had burst. It was the flow of Inter-bank/business credit/lending started to freeze. Left unchecked, credit cards, debit cards, access to bank account cash would all become non-existent. (Full-on pandemonium).
To prevent a full-on locking up/credit freeze situation, the then Federal Reserve Chairman Ben Bernanke went to Congress asking for NOT just for a bailout of the banks, but MASSIVE capital/cash injections into the financial system to "free it up," or prevent it from locking up.
This was known as TARP, or Troubled Asset Relief Program. Hundreds of Billions of dollars had to be pumped into the system IMMEDIATELY, (most of which went to "stabilize banks"), to start the flow of credit back into the system.
Bernanke said to Congress: "without doing this, tomorrow we will not have an economy."
Today the situation is many multiples more catastrophic, and it has all been precipitated again by the same events which led us to the last meltdown, suppressed rates and easy money… which started more than a decade before. 
Today risk in the system is at an EXTREME level. 
Worldwide, the debt market is flashing RED and selling off, causing yields to rise at an alarming pace. The flow of credit is also straining, and world stock markets are rattling. 
Another locking up of the system does not appear to be far off at all. But this time, in my opinion, no amount of capital/cash injections will be able to push it off again.
ALSO JUST RELEASED: FROM BAD TO WORSE: It's Becoming Catastrophic For Tapped Out Consumers CLICK HERE
ALSO JUST RELEASED: This Global Ticking Time Bomb Is About To Be Unleashed CLICK HERE
ALSO JUST RELEASED: Global Markets Nervous As Government Shutdown Looms, Plus "Rent Too Damn High" CLICK HERE
ALSO JUST RELEASED: IMPORTANT UPDATE: Gold, Commodities And Inflation CLICK HERE.
To listen to Gerald Celente discuss the unfolding collapse and what surprises to expect next CLICK HERE OR ON THE IMAGE BELOW.

Just Released!
To listen to Alasdair Macleod discuss the financial crisis that is about to erupt and what this will mean for gold and silver CLICK HERE OR ON THE IMAGE BELOW.

© 2023 by King World News®. All Rights Reserved. This material may not be published, broadcast, rewritten, or redistributed.  However, linking directly to the articles is permitted and encouraged.