As King World News continues to focus on the big picture during this period of ongoing volatility in the gold and silver markets, if you are worried about the action in the precious metals, take a look at this…
Big Picture: Bonds & Gold
October 5 (King World News) – Graddhy out of Sweden:  Downturn should be close. Yesterday it put in a bearish reversal on daily after a very stretched upmove, plus also has 3 drives up with negative divergence.
US Yields Close To Major Top?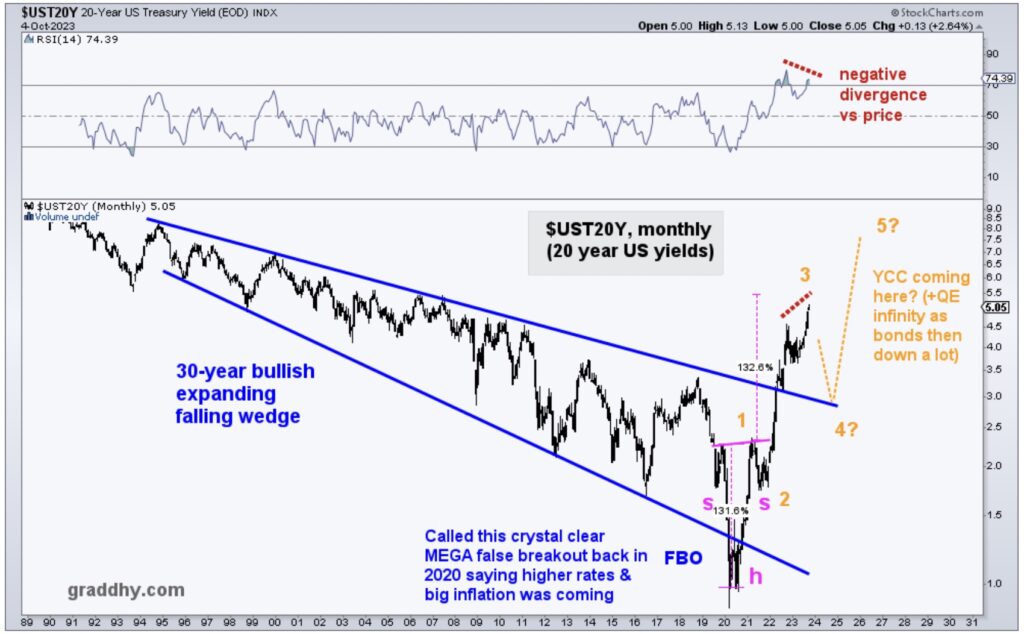 HUGE implications, e.g. falling rates is bearish US dollar [and bullish for gold].
Opportunity Of A Lifetime
Graddhy out of Sweden:  For many months that something big is brewing for precious metals.
Very big picture, we have seen the 70´s bull, the 2000's bull, and now we are in a final 3rd bull.
GOLD'S 3RD MAJOR WAVE:
Gold Price Target $10,000-$15,000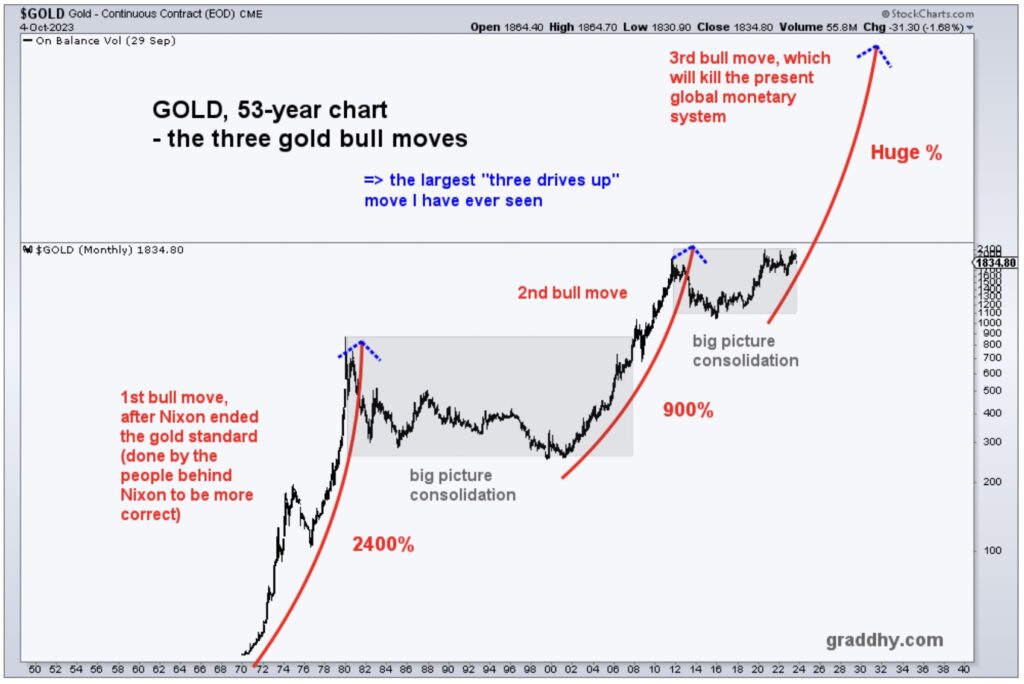 Gold $10,000 to $15,000 is next. OPPORTUNITY OF A LIFETIME.
Gold Volatility During Weimar
Graddhy out of Sweden:  The gold volatility during the ending Weimar era was absolutely nuts. I think regardless if it this time around turns into an inflationary or deflationary endgame, the volatility later in the precious metals bull is going to be absolutely insane. We have not seen anything yet.
Signs Of A Major Gold Bottom
The "permabull" and "goldbug" comments are raining once again, was the same at e.g. the lows back in 2022. Plus "gold can never go up again" and "silver is crap" etc. These are sentiment indicators. Have to remember, one can not play a resumed bull market with a bearish mindset.
Gold & Silver Counterweight
Gold & Silver is the counterweight vs the defended global FIAT monetary system, and it is dying. So it should be obvious not to expect this bull to be easy. Expect it to be hard. Very hard. And do not get disappointed, i.e. emotional. Understand it instead. Mindset is key.
The Good News
Extremely impressed by how gold in all currencies is holding up lately, while real rates in many countries have been rising rapidly. Plus many other headwinds for gold. As said for long now, many established intermarket correlations will stop working with what's coming. King World News note: And that is when the last currency standing, as it has always been throughout history, will be gold.
---
ALSO JUST RELEASED: The Situation Today Is "Many Multiples More Catastrophic" Than 2008 CLICK HERE
ALSO JUST RELEASED: Michael Oliver Just Warned Terrifying Round 2 Of The Global Banking Crisis Is Being Unleashed. Get Ready For Gold To Launch CLICK HERE
ALSO JUST RELEASED: FROM BAD TO WORSE: It's Becoming Catastrophic For Tapped Out Consumers CLICK HERE
ALSO JUST RELEASED: This Global Ticking Time Bomb Is About To Be Unleashed CLICK HERE
ALSO RELEASED: Global Markets Nervous As Government Shutdown Looms, Plus "Rent Too Damn High" CLICK HERE
ALSO RELEASED: IMPORTANT UPDATE: Gold, Commodities And Inflation CLICK HERE.
© 2023 by King World News®. All Rights Reserved. This material may not be published, broadcast, rewritten, or redistributed.  However, linking directly to the articles is permitted and encouraged.