On the heels of the US dollar declining sharply for the 6th straight day, Eric Pomboy just warned the 'Doom Loop' is in full swing.
July 13 (King World News) – Eric Pomboy at Meridian Macro Research:  Since passage of the debt ceiling deal a little over a month ago, US Debt has soared more than $1 Trillion to record $32.47 Trillion. This is the biggest non-crisis-situation monthly debt increase on record (April 2020 saw a record $1.28 trillion jump). The good news, if there is any, is debt typically jumps following passage of debt ceiling deals as the Treasury's 'extraordinary measures' to keep from breaching the statutory debt limit are lifted.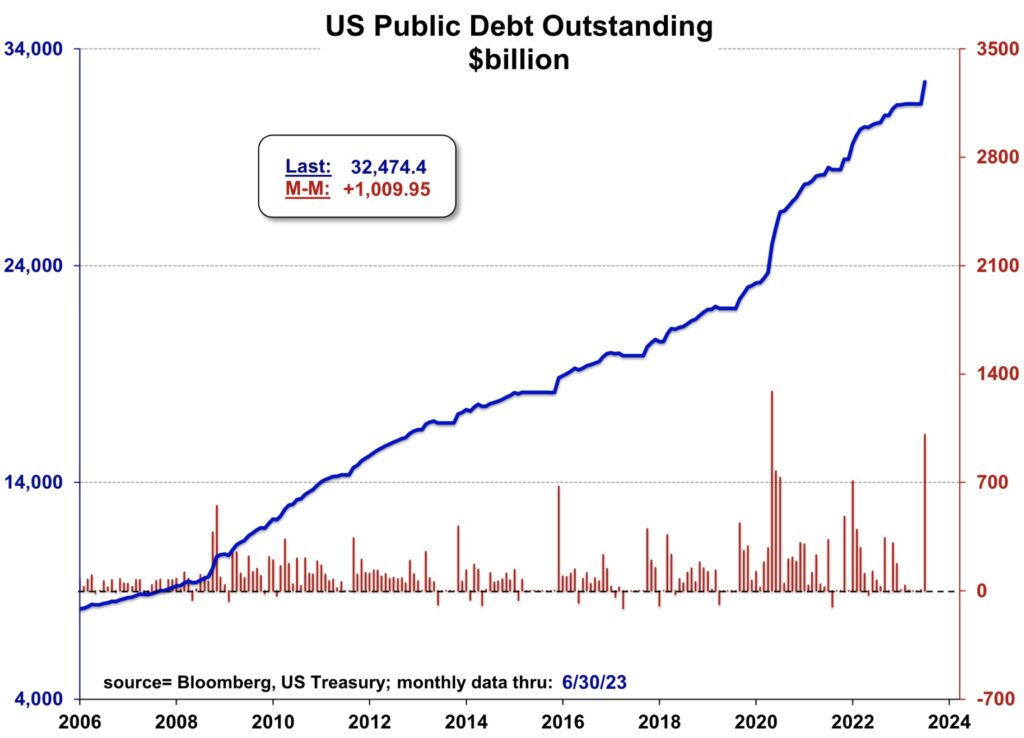 As such, the pace of debt accumulation should begin to slow (normalize) in coming days, yet interest expense will of course remain a huge issue. If debt growth does not moderate soon, this will certainly set off some alarm bells.
Note: monthly debt change in the chart is June 1 – July 6. Debt increase for just the month of June was $867B, also the biggest non-crisis-situation jump on record…
---
This Company Has A Massive High-Grade Gold Project In Canada And Billionaire Eric Sprott Has A Huge Position! To Learn Which Company Click Here Or On The Image Below.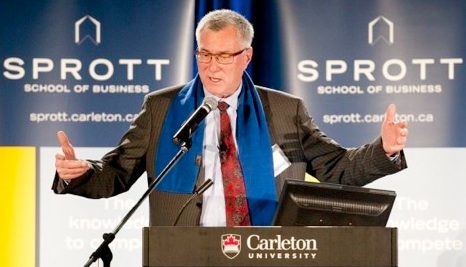 ---
Should the Fed lift rates higher, and keep them elevated longer, interest expense will become the single biggest Federal Outlay within a decade. Under our alternate interest expense calculation (5.2% rate by 2033 vs. 3.2% CBO projection), Interest expense will eclipse both Payroll Tax revenues and Social Security outlays…and will be the fastest-growing budgetary item by a long shot.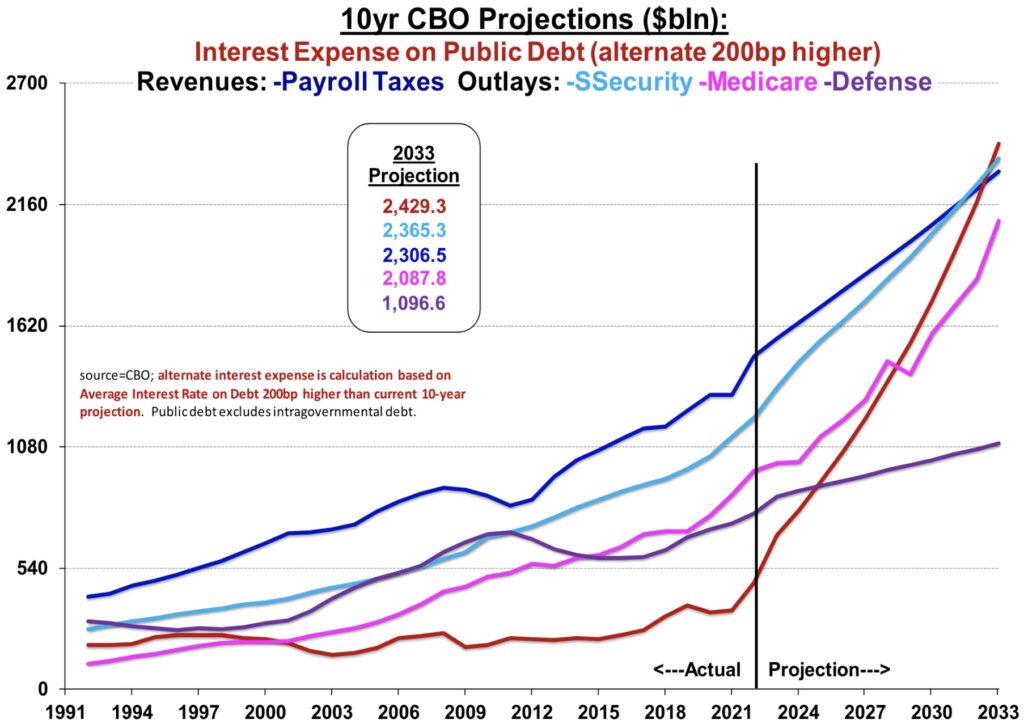 In the CBO's 10-year Budget Projection from August 2019, GDP growth was expected to exceed Debt growth by 2029.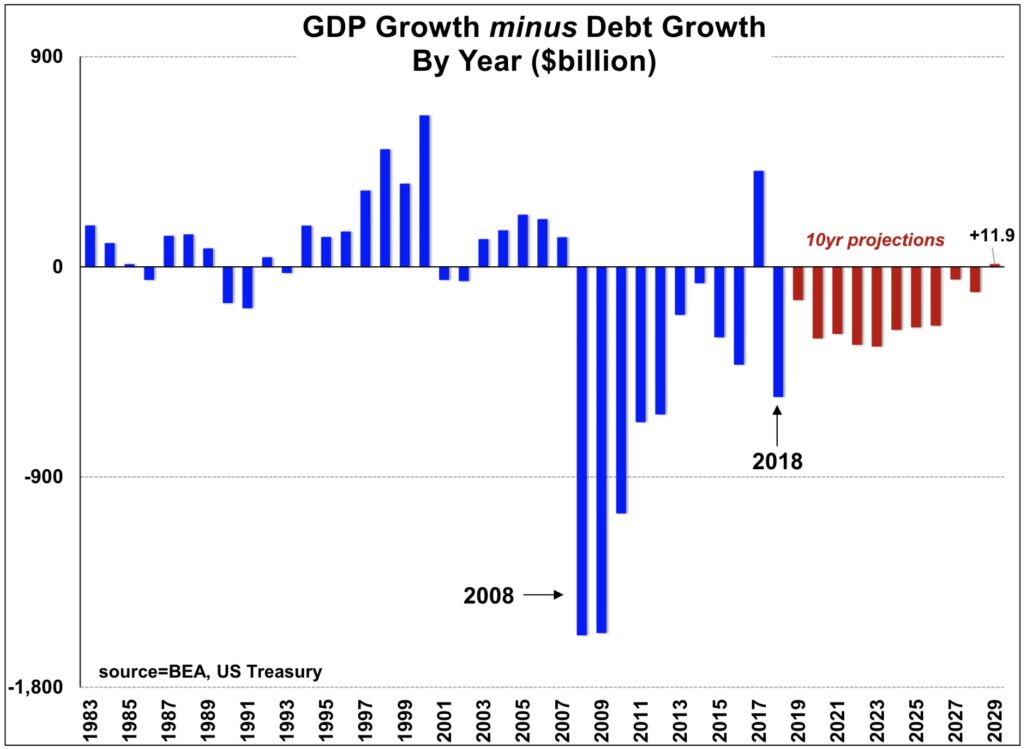 In the same report, 10-year projections for Interest Expense and Deficit were $807 billion and $1.38 trillion respectively. With GDP growth expected to exceed Debt growth by 2029 (for first just the 2nd time since 2007), there was a glimmer of hope we could get our fiscal house in order to some degree.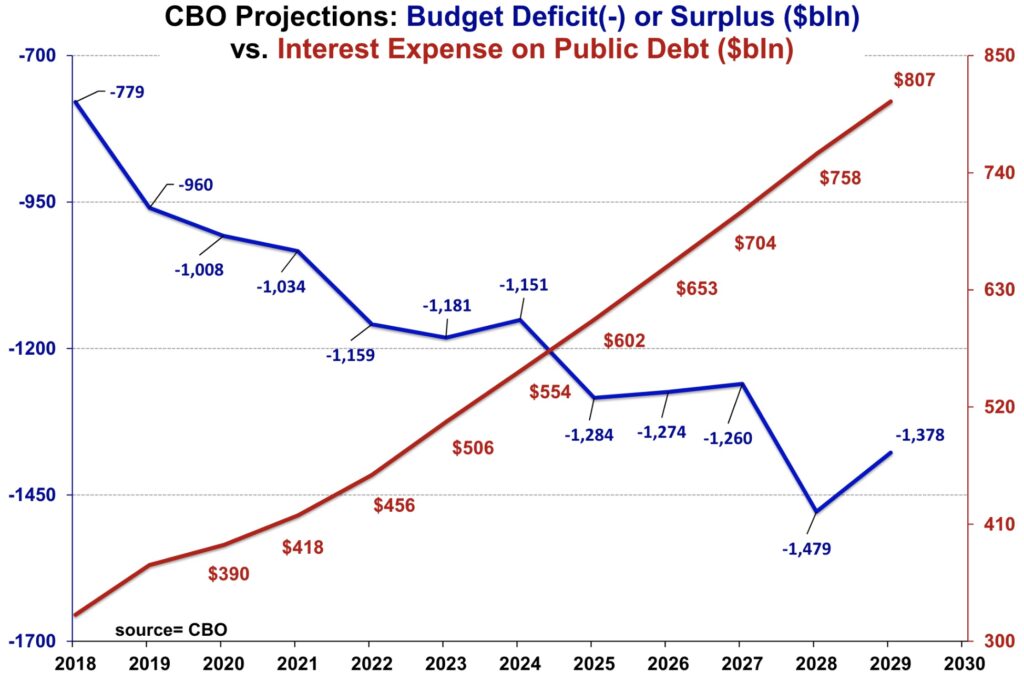 Fast forward to the May 2023 CBO 10-year Budget Projections and we find Debt growth completely overwhelming GDP growth over the next decade. By 2033, Debt growth is expected to exceed GDP growth by $1.47 trillion, the 4th largest gap on record and on autopilot to deteriorate further (see: the 'debt doom loop' in full swing).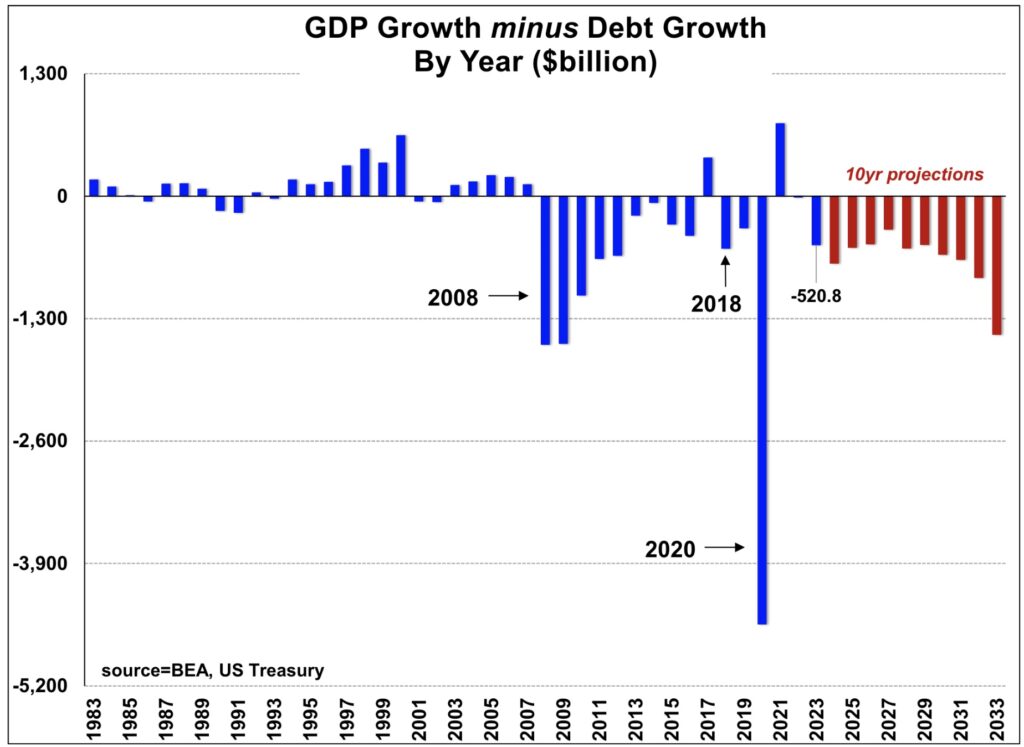 Projections for Interest Expense and Deficit by 2033: $1.44 trillion and $2.85 trillion respectively….a marked deterioration vs. the CBO outlook just 4 years ago.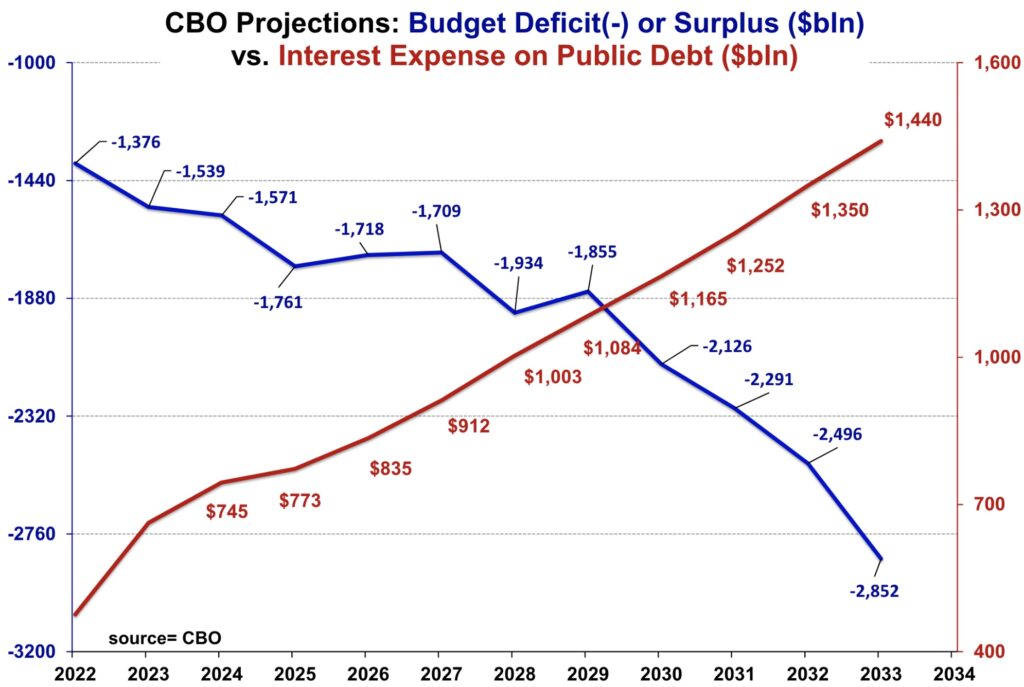 CBO projections are constantly being revised, but one line item remains a standout: Interest Expense. 10yr Interest Expense projections have more than doubled since the final CBO update of 2020.Given the latest debt ceiling deal did not provide a credible offset plan (and actually suspends the debt limit until Jan. 2025), US fiscal situation will continue to deteriorate and Interest Expense projections will continue to be revised higher.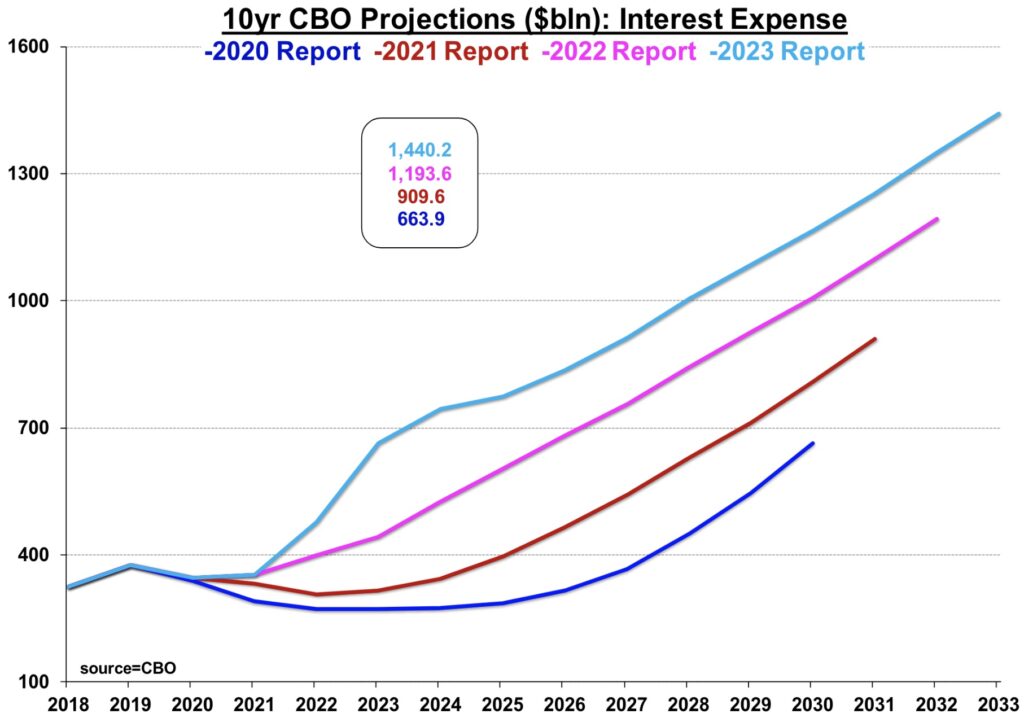 Interest Expense as % Government Revenues projection has jumped from 12% (2020 CBO report) to 20% as of the May update. Under our alternate interest expense calculation (5.2% rate by 2033 vs. 3.2% CBO projection),more than 1/3 of total revenues would go directly to pay interest expense.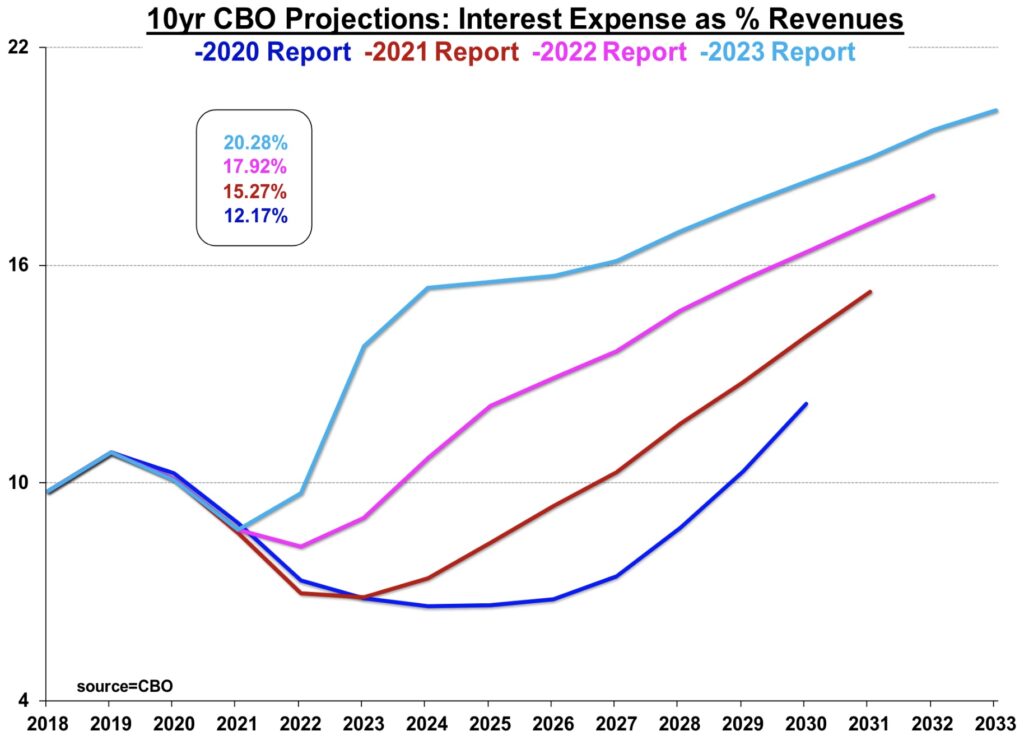 While the CBO projections grow more troublesome with each update, they still don't factor-in the fallout from a potential recession or other economic/geopolitical shock. In short: one small 'bump in the road'…which is likely to arrive sooner than later…and the US fiscal situation really begins to spiral out of control. With recession set to make landfall, stimulus measures will need to be deployed once again to support our debt-fueled economyand the Fed will be forced to accept a higher inflation target. 
In fact, inflating-away some significant portion of our debt may end up the ultimate project the Fed will undertake, and it seems this line of thinking is becoming more mainstream. The Carlyle Group's co-founder David Rubenstein stated in an interview in January this is precisely where the US is headed: "The only way out of this is increasing taxes, cutting spending, or inflating your way out of it. In the end…there is no other way out of it than inflating your way out" (see full interview here)…
---
ALERT:
Billionaire mining legend Pierre Lassonde has been buying large blocks of shares in this gold exploration company and believes the stock is set to soar more than 150% in the next 6 months. To find out which company CLICK HERE OR ON THE IMAGE BELOW.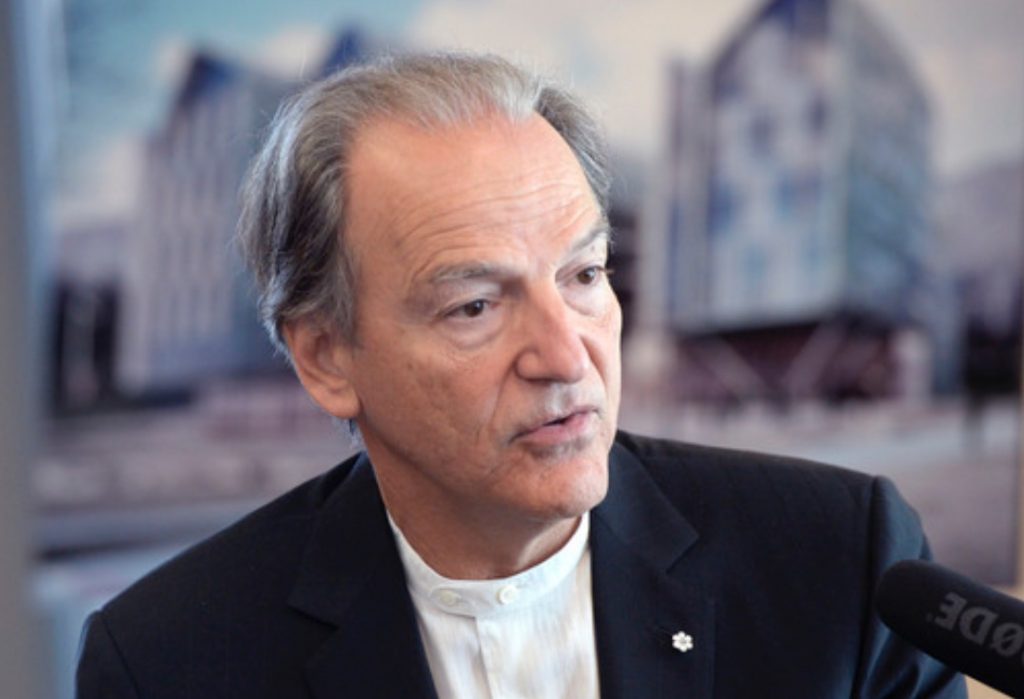 Sponsored
---
And lastly: could we be on the verge of a US credit rating downgrade? On May 24th, amid the debt ceiling political brinksmanship, Fitch placed US AAA credit rating on Negative Watch (and has maintained Ratings Watch Negative despite the debt limit resolution, see here). Fast forward to yesterday, and Fitch sends out yet another warning flare: There is little near-term sign of political agreement to further address risks to the public finances. The deal to suspend the debt limit involved agreement not to reduce mandatory spending on Social Security and Medicare. Meanwhile it is unclear whether some existing tax cuts and spending limits will be extended beyond their scheduled end dates. A reluctance to raise taxes or reduce spending makes it difficult to narrow fiscal deficits consistent with stabilizing the GG debt ratio. (full report here).
Also of importance…
Major Potential Inflection Point at World Class Gold Miner After Blow-out Production Beat
K92 Mining, operating the Kainantu Gold Mine which is one of the highest-grade gold mines globally, delivered a monster Q2 results beat this week. The Company delivered 30,794 oz gold equivalent propelling the stock up 12% on the news on big volume and could have more room to run with John Lewins, CEO and Director messaging a positive second half of the year:
"…the second half of 2023 is expected to be our strongest, driven by stope sequence and operational flexibility significantly increasing through the remainder of the year."
From expansions, to exploration to execution, Mr Lewins, is very excited about what is in-front of the Company on so many levels:
"For the second half of the year, there is a tremendous amount of sense of anticipation in the Company. On the process plant, now that the Stage 2A Plant Expansion is complete, optimization efforts are underway to thoroughly test its recovery and throughput potential. We believe throughput has the potential to be notably above design nameplate. On mining, we continue to benefit from the arrival of more equipment, with a new jumbo scheduled to arrive this month and multiple long-term infrastructure projects that will drive efficiencies and boost operational flexibility such as the twin incline, also progressing well.
We are also active in exploration, with our underground program currently drilling Kora Deeps and Judd South in addition to Kora and Judd. Surface exploration is drilling Judd, Judd South and Kora South, in addition to the A1 Porphyry. And lastly, the tender process for our major growth capital packages for the Stage 3 and 4 Expansions are well advanced and we look forward to providing an update near-term."
K92 is in the early construction phase of a major expansion to 300,000 oz gold equivalent per year (Stage 3) followed by an expansion to 500,000 oz gold equivalent (Stage 4) over the medium-term. K92 Mining trades on the TSX under ticker symbol KNT and KNTNF in the US.
GOLD BLASTOFF! To listen to Tavi Costa discuss gold and silver soaring along with mining stocks CLICK HERE OR ON THE IMAGE BELOW.

ALSO JUST RELEASED: CAUTION: "They know how bad it's going and they're going to do everything they can to keep gold prices down before they skyrocket" CLICK HERE.
ALSO JUST RELEASED: Gold Is Going To $2,700-$3,000 And Some Junior Stocks Will Soar 20-30x Higher CLICK HERE.
ALSO JUST RELEASED: Art Cashin Says Commodities Close To Major Upside Breakout, Plus A Look At 1920s vs Today CLICK HERE.
ALSO RELEASED: This Has Only Happened A Handful Of Times Since 1928 CLICK HERE.
ALSO RELEASED: Calm Markets But Here Is The Big Surprise Of The Day CLICK HERE.
ALSO RELEASED: BRICS Countries Continue Massive Gold Buying Spree CLICK HERE.
ALSO RELEASED: Interview With The Man Who Correctly Predicted Russia & BRICS Would Launch Gold-Backed Currency CLICK HERE.
To listen to the man who correctly predicted the BRICS would launch a gold-backed currency CLICK HERE OR ON THE IMAGE BELOW.

© 2023 by King World News®. All Rights Reserved. This material may not be published, broadcast, rewritten, or redistributed.  However, linking directly to the articles is permitted and encouraged.