Investors need to buckle up as the US housing bubble is bursting as a financial tsunami approaches, plus people don't work nearly as much as previous generations.
Financial Tsunami Approaches
May 24 (King World News) – Albert Edwards, Former Global Strategist at Société Générale:  Fretting about the debt ceiling is missing the point. Stan Druckenmiller noted recently, "The debt ceiling is like sitting on the Santa Monica pier and you see a 30 foot wave and you're worried about it. There's a 200 foot tsunami 10 miles out, but all we talk about is the wave."
Prices Plunging
Liz Ann Sonders, Chief Investment Strategist at Charles Schwab:  Median price for new single-family home -8.2% year/year in April, worst since April 2020.
Housing Bubble Deflating:
Prices Hit Lowest Level Since April 2020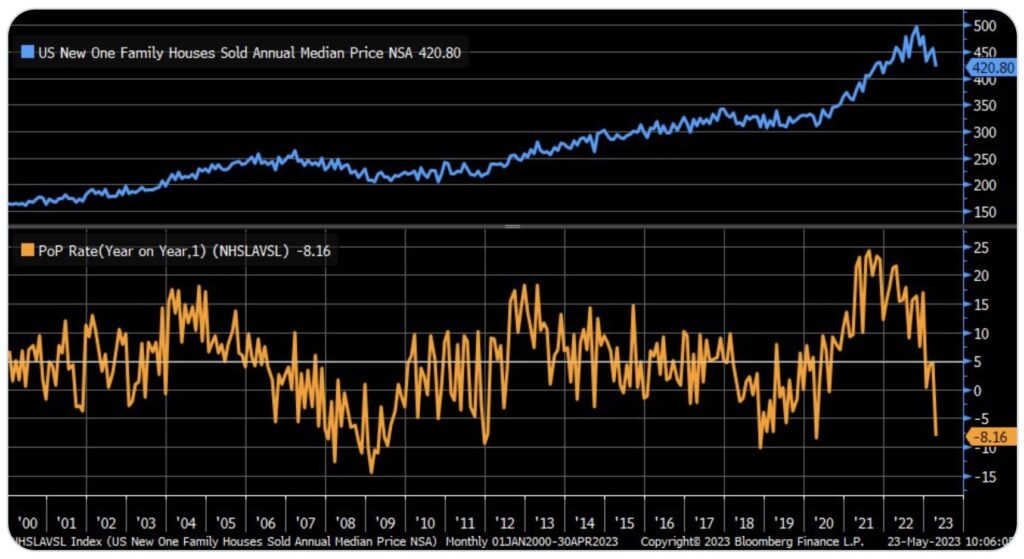 Retracing The Entire Bubble
Liz Ann Sonders, Chief Investment Strategist at Charles Schwab:  Quite a remarkable move for shipping rates from Shanghai to Los Angeles … from March 2020 low to September 2021 peak, rates shot up by 836% … since then, they've fallen by -85%.
Shipping Rates From Shanghai To Los Angeles Soared But Then Collapsed!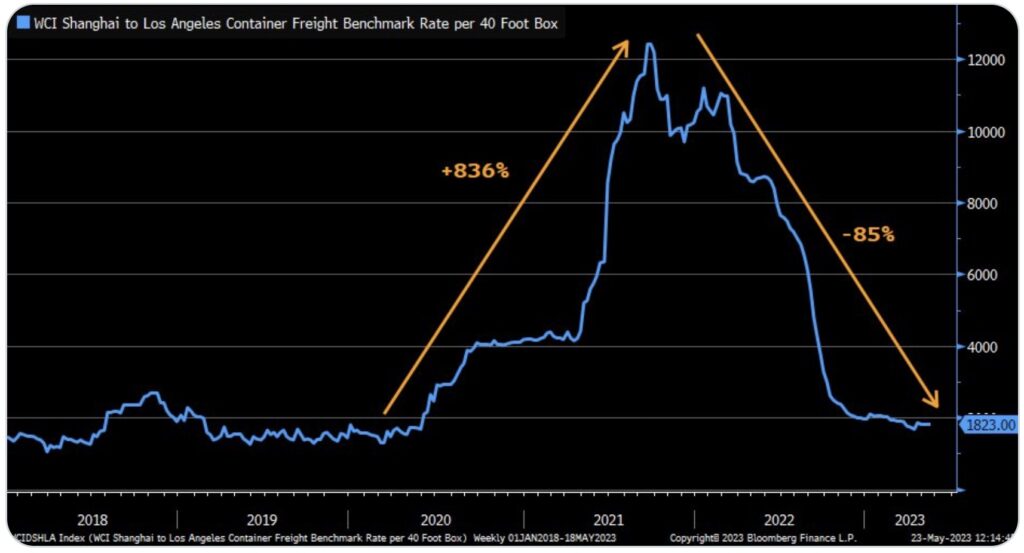 Shoe Shine Boy Buying Stocks
Gunjan Banerji:  61% of Americans say they invest in stocks, the highest share since **2008** [according to Gallup]…
---
ALERT:
Billionaire mining legend Pierre Lassonde has been buying large blocks of shares in this gold exploration company and believes the stock is set to soar more than 150% in the next 6 months. To find out which company CLICK HERE OR ON THE IMAGE BELOW.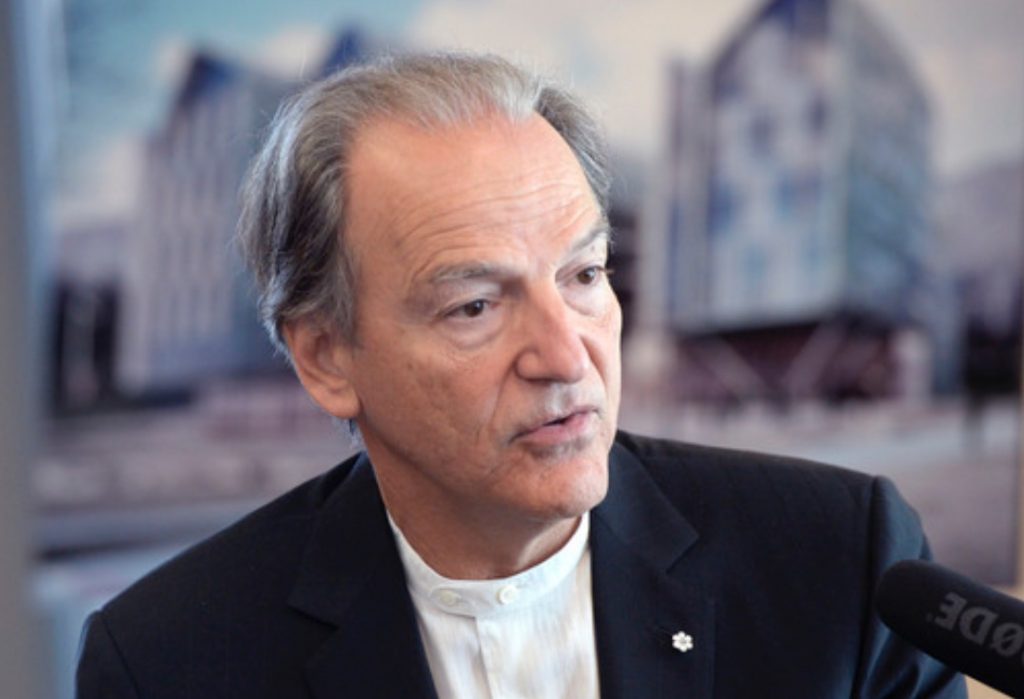 Sponsored
---
Recession Anyone?
The Daily Shot:  Industrial metals are increasingly pricing a recession.
Demand From China Has Collapsed Along With Industrial Metals Prices Such As Copper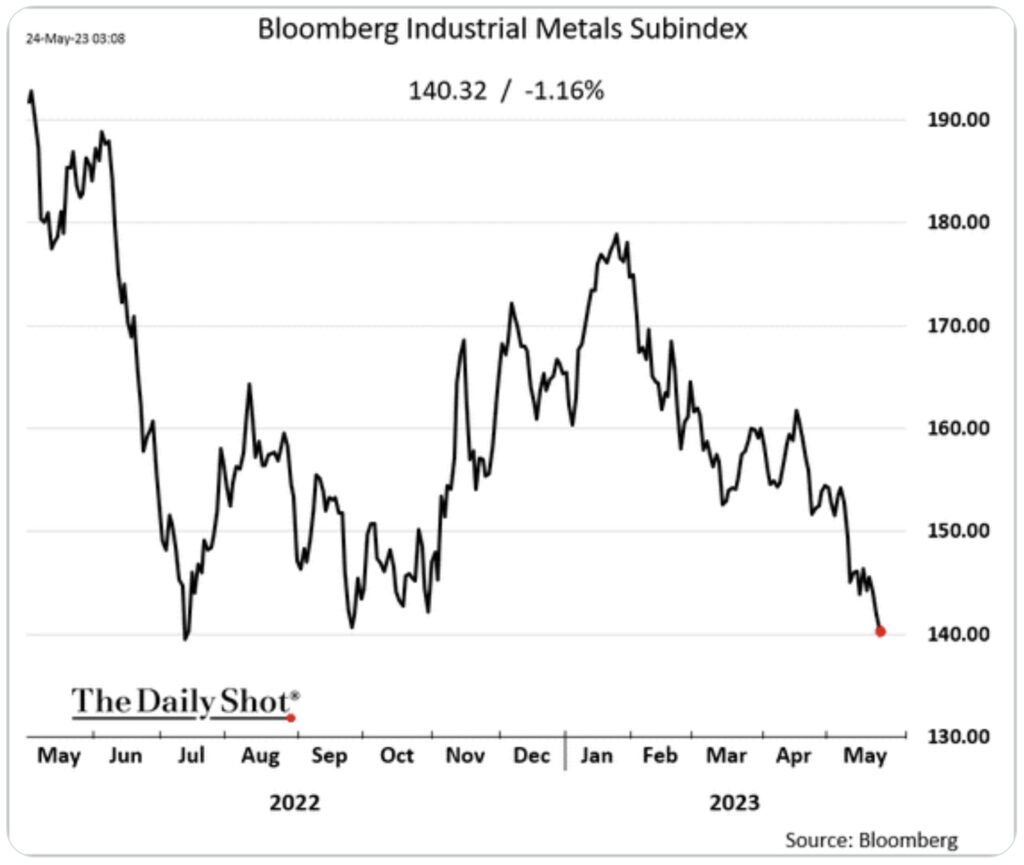 People Don't Work As Hard As Previous Generations
Holger Zschaepitz:  Germans have gone from being the most industrious people to the laziest: Hours per worker in Germany halved from 1900 to 2000. The downtrend has been remarkably stable: for at least 150 years, with exception of World War II, every generation has worked fewer hours than its predecessor.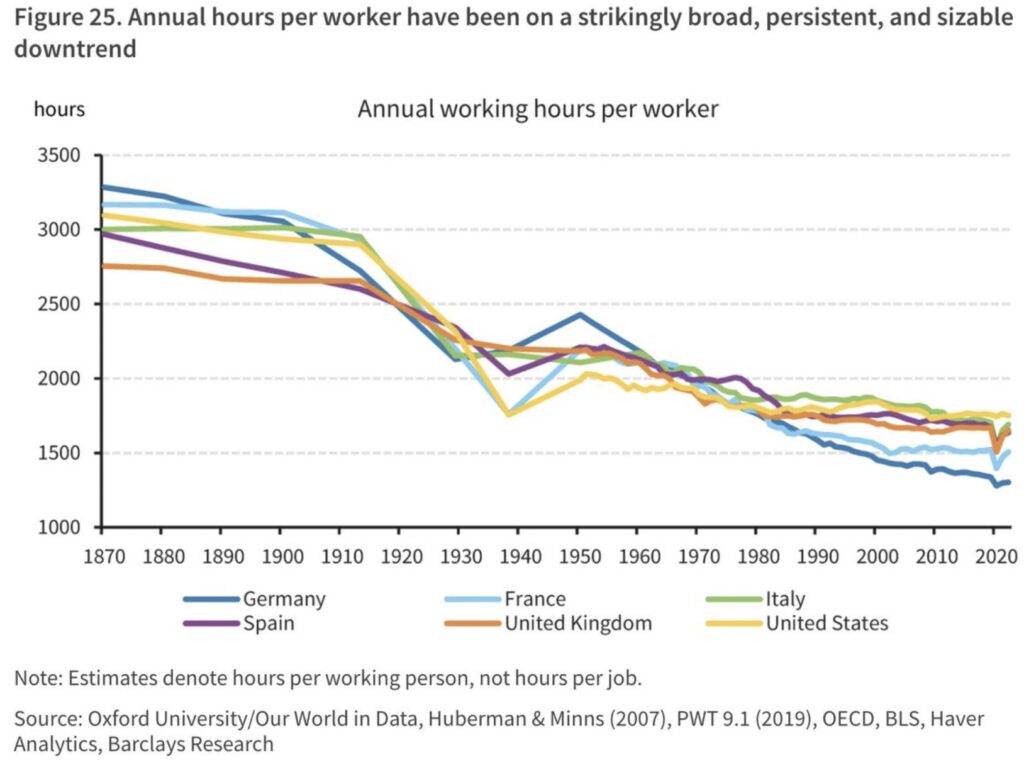 BUCKLE UP: Housing Bubble Bursting
Gordon Johnson:  US Housing Bubble 2.0 Update – the bubble IS bursting as supply rises, sales plunge, cash sales implode (i.e., even investors are pulling back), & prices drop the most since 2012. So… despite the fact it's the spring selling season, or the best time of the year to sell a home, things aren't looking so rosey. That is, the median price for all types of previously owned homes, co-ops, and condos in April saw their values fall -1.7% YoY to $388.8K, or the third month in a row of YoY declines, based on data from the National Association of Realtors ("NAR") – we haven't seen three straight months of falling home prices YoY since Feb. 2012.
First Time Three Straight Months Of Decline In Home Prices Since 2012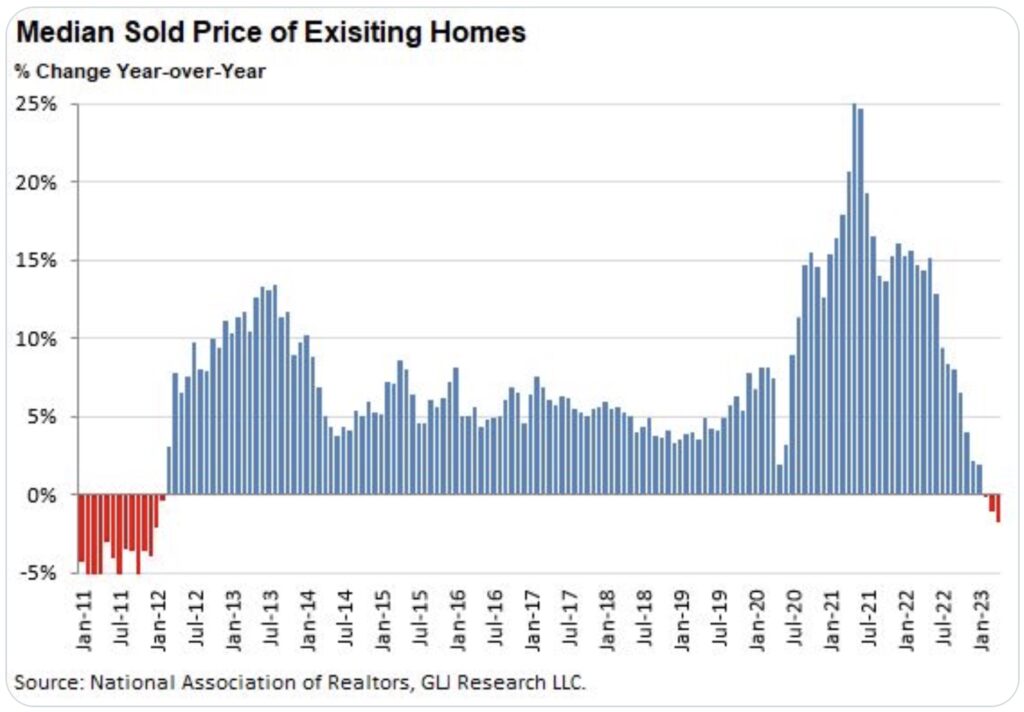 That said, again, given it's spring selling season when prices ALWAYS rise month over month, the median price for a home in April was up +3.6% from March, but less than month over month increase in April 2022 of +4.3% (thus, the bigger year over year fall). Furthermore, when moving to the sale of existing homes, April saw a -3.4% fall from March to 4.28mn homes, which means we're firmly entrenched in the dismal levels seen during the Global Financial Crisis ("GFC").
Existing Homes Sales At Lowest Levels Since COVID Collapse And Great Financial Crisis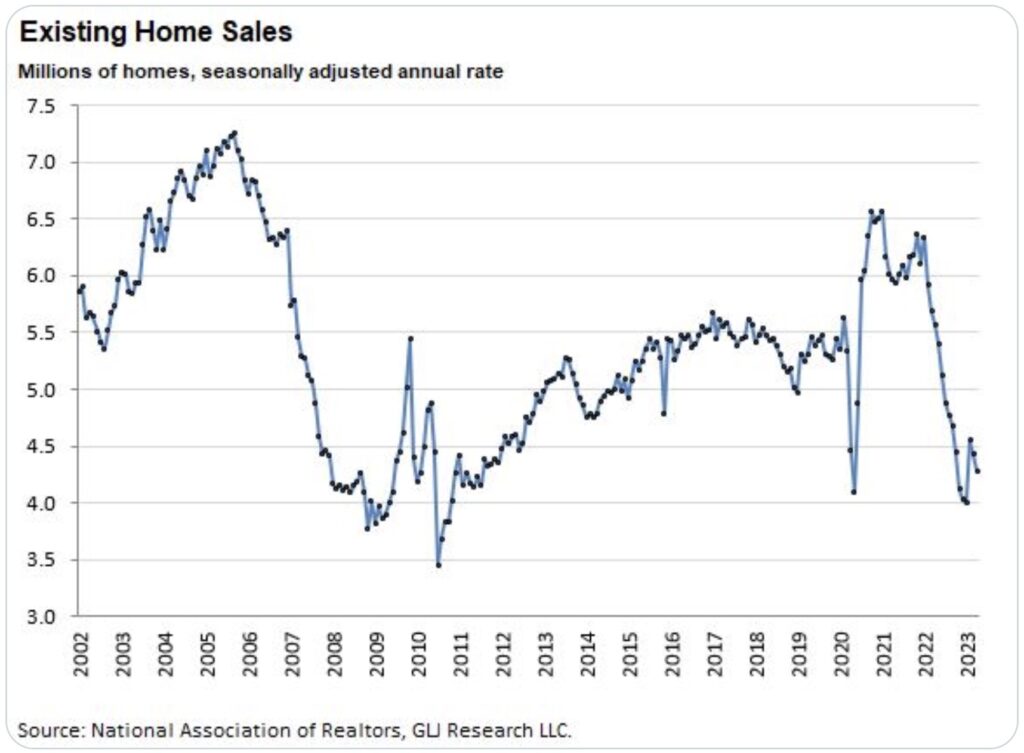 What about all-cash sales (or, investors, if you will)? Well, according to NAR data, all-cash sales COLLAPSED by -22% YoY in April to 94K homes, from 120K homes in April 2022. In fact, every region was down in April YoY (chart below).
All-Cash Home Purchases Collapse Across The US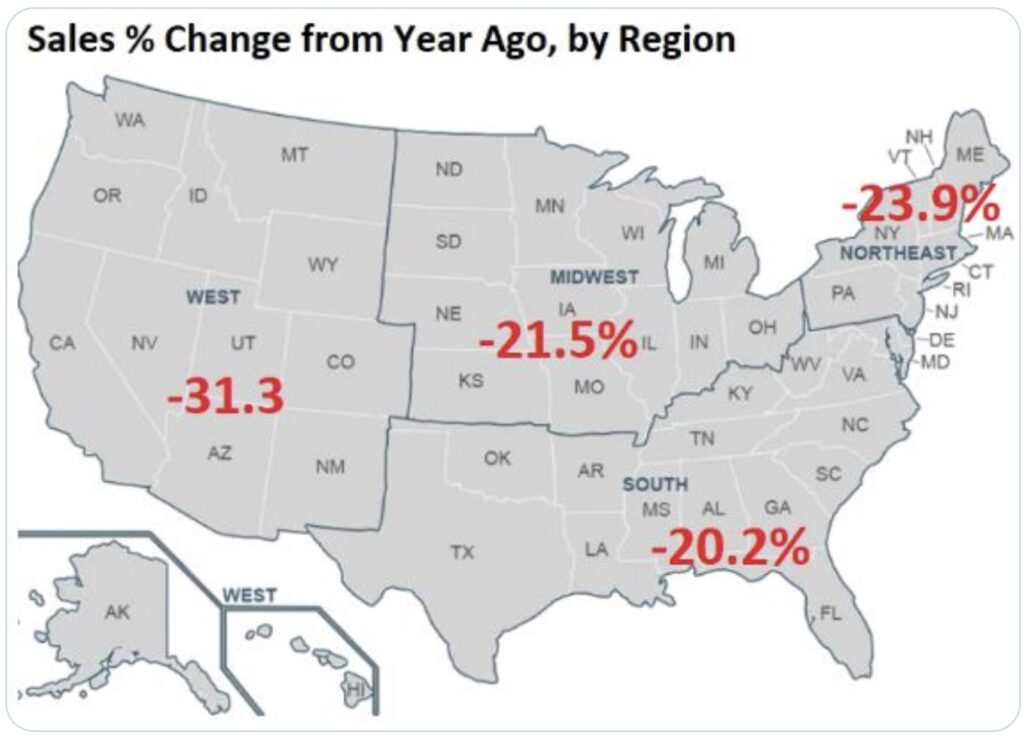 …But with market internals worsening, housing bubble 2.0 appears to be in the beginning innings of deflating.
Also of importance…
Expansion Of Massive High-Grade Gold Deposit
Daniel Kunz:  "The news release today coupled with the $45 million cash balance we have, they combine to show a real path towards Los Reyes turning into a 4 million ounce gold deposit.
We are now accelerating our drill program, which will allow us to complete 60,000 meters of drilling this year. This is double what we had originally planned. The continued success we have had on the ground in terms of the drill results as well as the extremely strong cash position are the reasons why we can do this accelerated drill program.
Today's results are associated with the current resource that we just announced on May 2nd. We are also drilling and expect to release results on areas outside of that — the new potential deposit zones which are nearby. Again, all of this is based on this very impressive geological structure that remains open at depth and along strike providing untapped areas for additional discovery. So this is incredibly compelling in terms of the future expansion of the resource. Prime Mining, symbol PRYM in Canada and PRMNF in the US.
---
ALSO JUST RELEASED: Stunning Big Picture Look At Gold As Stock Markets Tumble Across The Globe CLICK HERE.
ALSO JUST RELEASED: The Global Debt Market Time Bomb Is Close To Exploding CLICK HERE.
ALSO JUST RELEASED: Look At Who Is Calling A Major Gold Bottom, Plus A Tale Of Two Economies And Relief For New Car Buyers CLICK HERE.
ALSO JUST RELEASED: Unusual Money Flows Into Gold, Credit Crunch, Plus "Transitory" Deflation? CLICK HERE.
ALSO RELEASED: Greyerz On The Derivatives Nightmare, Plus Gold Bottom At Hand CLICK HERE.
ALSO RELEASED: Dollar Woes To Denial: The USA Is Screwed CLICK HERE.
***To listen to 9 time Graham & Dodd Award winner Rob Arnott discuss inflation and the trouble that lies ahead for countries around the globe CLICK HERE OR ON THE IMAGE BELOW.

***To listen to Alasdair Macleod discuss what is happening behind the scenes in the gold and silver markets as well as where the opportunities are right now for investors CLICK HERE OR ON THE IMAGE BELOW.

© 2023 by King World News®. All Rights Reserved. This material may not be published, broadcast, rewritten, or redistributed.  However, linking directly to the articles is permitted and encouraged.