Look at this unusual money flowing into gold, plus a look at the credit crunch and "transitory" deflation?
Unusual Money Flows Into Gold
May 21 (King World News) – Fred Hickey:  In 4 of last 5 trading days there have been inflows into GLD ETF (5th day was flat). Total adds over 5-day period were 10 tons, while gold itself fell $40oz. Highly unusual. March 8, 2022 (gold's 2022 top) to March 15 '22 saw steep gold decline accompanied by GLD outflows.
Next big gold drop last year occurred in early to mid-May -again accompanied by GLD outflows. Same with 2021's steepest gold drop (early Jan 2021 to early March) – heavy GLD outflows then too. Tells us recent gold correction solely driven by hot-money hedgies and CTAs and may not last.
Three biggest gold decline periods in 2020 also were accompanied by GLD outflows each time. As I said, these inflows into GLD during the recent correction are unusual…
---
ALERT:
Powerhouse merger caught Rio Tinto's attention and created a huge opportunity in the junior gold & silver space CLICK HERE OR ON THE IMAGE BELOW TO LEARN MORE.

---
"Transitory" Deflation?
Charlie Bilello:  Commodity price changes over the last year… 
Sugar: +29%
Silver: +11%
Gold: +8%
US CPI: +4.9%
Coffee: -11%
Copper: -13%
Soybeans: -23%
Corn: -29%
Gasoline: -32%
Brent Crude: -33%
Zinc: -34%
WTI Crude: -35%
Heating Oil: -35%
Cotton: -39%
Wheat: -48%
Lumber: -48%
Natural Gas: -68%
The Shift From Tech Stocks To Gold Stocks Is Coming
Peter Schiff noted today:  The reason investors are buying tech stocks instead of gold stocks is that they expect the Fed to begin its next easing cycle soon, but they also expect CPI measured inflation to keep coming down. When they are surprised by a rising CPI, they'll sell tech and buy gold stocks…
---
This Is Now The Premier Gold Exploration Company In Quebec With Massive Upside Potential For Shareholders click here or on the image below.
---
Median Home Price
Charlie Bilello:  The median price of a home sold in the US fell 4% over the last year, the largest YoY decline since 2012.
House Prices Plunge At Fastest Pace Since 2012!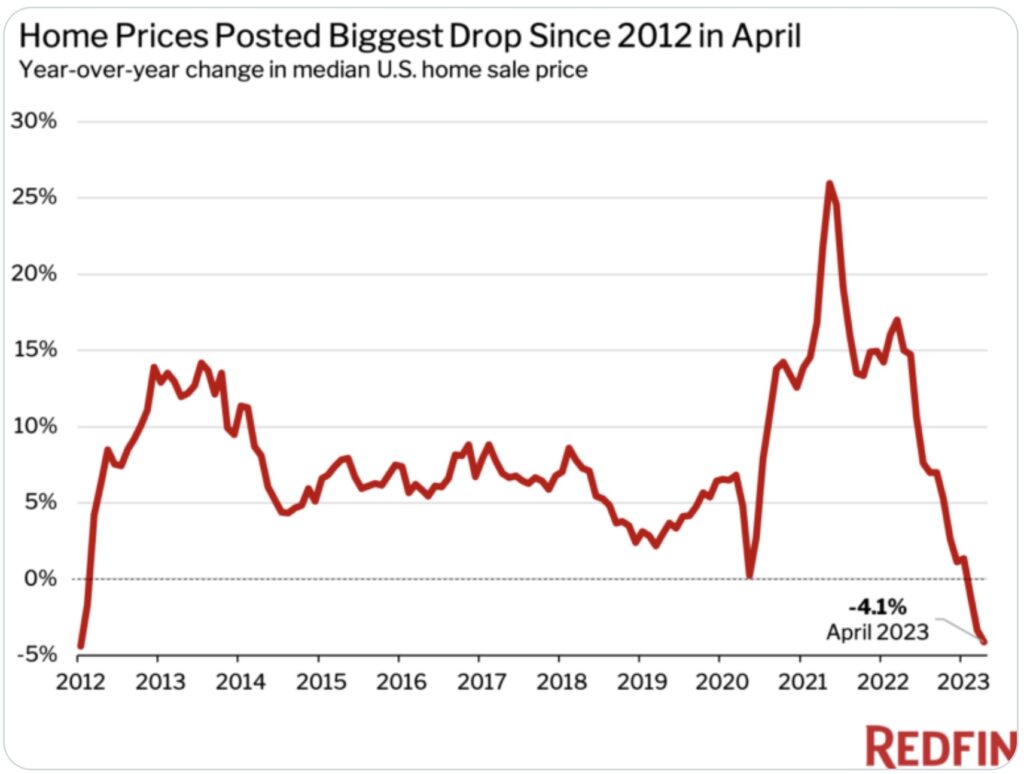 1970s Redux
Charlie Bilello:  US Bank Deposits are down 5.6% from their peak last year, the largest drawdown we've seen since 1975.
Bank Deposits Collapse At Fastest Pace Since 1975!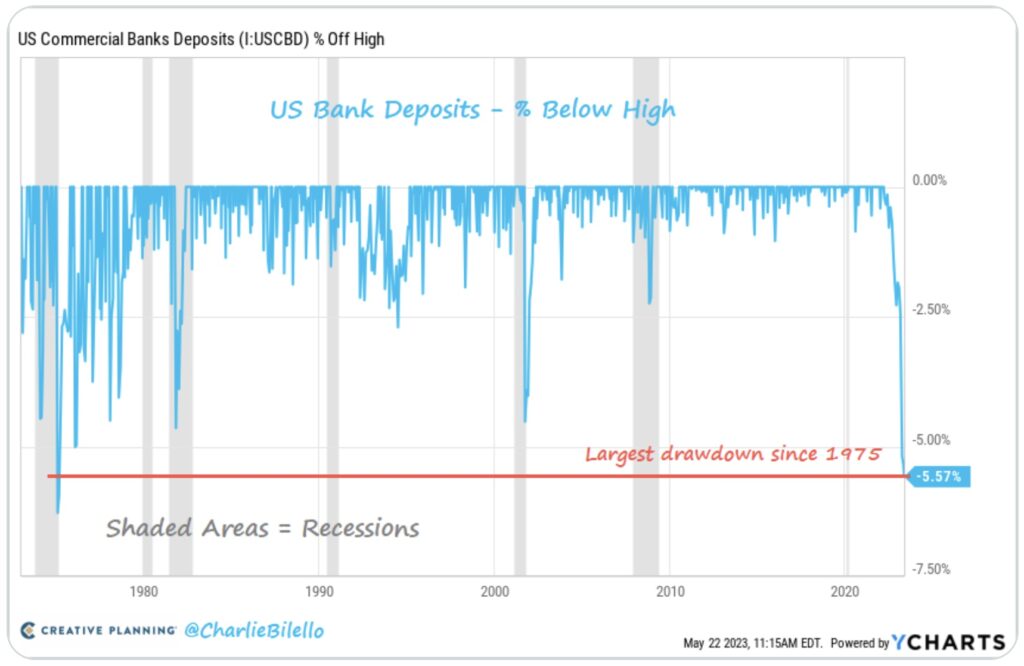 Credit Crunch
Charlie Bilello:  A net 46% of US Banks are now tightening their lending standards, the highest since 2020 and at levels that have coincided with recessionary periods in the past.
Bank Tightening Spikes Near Major Trouble Zones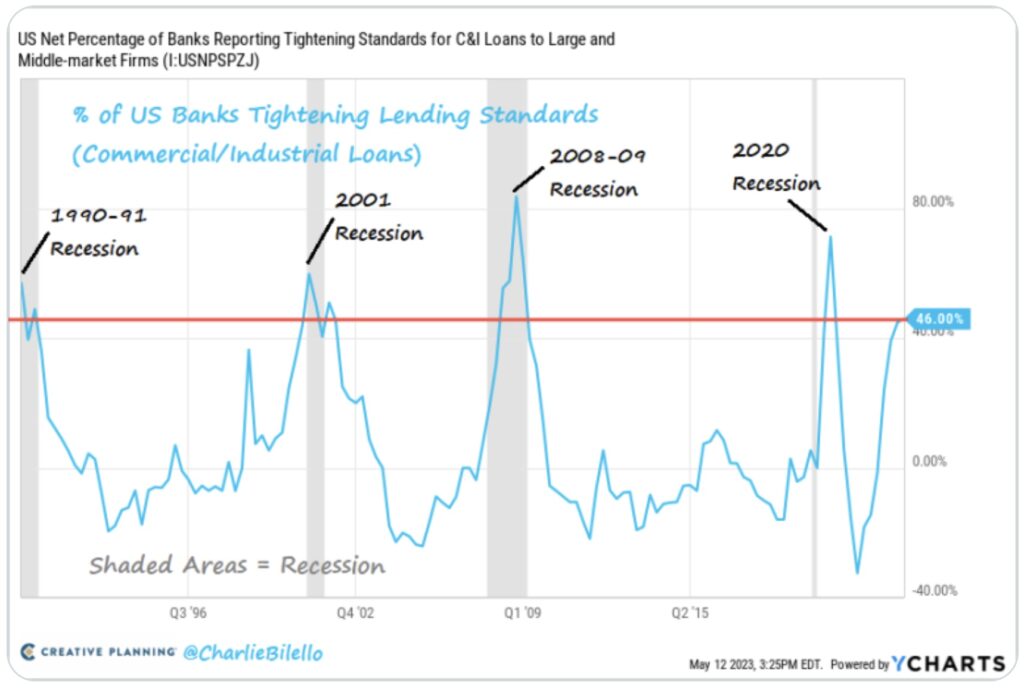 ALSO JUST RELEASED: Greyerz On The Derivatives Nightmare, Plus Gold Bottom At Hand CLICK HERE.
ALSO JUST RELEASED: Dollar Woes To Denial: The USA Is Screwed CLICK HERE.
***To listen to 9 time Graham & Dodd Award winner Rob Arnott discuss inflation and the trouble that lies ahead for countries around the globe CLICK HERE OR ON THE IMAGE BELOW.

***To listen to Alasdair Macleod discuss what is happening behind the scenes in the gold and silver markets as well as where the opportunities are right now for investors CLICK HERE OR ON THE IMAGE BELOW.

© 2023 by King World News®. All Rights Reserved. This material may not be published, broadcast, rewritten, or redistributed.  However, linking directly to the articles is permitted and encouraged.