Here is a stunning big picture look at gold as stock markets tumble across the globe.
Remarkable Undervaluation
May 24 (King World News) – Clay Fink:  They say a picture is worth a thousand words… And when it comes to macro charts, there's no better resource than Tavi Costa. Here are my favorite charts he's shared. Chart #1 is what Tavi calls "The Most Important Macro Chart of the Decade":
CHART OF THE DECADE:
Commodities vs Equities Ratio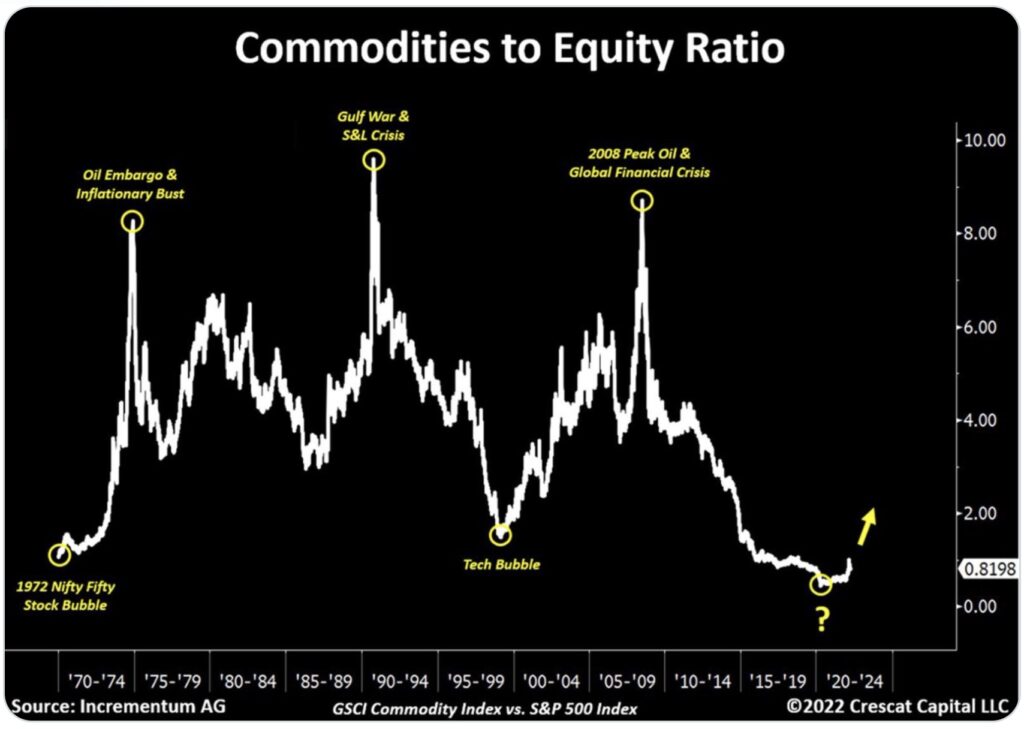 Investors often claim that there has been nowhere to hide in 2022 with high inflation as many asset classes fell. 
This brings us to Chart [#2] – The Gold vs. Equities Ratio after Yield Curve Inversions:
Gold vs S&P 500 Today (GREEN LINE)
Gold vs S&P All Periods Since 1970 When Yield Curve Inverted By 70% (YELLOW LINE)
Gold vs S&P During 1973-74 Stock Market Collapse (BLUE LINE)
It's no secret that yield curve inversions can spell trouble for the stock market. 
So how can investors best protect themselves? 
Historically, gold has been a good protection relative to stocks for the 2 years after yield curve inversions…
---
ALERT:
Billionaire mining legend Pierre Lassonde has been buying large blocks of shares in this gold exploration company and believes the stock is set to soar more than 150% in the next 6 months. To find out which company CLICK HERE OR ON THE IMAGE BELOW.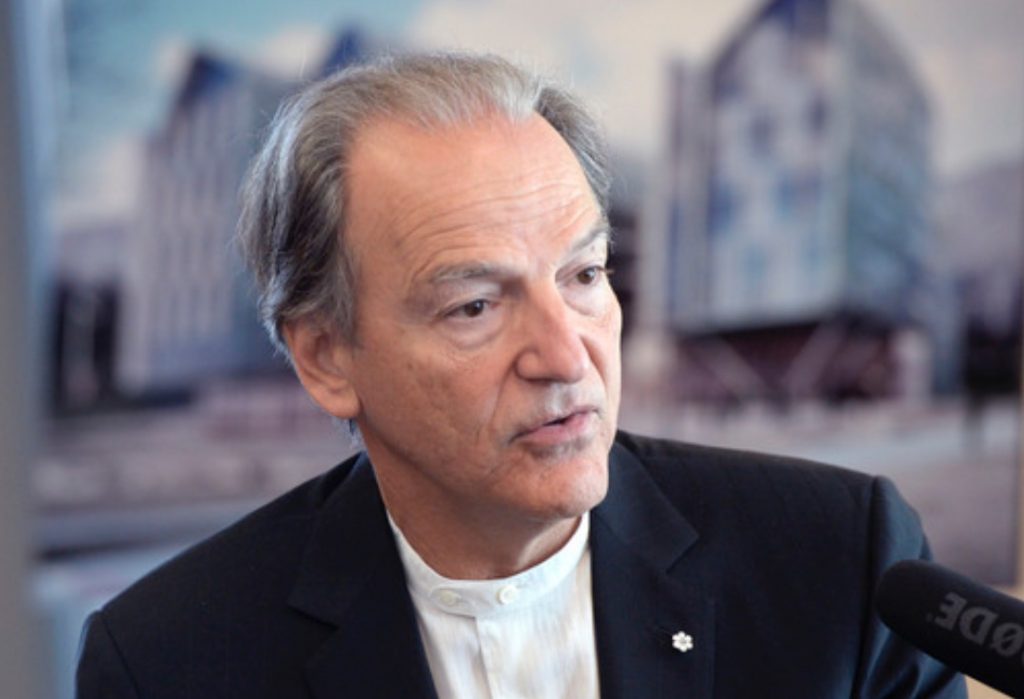 Sponsored
---
This also ties into [Chart #3] showing prior yield curve inversions: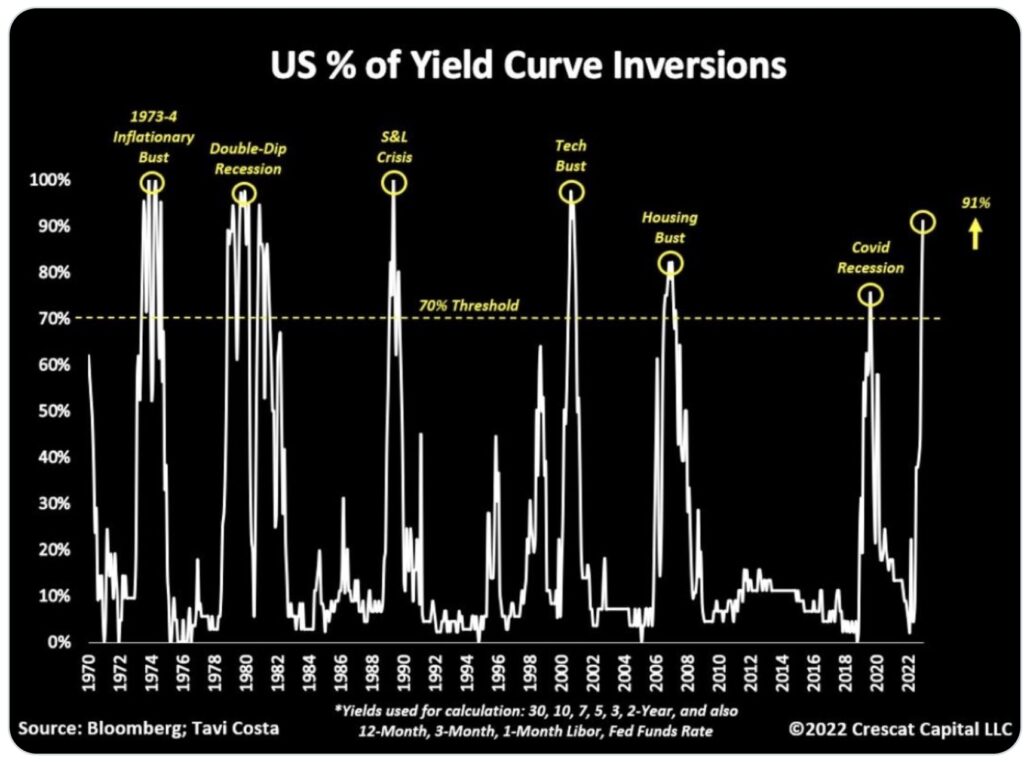 Whether you love or hate gold, it's the only asset today sitting near its all-time high…
---
Listen to the greatest Egon von Greyerz audio interview ever
by CLICKING HERE OR ON THE IMAGE BELOW.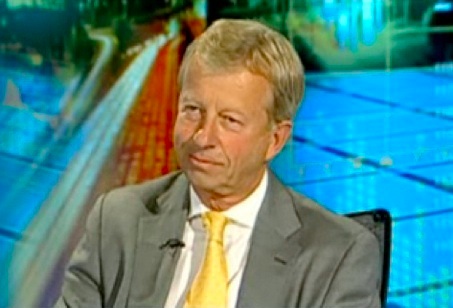 Sponsored
---
Stock Markets Tumble Across The Globe
Art Cashin, Head of Floor Operations at UBS:  Overnight, global equity markets are mostly lower in reaction to further rumors and speculation about a possible new strain of Covid breaking out in China. There are strong signs of government censorship on that topic and, in fact, on several other issues. 
Asian markets were particularly hit. Japan is down the equivalent of about 280 points in the Dow. Hong Kong got whacked, falling the equivalent of about 530 points in the Dow. Mainland China is down about 500 points and India is off, but more modestly somewhere the equivalent of about 150 points in theDow. 
The selling has also spread to Europe where items like luxury goods are being particularly hit, assuming a possible shutdown in China is coming again. London is off the equivalent of about 500 points in theDow. There the selling is possibly double-pronged. China, on the one hand, and the fact that inflation is finally fallen below 10% but not fallen as much as hoped for. 
On the continent, the markets there are also gobsmacked by China's speculation. Paris and Frankfurt are both down the equivalent of 500 points in the Dow.So, we will continue to watch the newswires to see what comes up there. There are signs of increasing government censorship in China. So, the accurate news may be tough to come by, but markets will find a way to ferret that out one way or another.
The economic calendar is modestly busy. It being Wednesday, we are going to get the mortgage data early on and then the State Street Confidence Index. In midmorning, along with the oil inventories, we will get the Business Surveys and two-year floating rate note auction. 
We will hear from Fed Governor Waller at noon and then at 1:00 p.m., a five-year auction. At 2:00 p.m., we will see the Fed Minutes and the primary search there will be whether any or how many FOMC participants were lobbying for a possible "pause"at the May meeting.
The slide rule has been having a reasonably good run until it got blown out of the water with the Covid rumors in late trading yesterday. So, we thought we would give the slide rule another shot. On the ten-year yield, they still see the resistance at 3.65% to 3.75% and we are at the very top of that range. On the S&P, we are looking for support around 4120 to 4125 and resistance probably up at 4175 to 4185. We will see how that looks. We may even get out the calculator and gets some electronic estimates later in the day.
So once again, you know the current drill. Stay close to the newsticker. Keep your seatbelt fastened. Stay nimble and alert, but most of all stay safe.
Also of importance…
Expansion Of Massive High-Grade Gold Deposit
Daniel Kunz:  "The news release today coupled with the $45 million cash balance we have, they combine to show a real path towards Los Reyes turning into a 4 million ounce gold deposit. We are now accelerating our drill program, which will allow us to complete 60,000 meters of drilling this year. This is double what we had originally planned. The continued success we have had on the ground in terms of the drill results as well as the extremely strong cash position are the catalysts for this accelerated drill program.
Today's results are associated with the current resource that we just announced on May 2nd. We are also drilling and expect to release results on areas outside of that — the new potential deposit zones which are nearby. Again, all of this is based on this very impressive geological structure that remains open at depth and along strike providing untapped areas for additional discovery. So this is incredibly compelling in terms of the future expansion of the resource. Prime Mining, symbol PRYM in Canada and PRMNF in the US.
---
ALSO JUST RELEASED: The Global Debt Market Time Bomb Is Close To Exploding CLICK HERE.
ALSO JUST RELEASED: Look At Who Is Calling A Major Gold Bottom, Plus A Tale Of Two Economies And Relief For New Car Buyers CLICK HERE.
ALSO JUST RELEASED: Unusual Money Flows Into Gold, Credit Crunch, Plus "Transitory" Deflation? CLICK HERE.
ALSO JUST RELEASED: Greyerz On The Derivatives Nightmare, Plus Gold Bottom At Hand CLICK HERE.
ALSO JUST RELEASED: Dollar Woes To Denial: The USA Is Screwed CLICK HERE.
***To listen to 9 time Graham & Dodd Award winner Rob Arnott discuss inflation and the trouble that lies ahead for countries around the globe CLICK HERE OR ON THE IMAGE BELOW.

***To listen to Alasdair Macleod discuss what is happening behind the scenes in the gold and silver markets as well as where the opportunities are right now for investors CLICK HERE OR ON THE IMAGE BELOW.

© 2023 by King World News®. All Rights Reserved. This material may not be published, broadcast, rewritten, or redistributed.  However, linking directly to the articles is permitted and encouraged.