As we continue trading in the final two weeks of September, silver is now coiled to explode on the upside as there is big trouble brewing on Wall Street.
Big Trouble Brewing On Wall Street
September 20 (King World News) – Graddhy out of Sweden:  The historical breakdown from this 15-year bearish pattern is just another brick in the bullish commodities wall.
Now backtesting from below.
S&P 500 vs US Producer Price Index Has Broken Down And Backtested. The S&P Should Collapse From Here vs PPI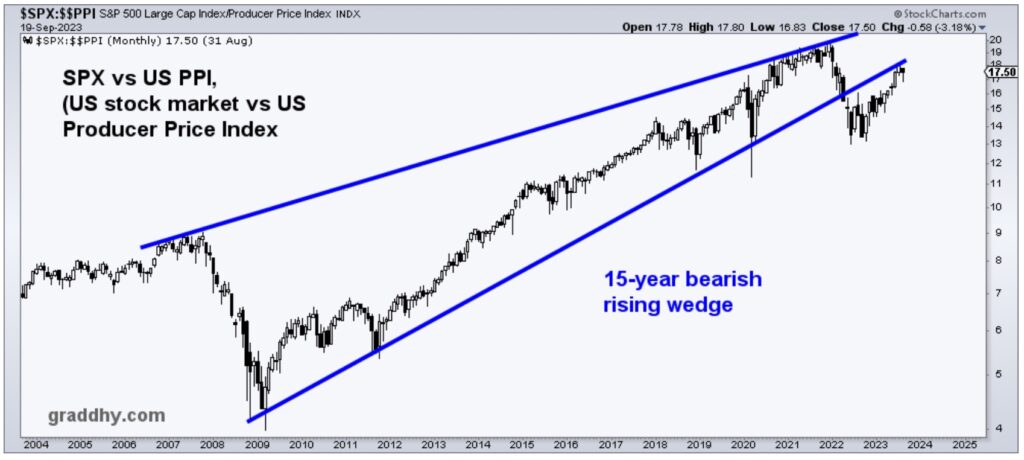 When stock market cannot outperform inflation, global capital will need to move to commodities, which is the driver of inflation…
---
ALERT:
Powerhouse merger caught Rio Tinto's attention and created a huge opportunity in the junior gold & silver space CLICK HERE OR ON THE IMAGE BELOW TO LEARN MORE.

---
Gold & Silver
Graddhy out of Sweden:  Very big picture there is a massive divergence between Gold & Silver.
Last time the two had a larger divergence like this, silver played catch-up big time. And this time silver will break out of a 43-year+ cup and handle. So the over-shoot this time should be absolutely mega.
Silver Is Coiled To Explode On The Upside: See Massive Purple Divergence That Will Overshoot On The Upside (Previous Overshoots Shown In Red)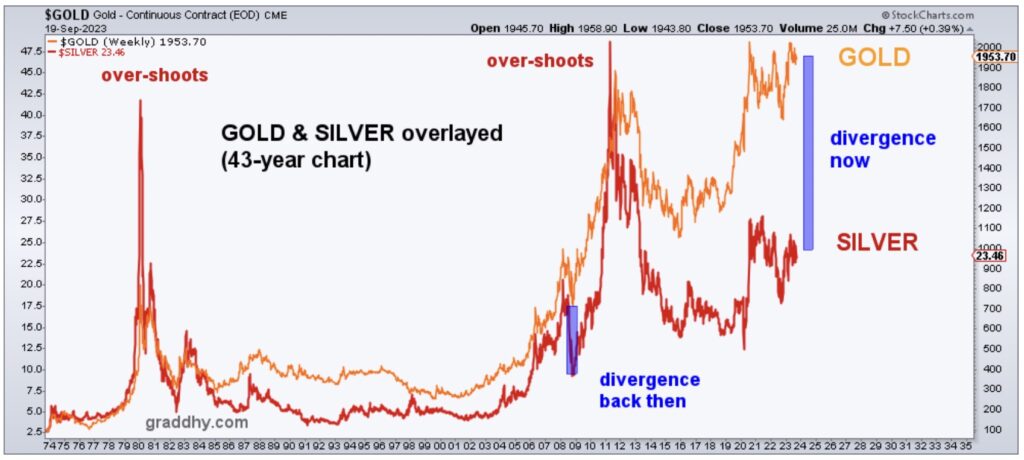 Markets Are Cautious
Art Cashin, Head Of Floor Operations at UBS:  Overnight, global equity markets are generally cautious with personality split on a continental basis. Asia is showing a good deal more anxiety than Europe. Tokyo closed down about 200 points in the Dow and Hong Kong was off approximately the same amount. Mainland China, a bit less anxious, off about more like 150 Dow points. India, which was closed for holiday yesterday, is recouping, closing with a loss of about 400 points in the Dow. 
Over in Europe, as we go to press, London is trading up about 200 points in the Dow. Paris, however, is up only about 100 Dow points. Frankfurt is trading up about 175 points. So, obviously, indecision seems to be the mark of the day.
Obviously, the key event of the day will be the conclusion of the FOMC meeting with the Fed statement coming out at 2:00 p.m., followed, traditionally by some frenzied trading and then Powell's press conference at 2:30, which tends to be the dominant factor. We will see how they tend to gear in after that. 
We believe that perhaps the most important thing of the day, as we have been saying for days, will be the so-called Fed Dot Plot, in which they individual members express their guesses of where rates and such will be going over the coming months. We think markets will look to see if they are more hawkish toward the end of this year, which is what the guessing is and how they feel about probable rate cuts next year, which is all guess work on their part also. 
Aside from the Dot Plot, the English majors will take over as they parse each word of the statement and each word expressed by Powell and, they will particularly be looking for the modifiers, the adjectives and adverbs. Will they continue to include words like highly and frequently, etc. or, will they modify the modifiers and tend to ease back on such? 
The calendar, as we say, is obviously dominated by the Fed. It being Wednesday, we will get mortgage data well before the opening. Later on, we will get oil inventories. All that pales as we await the Fed press conference. 
We will be looking at the famous and documented Fed Drift, which is the tendency of the stock market to drift higher in the 24 hours or so before the 2:00 p.m. statement. Its record remains intact, although it has been stretched a little bit. We think the market will continue to take its own temperature and pulse and other vital signs and the influence of the ten-year yield may be mitigated or modified as traders decided to wait on the Fed announcement and press conference, rather than c a few basis point ticks. 
In the meantime, we will hope that today will be a bit less confusing than those final two hours were on Tuesday. 
You know the current drill. The U.N. is still in session. So, stay close to that newsticker. Keep your seatbelt fastened. Stay nimble and alert and we will look through the entrails of the data that comes out and see if we can interpret where things are going. Stay safe.
ALSO JUST RELEASED: Michael Oliver – Major US Dollar & Gold Update CLICK HERE.
ALSO JUST RELEASED: Monetary Policy Shifts My Rock Global Markets This Week CLICK HERE.
ALSO JUST RELEASED: Gold Coiling To Run Wild, Plus Trouble On The Home Front CLICK HERE.
ALSO JUST RELEASED: Another Gold Bullish Catalyst! Plus People Upset With High Inflation CLICK HERE.
ALSO JUST RELEASED: Global Systemic Change Is Now A Matter Of Survival CLICK HERE.
ALSO JUST RELEASED: China Gold Premiums Skyrocket vs US CLICK HERE.
ALSO JUST RELEASED: Pomboy: SHOCKING: Gold Price In China vs US CLICK HERE.
***To listen to Alasdair Macleod's powerful audio interview about what is happening in China and the West in the gold market CLICK HERE OR ON THE IMAGE BELOW.

© 2023 by King World News®. All Rights Reserved. This material may not be published, broadcast, rewritten, or redistributed.  However, linking directly to the articles is permitted and encouraged.