Desperate to keep prices from exploding higher when the price of gold was nearing $2,000 and silver was breaking out late in the week, the government sanctioned bullion banks sprang into action on Thursday and again on Friday with an orchestrated takedown of the metals in the paper markets. The perfectly timed rally in the US dollar is also assisting them with their shenanigans in the paper markets.
Gold Reaction After Surging Near $2,000
February 3 (King World News) – Alasdair Macleod, head of research at Goldmoney:  After trading sideways until Wednesday, gold broke out above its recent consolidation level following the Fed's 0.25% rate increase on Wednesday. And yesterday morning, gold rose briefly to $1959.7 before falling back to $1911. In European morning trade, it was at $1910, down $17 from last Friday's close, and silver was $23.42, down 15 cents on the same timescale.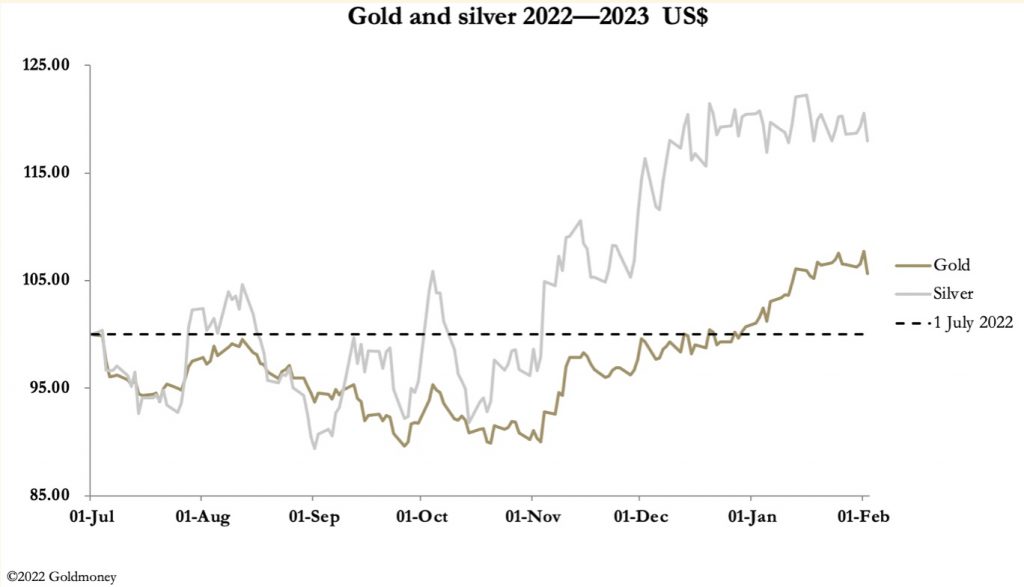 The Fed raised its funds rate by 0.25% on Wednesday to 4.5% to 4.75%. The move was widely expected, but the market initially interpreted the accompanying commentary as dovish, which knocked the dollar's trade weighted index below 102. This is next.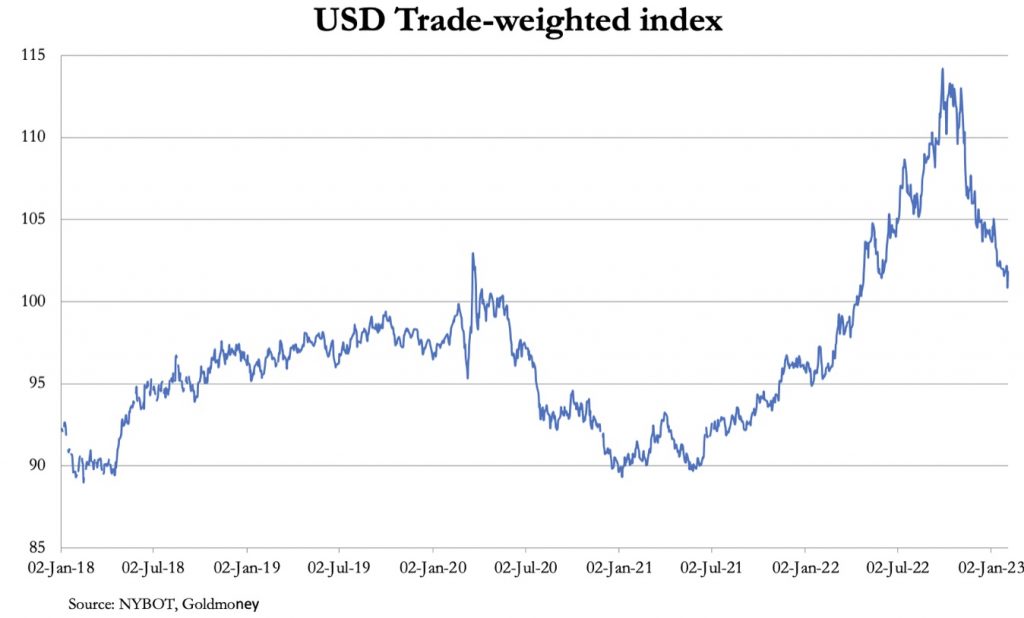 Following the FOMC decision, it was the fall in the TWI which drove gold higher, and its subsequent recovery which drove it back to the current level. But technically, gold is looking bullish.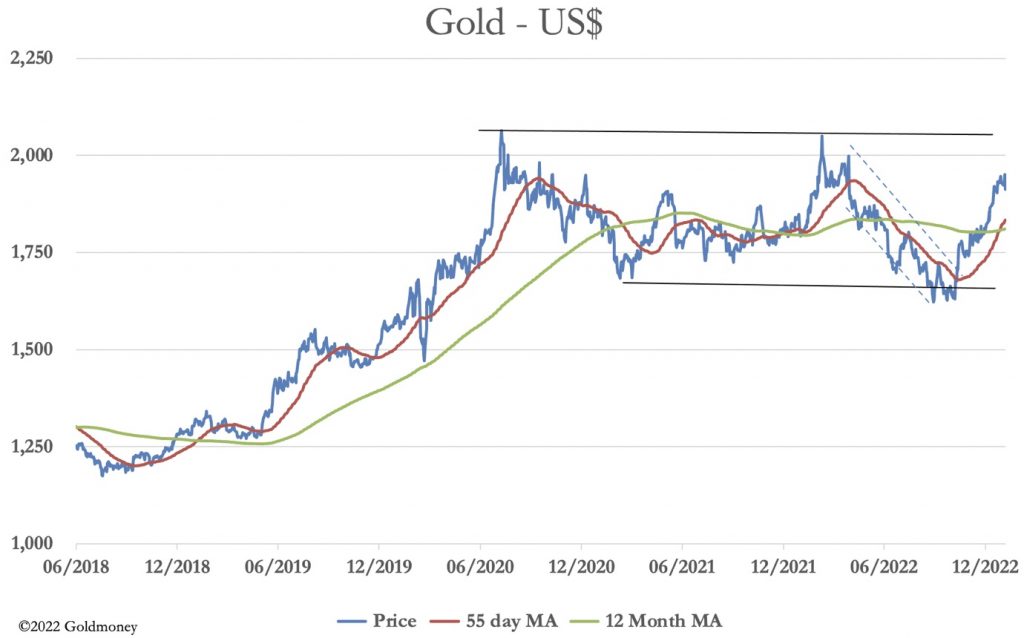 A more significant reaction would suggest that gold is temporarily overbought. But looking at Open Interest on Comex, this is far from the case.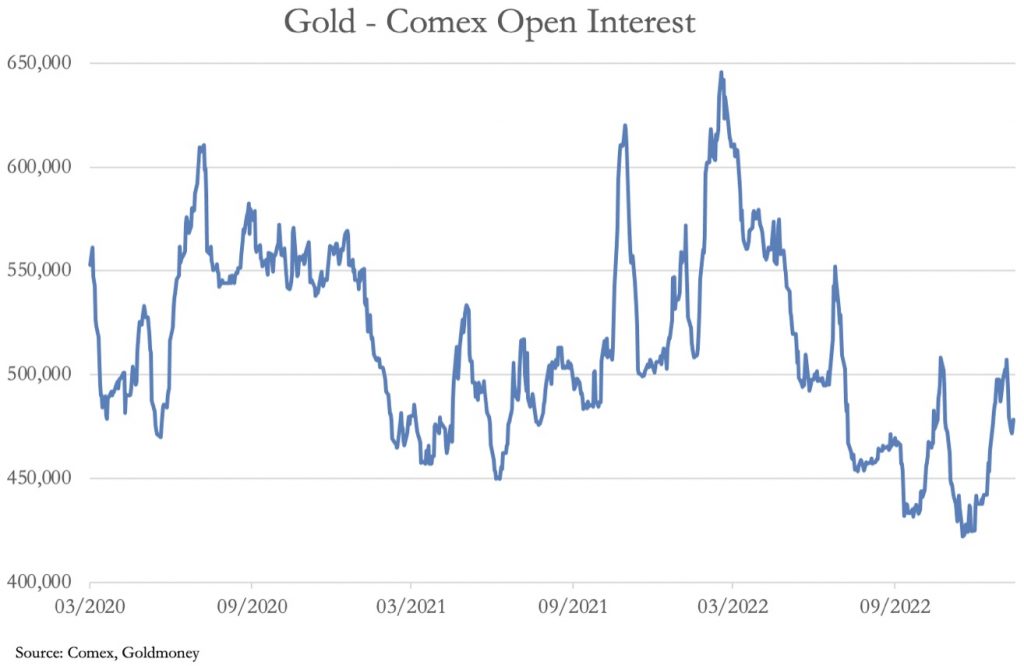 We can confirm this by looking at the Managed Money category, which is our next chart.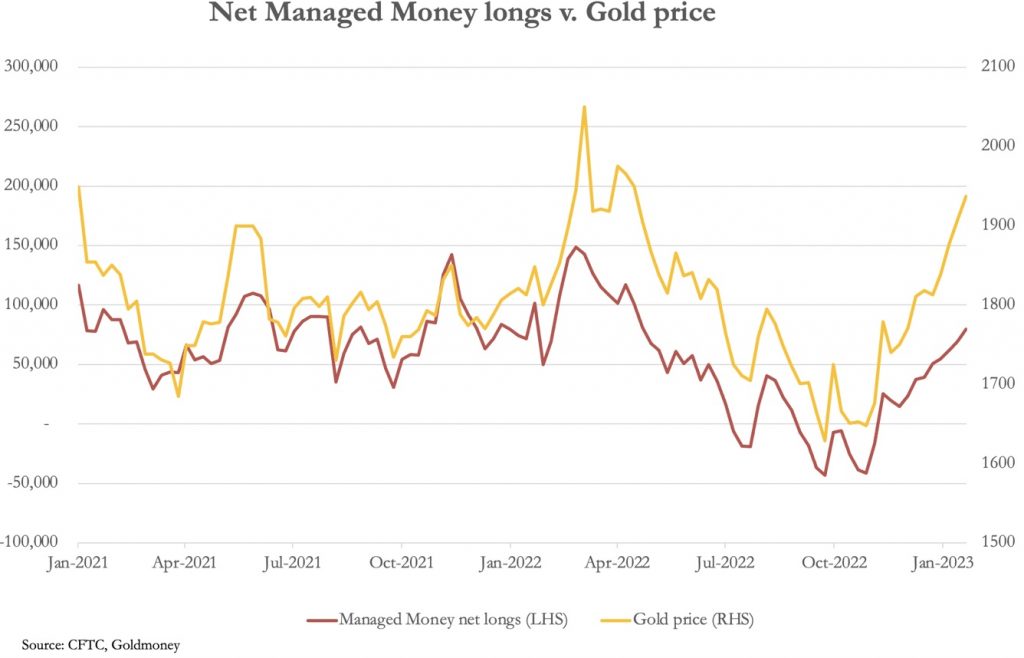 This shows that while the gold price has increased significantly, net Managed Money positions have less so. Bearing in mind that the long-term average net long position is 110,000 contracts, at 80,000 currently gold is marginally oversold.
Physical supplies are extremely tight, with central banks still buying, and one supposes that governments are also accumulating bullion in addition to physical reserves. Some coins are in very short supply. Anecdotal evidence in London is that sovereigns are extremely scarce with some dealers sold out. In Germany members of the pubic are buying gold in significant quantities as well. And deliveries on Comex this week alone have reached 11,817 contracts (36.75 tonnes).
Reaction In The Gold Price Likely To Be Very Limited
We can conclude that while there could be some short-term downside in paper markets, with good solid underlying physical demand, gold appears to be in the early stages of a bullish move and any reaction in the price is likely to be very limited…
---
ALERT:
This company is about to start drilling what could be one of the largest gold discoveries in history! CLICK HERE OR ON THE IMAGE BELOW TO LEARN MORE.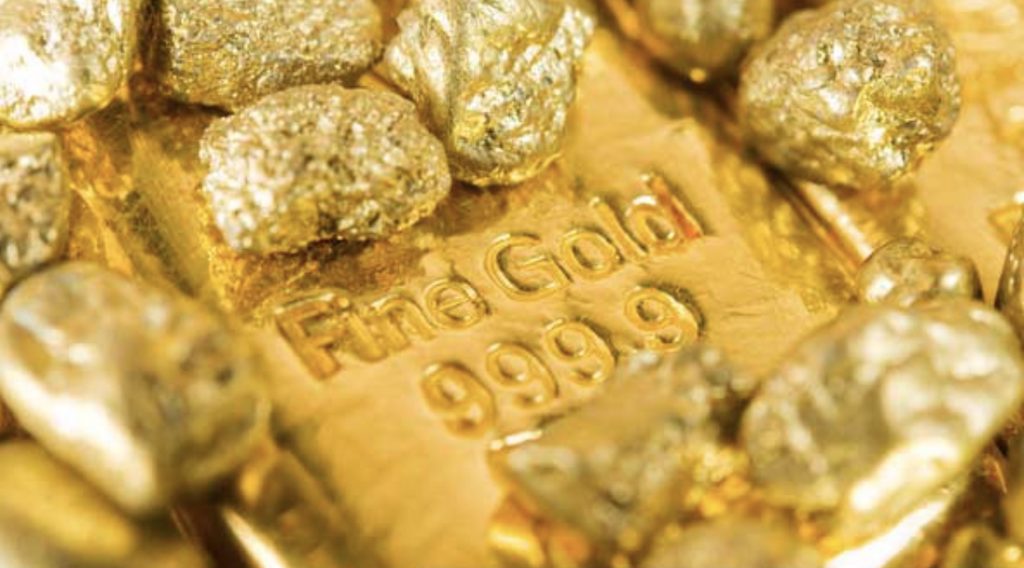 ---
That is the conventional view. But if you regard gold as true money (which legally it is) and dollars as fiat credit, the perspective alters. Gold is not in a bull market, but that it is the fiat dollar which is losing purchasing power. This begs the question: if this is the case, why is it not recognized by market traders? The answer is twofold. Firstly, traders account in dollars so book their trading profits and losses and render their taxes in legal tender, which is dollars. And secondly, with the US dominating financial markets and the dollar as the world's reserve currency the dollar-centric views of US traders determine the global approach.
This convention is likely to be challenged in the coming weeks because the arms build-up in Ukraine suggests an escalation of the conflict is about to take place. If that drives up energy and food prices again, the conditions which drove the gold price up from $1800 a year ago to $2070 on 8 March will return.
ALSO JUST RELEASED: Chess Master Putin Is Moving Closer To Destroying The US Dollar CLICK HERE.
ALSO JUST RELEASED: Gold Surges Near $2,000 Level But Silver Having A Huge Day CLICK HERE.
ALSO JUST RELEASED: BTFD! Gold & Silver Bull Market Still In Early Stages CLICK HERE.
ALSO JUST RELEASED: A Shocking 28% Of Canadian Women Are "Completely Out Of Money" CLICK HERE.
ALSO RELEASED: The Setup With Dow At 34,000 And Nasdaq Over 11,500 CLICK HERE.
ALSO RELEASED: Germans Buy Record Amount Of Gold! Central Bank Buying 2nd Highest Level In History! CLICK HERE.
ALSO RELEASED: GLOBAL PARADIGM: The Great Gold Breakout And Monetary Fantasyland CLICK HERE.
ALSO RELEASED: This Is About To Drive The Next Earthquake In Global Markets And Gold & Silver CLICK HERE.
ALSO RELEASED: CHECKMATE: The Options For The US Are Now Horrific CLICK HERE.
ALSO RELEASED: Putin Close To Finalizing Asian Trade Settlement In Gold That Will Rock Global Markets CLICK HERE. 
© 2023 by King World News®. All Rights Reserved. This material may not be published, broadcast, rewritten, or redistributed.  However, linking directly to the articles is permitted and encouraged.