The gold market is coiling as it prepares to run wild, plus trouble on the home front.
Open Field For Mining Stocks To Run Wild!
September 18 (King World News) – Graddhy out of Sweden:  The ratio GDX vs Gold already has the often required false breakout (FBO) in order to gather energy, so that volatility increasing move is already done.
Next major move up is probably one for the history books. The bigger the base, the higher in space.
GDX Gold Mining Stock Index Headed To The Moon vs Gold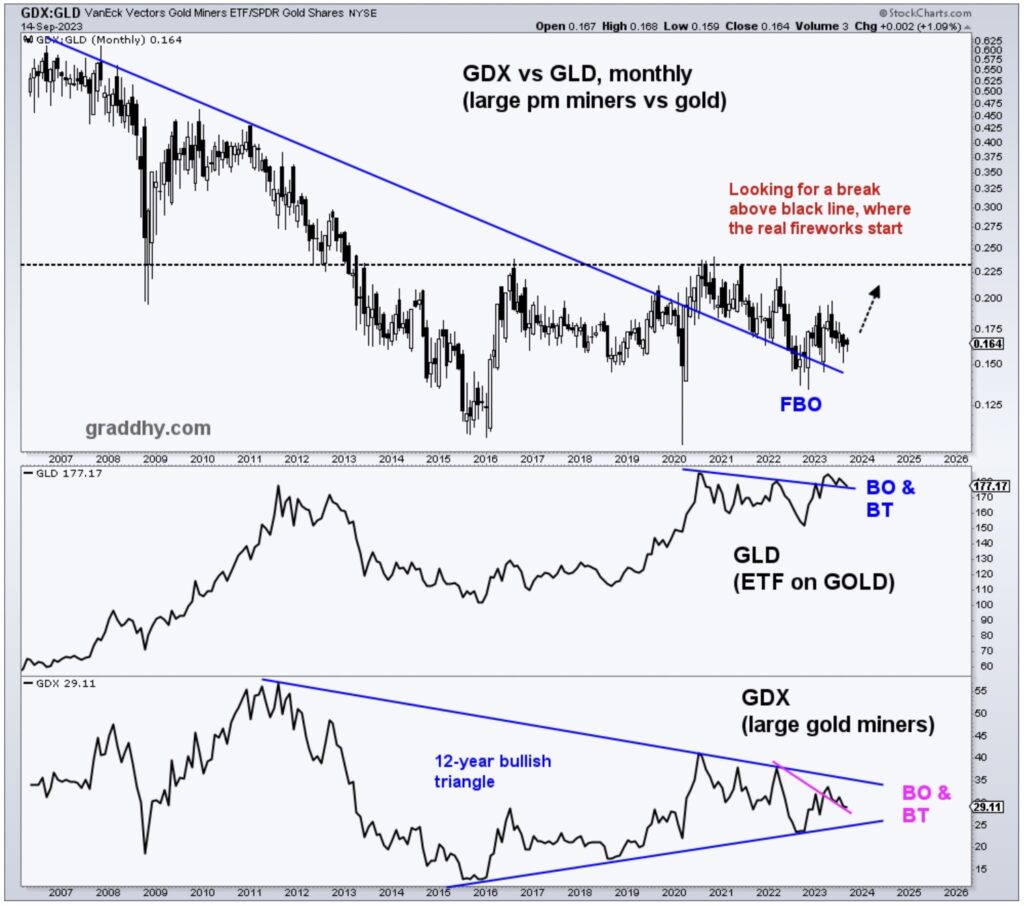 Always Focus On The Big Picture During Volatility
Graddhy out of Sweden:  $XAUWCU is the collected chart for gold priced in the major currencies.
This is one of the most important charts on the planet.
All Fiat Money Is Collapsing vs Real Money – GOLD!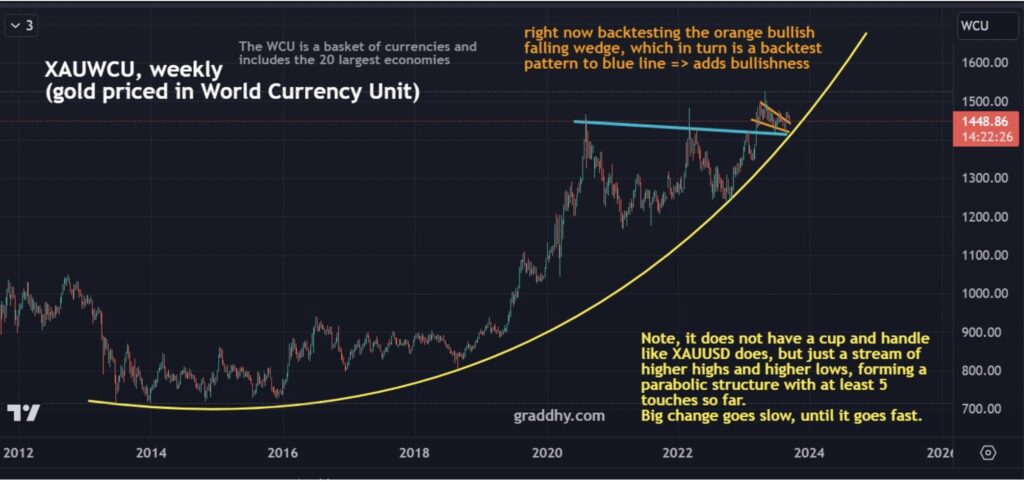 The chart is your call to action. And it is now ready to move again.
Prepare and win big, or ignore and lose big…
---
This Company Has A Massive High-Grade Gold Project In Canada And Billionaire Eric Sprott Has A Huge Position! To Learn Which Company Click Here Or On The Image Below.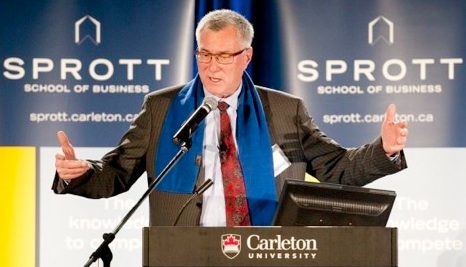 ---
Trouble On The Home Front
Peter Boockvar:  The September NAHB home builder survey index fell 5 pts to back under 50, for the first time since April, at 45 and compares with 56 in July. The estimate was for a 1 pt drop to 49.
Home Builder Survey Index Collapsing…Again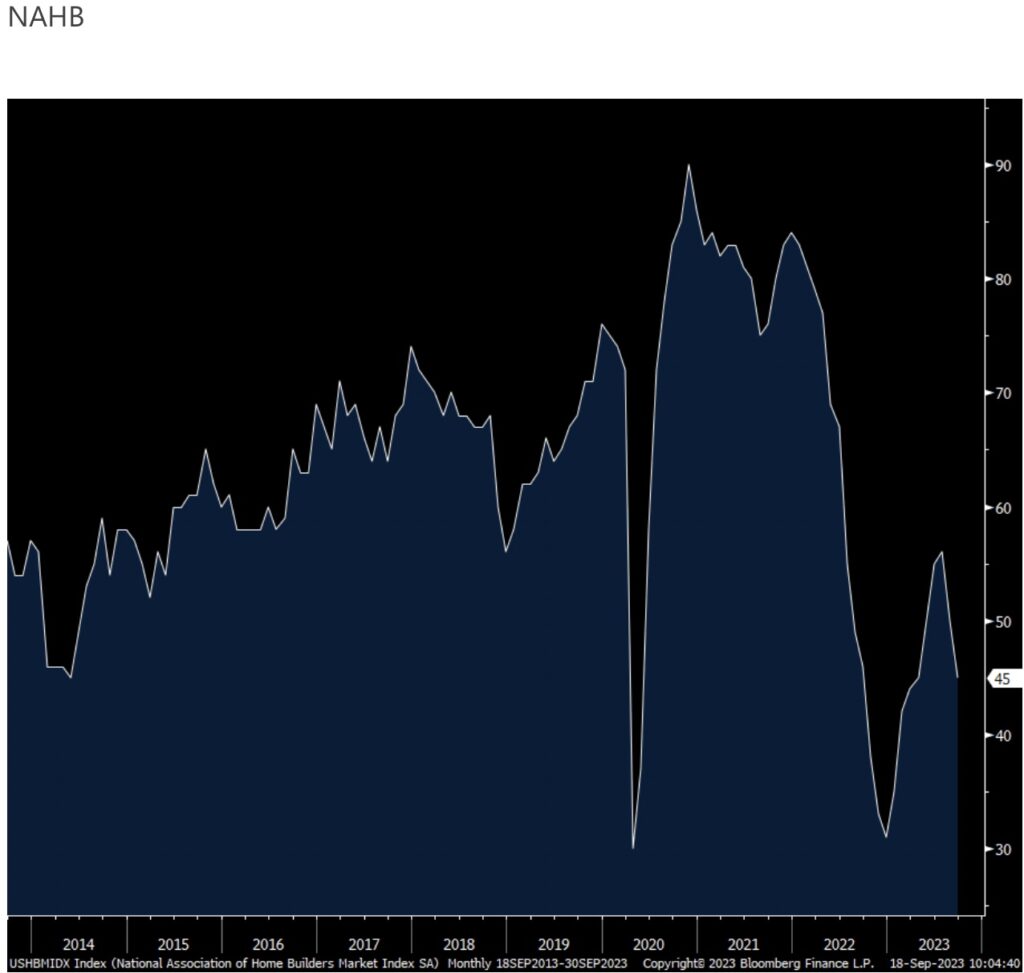 Current conditions were down by 6 pts to 51 while the outlook was lower by 6 pts to 49.
Of note too was the 5 pt decline in Prospective Buyers Traffic to just 30 which is the lowest since February.
Prospective Buyers Traffic Collapsing…Again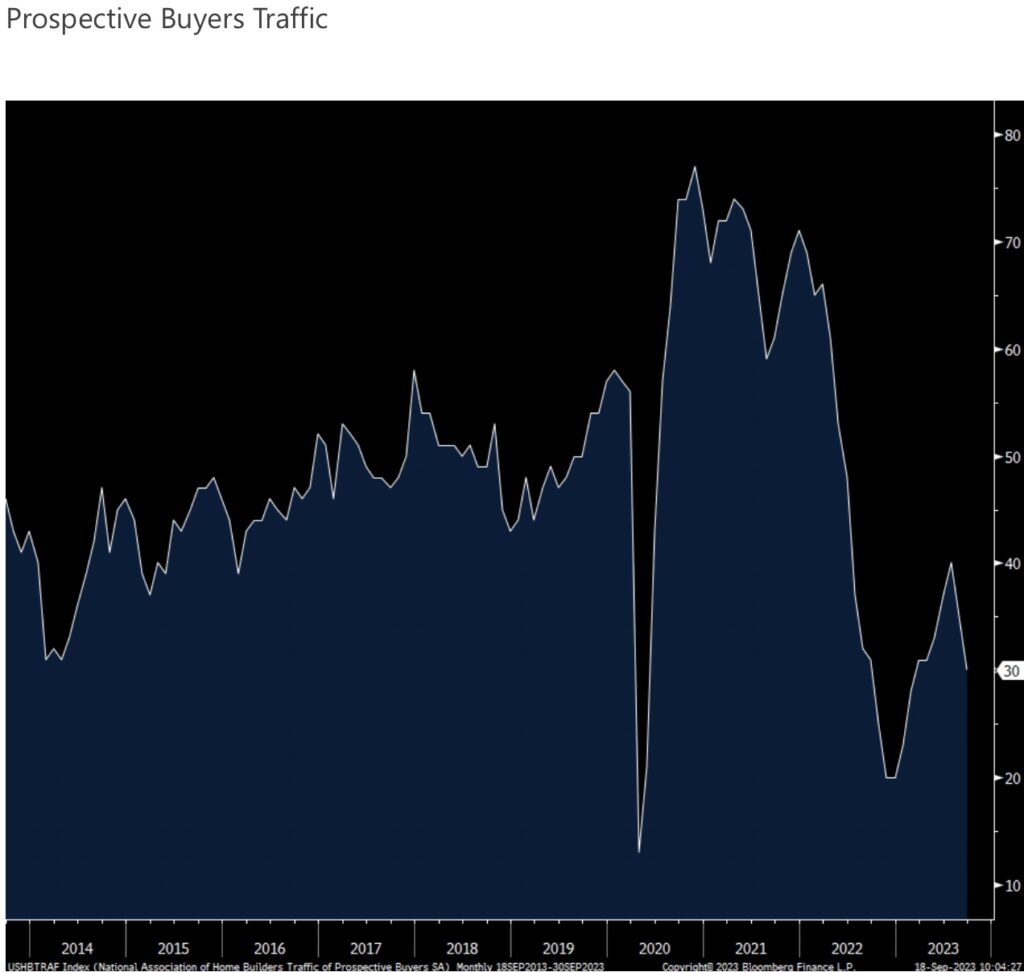 Getting Squeezed
Sentiment is getting squeezed on both sides. The demand challenge is obvious as "High mortgage rates are clearly taking a toll on builder confidence and consumer demand, as a growing number of buyers are electing to defer a home purchase until long term rates move lower" said the NAHB.
With regards to supply, "builders continue to grapple with shortages of construction workers, buildable lots and distribution transformers, which is further adding to housing affordability woes." Those transformers are needed to connect the new home to the grid essentially. And there is the new worry which I'm sure you've all been reading about, "Insurance cost and availability is also a growing concern for the housing sector."
While new homes are outcompeting existing ones because of more supply, it is discounting that is helping too. The NAHB said "In September, 32% of builders reported cutting home prices, compared to 25% in August. That's the largest share of builders cutting prices since December 2022 (35%). The average price discount remains at 6%. Meanwhile, 59% of builders provided sales incentives of all forms in September, more than any month since April 2023."
And who is left with little choice but to pay up for a new home because of the lack of choices and bidding wars for existing ones? "A special question in the September survey revealed that 42% of new single family home buyers were first time buyers on a y/o/y basis in 2023. This is significantly higher than the 27% reading from a more normalized market in 2018."
It's another reason why I think the huge amount of multi family supply coming over the next 12-18 months will be well absorbed because those 1st time buyers that can't afford to buy will be renting.
ALSO JUST RELEASED: Another Gold Bullish Catalyst! Plus People Upset With High Inflation CLICK HERE.
ALSO JUST RELEASED: Global Systemic Change Is Now A Matter Of Survival CLICK HERE.
ALSO JUST RELEASED: China Gold Premiums Skyrocket vs US CLICK HERE.
ALSO JUST RELEASED: Pomboy: SHOCKING: Gold Price In China vs US CLICK HERE.
***To listen to Alasdair Macleod's powerful audio interview about what is happening in China and the West in the gold market CLICK HERE OR ON THE IMAGE BELOW.

© 2023 by King World News®. All Rights Reserved. This material may not be published, broadcast, rewritten, or redistributed.  However, linking directly to the articles is permitted and encouraged.