With continued uncertainty swirling around global markets veteran market analyst, Stephanie Pomboy, warned something wicked this way comes.
Something Wicked This Way Comes
April 27 (King World News) – Stephanie Pomboy:  As I wrote to clients this week, there is no better canary in the 'coalmine' for coming economic and financial distress than the ratio of gold to copper. 
Even while they try to bash gold, it is still soaring relative to the metal with a PhD in economics…
---
Listen to the greatest Egon von Greyerz audio interview ever
by CLICKING HERE OR ON THE IMAGE BELOW.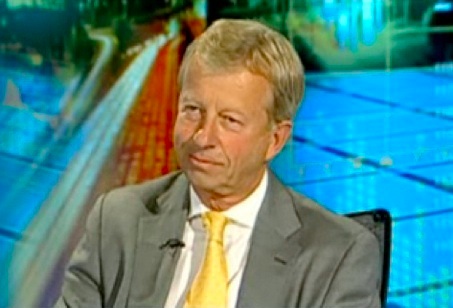 Sponsored
---
"In our analysis, the hope of a soft landing or mild recession is a consensus delusion sucking investors into the over-crowded investments of a past era. The pied pipers responsible for the cheery backward-looking view include compromised corporate management, Wall Street, and government bureaucrats. Shrewd investors should tune out all the whistling past the graveyard and get busy with a forward-thinking reallocation to critical commodities." — Kevin C Smith
As Night Follows Day
Peter Boockvar:  As night follows day, a recession follows an expansion and it is why that while EVERYONE supposedly is expecting a recession, EVERYONE can be right as it will turn dark tonight after the light of day. The REAL question is what the extent and length will be of the recession. That is where the true differences of opinions lie. Finally, I will highlight AGAIN that each month that passes by, there is debt that is repricing at a much higher interest rate than the loan that is maturing, for both businesses and households and that will be a continued drag on economic activity as the quarters go by that will only pick up pace as more get impacted.
We Need More Homes For Sale
Pending home sales in March fell 5.2% m/o/m, worse than the forecast of up .8%.
Pending Home Sales Have Collapsed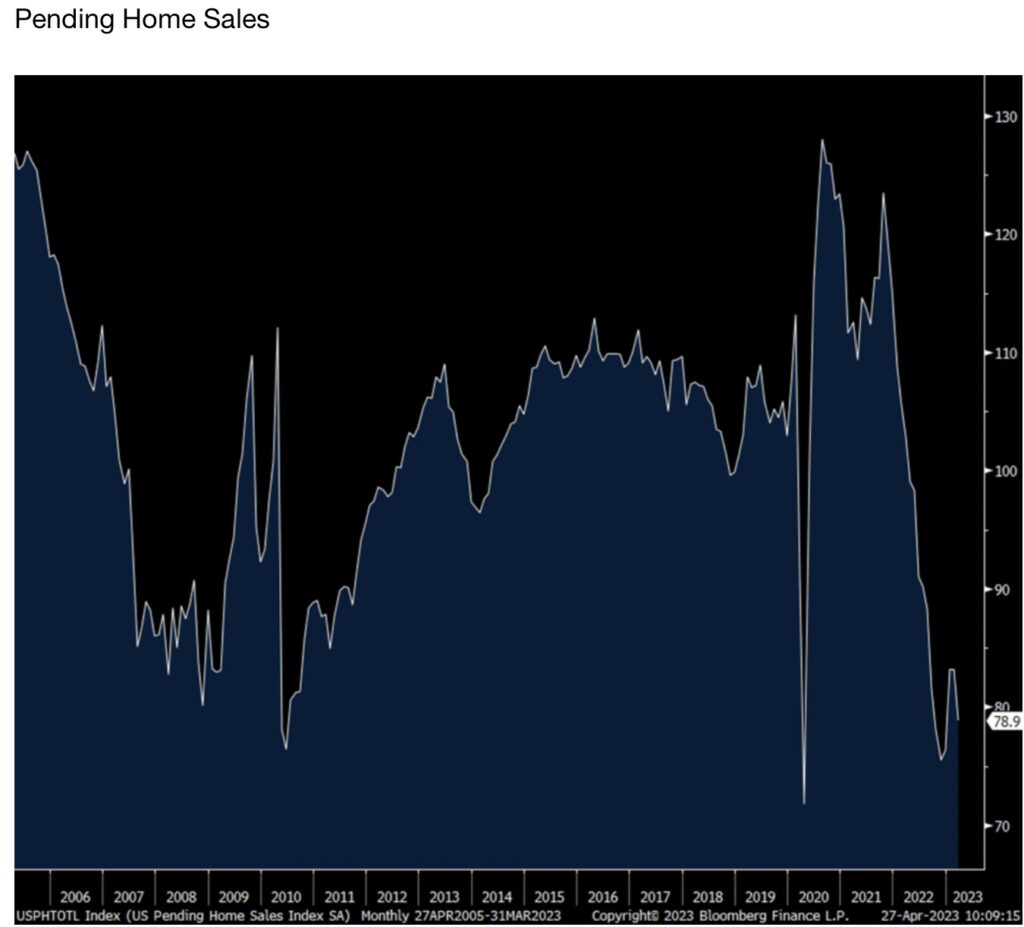 Weakness was seen in all regions except down South. The NAR is blaming the limited inventory choices of existing homes which is certainly the case with home builders gaining market share. Their chief economist said:
"The lack of housing inventory is a major constraint to rising sales. Multiple offers are still occurring on about a third of all listings, and 28% of homes are selling above list price. Limited housing supply is simply not meeting demand nationally."
According to Bankrate, the average 30 yr mortgage rate averaged 6.97% in March.
Bottom Line
Bottom line, what a bizarre housing market we're in. After a 40% rise in home prices over the past two years and a doubling in mortgage rates and home prices are barely budging and we're seeing bidding wars for homes. This doesn't point to a housing market that is 'hanging in there' but a polluted one where the Fed has locked in millions of homeowners that are reluctant to sell and trade in their low cost mortgage. This also creates a more immobile country where people are stuck in place because of affordability issues. It also sucks for first time buyers who are seeing no relief on the pricing side to mitigate the near 7% mortgage rates on offer and while rental price gains are clearly cooling, they are still up dramatically over the past few years.
---
ALSO JUST RELEASED: We Will Have Hell To Pay For This Government Intervention In Financial Markets CLICK HERE.
ALSO JUST RELEASED: This Will Unleash Silver To All-Time High But Don't Forget About Key Commodity CLICK HERE.
ALSO JUST RELEASED: An Inflationary Depression Is Being Unleashed CLICK HERE.
ALSO JUST RELEASED: Miners To Have A Golden Wave This Earnings Season But Look At What Is Plunging CLICK HERE.
ALSO RELEASED: Art Cashin Just Warned About VIX But Look At What Is Already Collapsing CLICK HERE.
ALSO RELEASED: The 1930s Great Depression: Is History Set To Repeat? CLICK HERE.
ALSO RELEASED: Silver On Cusp Of Major Upside Breakout As Gold Approaches $2,000 Level Again CLICK HERE.
ALSO RELEASED: There Are So Many Signs Of Financial Disaster Across The World CLICK HERE.
© 2023 by King World News®. All Rights Reserved. This material may not be published, broadcast, rewritten, or redistributed.  However, linking directly to the articles is permitted and encouraged.