On the heels of more bad news for an already shaky banking sector, when we look back at the horror of the 1930s Great Depression, is history set to repeat?
April 24 (King World News) – James Turk:  The California bank that got into trouble after the collapse of Silicon Valley Bank today reported its first quarter financial results. First Republic Bank lost $100 billion of deposits in last month's banking panic.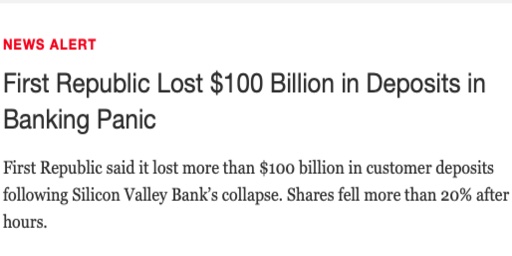 That was over 40% of its deposit base, and it disappeared in a flash. You no longer need to line up at the local bank branch to have a bank run. Invisible bank runs can happen overnight as large depositors move their deposit with a bank wire transfer.
This transfer of purchasing power is a key step in the flow of wealth in the Exter Pyramid, which is named after a famous central banker who was a well-recognised personality in the 1960s and 1970s gold bull market. The pyramid is designed to illustrate two important concepts.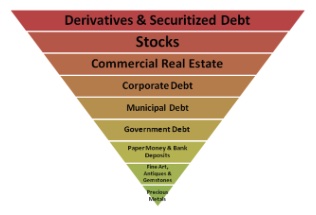 First, as you look from the top of the pyramid to the point at the bottom, the risk of the asset you own decreases. Second, liquidity increases as you move from the top to the precious metals at the bottom, which have the least risk and highest liquidity. 
In contrast to dollars that are bank liabilities owed to its customers, physical gold and silver are tangible assets. The value of precious metals is not dependent on some bank's promise.
Everything in today's monetary system is built upon real money, not fiat currency. The point is, there is not enough physical gold at current prices if the banking panic worsens and people decide to reduce risk and move their wealth down the pyramid into safer assets…
---
ALERT:
Powerhouse merger caught Rio Tinto's attention and created a huge opportunity in the junior gold & silver space CLICK HERE OR ON THE IMAGE BELOW TO LEARN MORE.

---
In the bank runs of the 1930s, people withdrew their deposits, and took cash. But as the bank runs worsened, they took their cash and redeemed it into gold and silver. After Roosevelt's 1933 gold confiscation, they could only move their wealth into silver.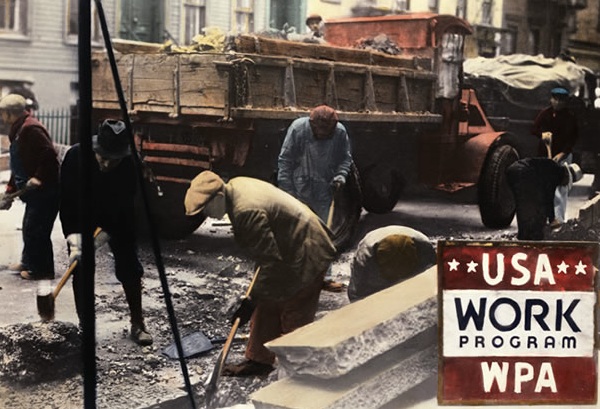 The unanswerable question is will history repeat? 
Given all the financial and banking problems that exist, the strong uptrends in gold and silver, and the strong downtrend in the US Dollar Index, we need to be prepared just in case it does repeat. As the Exter Pyramid clearly illustrates, the best way to prepare for an uncertain future is to own physical gold and silver.
Also of importance…
Unleashing A Massive $25.5 Million Exploration Budget!
American Pacific Mining Corp has announced a US $25.5 million partner-funded budget and the largest ever work program for its Palmer Project, a high-grade copper, gold, silver and zinc project in Alaska, for 2023. The massive program includes surface exploration drilling, geotechnical drilling, camp construction, ongoing baseline environmental and site engineering work and will be funded entirely by the Company's joint venture partner, Dowa Metals & Mining Co., Ltd., the owner of Japan's largest zinc smelter. 
As the project operator, American Pacific will receive 7% of program expenditures for managing the 2023 work program.
"American Pacific has a roughly $65 million CAD market capitalization and will see more than $30 million CAD spent by its partner on exploration and development in 2023," says Warwick Smith CEO and Director of American Pacific.  "This is the single largest Palmer Project program and budget to date and sets the stage for us to continue de-risking the asset as we work with our joint venture partner to strategically move the Palmer Project forward towards a feasibility study."
The nearly 12,000 metres of drilling, on-going camp construction, environmental and permitting work, and engineering studies will make for an extremely catalyst rich year for the Company. American Pacific Mining, symbol USGD in Canada and USGDF in the US.
ALSO JUST RELEASED: Silver On Cusp Of Major Upside Breakout As Gold Approaches $2,000 Level Again CLICK HERE.
ALSO JUST RELEASED: There Are So Many Signs Of Financial Disaster Across The World CLICK HERE.
© 2023 by King World News®. All Rights Reserved. This material may not be published, broadcast, rewritten, or redistributed.  However, linking directly to the articles is permitted and encouraged.