Silver is on the cusp of a massive upside breakout as the price of gold once again approaches the key psychological level of $2,000, which many are now seeing as a base of support for the Metal of Kings.
Silver Breakout
April 24 (King World News) – Graddhy out of Sweden:  Silver is now right up against 12-year blue trend line. And already has a 2-year bull flag breakout on weekly.
Silver On The Cusp Of Massive Upside Breakout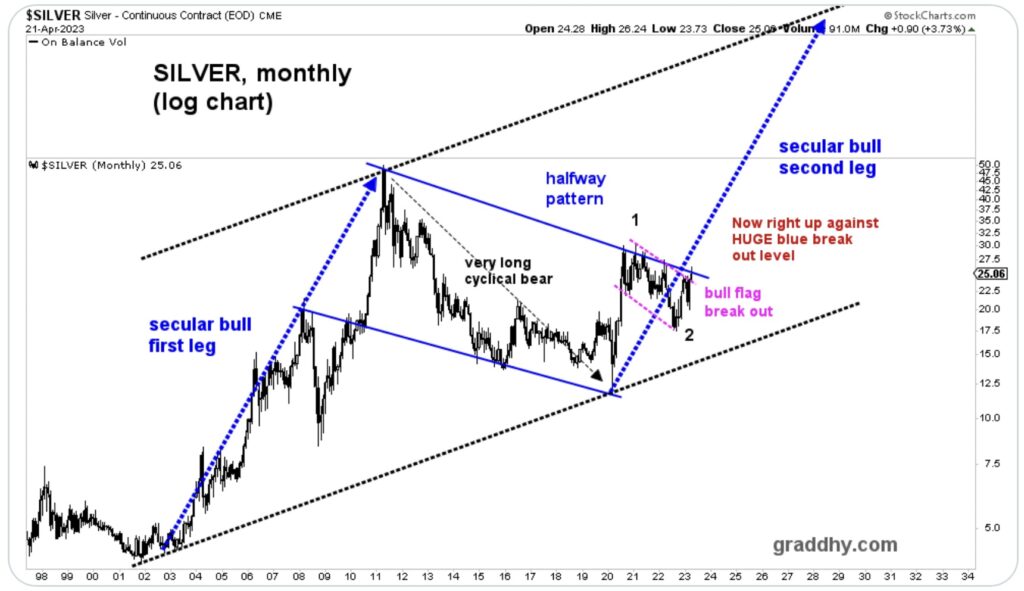 This bull will last many more years, so do not get beat down by the declines, or lose interest during them. Understand them, be ready for them.
Can't miss the 'Fed is almost done' rally!?
Peter Boockvar:  As we ready ourselves for earnings from big cap tech, among from hundreds others this week, it just seems so obvious to me why the stock market hangs in as well as it does. No one wants to miss the 'Fed is done' rally. So yes, the Fed will seemingly hike again next week but we assume, as does the fed funds futures market, that it will be it and who wants to miss that rally. Who cares what the trajectory of earnings is, who cares where bank lending is trending, the Fed is just about done hiking rates is the mentality, so lets buy. As I believe that keeping rates high for a while regardless is a continued form of tightening as is QT, I'm not on board with the markets 'Fed will save us again' thought process, at least not yet. We also have to remember that the two bear markets before Covid didn't end until the Fed was almost done CUTTING rates.
Before I mention the bank loan data seen Friday, in today's WSJ article titled "Why the Banking Mess Isn't Over," they mention some good stats from Goldman. "Economists at Goldman Sachs estimate every 10% decline in bank profitability reduces lending by 2%. If the share of Fed interest rate changes that are passed on to bank deposit rates, sometimes called 'deposit betas,' reach levels seen in 2007, that could lead to a 3% to 6% decline in lending in the US. Goldman expects that could reduce economic output by .3 to .5 percentage points this year."
And the impact on small business? "Businesses with fewer than 100 employees receive nearly 70% of their commercial and industrial loans from banks with less than $250 billion in assets, and 30% of such lending from banks with less than $10 billion, according to Goldman."
Brother, Can You Spare A Dime?
US bank deposits fell by $76.2b for the week ended April 12th after the rebound in the week prior of $60.7b. At $17.2 trillion, that's the least since July 2021. I'll add that for every $1 lost in bank deposits is a $1 not being lent out.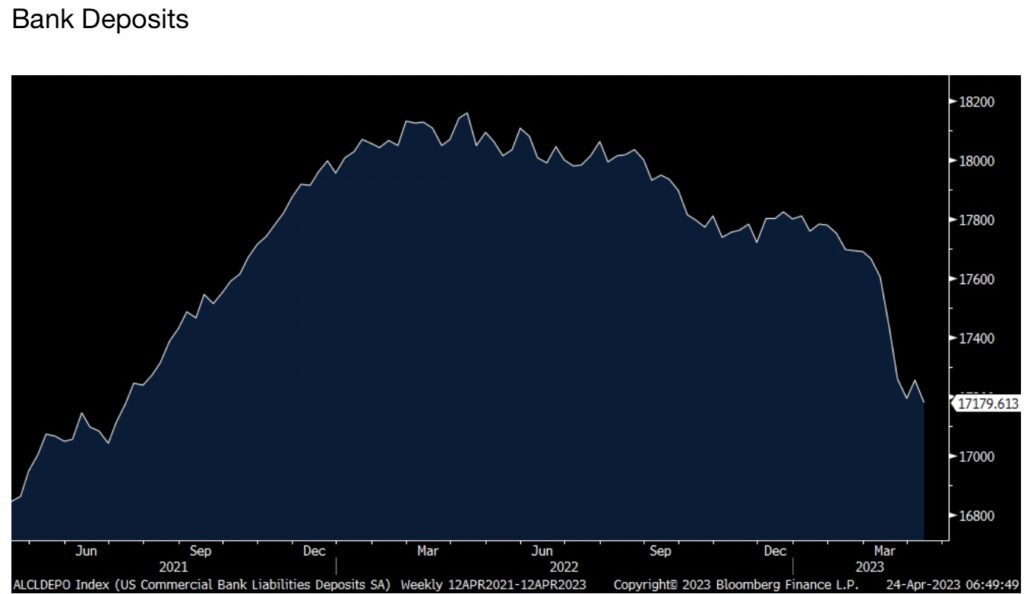 I'll argue again, inflation is NOT going to magically disappear even if the rate of change further moderates from here.
Also of importance…
Unleashing A Massive $25.5 Million Exploration Budget!
American Pacific Mining Corp has announced a US $25.5 million partner-funded budget and the largest ever work program for its Palmer Project, a high-grade copper, gold, silver and zinc project in Alaska, for 2023. The massive program includes surface exploration drilling, geotechnical drilling, camp construction, ongoing baseline environmental and site engineering work and will be funded entirely by the Company's joint venture partner, Dowa Metals & Mining Co., Ltd., the owner of Japan's largest zinc smelter. 
As the project operator, American Pacific will receive 7% of program expenditures for managing the 2023 work program.
"American Pacific has a roughly $65 million CAD market capitalization and will see more than $30 million CAD spent by its partner on exploration and development in 2023," says Warwick Smith CEO and Director of American Pacific.  "This is the single largest Palmer Project program and budget to date and sets the stage for us to continue de-risking the asset as we work with our joint venture partner to strategically move the Palmer Project forward towards a feasibility study."
The nearly 12,000 metres of drilling, on-going camp construction, environmental and permitting work, and engineering studies will make for an extremely catalyst rich year for the Company. American Pacific Mining, symbol USGD in Canada and USGDF in the US.
---
ALSO JUST RELEASED: There Are So Many Signs Of Financial Disaster Across The World CLICK HERE.
© 2023 by King World News®. All Rights Reserved. This material may not be published, broadcast, rewritten, or redistributed.  However, linking directly to the articles is permitted and encouraged.