Market veteran Art Cashin, Head of Floor Operations at UBS, just warned about the VIX but look at what is already collapsing.
April 25 (King World News) – Peter Boockvar:  The April Philly non-manufacturing activity index, so call it their services PMI, fell to -22.8 from -12.8. The Philly Fed said the responses:
"suggest continued weakening in nonmanufacturing activity in the region. The indexes for general activity at the firm level, sales/revenues, and new orders all declined. Both price indexes remain somewhat elevated, and the respondents continue to anticipate growth over the next six months at their own firms."
That last point said, expectations for broad business activity weakened further.
The important 'special question' was on wages and compensation.
"More than 49% of the firms indicated wages and compensation costs had increased over the past three months, 46% reported no change" with the balance seeing decreases.
"Most of the firms reported not adjusting their 2023 budgets for wages and compensation since the beginning of the year. Meanwhile 27% of the firms indicated they are planning to increase wages and compensation by more than originally planned, and 9% of the firms indicated they are planning to increase wages and compensation sooner than originally planned."
Broadly on pricing,
"The firms still expect higher costs across most categories of expenses in 2023, and the median expected changes were in line with or lower than expectations from when this question was last asked in January. The firms expect total comp (wages plus benefits) to increase by a median of 4-5%, lower than the 5-7.5% median increase expected in January."
Bottom Line
Bottom line, S&P Global told us their national services PMI further improved while this figure says the opposite. On pricing, including wages/benefits, the trajectory is for slower price pressure after the sharp increases seen over the past few years. That should not be a surprise as the inflation was unsustainable at the pace seen…
---
ALERT:
Legendary investors are buying share of a company very few people know about. To find out which company CLICK HERE OR ON THE IMAGE BELOW.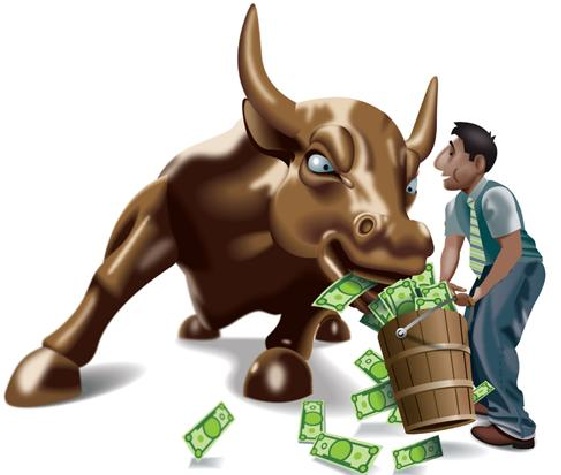 Sponsored
---
But the slowdown should not be the new story. The new focus should be where things settle out at, which we don't yet know. Does inflation magically go back to 1-2% on a SUSTAINABLE basis next year or are we in something more structural like 3-4%. I believe the latter. Are we going back to wage gains of 2.5% like we saw in the 20 yrs pre Covid or is 4-5% the new trend. I believe the latter.
The S&P CoreLogic home price index in February rose 2.1% y/o/y which is the slowest pace since 2012.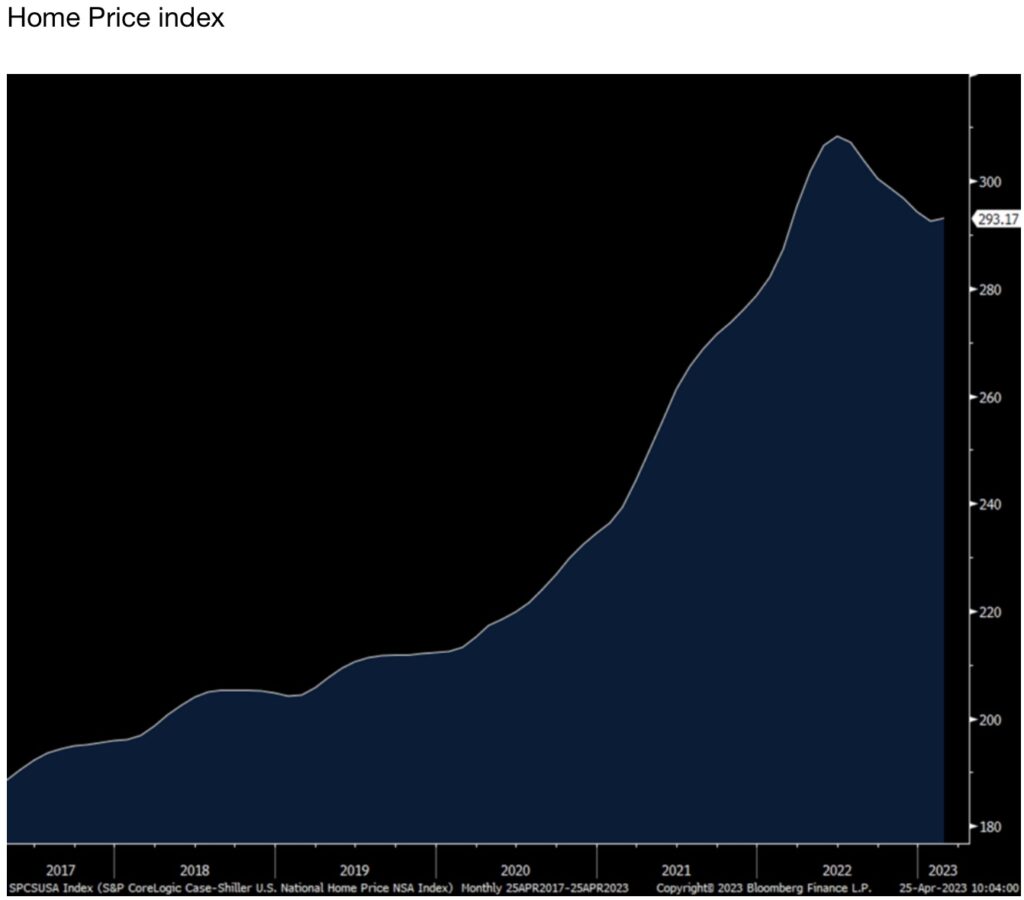 I believe this is a good thing as first time buyers need some relief here. Understand that home prices are up 38% since 2019, with the recent m/o/m pullback and with double the level of mortgage rates as we know. The sunbelt cities continue to lead the price gains with Miami, Tampa, Atlanta and Charlotte at the top of the price gain list. San Francisco, Seattle, San Diego and Portland are at the bottom.
New home sales in March totaled 683k, 50k more than expected while February was revised down by 17k to 623k. A jump in sales in the Northeast and the West led the way with months' supply slipping to 7.6 from 8.4. The volatile median home price was up 3.2% y/o/y.
Builders Eating Each Other
Bottom line, big builders are taking share from smaller ones who are having more difficulty accessing credit and with the whole industry seeing better sales than feared because of the dearth of existing homes for sale…
---
ALERT:
Billionaire mining legend Pierre Lassonde has been buying large blocks of shares in this gold exploration company and believes the stock is set to soar more than 150% in the next 6 months. To find out which company CLICK HERE OR ON THE IMAGE BELOW.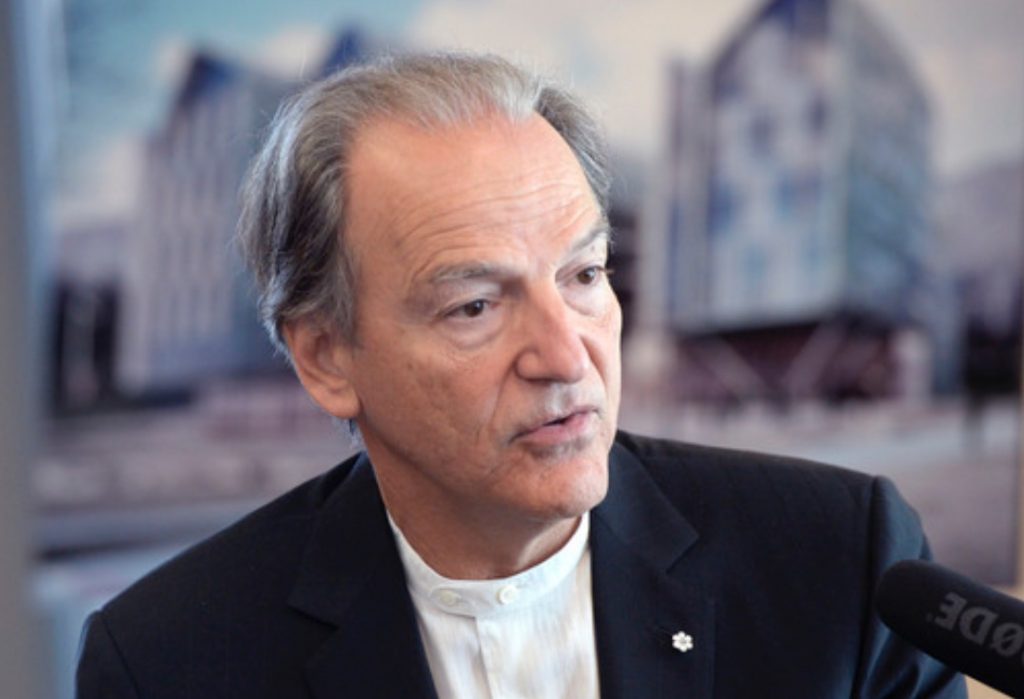 Sponsored
---
The Richmond manufacturing index joined Philly and Dallas with under zero prints for April. Their index dropped to -10 from -5. That's less than zero for the 6th month in the past 7. Manufacturing remains in a recession so far in April, though S&P Global said at best it flatlined.
Consumers Not Confident
The April Conference Board's Consumer Confidence index fell to 101.3 from 104 and there was no change expected. A 6 pt drop in the Expectations component was the main culprit, especially the employment figure, as the Present Situation was up 2 pts m/o/m.
Consumer Confidence Heading Lower…Again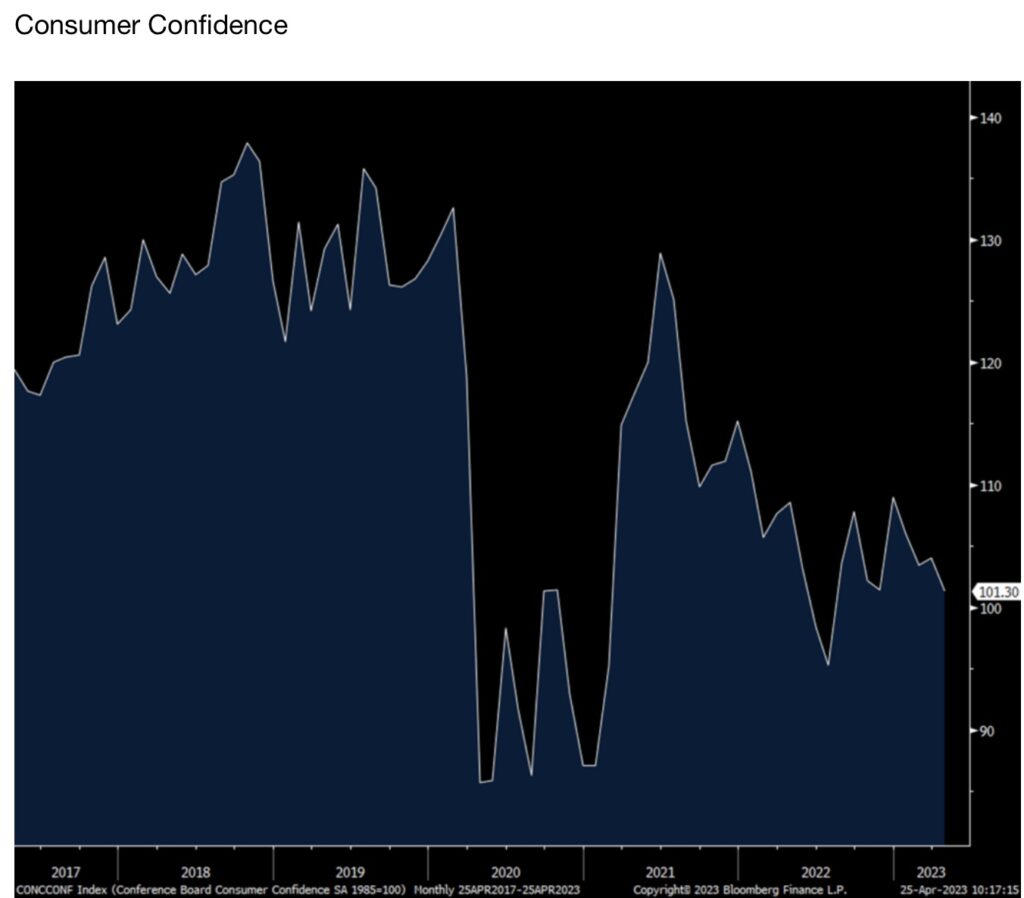 One yr inflation expectations were up 6.2% vs 6.3% in March and 6.2% in February. It was though 7.5% one yr ago.
Ouch!
There was some slight improvement in the answers to the labor market questions but after a drop last month. Of note though, and dragging down the Expectations component as stated, those expecting 'More Jobs' fell by 3 pts to 12.5, the least since early 2016. Those expecting higher income fell .5 pt but rose by 1.8 pts last month.
Those Expecting More Jobs Plunged To Lowest Level Since 2016!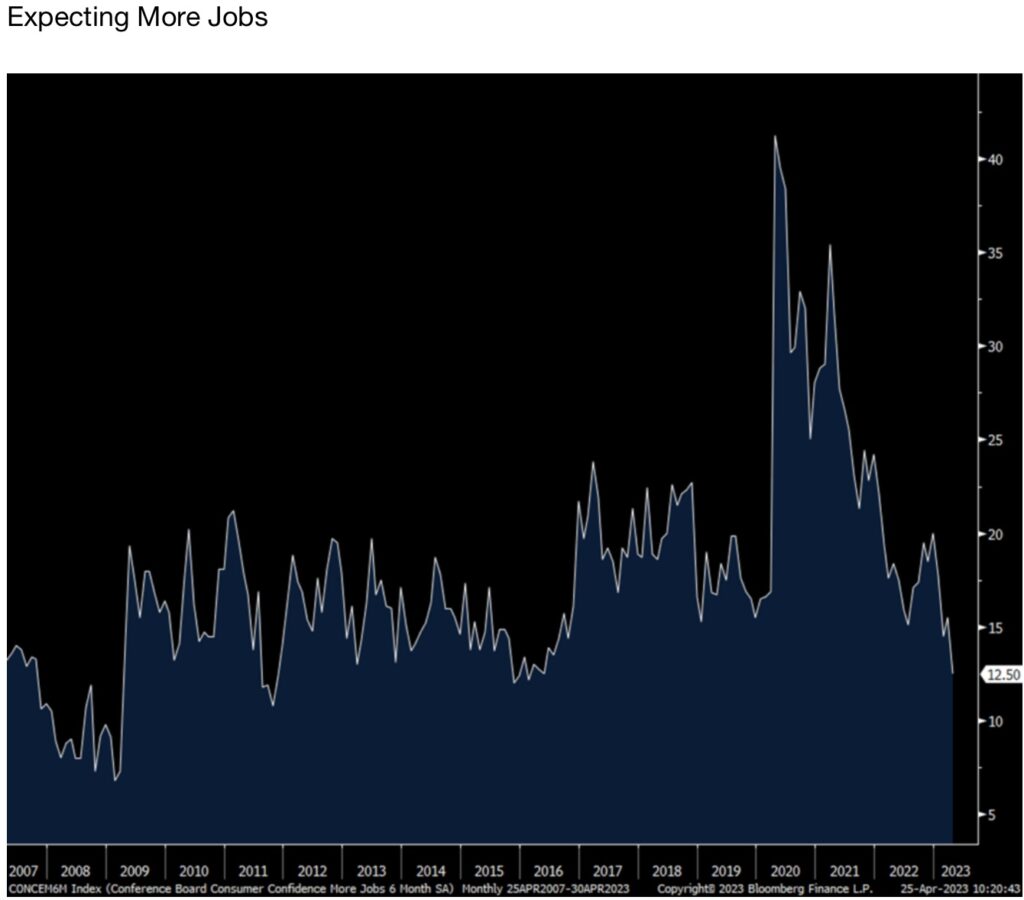 Lowest Since 2011 For Appliances
Spending intentions weakened across the board with autos, homes and major appliances. For autos it fell to match the lowest since November 2021. For homes, intentions match the lowest since last July. For a major appliance, go back to 2011 to find a lower level. Intentions to take a vacation softened as well.
Bottom line from the Conference Board:
"Consumers became more pessimistic about the outlook for both business conditions and labor markets. Compared to last month, fewer households expect business conditions to improve and more expect worsening of conditions in the next six months. They also expect fewer jobs to be available over the short term."
I'll add, there is this constant debate over whether we're in or on the cusp of or maybe could avoid a recession. Regardless, it certainly feels like and reads like it all feels the same.
Cashin Cautions: VIX Inching Up To 18
Art Cashin, Head of Floor Operations at UBS:  After trading indifferently and somewhat aimlessly in the first 30-minutes of trading, traders decided to give back yesterday's gain in the Dow and now seem to have switched on the autopilot.
The data coming in seems to have little influence on the market.  Yields are moving lower, but that too, did not seem to put much of a bid under the high cap techs.  Maybe the lower yields are a subtle form of a flight to safety, although flight is probably too strong a condition.
The midmorning weakness has taken the S&P below some mild nearby support and raises the risk that on another leg down, we can punch below 4100.  That would be interesting to see if breaking the round number brings in any further selling.
The VIX is inching back up around the 18 level.  So, we will see if they are starting to get engaged with market concerns or not.
As we go to press the ten-year yield is at 3.40%.  We will look to see if they move below that, but again the 4100 level is something I will be carefully watching.
Stay safe.
Arthur
In case you missed it…
Unleashing A Massive $25.5 Million Exploration Budget!
American Pacific Mining Corp has announced a US $25.5 million partner-funded budget and the largest ever work program for its Palmer Project, a high-grade copper, gold, silver and zinc project in Alaska, for 2023. The massive program includes surface exploration drilling, geotechnical drilling, camp construction, ongoing baseline environmental and site engineering work and will be funded entirely by the Company's joint venture partner, Dowa Metals & Mining Co., Ltd., the owner of Japan's largest zinc smelter. 
As the project operator, American Pacific will receive 7% of program expenditures for managing the 2023 work program.
"American Pacific has a roughly $65 million CAD market capitalization and will see more than $30 million CAD spent by its partner on exploration and development in 2023," says Warwick Smith CEO and Director of American Pacific.  "This is the single largest Palmer Project program and budget to date and sets the stage for us to continue de-risking the asset as we work with our joint venture partner to strategically move the Palmer Project forward towards a feasibility study."
The nearly 12,000 metres of drilling, on-going camp construction, environmental and permitting work, and engineering studies will make for an extremely catalyst rich year for the Company. American Pacific Mining, symbol USGD in Canada and USGDF in the US.
ALSO JUST RELEASED: Silver On Cusp Of Major Upside Breakout As Gold Approaches $2,000 Level Again CLICK HERE.
ALSO JUST RELEASED: There Are So Many Signs Of Financial Disaster Across The World CLICK HERE.
© 2023 by King World News®. All Rights Reserved. This material may not be published, broadcast, rewritten, or redistributed.  However, linking directly to the articles is permitted and encouraged.