The price of gold moved higher and the US dollar weakened on the heels of the Fed's decision and Powell's post hike interview.
July 26 (King World News) – Peter Boockvar:  Whoever wrote today's FOMC statement didn't have to do much. They just copied and pasted the May sentence on a 25 bps rate hike back into the statement after taking it out in June. Again, there were no dissents, even by Austan Goolsbee who has been more vocal about a stop.
Bottom Line
Bottom line, we now have to wait for the presser to glean any new information. Powell will likely be as flexible as possible in terms of expressing what they may do in September. Either way, rate hikes are just about done but AGAIN, I don't think enough appreciate the continued tightened that higher for longer means. Also, QT continues on where the Fed's balance sheet is below where it was right before SVB.
Treasuries are little changed in response…
---
ALERT:
This company is about to start drilling what could be one of the largest gold discoveries in history! CLICK HERE OR ON THE IMAGE BELOW TO LEARN MORE.
---
Meanwhile…Home Sales
The big upside surprise in new home sales in May of 763k vs the estimate of 676k wasn't as good as it initially appeared as it was revised down to 715k. The June figure was 697k, 28k less than expected so taken all together, all around close to in line with what was first thought last month.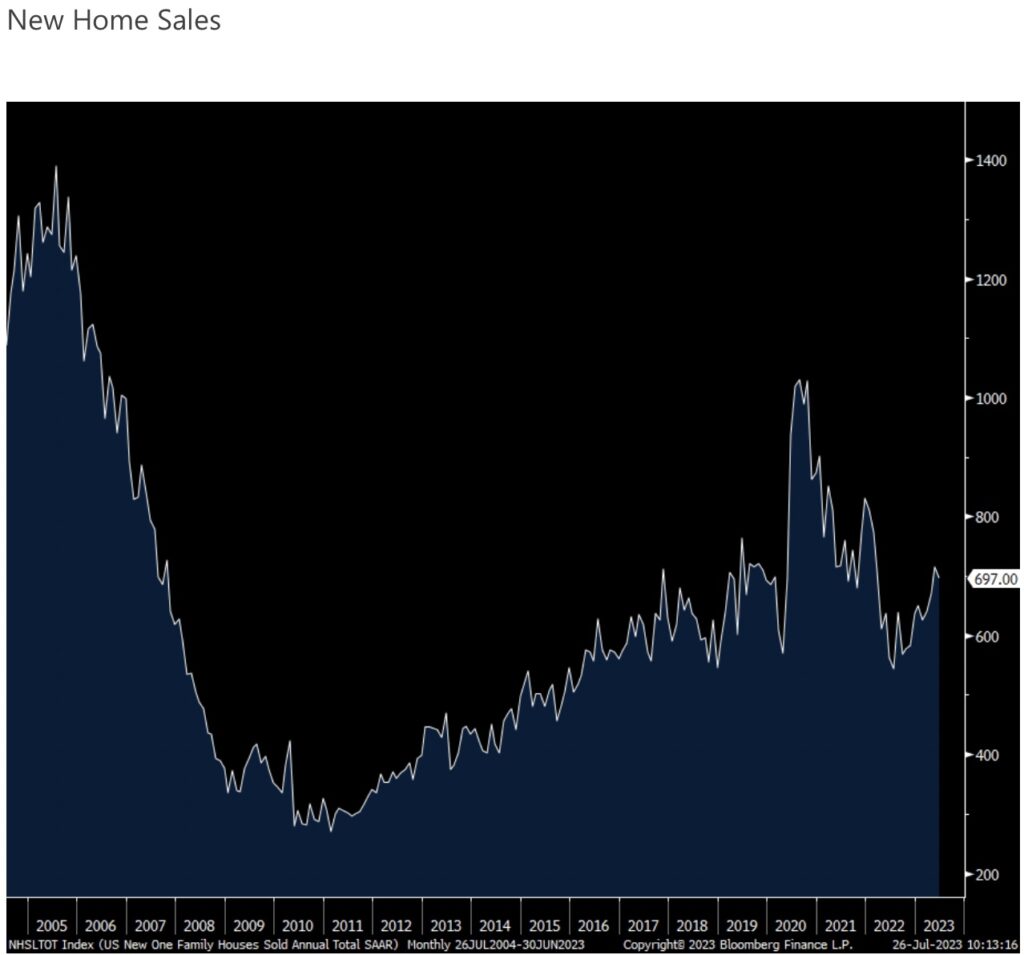 Months' supply rose to 7.4 from 7.2 and vs 7.7 in April. The y/o/y price change was down 4% but because of mix, this is a very volatile number each month.
Bottom Line
Bottom line, to smooth out the volatile figure puts the 3 month average at 694k vs the 6 month average of 666k, the 12 month average of 628k and the 2022 average of 637k. For further reference, the 2019 pre Covid monthly average was 685k so all helps to put into perspective the current strange trend in the US housing market with regards to inventories, pricing, etc… We also know home builders have gotten an edge over the existing home market and it's two fold, as we know.
They can provide more inventory via new build and they can also provide discounts via price, mortgage rate buydowns and initial teaser rates. Overall, the strength in the housing market is from the builders who are well capitalized and are delivering the needed inventory. Price is also a beneficiary as they remain very sticky at high levels. As for the existing home market, the pace of transactions is in the doldrums, hovering near the lowest level since 1995.
King World News note: There was nothing in the post rate hike interview with Powell that should have moved either gold or the US dollar. Nevertheless, gold moved higher and the US dollar weakened. The trends is still positive for gold and silver as global currency debasement continues.
ALSO JUST RELEASED: What's Next After Big Banks Turn Bearish On US Dollar CLICK HERE.
ALSO JUST RELEASED: Ahead Of Fed Decision CRB Is Breaking Out On The Upside CLICK HERE.
ALSO JUST RELEASED: CAUTION: The Public Has Now Gambled All In On Stocks CLICK HERE.
ALSO JUST RELEASED: What To Expect As BRICS Gold-Backed Currency Launch Approaches CLICK HERE.
To listen to Alasdair Macleod discuss where gold and silver prices are set to spike higher and much more CLICK HERE OR ON THE IMAGE BELOW.

© 2023 by King World News®. All Rights Reserved. This material may not be published, broadcast, rewritten, or redistributed.  However, linking directly to the articles is permitted and encouraged.