Earlier today King World News released 3rd Gold Bull In The Past 50 Years Is About To Unleash On The Upside. The price of silver is also about to be unleashed to new all-time highs above $50, even as sentiment in the metals and mining sector remains fearful.
Big Picture For Silver
There has been so much noise in the gold and silver markets recently that it is extremely important to take a step back and look at the big picture so investors can remain focused and not let their emotions get the better of them. Here it is…
Silver vs Gold
August 25 (King World News) – Graddhy out of Sweden:  SGR (Silver vs Gold ratio) here, which is the reverse GSR (Gold vs Silver ratio), has a cleaner pattern than GSR.
Silver Ready To Skyrocket vs Gold. This Move Will Take Silver Above $50 To New All-Time Highs!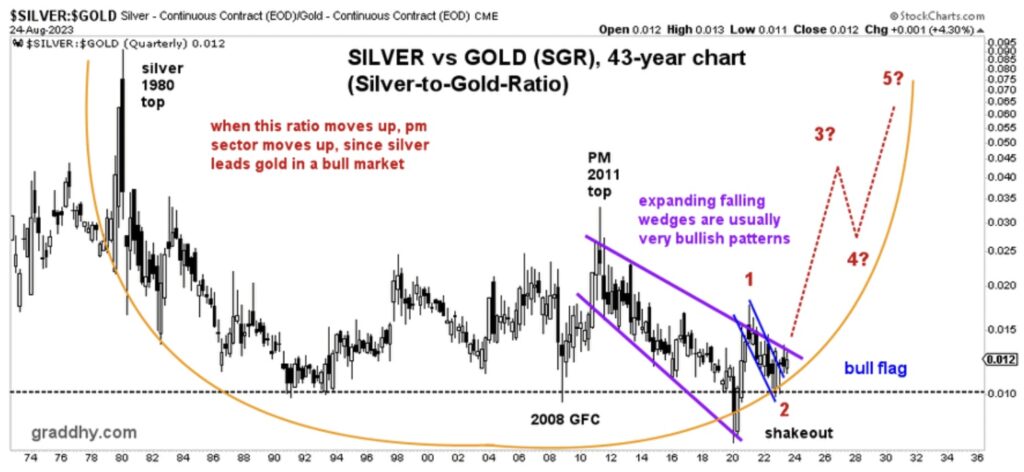 2020 March crash low was the shakeout. Purple line is same 12-year break out line as for silver.
This chart is ready to deliver a historical up move for precious metals. DO NOT MISS.
Silver Generational Breakout Incoming
Graddhy out of Sweden:  Silver is sitting right below the huge blue breakout line.
25 Year Monthly Chart Shows Silver Coiled Like A Spring, Ready To Vault To New All-Time Highs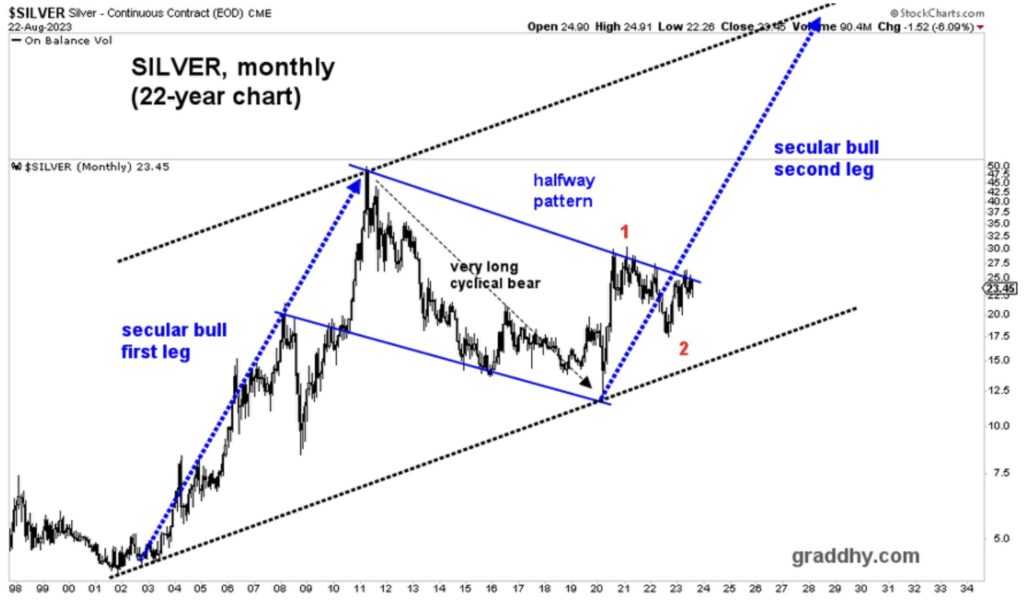 One can not play a resumed bull with a bearish mindset. That's why most missed the 2022 lows, and many called for an early top or ridiculously low numbers, plus bailed to "get in lower". GENERATIONAL breakout incoming.
About Powell's Speech And High Inflation…
Inflation Is The Big Issue
Peter Boockvar:  I think the Powell speech was uneventful in the sense of telling us something new. He's remaining noncommittal and flexible with what comes next, highlighted that they could hike again but not necessarily. He also talked about the tough part of their job now.
Leaving open the possibility of another rate increase, "We are prepared to raise rates further if appropriate." But on the other hand, "Given how far we have come, at upcoming meetings we are in a position to proceed carefully as we assess the incoming data and the evolving outlook and risks."
And even if they don't hike again, they "intend to hold policy at a restrictive level until we are confident that inflation is moving sustainably down toward our objective." I think the important word here is 'sustainably.' As I've said before, there is one thing to see disinflation but there is a completely other thing to have inflation stay down.
He then broke down the composition of inflation, talked about the economy (said "the housing sector is showing signs of picking back up" but nothing is picking up when it comes to activity with existing homes and in fact, continues to weaken) and discussed the labor market. With the labor market, he acknowledged that "payroll job growth has slowed significantly. Total hours worked has been flat over the past six months, and the average workweek has declined to the lower end of its pre-pandemic range, reflecting a gradual normalization in labor market conditions." This in turn "has eased wage pressures."…
---
ALERT:
Powerhouse merger caught Rio Tinto's attention and created a huge opportunity in the junior gold & silver space CLICK HERE OR ON THE IMAGE BELOW TO LEARN MORE.

---
In maybe a veiled response to Jason Furman and Paul Krugman who from their academic seats this week are saying the Fed should raise their inflation (cost of living) target to 3% from 2%, Powell said "Two percent is and will remain our inflation target." Furman and Krugman should go to a Dollar Tree and explain to the customers there why a 3% rise in their cost of living is better than 2%.
You've heard me say the r*, aka the real rate, is a complete guesstimate, spit out by some econometric model at the Fed. Powell in his speech agreed with me, saying "we cannot identify with certainty the neutral rate of interest, and thus there is always uncertainty about the precise level of monetary policy restraint."
I give credit here to Powell in his humility of the Fed's job from here, "we are navigating by the stars under cloudy skies." To this and the uncertainties that the economy brings, "complicate our task of balancing the risk of tightening monetary policy too much against the risk of tightening too little. Doing too little could allow above target inflation to become entrenched and ultimately require monetary policy to wring more persistent inflation from the economy at a high cost to employment. Doing too much could also do unnecessary harm to the economy." They must appreciate the lags, and Powell said they do, and which only intensify from here as more and more that have debt coming due get ensnared by much higher rates.
The speech really isn't changing much in terms of market rate expectations. The odds for September fell to 14% from 16% and are about 50/50 for one more by yr end, similar to what was seen just prior to the speech. We have to get off now this obsession on whether they will hike again or not and turn the attention to how long they will stay tight for and how much more does the balance sheet have to shrink.
Within hours Alasdair Macleod's gold & silver market report will be released!
ALSO JUST RELEASED: A Global Wildcard Is Acting Like A Giant Wrecking Ball CLICK HERE.
ALSO JUST RELEASED: SHOCKING: Take A Look At The Retail Stock Bloodbath CLICK HERE.
ALSO JUST RELEASED: Gold Rallies As Stagflation Is An Ugly Thing CLICK HERE.
ALSO JUST RELEASED: Central Banks Are Fostering An Extinction Level Event CLICK HERE.
ALSO RELEASED: Look At How Parts Of The Economy Have Collapsed CLICK HERE.
ALSO RELEASED: STOCK MARKET SELL SIGNAL: Major Breakout In The Most Important Interest Rate CLICK HERE.
ALSO RELEASED: Take A Look At How Bad It Is For Banks Right Now CLICK HERE.
ALSO RELEASED: The Fate Of The World Is Being Decided Here… CLICK HERE.
ALSO RELEASED: The Global Debt Bubble Is Going To Unleash Havoc CLICK HERE.
© 2023 by King World News®. All Rights Reserved. This material may not be published, broadcast, rewritten, or redistributed.  However, linking directly to the articles is permitted and encouraged.