Here is a look at bank failures and gold, plus bulls & bears, used car prices and real estate.
Bank Failures And Gold
June 8 (King World News) – Egon von Greyerz:  We were concerned about the banking system over 25 years ago because of the risks we saw in the world. In the late 90s, we were planning how to protect against the risk of a total financial collapse. When you're talking about the whole global financial system, you cannot defend against it in the same way the risk has arisen. That's why we came to the conclusion that our only protection against risk of that magnitude was to be outside of it; it has to be real assets. This means you can't buy future derivatives or instruments within the same system. That's why we decided that real gold was the best protection for ourselves and for the people we were advising. Storing gold in their own name, in the safest vaults in the world. It's a simple solution. We haven't changed our minds since then…
---
ALERT:
Legendary investors are buying share of a company very few people know about. To find out which company CLICK HERE OR ON THE IMAGE BELOW.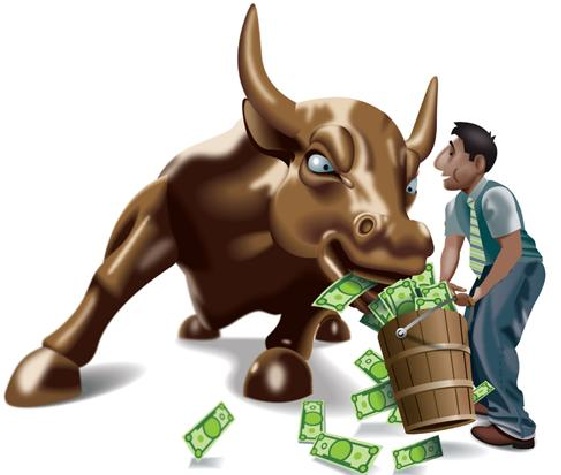 Sponsored
---
Bulls & Bears
Peter Boockvar:  As market mood always follows price, there was quite a change in stock market sentiment this week. In yesterday's Investors Intelligence survey, Bulls got back above 50 at 51.3 for the first time since late 2021 from 47.9 last week. Above 50 I call extended (above 55 is stretched and 60+ is extreme, and those are my made up descriptions). 
Bears fell to the least amount since late 2021 at 21.6 vs 23.3 in the prior week. Seen in today's AAII individual investor survey, where we've had a long string of Bears exceeding Bulls, Bulls jumped by 15.4 pts to 44.5, the highest since November 2021.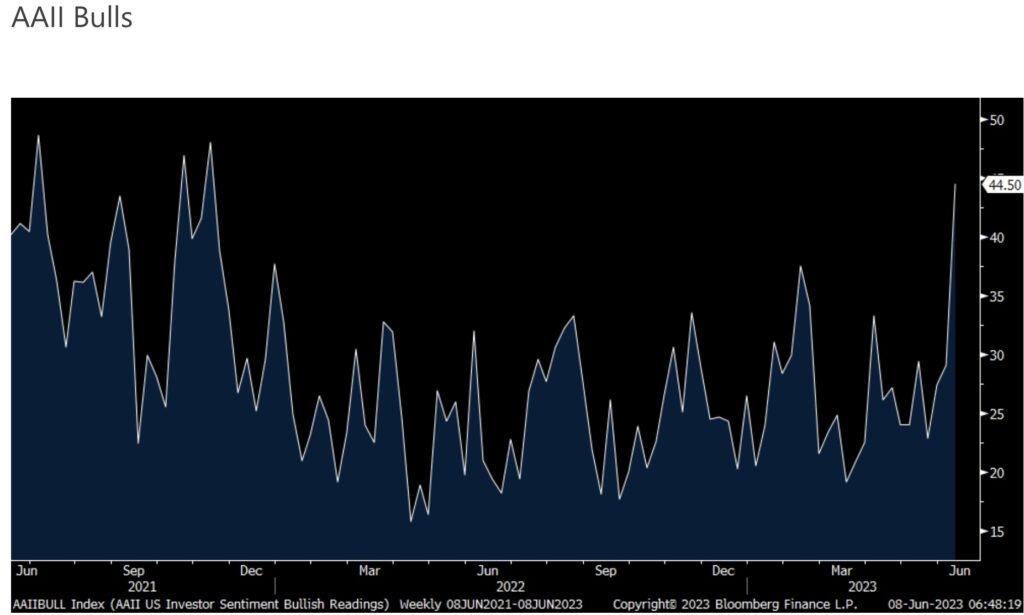 Bears fell to 24.3, down by 12.5 pts to also a level last seen last November.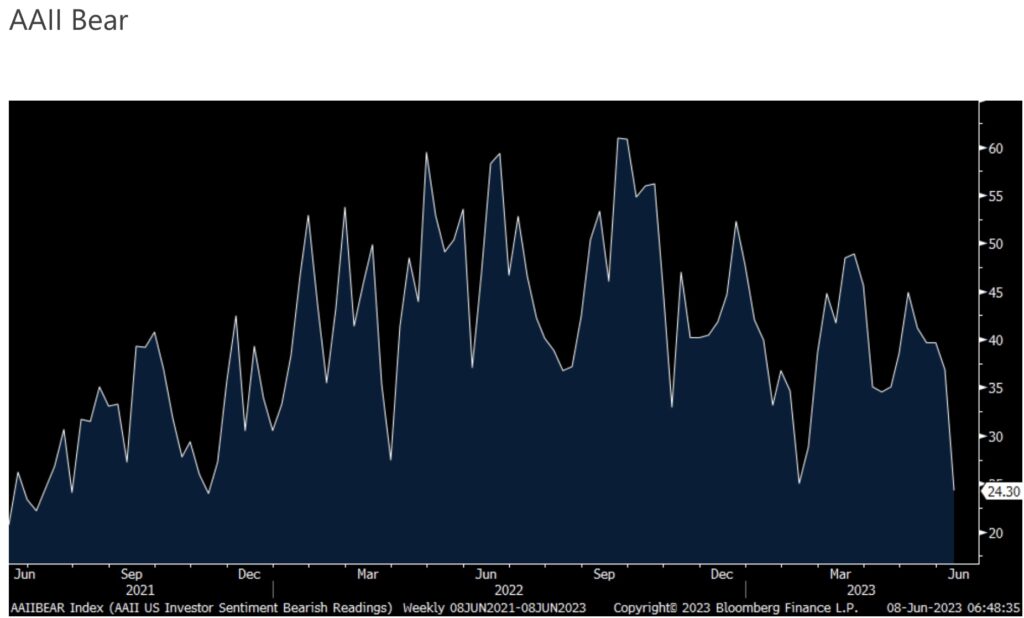 Also, the CNN Fear/Greed index rose into the 'Extreme Greed' category, up 2 pts from Tuesday at 76 and up from 61 the week before.
CNN Fear & Greed Index Hits Extreme Greed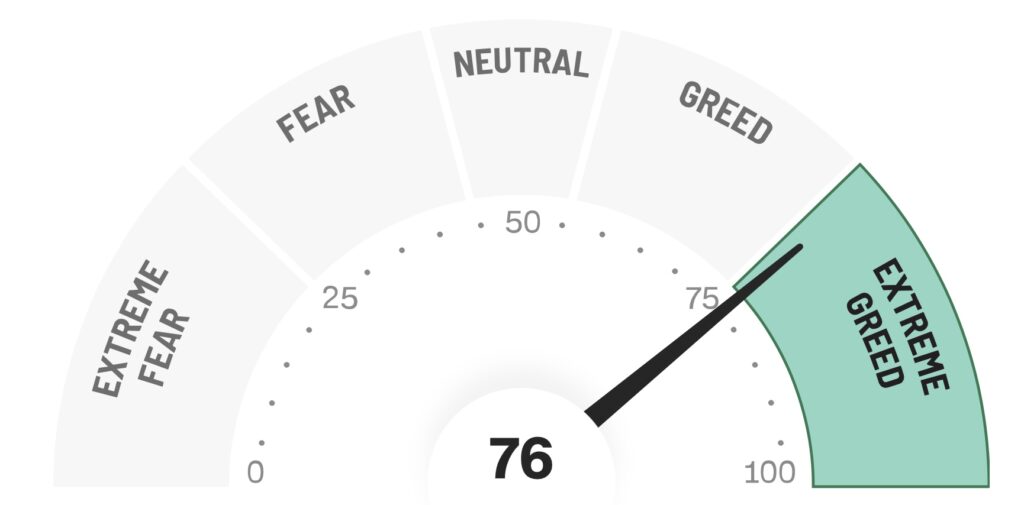 Bottom line, 'everyone is bearish' is no longer a contrarian theme to be bullish based on these data points. Outside of the AI excitement, I'm of the opinion that while the Fed might go one more time, there is still the mentality of 'I can't miss the Fed is done rally' even though the Fed is not done when they stop raising rates as rates will still stay elevated for a while and their balance sheet will continue to shrink in size.
Real Estate
Fannie Mae released yesterday its May Home Purchase Sentiment Index which fell by 1.2 pts to 65.6 where 4 of the 6 components dropped m/o/m. They said "As we near the end of the spring homebuying season, the latest HPSI results indicate that affordability hurdles, including high home prices and mortgage rates, remain top of mind for consumers, most of whom continue to tell us that it's a bad time to buy a home but a good time to sell one." There is also worry that getting a mortgage is getting tougher as "81% believe it would be difficult to get a mortgage today, matching a survey high." I get the excitement over the homebuilding stocks but don't let it cloud the view that overall mortgage applications to buy a home is near its lowest level since 1995.
Used Car Prices
With regards to the Manheim wholesale used car index for May seen yesterday where it declined by 2.7% m/o/m and by 7.6% y/o/y, they said "the rate of decline might slow over the next several months as we encounter the lower prices seen at auction from May through November last year. Two consecutive readings in either measure do not a trend make, as used retail inventory is still below last year, and that tends to keep buyers at the auction, supporting prices." I'll add again, while used car prices are no longer the big lift to overall goods prices, the well below normal pace of new car sales over the past 3 years means there is a lot less used car supply coming on stream in the coming years. The index is also still 43% above its February 2020 level.
Used Car Prices Falling But Still 43% Above 2020 Level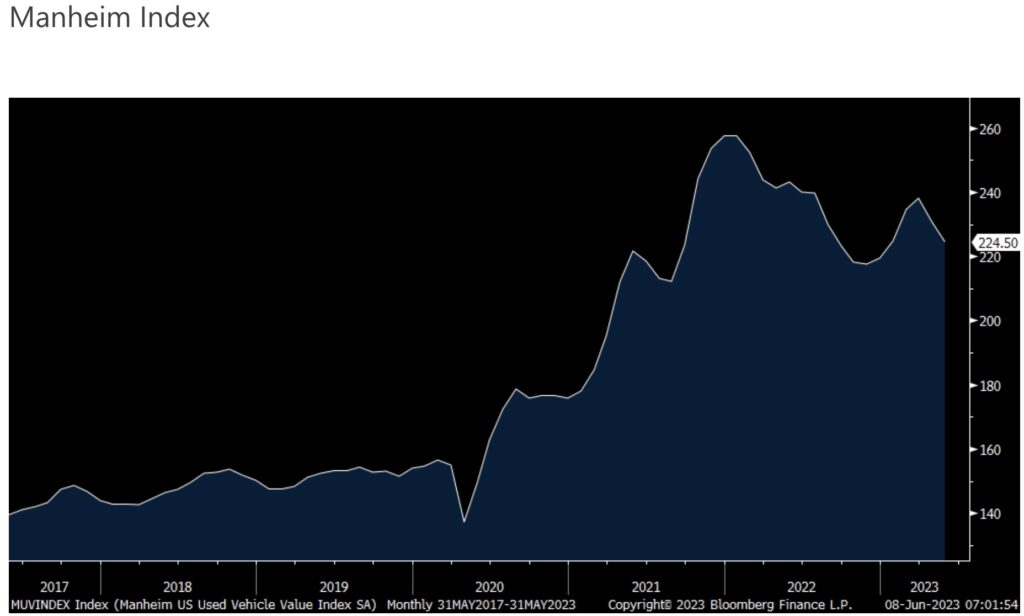 Credit Crunch Is Here
There is one less auto lender unfortunately to the dealership community. Citizens Financial yesterday announced "that it will no longer originate indirect auto loans, effective July 1, 2023, as part of its strategy to optimize its balance sheet and emphasize relationship based lending. Citizens will retain and continue to service existing auto loans on its balance sheet." The credit crunch is here I'll say again.
Also of importance…
Another High-Grade Gold (354 g/t) Discovery
John Lewins, K92 Chief Executive Officer and Director, stated, "We are very pleased to be announcing the discovery of a high-grade zone at the J2 vein from our drilling at Judd South, recording 2.40 m at 345.36 g/t AuEq, one of the highest grade intersections at the Kainantu Gold Mine reported to date. The discovery zone features multiple other high-grade intersections at the J2 vein including 11.20 m at 12.69 g/t AuEq and 3.80 m at 10.19 g/t AuEq, and this zone is particularly significant as the J2 vein is not part of our current resource, until recently was not an exploration priority and adds yet another prospective sub-parallel vein to target at the Kainantu Gold Mine.
Discovery Open In Multiple Directions
The discovery is open in multiple directions and located approximately 800 metres north of the A1 Porphyry target. A1 is interpreted to be the heat source for the Kora-Kora South and Judd-Judd South vein systems. Exploration drilling to test for extensions of this zone is already underway. The latest results also continue to demonstrate the high-grade, continuity and expansion potential of the Kora-Kora South and Judd-Judd South vein system. K92 Mining, symbol KNT in Canada and KNTNF in the US.
---
ALSO JUST RELEASED: Debt, Real Estate, Plus New Molecule Regenerates Nerves And Heart Tissue CLICK HERE.
ALSO JUST RELEASED: Here Is The Good News For Gold Today, Plus Economic Surprises CLICK HERE.
ALSO JUST RELEASED: INFLATION ALERT: Expect High Food Inflation To Continue, Especially In Europe CLICK HERE.
ALSO JUST RELEASED: The Final Move For Gold, Plus Travel Booming And The Bank Credit Crunch Has Just Begun CLICK HERE.
ALSO RELEASED: The Price Of Gold Is Going To Be Unleashed To A New All-Time High CLICK HERE.
ALSO RELEASED: SHOCKER: Look At What Had A Mind-Blowing 4,256.47% Return (And It Wan't Bitcoin) CLICK HERE.
ALSO RELEASED: The World Is About To See Serious Deflation Followed By Massive Money Printing CLICK HERE.
ALSO RELEASED: Billionaire Pierre Lassonde Says Ignore Volatility, Gold Is Headed Into A Mania CLICK HERE.
ALSO RELEASED: A Jaw-Dropping 232 Tonnes Of Gold Has Now Been Delivered Out Of COMEX CLICK HERE.

***To listen to billionaire investor Pierre Lassonde discuss what he is doing with his own money right now and why investors should ignore volatility in gold because it's headed into a mania CLICK HERE OR ON THE IMAGE BELOW.

***To listen to Alasdair Macleod discuss what is happening behind the scenes in the war in the gold and silver markets CLICK HERE OR ON THE IMAGE BELOW.

© 2023 by King World News®. All Rights Reserved. This material may not be published, broadcast, rewritten, or redistributed.  However, linking directly to the articles is permitted and encouraged.