Here is a look at US debt, Canadian real estate, plus a new molecule that regenerates nerves and heart tissue.
"Brother, can you spare a billion?"
June 8 (King World News) – Charlie Bilello:  With the debt ceiling suspended, the government is back to doing what they do best: borrowing money to spend more. The $358 billion increase in debt on June 5 was the largest daily increase on record. We'll soon see $32 trillion in US National Debt, up from $23 trillion in 2019.
Largest Daily Increase In US Debt On Record

Coming Back To Earth
Charlie Bilello:  Canadian home prices fell 8.5% over the last year, the largest YoY decline on record.
Bubble Always Reverse, Eventually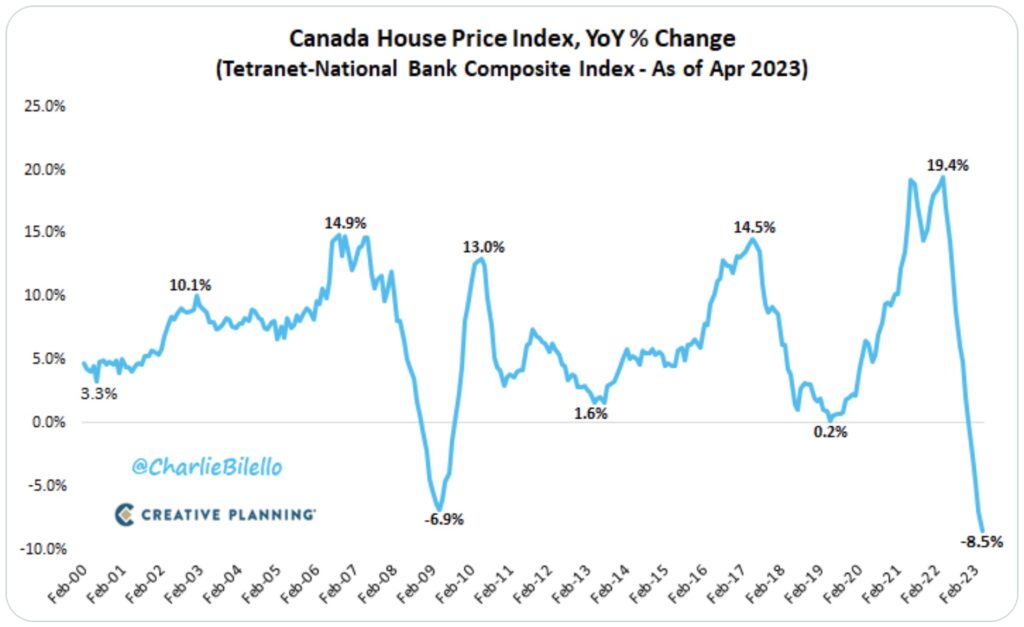 Banks Will Be Torched As Commercial Real Estate Collapses
Charlie Bilello:  Interest-only loans as a % of new commercial mortgage-backed securities…
2010: 17%
2013: 51%
2016: 65%
2019: 84%
2021: 88%
An estimated $1.5 trillion in commercial mortgage loans are coming due over the next 3 years.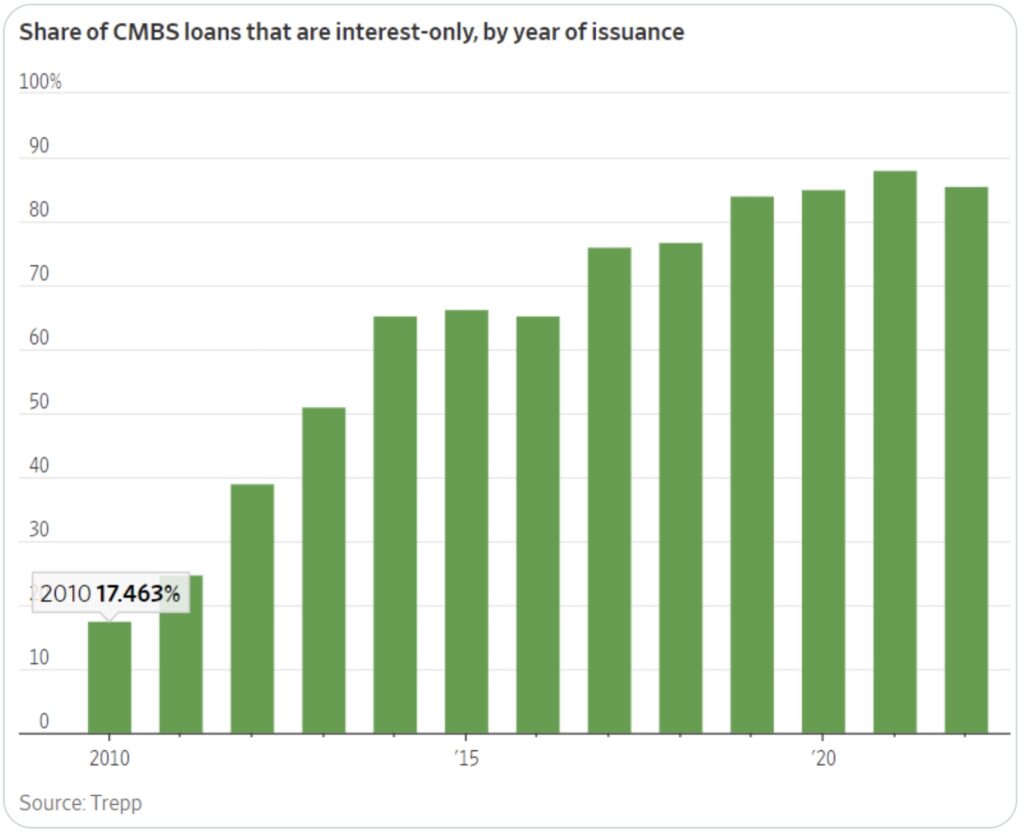 New Molecule Regenerates Nerves And Heart Tissue
Gerald Celente:  Re-establishing nerve pathways after damage is one of medicine's toughest problems. A related one is dealing with dead heart tissue that clings to the heart after a heart attack and can cause other cardiac problems even years later. 
To tackle the dual challenges, chemists at University College London, the University of Cambridge, and drug company AstraZeneca screened thousands of molecules from the pharma giant's chemical library in search of one that might stimulate an enzyme called P13K.
The enzyme controls cell growth and is key in healing wounds.
After winnowing the initial data dump, the group found a molecule it called "1938" to try.
In an independent preclinical test, physicians found that administering 1938 within 15 minutes after blood flow resumes after a heart attack prevented a significant amount of heart tissue from dying. 
In a lab dish, nerve cells grew faster and reproduced more when 1938 was added.
In a test on rats with sciatic nerve damage, injecting 1938 directly into the affected nerve regenerated much of the nerve and led to greater recovery than in rats left untreated. 
The scientists now are testing 1938 as a therapy for peripheral nerve damage, such as the kind involved in serious hand and arm injuries, as well as for damage to the central nervous system, such as from strokes, spinal cord injury, or Parkinson's Disease and other degenerative conditions.
TRENDPOST: The combination of machine learning and artificial intelligence is steadily working its way through the world's chemical libraries, testing for molecules that can treat illnesses, make new materials, and reveal other innovations waiting to be discovered.
The speed of creation and discovery in chemistry and materials science will dazzle both researchers and consumers in the immediate future and beyond.
Also of importance…
Another High-Grade Gold (354 g/t) Discovery
John Lewins, K92 Chief Executive Officer and Director, stated, "We are very pleased to be announcing the discovery of a high-grade zone at the J2 vein from our drilling at Judd South, recording 2.40 m at 345.36 g/t AuEq, one of the highest grade intersections at the Kainantu Gold Mine reported to date. The discovery zone features multiple other high-grade intersections at the J2 vein including 11.20 m at 12.69 g/t AuEq and 3.80 m at 10.19 g/t AuEq, and this zone is particularly significant as the J2 vein is not part of our current resource, until recently was not an exploration priority and adds yet another prospective sub-parallel vein to target at the Kainantu Gold Mine.
Discovery Open In Multiple Directions
The discovery is open in multiple directions and located approximately 800 metres north of the A1 Porphyry target. A1 is interpreted to be the heat source for the Kora-Kora South and Judd-Judd South vein systems. Exploration drilling to test for extensions of this zone is already underway. The latest results also continue to demonstrate the high-grade, continuity and expansion potential of the Kora-Kora South and Judd-Judd South vein system. K92 Mining, symbol KNT in Canada and KNTNF in the US.
---
ALSO JUST RELEASED: Here Is The Good News For Gold Today, Plus Economic Surprises CLICK HERE.
ALSO JUST RELEASED: INFLATION ALERT: Expect High Food Inflation To Continue, Especially In Europe CLICK HERE.
ALSO JUST RELEASED: The Final Move For Gold, Plus Travel Booming And The Bank Credit Crunch Has Just Begun CLICK HERE.
ALSO JUST RELEASED: The Price Of Gold Is Going To Be Unleashed To A New All-Time High CLICK HERE.
ALSO RELEASED: SHOCKER: Look At What Had A Mind-Blowing 4,256.47% Return (And It Wan't Bitcoin) CLICK HERE.
ALSO RELEASED: The World Is About To See Serious Deflation Followed By Massive Money Printing CLICK HERE.
ALSO RELEASED: Billionaire Pierre Lassonde Says Ignore Volatility, Gold Is Headed Into A Mania CLICK HERE.
ALSO RELEASED: A Jaw-Dropping 232 Tonnes Of Gold Has Now Been Delivered Out Of COMEX CLICK HERE.

***To listen to billionaire investor Pierre Lassonde discuss what he is doing with his own money right now and why investors should ignore volatility in gold because it's headed into a mania CLICK HERE OR ON THE IMAGE BELOW.

***To listen to Alasdair Macleod discuss what is happening behind the scenes in the war in the gold and silver markets CLICK HERE OR ON THE IMAGE BELOW.

© 2023 by King World News®. All Rights Reserved. This material may not be published, broadcast, rewritten, or redistributed.  However, linking directly to the articles is permitted and encouraged.