Look at what had a mind-blowing 4,256.47% return. Hint: It wasn't bitcoin. 
Expect Higher Interest Rates
June 5 (King World News) – Egon von Greyerz:  In the most simplistic terms, Uncle Sam survives off debt, which means he survives off of IOUs (i.e., USTs). If no one buys those IOUs, Uncle Sam falls off his bar stool into a puddle of his own tears as US Treasuries fall further in price, and hence yields and rates rise further in interest-expense pain.
The data is abundant that rising interest rates (red circles below) tend to correlate directly with recessions, both soft and severe (grey lines below). Looking at where we are now, it seems we are heading along the same path we've been many times before.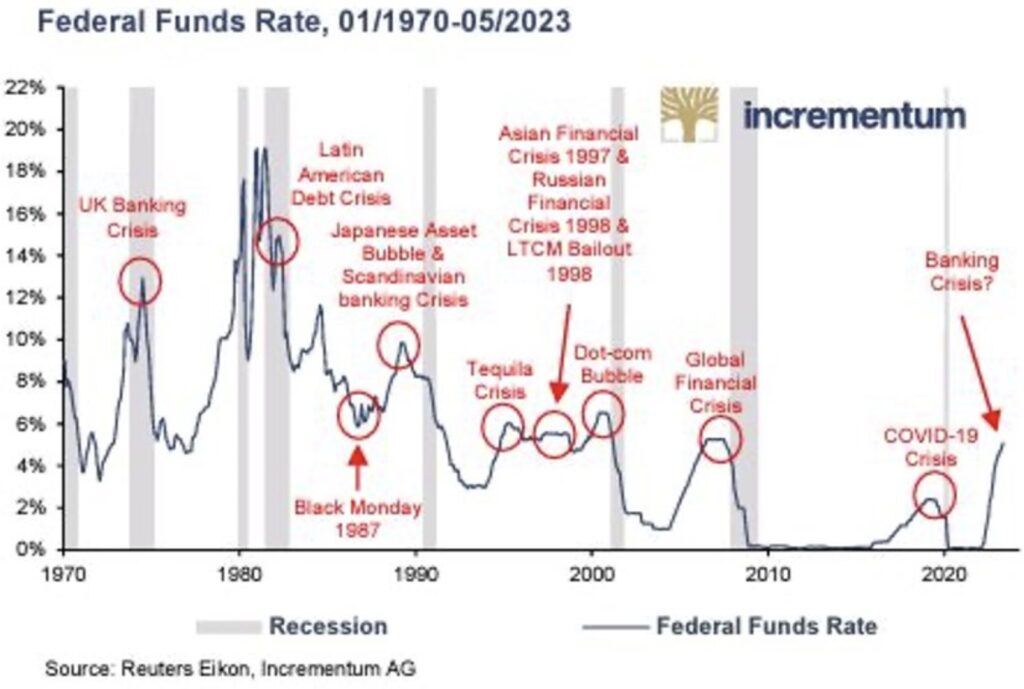 A Truly Historic Bubble!
Wasteland Capital:  During the last 4 decades, since 1983, total wages in the US have grown from $1.56 trillion to $9.7 trillion, or 6.2x. Meanwhile the market value of the Wiltshire 5000 index (the broadest US index) has grown 72x, from $590 billion in '83 to $42.5 trillion today. 
What does this tell you?
THIS MADNESS CAN'T CONTINUE!
Wages Up 6.2x Stock Market Up 72x!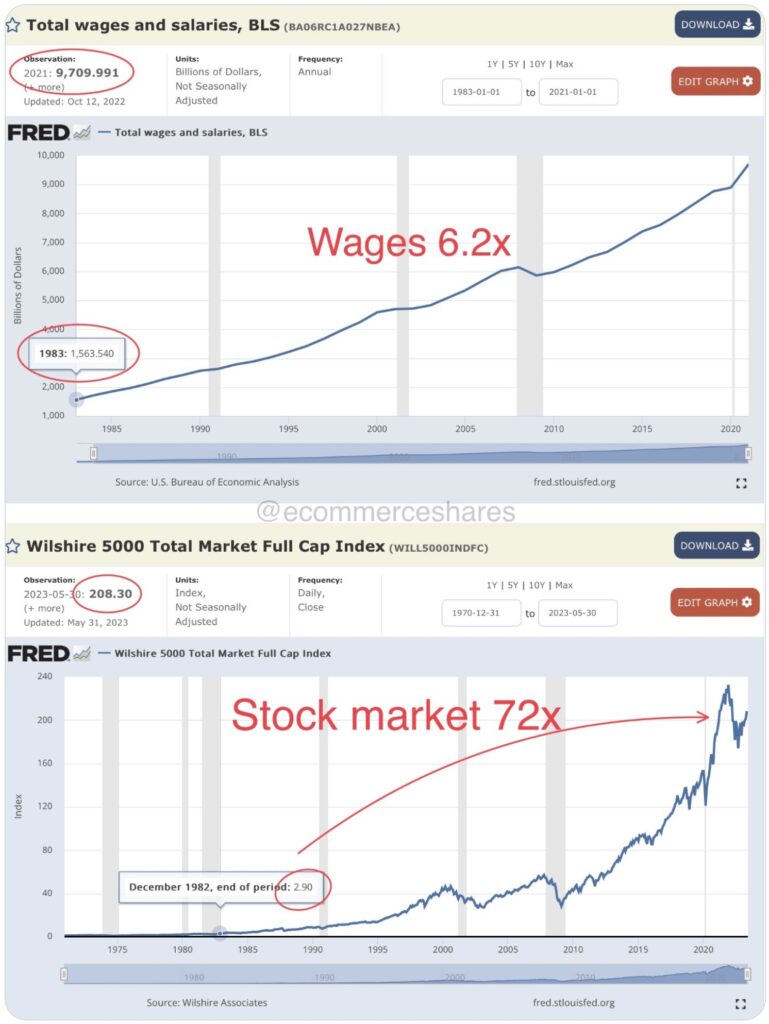 Gold Miners Are Going To Shine
Mark Lundeen:  However, from 1958 to 1980, only an imbecile would fail to have noticed rising bond yields went hand in hand with deflating bond valuations.  The market's acceptance of this reality made gold, and silver bullion, as well as precious metal mining companies very popular with the investing public…
---
ALERT:
Powerhouse merger caught Rio Tinto's attention and created a huge opportunity in the junior gold & silver space CLICK HERE OR ON THE IMAGE BELOW TO LEARN MORE.

---
How popular?  From January 1958 to October 1980, shares in gold mining were that era's glamor issues, as seen in the table below.  A $1.00 invested in the BGMI in January 1958, became $42.56 in October 1980.  From the data available to me, nothing else came close to gold mining during these twenty-two years.
Barron's Gold Mining Index Had A Staggering 4,256.47% Return From 1958-1980, No Other Index Was Even Close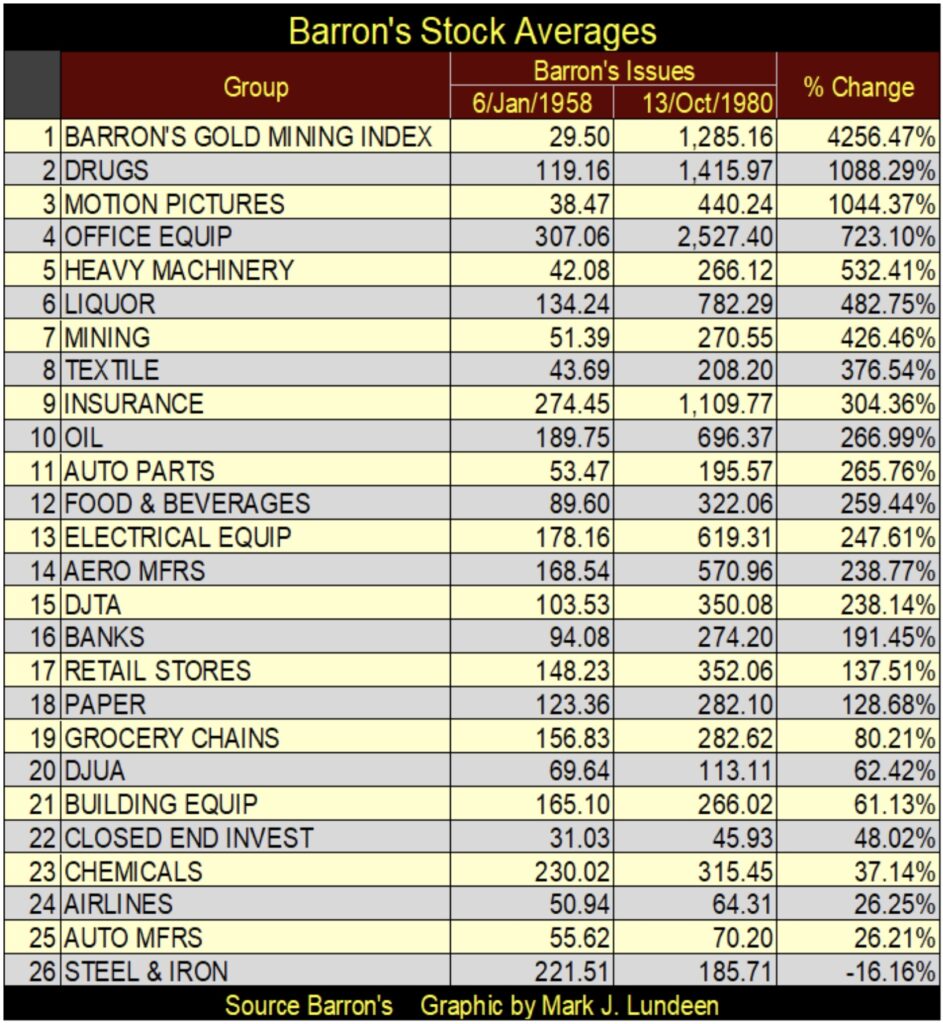 ALSO JUST RELEASED: The World Is About To See Serious Deflation Followed By Massive Money Printing CLICK HERE.
ALSO JUST RELEASED: Billionaire Pierre Lassonde Says Ignore Volatility, Gold Is Headed Into A Mania CLICK HERE.
ALSO JUST RELEASED: A Jaw-Dropping 232 Tonnes Of Gold Has Now Been Delivered Out Of COMEX CLICK HERE.

***To listen to billionaire investor Pierre Lassonde discuss what he is doing with his own money right now and why investors should ignore volatility in gold because it's headed into a mania CLICK HERE OR ON THE IMAGE BELOW.

***To listen to Alasdair Macleod discuss what is happening behind the scenes in the war in the gold and silver markets CLICK HERE OR ON THE IMAGE BELOW.

© 2023 by King World News®. All Rights Reserved. This material may not be published, broadcast, rewritten, or redistributed.  However, linking directly to the articles is permitted and encouraged.