There is a major money supply shocker taking place, plus silver is on the cusp of a huge upside breakout.
Major Economic Contraction Underway
March 30 (King World News) – Thorsten Polleit:  Minus 7.9% y/y …
HOUSTON, WE HAVE A PROBLEM:
M2 Money Supply Just Hit -7.9!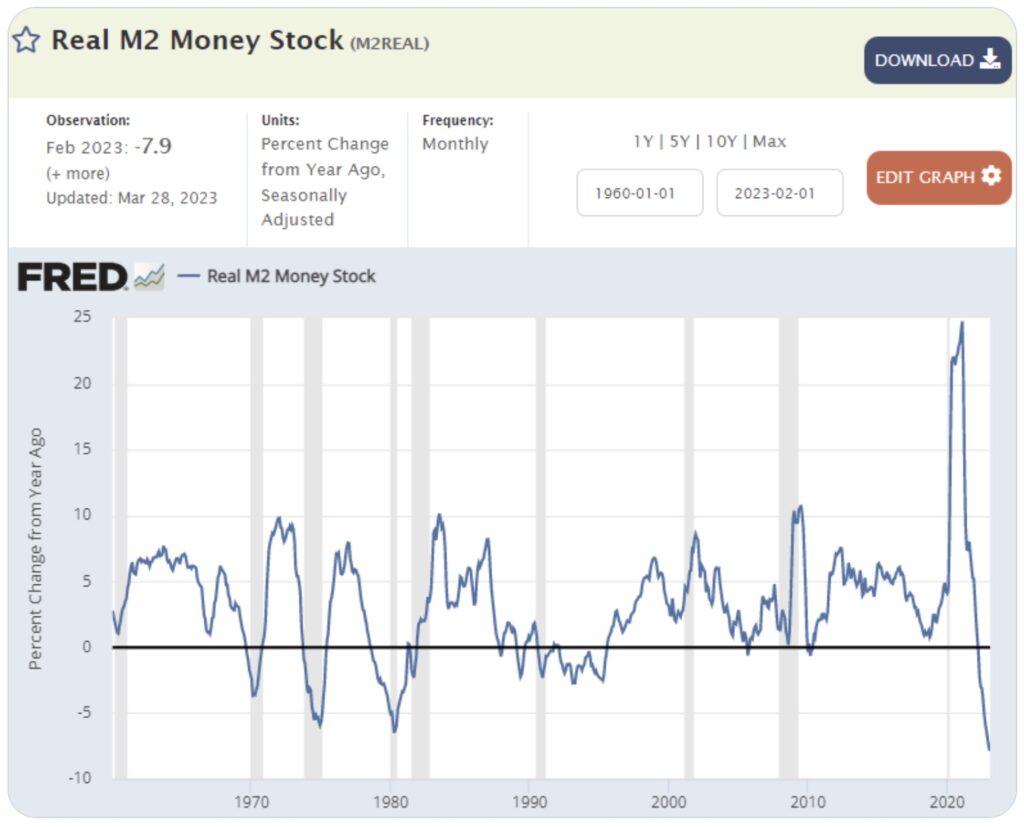 Silver
Graddhy out of Sweden:  US dollar looks very weak and precious metals are responding by looking very bullish. Silver is now right at vital $24-ish bull flag level which is big level on weekly.
SILVER: A Solid Advance Above $24 Would Be A Major Upside Breakout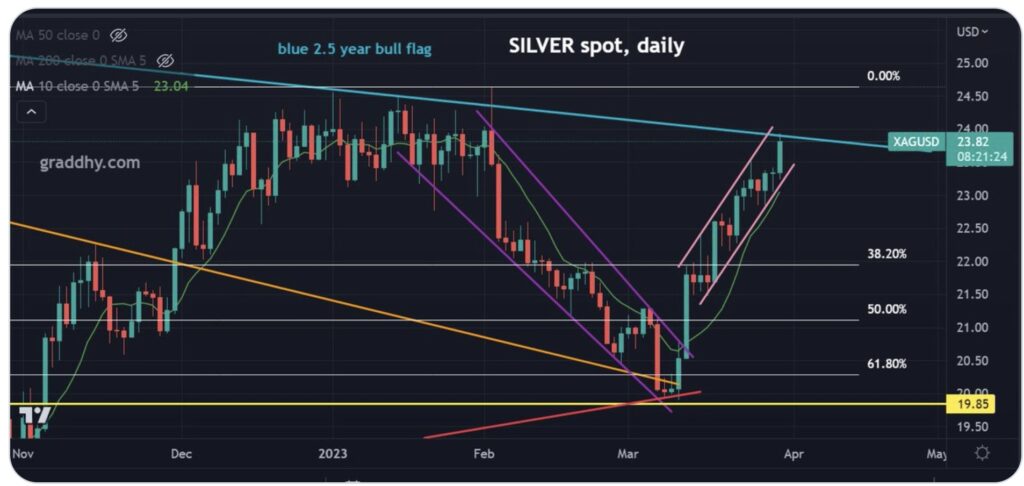 King World News note:  There should be a massive bull market in uranium and uranium stocks as the world moves more toward green energy mandates….
Uranium Market Long Overdue
Matthew Schwab:  "I'm very optimistic about the short and long term potential for uranium investments right now. The uranium market is long overdue for a true bull market that realizes the rapidly escalating requirement for increased production and supply to satisfy worldwide energy requirements. As demand continues to increase in contrast to lessened production, the forecasted deficit continues to grow and inherently so does the risk of supply shortages for the world's energy needs. Between only the US and China, we can expect an increased demand to supply over 300GW.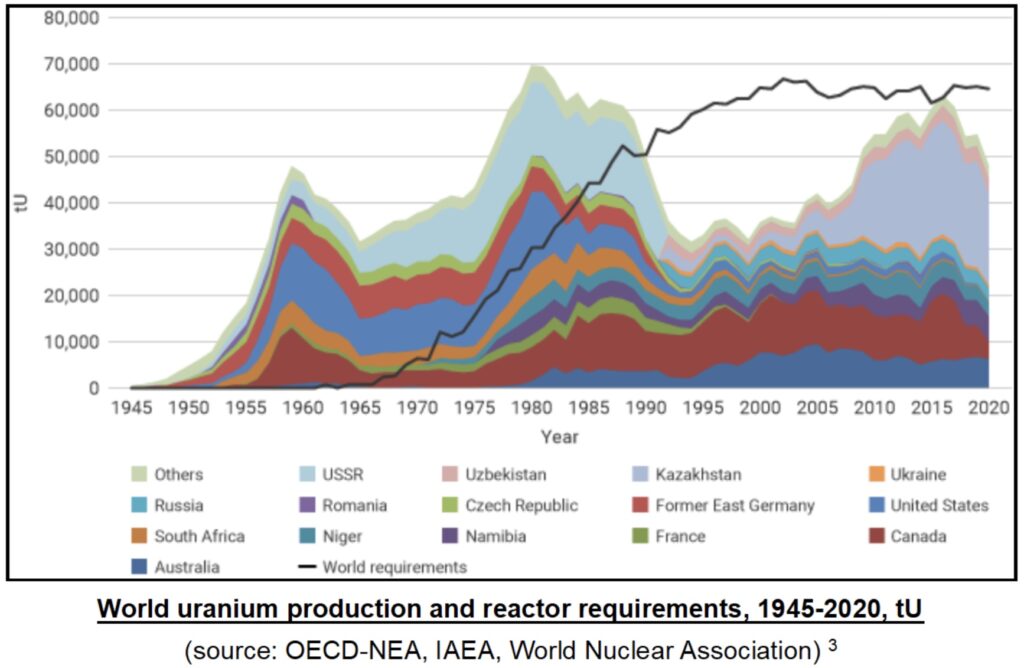 At Kraken Energy our team as been working to advance our brownfield projects as we move towards the goal of having assets in a production ready state. Concurrently with drilling at Garfield Hills, our geologists have continued to prospect and ground truth our airborne geophysical targets. In the past months they have now outlined a mineralized strike length on surface at Garfield Hills of over 4 km stretching east and west from our current area of drilling. As we continue to see surface readings with the handheld RS-125 spectrometer exceeding 15,000-30,000 cps we are very excited to continue developing the prospectivity at Garfield Hills.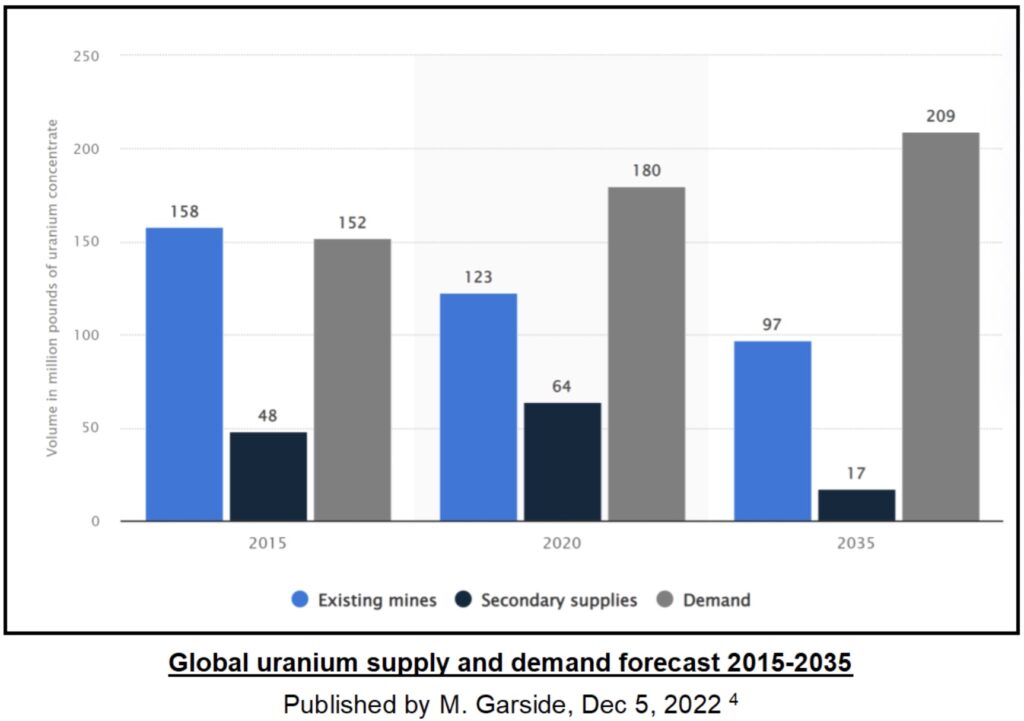 The continued intersection of elevated radioactivity across drill targets at Garfield Hills combined with a 4 km strike of confirmed surface mineralization is highly encouraging as we continue to build the extent of uranium resource potential on the property. With the known drilling area open in all directions and at depth, our team is eager to begin planning a follow-up Phase 2 drilling program at Garfield Hills for 2023. Kraken Energy, symbol UUSA in Canada and UUSAF in the US.
ALSO JUST RELEASED: Look At What Consumers Are Doing As Access To Credit Will Only Get More Expensive From Here CLICK HERE.
ALSO JUST RELEASED: Don't Let Stock Rally Fool You, The New Normal Is New World Disorder CLICK HERE.
ALSO JUST RELEASED: Money Flowing Into Gold In Europe But Some Gold Bulls Are Being Left Behind CLICK HERE.
ALSO JUST RELEASED: Central Banks Must Now Hyperinflate As Minsky Moment In "Ponzi Finance" Looms CLICK HERE.
ALSO RELEASED: INFLATION ALERT: Prices Heading Higher In This Key Area, Plus A Look At Gold And Banks CLICK HERE.
ALSO RELEASED: Michael Oliver – We Are Now In A Major Upside Trend Shift For Silver Bulls CLICK HERE.
ALSO RELEASED: We Are Still Facing Major Economic Problems CLICK HERE.
ALSO RELEASED: To Bond Killers And Other Villains Destroying Our World CLICK HERE.
ALSO RELEASED: Leeb – JP Morgan's Massive Gold Derivative Short Position May Be Larger Than The Bank's Assets CLICK HERE.
ALSO RELEASED: Gold Breakouts Everywhere As Bank Crisis Now Set To Accelerate CLICK HERE.
© 2023 by King World News®. All Rights Reserved. This material may not be published, broadcast, rewritten, or redistributed.  However, linking directly to the articles is permitted and encouraged.