Today Michael Oliver, the man who is well known for his deadly accurate forecasts on stocks, bonds, and major markets, allowed King World News exclusively to share with our global audience a quick update on some very good news for silver bulls.
Trend Shift For Silver Bulls
March 27 (King World News) – Michael Oliver, founder of MSA Research:  Last fall we identified an upturn in the silver vs. gold spread that argued a trend shift was likely underway. This after a lengthy period when silver underperformed gold, which silver usually does when both are under pressure…
---
ALERT:
This company is about to start drilling what could be one of the largest gold discoveries in history! CLICK HERE OR ON THE IMAGE BELOW TO LEARN MORE.
---
Silver continued to surge in performance vs. gold until early this year. Then the spread dropped back sharply as both metals pulled back in net price—silver more than gold on a percentage basis.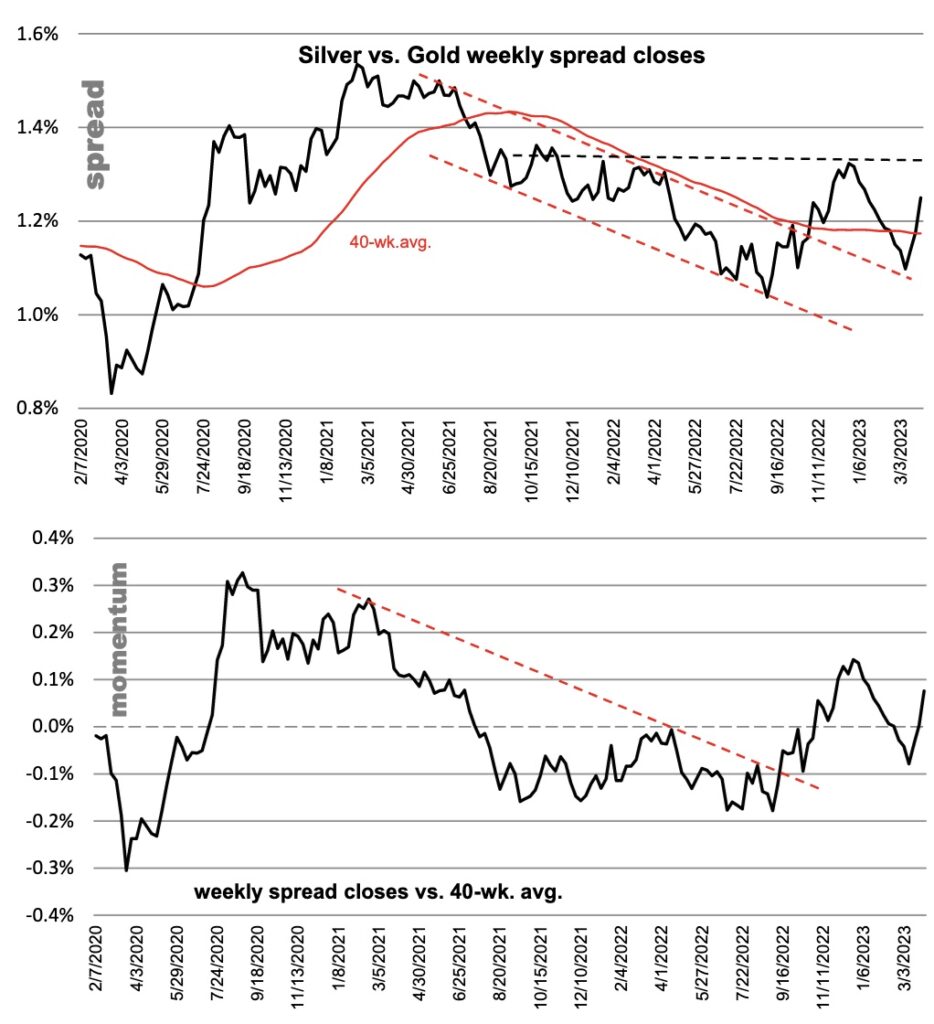 In the recent upturn, silver is again at the fore, and the spread and its long-term momentum are turning from a higher low. Zigzags—that's what trends do. The point is to have them now be positive zigzags.
Obviously the spread will garner more investor attention when it clears the recent high (which generally halted at some prior highs). 1.33% (silver's price expressed as a percent of gold's) will produce a new spread chart high above that most recent peak. Currently the spread is at 1.25%.
Overall, we're smiling at what we see here. To receive the special KWN discount to subscribe to Michael Oliver's internationally acclaimed MSA Annual Research which is used by so many serious investors all over the world CLICK HERE.
ALSO JUST RELEASED: We Are Still Facing Major Economic Problems CLICK HERE.
ALSO JUST RELEASED: To Bond Killers And Other Villains Destroying Our World CLICK HERE.
ALSO JUST RELEASED: Leeb – JP Morgan's Massive Gold Derivative Short Position May Be Larger Than The Bank's Assets CLICK HERE.
ALSO JUST RELEASED: Gold Breakouts Everywhere As Bank Crisis Now Set To Accelerate CLICK HERE.
***To listen to Dr. Stephen Leeb discuss JP Morgan's precarious short position in the gold market and much more CLICK HERE OR ON THE IMAGE BELOW.

***To listen to Alasdair Macleod discuss available physical gold and silver inventories disappearing, why the bank runs and crisis are set to accelerate and much more CLICK HERE OR ON THE IMAGE BELOW.

© 2023 by King World News®. All Rights Reserved. This material may not be published, broadcast, rewritten, or redistributed.  However, linking directly to the articles is permitted and encouraged.