Silver is at a key level, plus things are tough all over the world and a look at currencies.
Key Silver Hurdle
June 28 (King World News) – Graddhy out of Sweden:  Silver is right up against that blue massive floodgate. Note that the chart already has a clearly defined false breakout so the big picture downmove for creating needed volatility before breakout, is already done. Soon…
Silver Up Against Massive Floodgate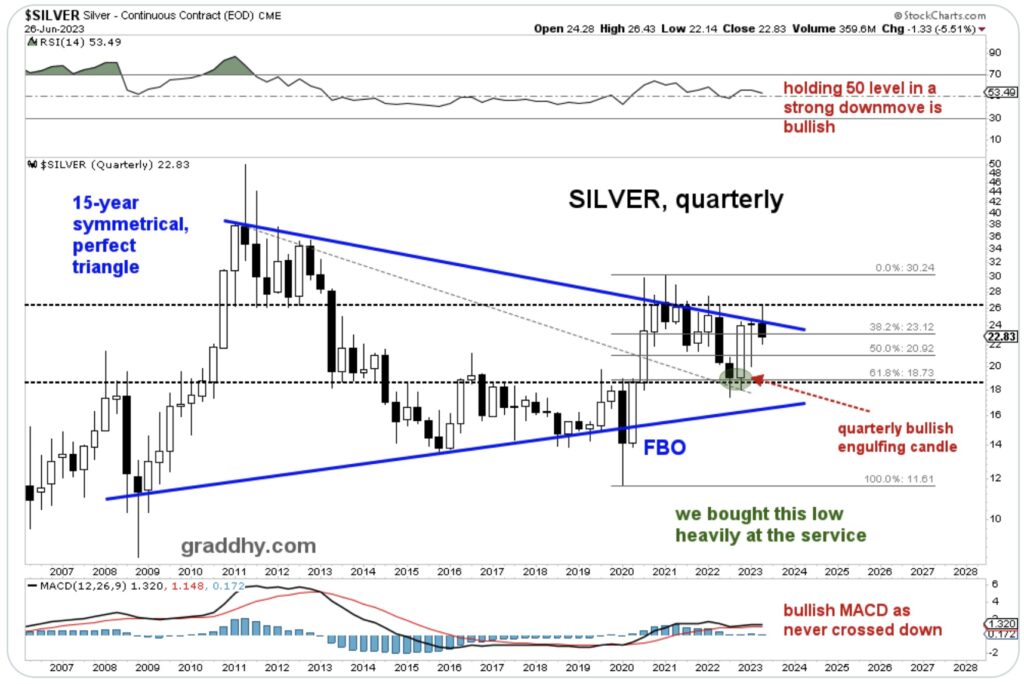 Things Are Tough All Over
Peter Boockvar:  Here's what Roz Brewer, CEO of Walgreens and a stock we own where I think I'm the only bull left, said in their call yesterday of note in trying to glean a macro viewpoint.
"While we achieved good sales growth and returned to adjusted earnings growth in the quarter, several dynamics created margin pressures that we are factoring into our full year outlook. We have seen changing market trends that have consumers prioritizing value in response to a more uncertain and challenging economic environment…Our customer is feeling the strain of higher inflation and interest rates, lower SNAP benefits and tax refunds, and an uncertain economic outlook. They are pulling back on discretionary and seasonal spend, and responding strongly to promotional activity."
Elsewhere, it should surprise no one that Covid vaccines and testing have fallen sharply.
There is nothing new here that we haven't already heard from countless retailers in their earnings reports over the past month. There is no question that a portion of the population is really stretched and prioritizing their spend while even those doing better are looking for value as heard from Walmart, Kroger and Costco. What will most influence the higher income consumer, to repeat what I said yesterday, will be the direction of white collar hiring/firing and where the stock market goes…
---
ALERT:
Powerhouse merger caught Rio Tinto's attention and created a huge opportunity in the junior gold & silver space CLICK HERE OR ON THE IMAGE BELOW TO LEARN MORE.

---
US dollar
While many just look at DXY in gauging the direction of the dollar, it's important to look more broadly when figuring out the strength or not of the US dollar. I say this because quietly the Mexican peso is today rallying to the highest level vs the dollar since December 2015.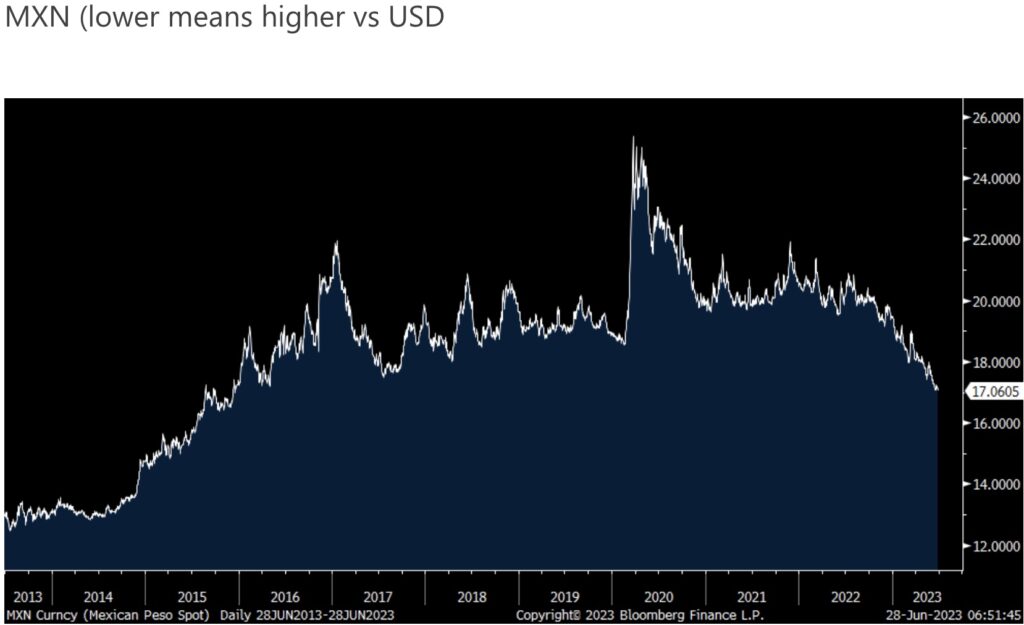 Notwithstanding worries about the socialist AMLO and the chaos and danger the drug cartels bring, manufacturers are poring into Mexico in order to feed the US and Canadian markets.
Japanese Yen Continues To Struggle
The yen shrugged off the comments from Masato Kanda, Vice Minister at the Ministry of Finance and FX loudspeaker that "We are watching the currency market with a high sense of urgency and we will respond appropriately if there are excessive moves." The yen initially rallied but is now back to unchanged as it now yawns when it hears this type of jawboning. We know only BoJ action will sustainable lift the yen.
German Consumer Confidence Weak
Consumer confidence in Germany softened a bit in June with the GFK index down 1 pt m/o/m to -25.4. The estimate was -23. For perspective, it was at +9.1 in February 2020 but off the lows of -42.8 when energy prices were much higher. GFK said "Continued high inflation rates of about 6% are noticeably pinching households' purchasing power."
People were more positive in France however as its consumer confidence index rose 2 pts m/o/m to the highest level since May 2022 thought at 85 is still well below the February 2020 print of 105…
---
This silver explorer recently did a huge transaction with a $4.5 billion market cap producer CLICK HERE OR ON THE IMAGE BELOW TO LEARN MORE.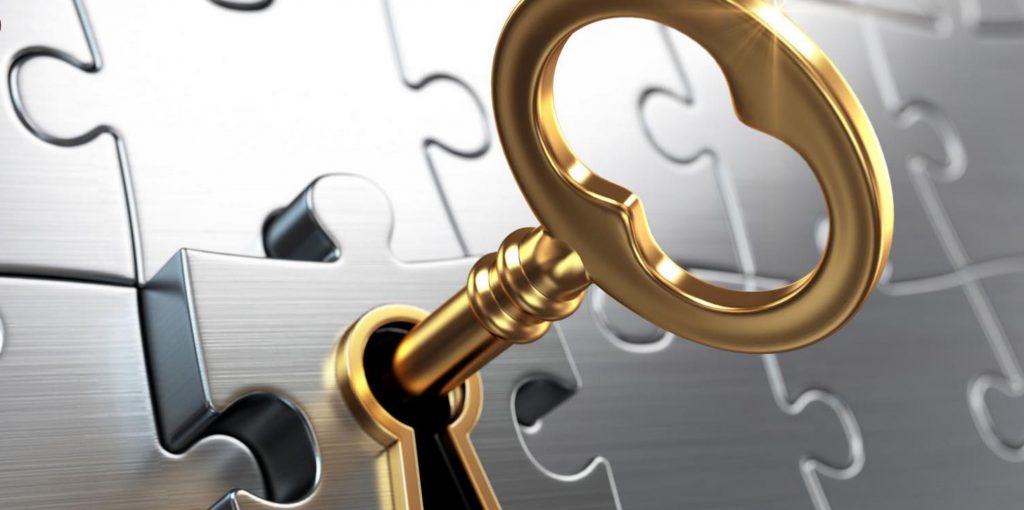 ---
Neither figure is market moving however. The euro is little changed ahead of the central banker sit down today in Sintra. Sovereign yields are modestly lower and stocks are catching up to the US rally yesterday. The German DAX, CAC 40, IBEX 35 and FTSE MIB in Italy are all matching the rally this year of the tech heavy S&P 500. The Nikkei is keeping pace with the NASDAQ.
Mortgage Applications Remain Collapsed
In the US, mortgage applications were higher even with the 6.75% average 30 yr mortgage rate. Purchases rose for a 3rd month, by 2.8% w/o/w, though still down 21% y/o/y.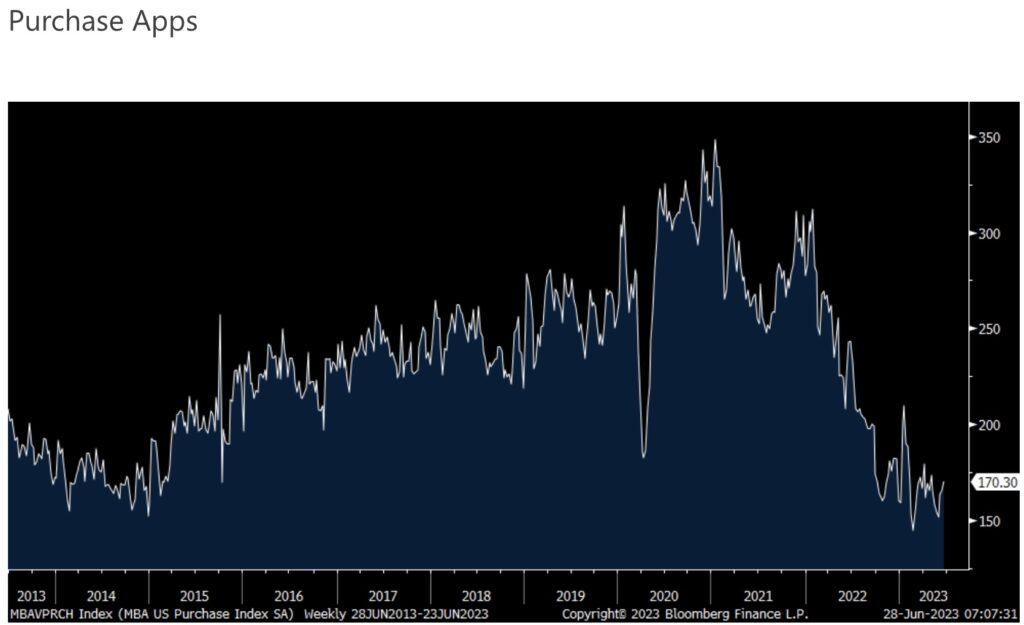 Refi's were up by 3.3% w/o/w and at this point are almost all cash outs. The jumbo rate by the way rose to 6.91% on the week. We know all about the strange cross currents in the housing market. The pace of transactions for existing homes remain punk (purchase apps are near their lowest level since 2015) while doing better for new ones, well reflected in home building stocks.
Did You Miss Kirkland Lake Gold's 50-Fold Share Price Increase?
Kirkland Lake Gold Skyrocketed From $1 To Over $50!
Two Billionaires Bought Huge Stakes In The Next Kirkland Lake Gold!
To find out which company two billionaires bought huge stakes in what they believe will be the next Kirkland Lake Gold click here.
ALSO JUST RELEASED: Celente – The American Dream Has Turned Into The American Nightmare CLICK HERE.
ALSO JUST RELEASED: OWN GOLD: Jim Grant Just Issued This Warning About Business And Credit Conditions In The US CLICK HERE.
ALSO JUST RELEASED: STORM ON THE HORIZON: 3 Macro Events Poised To Unfold In Rapid Successions As Credit Crunch Intensifies CLICK HERE.
ALSO JUST RELEASED: Big Money Will Be Made In Silver, Plus A Commodity Boom Is Coming CLICK HERE.
ALSO JUST RELEASED: Waiting For The Fed Pivot As More Things Break And US China Financial War Heats Up CLICK HERE.
***To listen to James Turk discuss the three key levels that need to be broken on the upside as well as what to expect in the back half of the year CLICK HERE OR ON THE IMAGE BELOW.

***To listen to Alasdair Macleod discuss why gold is bottoming and what to expect from silver and the mining stocks CLICK HERE OR ON THE IMAGE BELOW.

© 2023 by King World News®. All Rights Reserved. This material may not be published, broadcast, rewritten, or redistributed.  However, linking directly to the articles is permitted and encouraged.