Here are 3 macro themes poised to unfold in rapid succession as the credit crunch intensifies.
Poised To Unfold In Rapid Succession
June 26 (King World News) – Kevin C Smith:  These are my three highest conviction macro themes, supported by my firm's independent research and proprietary models, that I believe are poised to unfold in rapid succession over the short and medium term: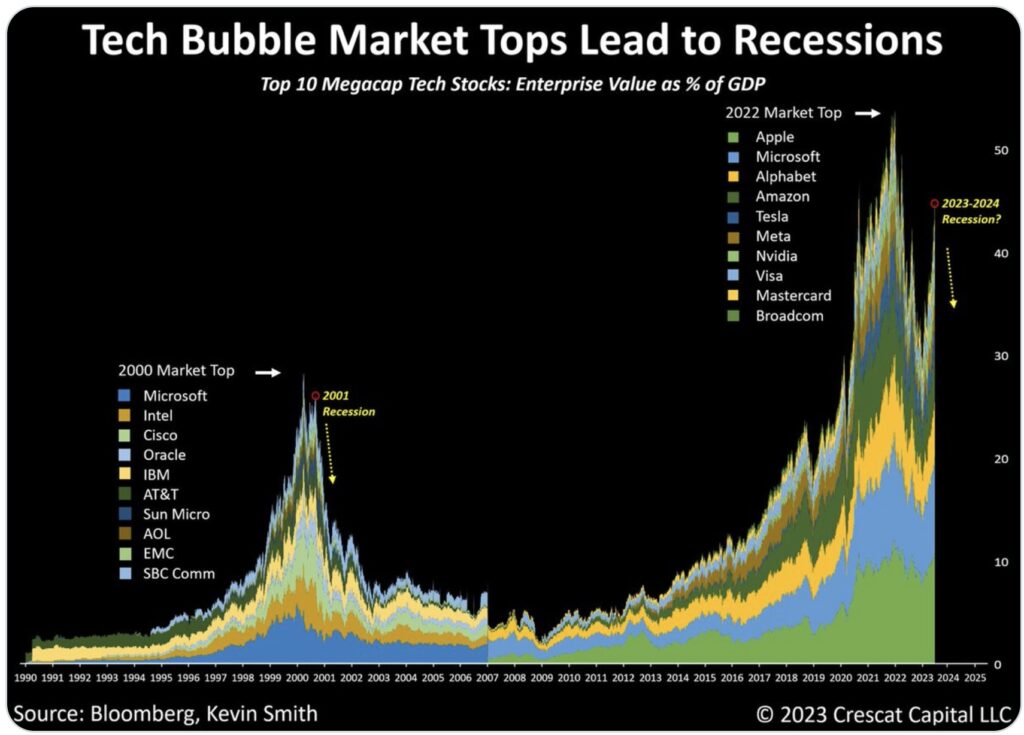 1. I see highly overvalued long-duration financial assets as ripe for their next meltdown leg with the deluge of new US Treasury issuances now hitting the market after the recent debt ceiling deal and that the Fed will ultimately need to accommodate.
2. I believe a powerful new demand wave for gold is coming from institutions. Central banks are ahead of the curve in accumulating the monetary metal in preference over USTs. Gold is a haven asset for the stagflationary hard landing now forecasted by our models.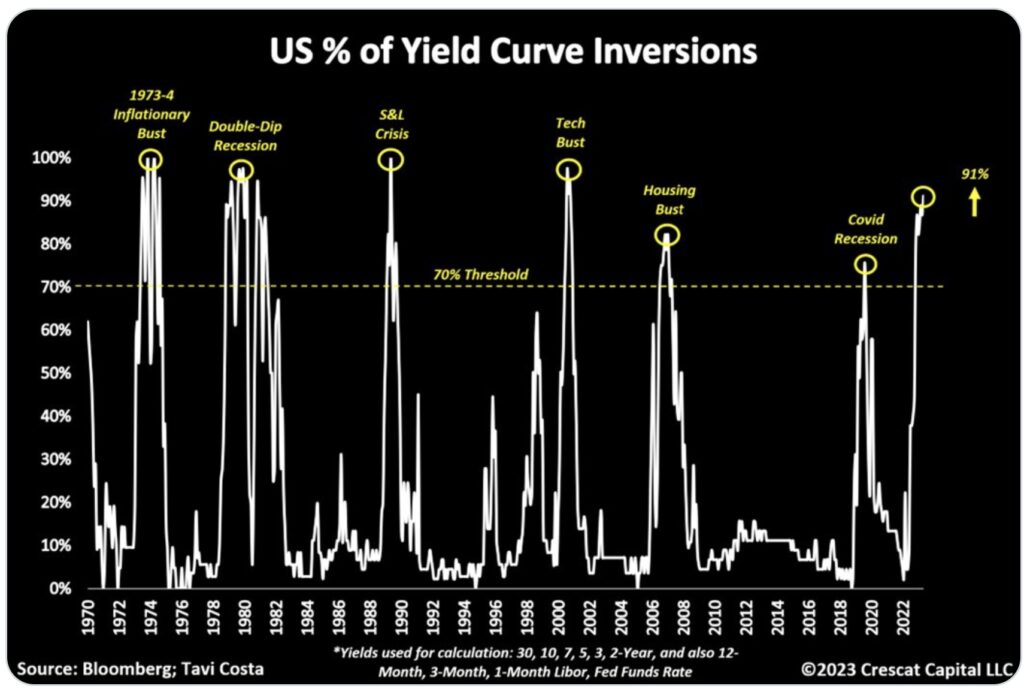 3. Over the medium term, I envision a fiscal-stimulus-driven secular demand boom for commodities in G7 economies to rival China's commodity demand boom of the 2000s to lead the world out of the likely upcoming recession and drive the next global economic expansion cycle…
---
ALERT:
Legendary investors are buying share of a company very few people know about. To find out which company CLICK HERE OR ON THE IMAGE BELOW.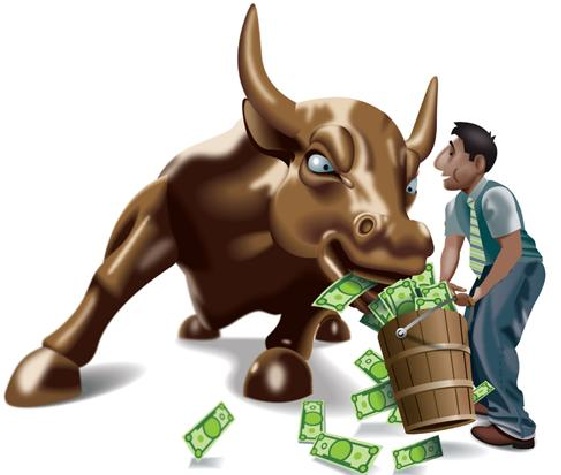 Sponsored
---
Major Credit Crunch
Peter Boockvar:  This is now my number one monthly index to watch, the Dallas Fed's Banking Conditions Survey. They just reported its June results with the title "Loan demand continues to fall, and bankers' outlooks remain pessimistic."
Their 'Loan Volume' index fell to -14.5 from -9.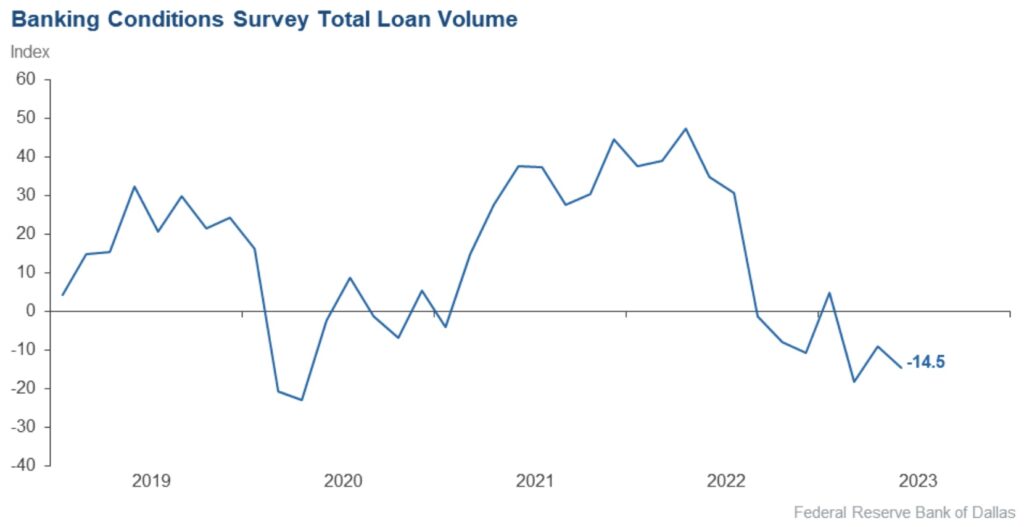 The 'Loan Demand' component fell to -47.6 from -31.8. 'Non performing loans' rose to 14.8 from 4.5. Lastly 66.7% saw an increase in 'loan pricing' but that is down from 79.1% in May.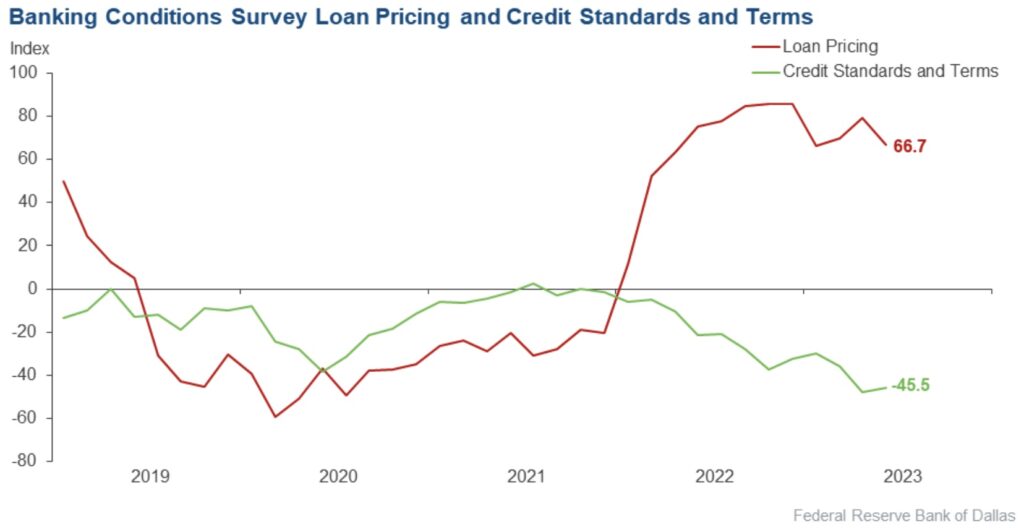 Specifically with 'non performing loans', they were up for C&I, CRE, RRE, and consumer loans. Also, with respect to 'General Business Activity,' over the past 6 weeks their index fell to -42.9 from -29.8 and the six month outlook deteriorated to -51.6 from -46.3.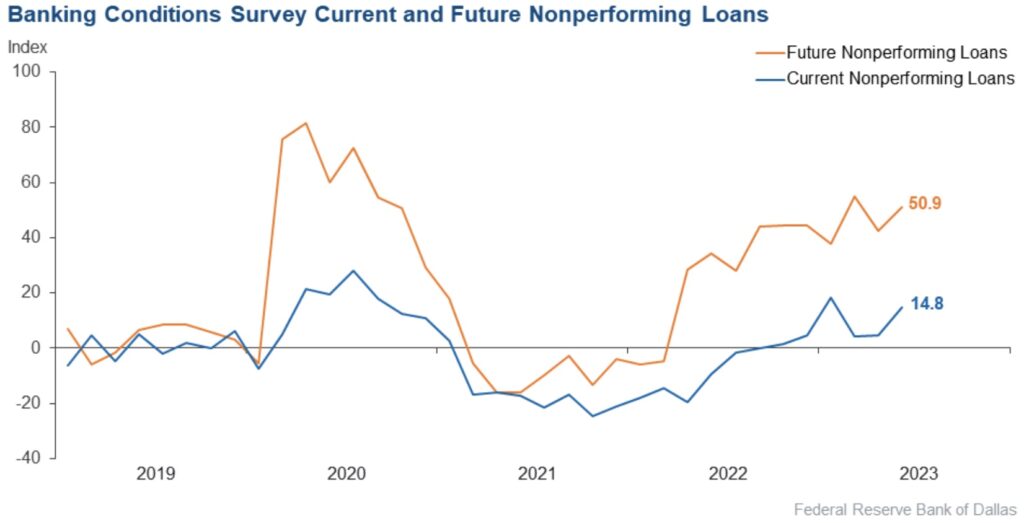 Expecting Further Deterioration
They said:
"Loan demand declined for the 7th period in a row, and most bankers expect a further deterioration over the next six months. Overall loan volumes continued to fall, with particular weakness seen in consumer lending. While commercial real estate and commercial and industrial loan volumes continued to see marked volume declines, residential real estate lending remained stable."
With regards to loan quality, standards, and the outlook:
"Loan nonperformance increased, with the rise led by commercial real estate loans. Credit standards and terms continued to tighten, and loan pricing continued to rise. Bankers' outlooks remained pessimistic, with contacts expecting a further contraction in business activity and an increase in nonperforming loans over the next six months."
Here were some respondent comments:
"Net interest margin continues to be squeezed. Loan demand is soft. We are focusing on raising rates to hold deposits."
"Things are definitely slowing down. The phone is not ringing, and customers are in a wait-and-see mode. It seems as if consumers are accepting the higher mortgage interest rates, coming to the realization that the super-low rates were an anomaly and not the norm."
"There is a combination of uncertainties resulting in a challenging market dynamic (interest rates, overall business environment, credit quality and demand). In addition, increasing regulatory burden from federal agencies and higher compensation costs are leading to tightening margins."
Bottom Line
Bottom line, this is just more evidence of the creeping credit crunch now upon us with slowing economic activity meeting up with the higher cost of capital and tighter standards, with the latter exaggerating and contributing to the former.
---
ALSO JUST RELEASED: Big Money Will Be Made In Silver, Plus A Commodity Boom Is Coming CLICK HERE.
ALSO JUST RELEASED: Waiting For The Fed Pivot As More Things Break And US China Financial War Heats Up CLICK HERE.
***To listen to James Turk discuss the three key levels that need to be broken on the upside as well as what to expect in the back half of the year CLICK HERE OR ON THE IMAGE BELOW.

***To listen to Alasdair Macleod discuss why gold is bottoming and what to expect from silver and the mining stocks CLICK HERE OR ON THE IMAGE BELOW.

© 2023 by King World News®. All Rights Reserved. This material may not be published, broadcast, rewritten, or redistributed.  However, linking directly to the articles is permitted and encouraged.