Today Michael Oliver, the man who is well known for his deadly accurate forecasts on stocks, bonds, and major markets, communicated to King World News that the prices of gold and silver are about to go vertical as the metals markets undergo a dynamic trend change.
An investment-grade time-scale vista for gold investors
November 8 (King World News) – Michael Oliver, Founder of MSA Research:  The top chart is the relative performance of U.S. banks (KBE: SPDR S&P Bank ETF) vs. the S&P 500 going back to 2006, before that last paper asset bubble breakage (which was a far smaller bubble than the present one).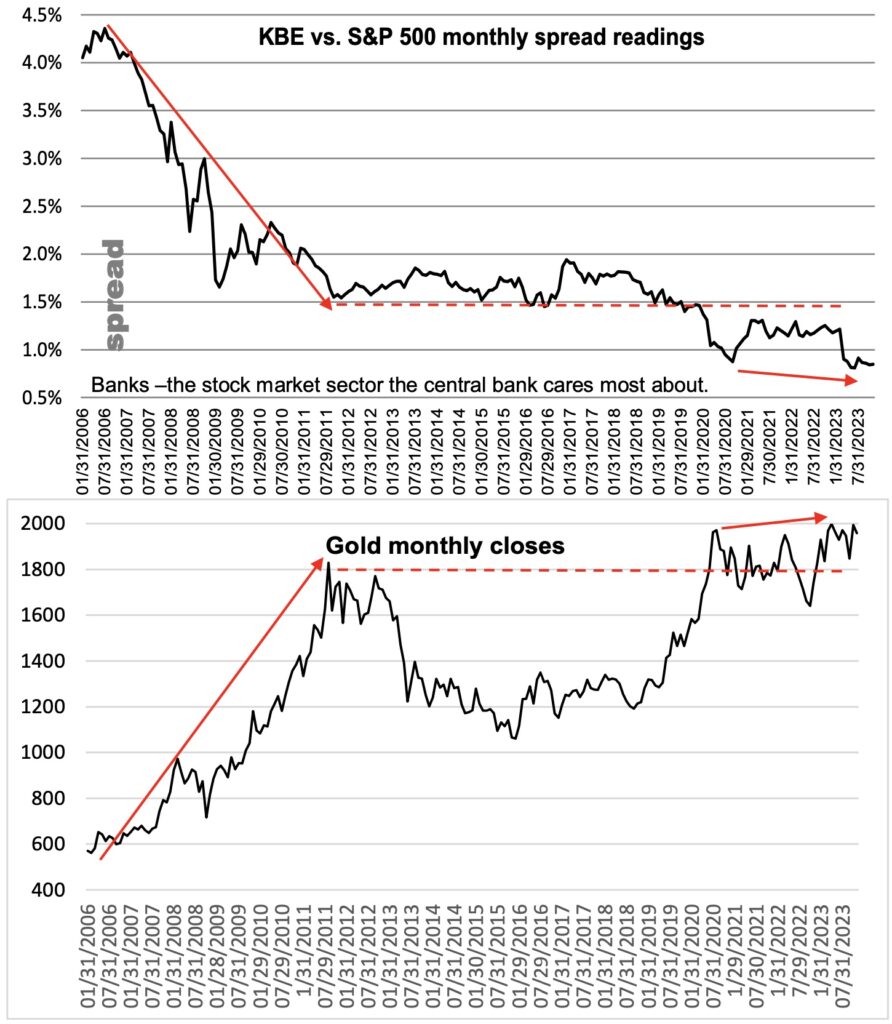 Below that [top] chart we plot gold's monthly closes. We suggest that this situation –bank deterioration vs. the stock market compared to gold price —is better linkage (inverse) than referencing gold to such things as the Dollar Index (a sloppy linkage to try to make). 
So while banks have taken out their 2011 relative performance lows (red horizontal), gold has also taken out its 2011 price highs.
This is one of the many reasons we urge gold investors to pay the most attention to the financial and banking sectors, and not such distorted indices as the S&P 500 or NDX. And KBE is not a regional bank ETF: it reflects the biggies.
Oh, yes, that gold downtick you see this month (gold settled Wednesday just below $1960, so it's not actually a monthly close) shows the so-called "hammering" gold is suffering. To receive the special KWN discount to subscribe to Michael Oliver's internationally acclaimed MSA Annual Research which is used by serious investors and professionals all over the world CLICK HERE.
---
ALSO JUST RELEASED: Here Is A Look At The Great Unwind As The Economy Tanks CLICK HERE
ALSO JUST RELEASED: GREATEST WEALTH TRANSFER: Global Hyper Bubble In Debt Set To Soar Exponentially CLICK HERE
ALSO JUST RELEASED: PARTY ON: Shocking Look At The Great Distortion CLICK HERE
ALSO JUST RELEASED: More Pain Is On The Way As Economic Deterioration Is Accelerating CLICK HERE
ALSO RELEASED: GET READY: Gold & Silver Big Picture Shows Imminent Upside Explosion CLICK HERE
ALSO RELEASED: This Is Going To Send Shockwaves Through Global Markets CLICK HERE
ALSO RELEASED: The United States Is Being Destroyed And Other Countries Are Taking Notice CLICK HERE
© 2023 by King World News®. All Rights Reserved. This material may not be published, broadcast, rewritten, or redistributed.  However, linking directly to the articles is permitted and encouraged.