With the world turning upside down, look at what sovereign funds are dumping in order to buy dips in gold. Plus more inflation is on the way.
Stay Focused On The Big Picture, Not The Volatility
June 22 (King World News) – Egon von Greyerz:  Xi, like Putin, is stacking gold. The official numbers are soaring. And what is this telling us? I'm guessing it has a lot to do with building trust the old-fashioned way: With gold in the mix of its trade settlement platforms and swaps.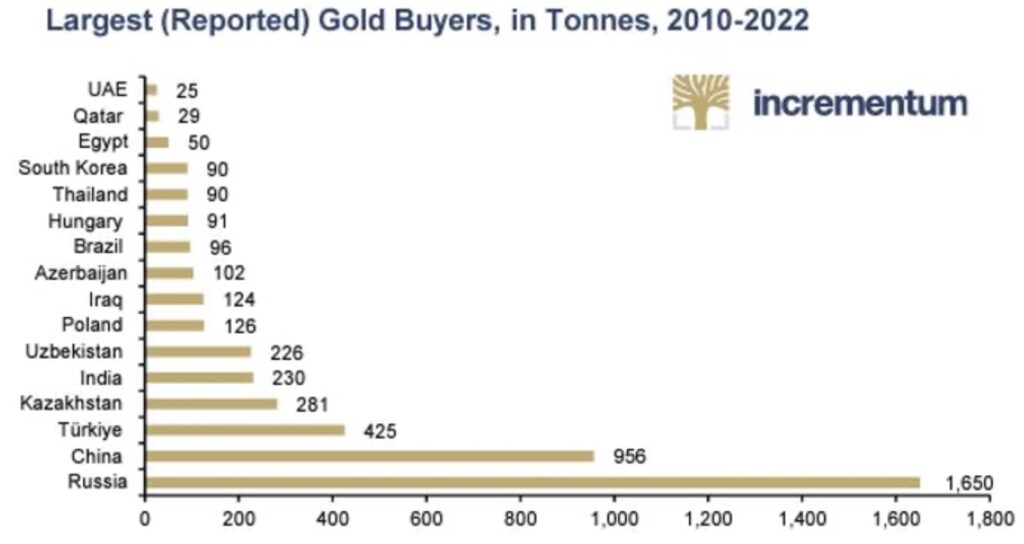 Dumping US Treasuries & Dollars To Buy Gold
Egon von Greyerz:  Since 2014 in general, and 2022 in particular, the level of foreigners dumping Uncle Sam's IOUs is breathtaking. It makes it all too clear to any holding even a rudimentary understanding of the bond market that the US will be financing its own deficits at levels (and trillions) which end empires. For years, the US has pretended to be what it once was: Respected and credible. But its balance sheet, is no different than just any other banana republic.
Why are so many so nonchalant with the higher interest rate world we are now in?
Peter Boockvar:  I believe more relevant than Powell reiterating what the dot plot told us last week was Atlanta president Bostic yesterday afternoon saying "I don't expect rate cut for most of 2024." I'll argue again that higher for longer is more important right now than if the Fed hikes another 25 or 50 bps at this point. 
This was an article I read the other day on Bloomberg News to this point and to the interest rate shock therapy we've been given, "Hedging Failure Hammers Private Equity as Debt Costs Skyrocket." It said "Many buyout firms considered hedging against rising interest rates a waste of time and money. Their debt laden companies are now paying the price…Yet for all their savvy dealmaking, even the titans of private equity are getting caught out by the swift rise in interest rates – which is costing the companies they own billions in extra interest and threatens to push scores of them into default. Lulled by a decade of cheap money and easy profits, boldface names like KKR, Platinum Equity and Clayton Dubilier & Rice now face a reckoning of their own making." 
I'm just amazed how nonchalant so many are with this higher rate environment that we're in. The lack of appreciation of what higher rates means and the continuous tightening we're seeing each and every day when someone's debt is coming due or whose interest rate is resetting higher. The economic downturn is not an event, it is a process and a death by a thousand cuts I'll express again…
---
ALERT:
Legendary investors are buying share of a company very few people know about. To find out which company CLICK HERE OR ON THE IMAGE BELOW.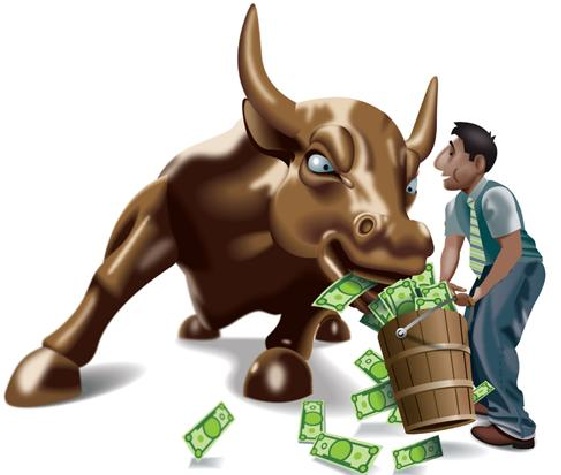 Sponsored
---
Bank of England
The Bank of England, not happy with yesterday's CPI print, surprised us with a 50 bps rate hike to 5% instead of raising by 25 bps. Seven voted for it while two wanted to do nothing. While they expect inflation to slow from here, "The MPC recognizes that the 2nd round effects in domestic price and wage developments generated by external cost shocks are likely to take longer to unwind than they did to emerge. There has been significant upside news in recent data that indicates more persistence in the inflation process, against the background of a tight labor market and continued resilience in demand."
And they left the door open for more, "If there were to be evidence of more persistent pressures, then further tightening in monetary policy would be required." As we've already seen a sharp rise in the 2 yr gilt yield over the past few weeks of 50 bps, it is little changed in response. The 10 yr yield, on the tougher BoE, is down by 5 bps. The pound too is not moving much either but still stands around its highest level vs the US dollar since April last year. 
This hike follows a surprise 50 bps rate increase from the Norges Bank in Norway to 3.75%. The Governor said "If we do not raise the policy rate, prices and wages could continue to rise rapidly and inflation can become entrenched. It may then become more costly to bring inflation down again." They said rates will likely rise again in August. 
The Swiss National Bank continues to play it really slow as they hiked by 25 bps to just 1.75%. Central banks in Indonesia and the Philippines kept rates unchanged as expected….
---
This Company Has A Massive High-Grade Gold Project In Canada And Billionaire Eric Sprott Has A Huge Position! To Learn Which Company Click Here Or On The Image Below.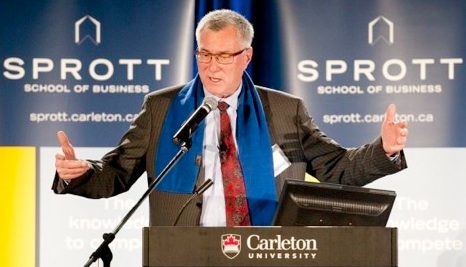 ---
Another Bullish Catalyst For Crude Oil And Inflation
While the price of crude oil continues to trade poorly on economic growth concerns, if you didn't see last Friday (and updated again tomorrow), the US oil rig count is now at the least amount since April 2022 at 552. It stood at 683 in mid March 2020 before everything hit the fan and bottomed at 172 in August 2020.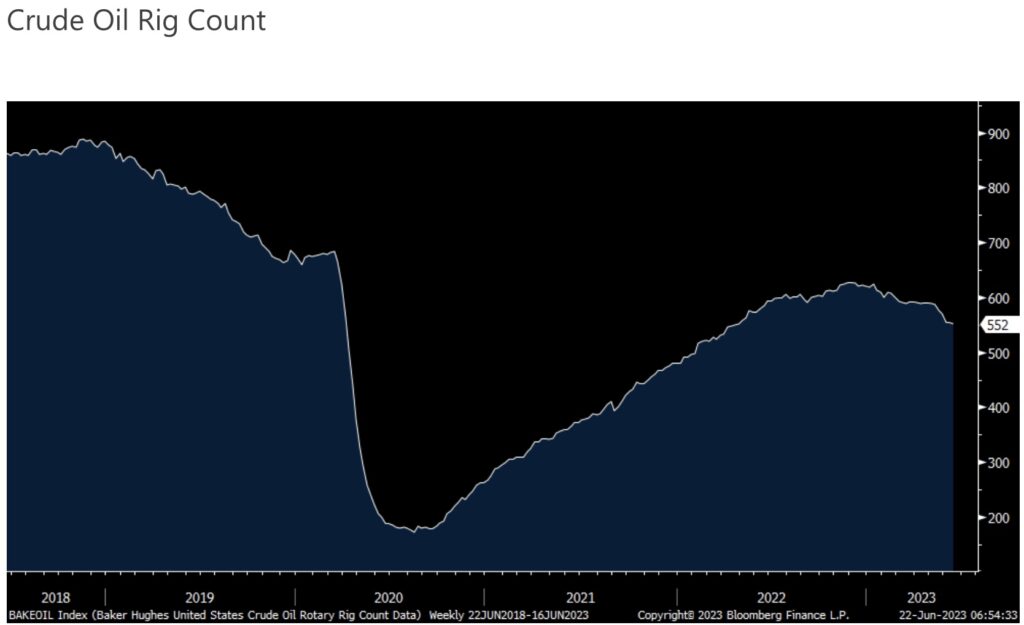 We remain bullish and long energy stocks.
Food Inflation Strikes Again
The CRB foodstuff index jumped almost 1% yesterday to the highest level since very early December 2022.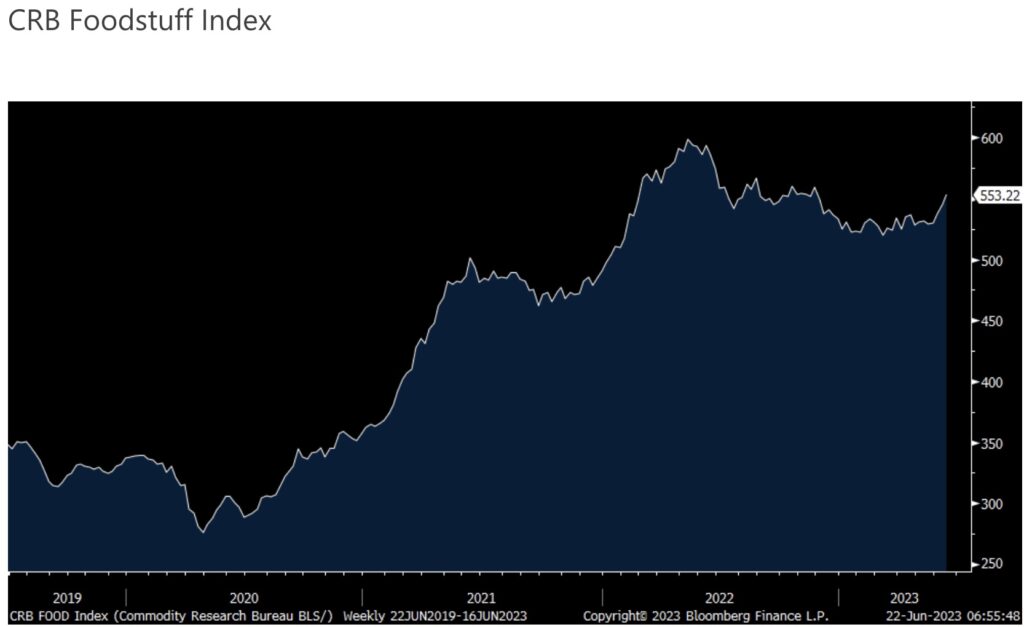 Droughts are one of the problems that has led to a lift in the prices of corn, soybeans and wheat. On Tuesday the Department of Agriculture said the corn and soybean crops so far that are rated good to excellent were less than expected. I saw a story yesterday that "20% of Nebraska is in extreme drought." Another story with this quote from the National Weather Service in Chicago that is impacting the Illinois crops, "The drought across the area continues to worsen, with portions of our area now in the 'Severe' category. Much of our area has seen less than 25% of the normal rainfall in the past 30 days, and the long range forecasts do not look favorable."
It's not just row crops however as sugar is just below an 11 yr high and cocoa is testing a 7 yr high.
If there ever is a discretionary item it is an RV, not just because of the cost but the financing needs that many take on to buy it. Winnebago Industries in their call yesterday said their results "reflect many of the same macro dynamics we experienced in the 2nd quarter, including subdued consumer demand for RVs and a cautious dealer network, making for challenging RV comparisons to a year ago of tremendous growth."
"We are monitoring the consumers' ability and willingness to pay for premium price products at this time in the economic cycle. And all our brands are active in both promotional retail support as needed or adjusting product composition in the lower priced parts of our model lineups to meet the affordability challenge."
Bulls & Bears
Stock market sentiment continues to get very extended according to II. Investors Intelligence yesterday said Bulls rose to 54.3 from 53.4 and the Bears shrunk to just 20 vs 20.6 last week. The Bulls are the most since November 2021 and the Bears are the least since early January 2022. AAII today said Bulls moderated by 2.3 pts but only after rising by 17.8 pts this month. It stands at 42.9. Bears rose by 5.1 pts to 27.8 off the lowest level since July 2021 last week. The CNN Fear/Greed index closed at 79, still in the 'Extreme Greed' category and vs 82 one week ago. Bottom line, from a contrarian standpoint, sentiment is no longer the Bulls friend. 
ALSO JUST RELEASED: Focused On Major Gold & Silver Bottom As Putin Declares "Beginning Of The End" For US Dollar CLICK HERE.
ALSO JUST RELEASED: THE FUTURE: Human Flesh For Fantasy And The Rise Of AI CLICK HERE.
ALSO JUST RELEASED: Crude Oil Will Soar To At Least $250-$350 And The "Perfect Gold Storm Surge" Will Skyrocket To $10,000-$15,000 CLICK HERE.
ALSO JUST RELEASED: Ignore The Gold & Silver Takedown And Look At These Surprises CLICK HERE.
ALSO JUST RELEASED: Peak Cheap Gold And A World In Chaos CLICK HERE.
***To listen to Dr. Stephen Leeb discuss why the gold market is headed higher as people across the globe move into the Metal of Kings CLICK HERE OR ON THE IMAGE BELOW.

***To listen to Alasdair Macleod discuss the great catalyst for the price of gold and silver and much more CLICK HERE OR ON THE IMAGE BELOW.

© 2023 by King World News®. All Rights Reserved. This material may not be published, broadcast, rewritten, or redistributed.  However, linking directly to the articles is permitted and encouraged.