Look at who is focused on a major gold and silver bottom as Putin declares the "beginning of the end" for the US dollar.
Focused Gold & Silver Bottom
June 21 (King World News) – Fred Hickey:  These morning gold/silver selloffs are clearly driven by futures sellers (including shorts as seen in latest COT). Have seen these end of Q2 smashes many times. Usually leads to a washout bottom. As HTS readers understand, they're doing me a favor as I'm sitting on lots of cash.
As HTS readers know, the money is in short-term Treasuries with maturities in June & July. My plan (made months ago) was to swing the funds back into precious metals miners as the T-bills matured (and timed for end of gold seasonal downturn). Don't like losses, but I'm licking my chops.
Historically, and I've tracked this for many years, the bottoms more often than not come right around the end of Q2s – which is still a week away, so there could be more damage in the interim. Thus, I'm only dribbling in currently. However, last thing I'd ever do is sell at this point. 
… likely another gold "higher low" and bounce – same as it has been for some time now. Difference this time is: it's likely the "bounce" leads to record highs and a break-out…
---
Listen to the greatest Egon von Greyerz audio interview ever
by CLICKING HERE OR ON THE IMAGE BELOW.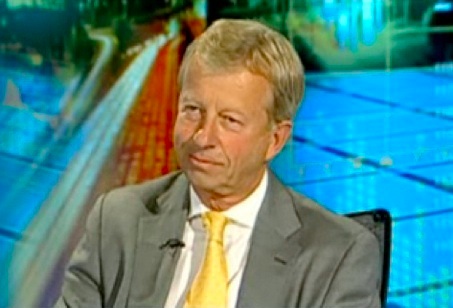 Sponsored
---
Putin Declares "Beginning Of The End" For US Dollar
Gerald Celente:  With more countries trading directly in their own currencies instead of converting to dollars as the world's standard of value, the dollar is on the way out as the world's leading currency, Russian president Vladimir Putin announced last week at the St. Petersburg International Economic Forum.
Also, the world's central banks are reducing the proportion of dollars among their reserve currencies, he noted.
"The share of settlements in the dollar is declining," Putin said. "The share of settlements in [China's] yuan is growing. Oil producers in leading Arab countries are now saying that they are ready" to accept yuan in payment for oil.
"If this trend gains momentum and other oil and gas exchanges appear where settlements are not made in dollars," he added, "then this is the beginning of the end for this currency."
Russia had no choice but to dispense with the dollar after Western allies imposed sanctions following Russia's attack on Ukraine, Putin said.
"By pursuing short-term,  opportunistic goals, they [the U.S.] undermine their own power in world finance. By using the dollar as a war tool, they raise doubts about the reliability of the American currency both as an instrument of payment in global trade and as a reserve asset."
Russia now settles 90 percent of its trade transactions with countries of the Eurasian Economic Union in rubles, Putin claimed, adding that 80 percent of trade between Russia and China is paid directly in rubles or yuan.
TREND FORECAST:
As we have long forecast, much of the world is fed up with U.S. economic and geopolitical hegemony and the Death of the Dollar has begun.
---
ALSO JUST RELEASED: THE FUTURE: Human Flesh For Fantasy And The Rise Of AI CLICK HERE.
ALSO JUST RELEASED: Crude Oil Will Soar To At Least $250-$350 And The "Perfect Gold Storm Surge" Will Skyrocket To $10,000-$15,000 CLICK HERE.
ALSO JUST RELEASED: Ignore The Gold & Silver Takedown And Look At These Surprises CLICK HERE.
ALSO JUST RELEASED: Peak Cheap Gold And A World In Chaos CLICK HERE.
***To listen to Dr. Stephen Leeb discuss why the gold market is headed higher as people across the globe move into the Metal of Kings CLICK HERE OR ON THE IMAGE BELOW.

***To listen to Alasdair Macleod discuss the great catalyst for the price of gold and silver and much more CLICK HERE OR ON THE IMAGE BELOW.

© 2023 by King World News®. All Rights Reserved. This material may not be published, broadcast, rewritten, or redistributed.  However, linking directly to the articles is permitted and encouraged.