Below is a fascinating email from a KWN reader plus an important look at the US dollar and gold.
Email From KWN Reader
August 30 (King World News) – Email from a KWN reader:  In reference to today's article titled 'The Economy Is In Serious Trouble.'
I was at a large mall (Sunrise Mall) in Sacramento, Ca yesterday, and I was just completely dumbfounded – the mall was as dead as a spook in the graveyard. Extremely few cars.  
I went to Macy's briefly and it was almost void of shoppers, scarily so. In the last 30+ years, I had NEVER SEEN anything like it.    All I could think about is how are they able to keep their doors open. Granted it was a Monday, but it was 1:00 in the afternoon, with beautiful weather. It almost looked like a scene out of the movie 'Omega Man'. Scary indeed. It made me think that American consumers are spent/finished.  
Anyway, thank you for a great website.
Omega Man 🙂 🙂
---
ALERT:
This company is about to start drilling what could be one of the largest gold discoveries in history! CLICK HERE OR ON THE IMAGE BELOW TO LEARN MORE.
---
Stimulus Is Gone
King World News note: All of the stimulus money is long gone and US consumers are tapped out with no room for non-essential spending. The situation will continue to deteriorate over time because of the continued high inflation. Yes, 'The Economy Is In Serious Trouble.'
US Dollar
King World News note:  Below is a multi-year monthly chart of the US dollar. The dollar is still holding above the long term moving average. We will have to see if the US dollar breaks down from here or goes back to retest last year's high.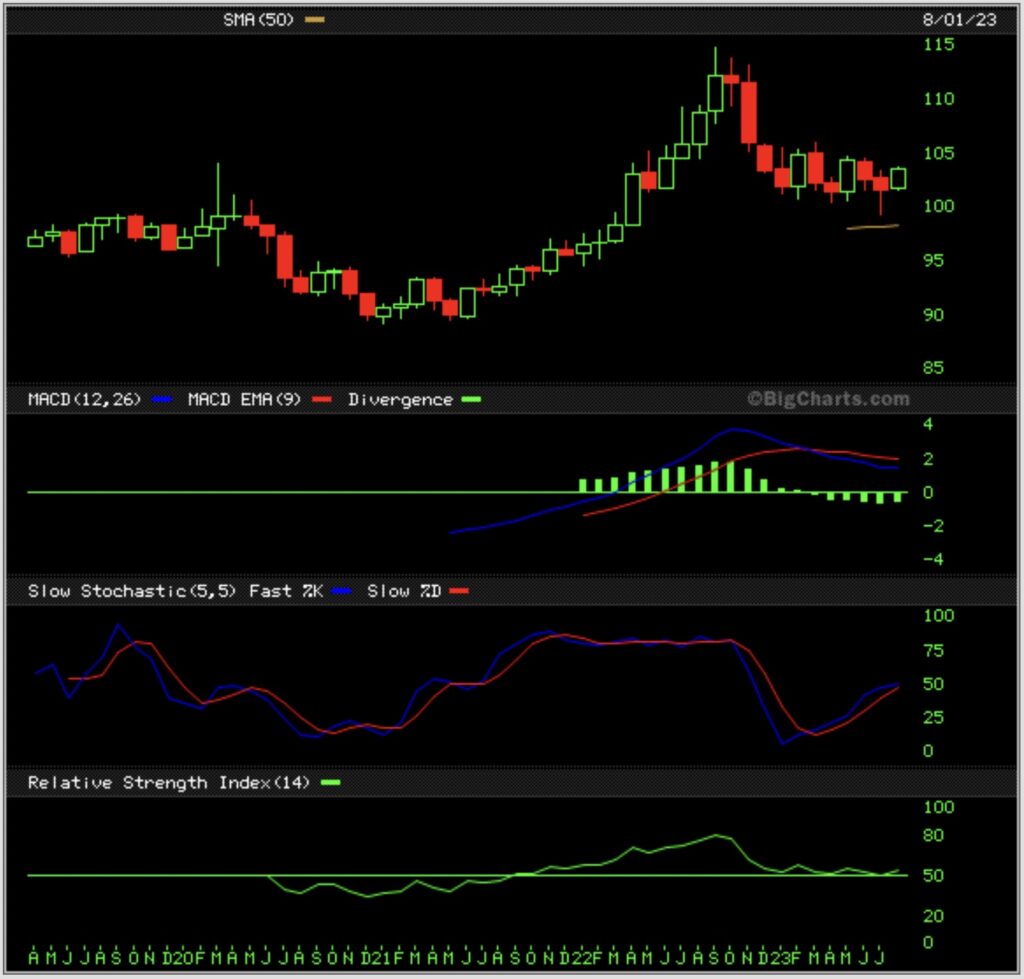 The last couple of trading days have seen the US dollar weaken to the 103 level, which is still in that crowded trading range shown above. A major breakdown would take place below 98, on the upside a major breakout would happen above 106.
In the meantime, King World News will keep readers around the world updated on the action in the dollar. Regardless of how the dollar trades, gold is heading violently higher over time because it is in a bull market vs all fiat currencies, which is why the price of gold has traded from US $250 to it current price well above $1,900. Continue to accumulate physical gold and silver and remain patient.
ALSO JUST RELEASED: The Economy Is In Serious Trouble CLICK HERE.
ALSO JUST RELEASED: Bullion Banks Have Covered Massive Amount Of Short Positions In The Gold Market CLICK HERE.
ALSO JUST RELEASED: The Silver Market Is Potentially Set Up For A Major Short Squeeze CLICK HERE.
ALSO JUST RELEASED: Expect A Pretty Busy Week: We're Already Seeing Volatile Trading In Global Markets CLICK HERE.
ALSO RELEASED: Michael Oliver – Here Is The Most Important Monetary Metals Chart That Will Unleash Gold & Silver On The Upside CLICK HERE.
Don't Miss This Interview!
All King World News readers around the globe need to listen to Alasdair Macleod's fantastic audio interview that was just released by CLICKING HERE OR ON THE IMAGE BELOW.

© 2023 by King World News®. All Rights Reserved. This material may not be published, broadcast, rewritten, or redistributed.  However, linking directly to the articles is permitted and encouraged