Today Michael Oliver, the man who is well known for his deadly accurate forecasts on stocks, bonds, and major markets, shared with King World News the most important monetary metals chart that is the key to unleashing gold and silver on the upside.
The Most Important Monetary Metals Chart
August 27 (King World News) – Michael Oliver, Founder of MSA Research:  MSA has previously shown and argued that over the years when silver suddenly rushes to the forefront and vastly beats gold, it's in phases during ongoing bull markets in gold. The spreads favoring silver over gold do not sustain all during those multi-year long bull trends in gold, but in several quarterly clusters or massive bursts. And it's during those performance surges by silver (measurable in the spread charts) that the net price upside in both metals also tends to be more hyper-vertical. The spread usually tells you just ahead of seatbelt time.
That was the case from the late 2015 bear lows in both metals. Silver vastly beat gold in that first "I'm back!" rally by the metals into mid-2016. And again silver exploded vs. gold in the early to mid-2020 surge (left side on the chart below).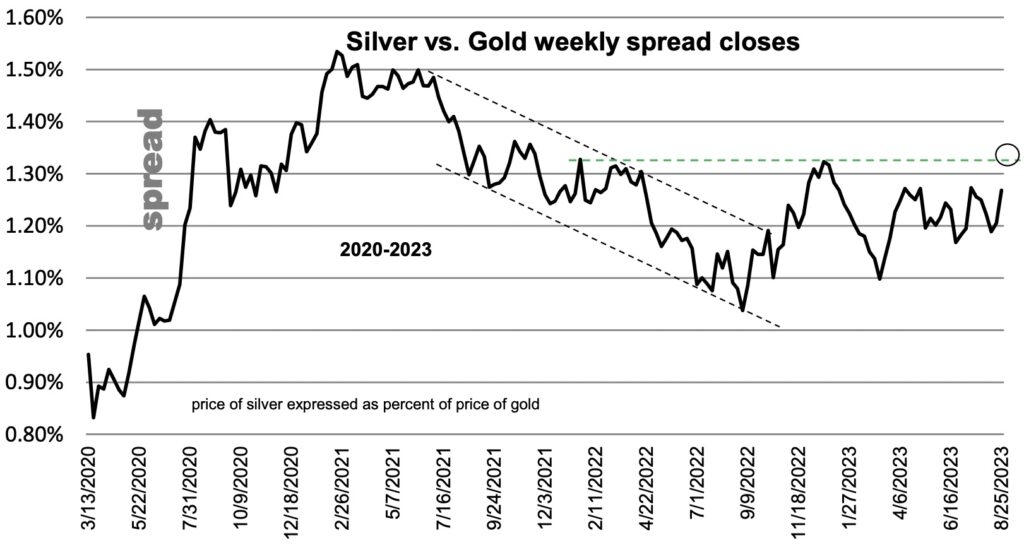 Since those mid-2020 to early 2021 highs, silver has underperformed in layers, much like its net price pullback.
The upturn from that September 2022 bear trap low in both metals saw silver handily beat gold again, such that the spread broke out above a channel. Since then the spread has waffled around but way above those 2022 lows—with the action further developing a structure overhead that's very apparent. That green lines traces back across spread chart highs since late 2021.
Close a week such that silver's price is 1.325% or higher of the price of gold and the structure will be broken through. Last week the spread closed at 1.268%. See that and assume the net price of both metals is about to alter its tone as well. MSA is monitoring. To receive the special KWN discount to subscribe to Michael Oliver's internationally acclaimed MSA Annual Research which is used by serious investors and professionals all over the world CLICK HERE.
---
Don't Miss This Interview!
All King World News readers around the globe need to listen to Alasdair Macleod's fantastic audio interview that was just released by CLICKING HERE OR ON THE IMAGE BELOW.

© 2023 by King World News®. All Rights Reserved. This material may not be published, broadcast, rewritten, or redistributed.  However, linking directly to the articles is permitted and encouraged