Here is a look at the Great Gold Breakout and Monetary Fantasyland.
The Great Gold Breakout
January 30 (King World News) – Graddhy out of Sweden:  Gold has broken out vs SPX on a 3 year chart.
Here it is very close to a 14 year pattern historical break out.
And check that sync => gold setting up for massive break out just as SPX is backtesting vs PPI.
A global paradigm shift is in the making.
GLOBAL PARADIGM SHIFT:
Major Gold Break Out vs S&P 500
Gold Near Blastoff As Bear Market Ready To Growl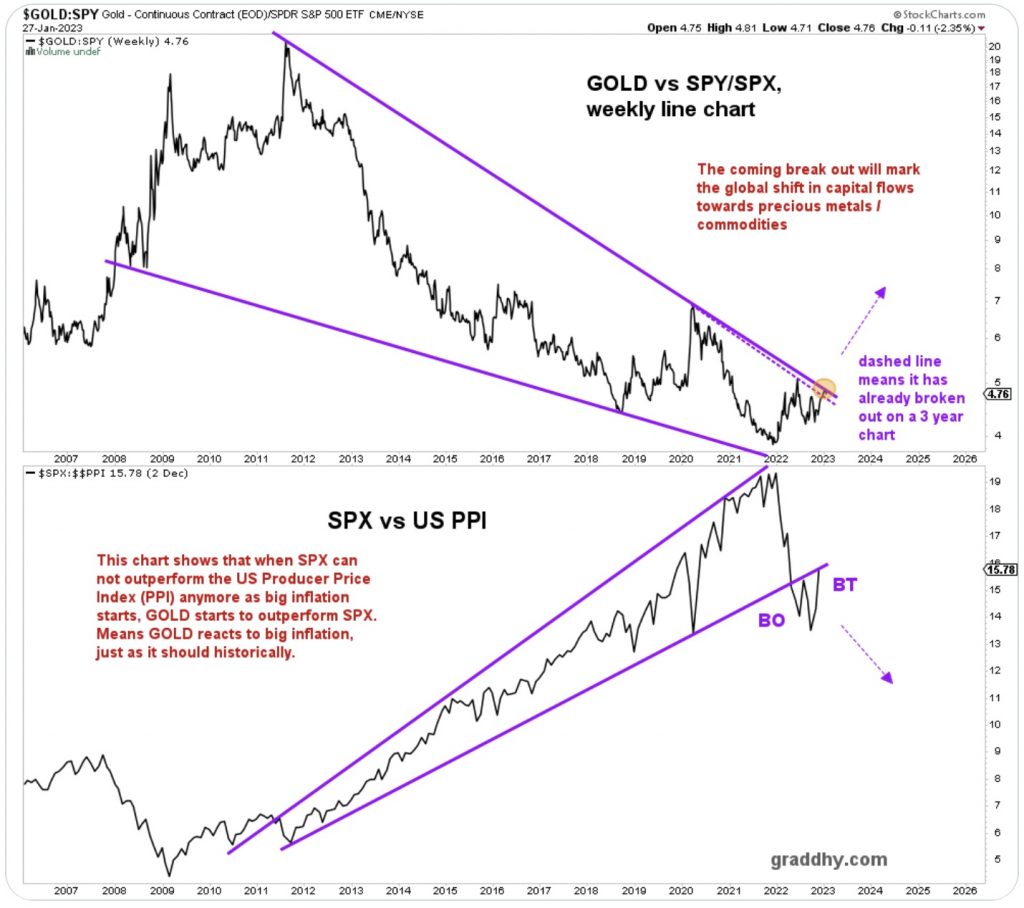 Dazed And Confused
Peter Boockvar:  Watching the market rally, both stocks and bonds, this month is not surprising in that the two major pain points of 2022, that being 40 yr highs in inflation and the most aggressive monetary policy response in 40 years, are easing up. Inflation is rolling over and the Fed is almost done hiking rates. Also, China is opening up again as we know. That said, the level of speculation that is back (0DTE, zero days to expiration options? Really?) and mimicking the behavior in some ways to 2021 reminds me of the Matthew McConaughey character David Wooderson in the movie Dazed and Confused. For those that didn't see this classic, David is the 20 something yr old who can't let go of high school and all he wants to do is be back by hanging out still with high school kids…
---
This Is Now The Premier Gold Exploration Company In Quebec With Massive Upside Potential For Shareholders click here or on the image below.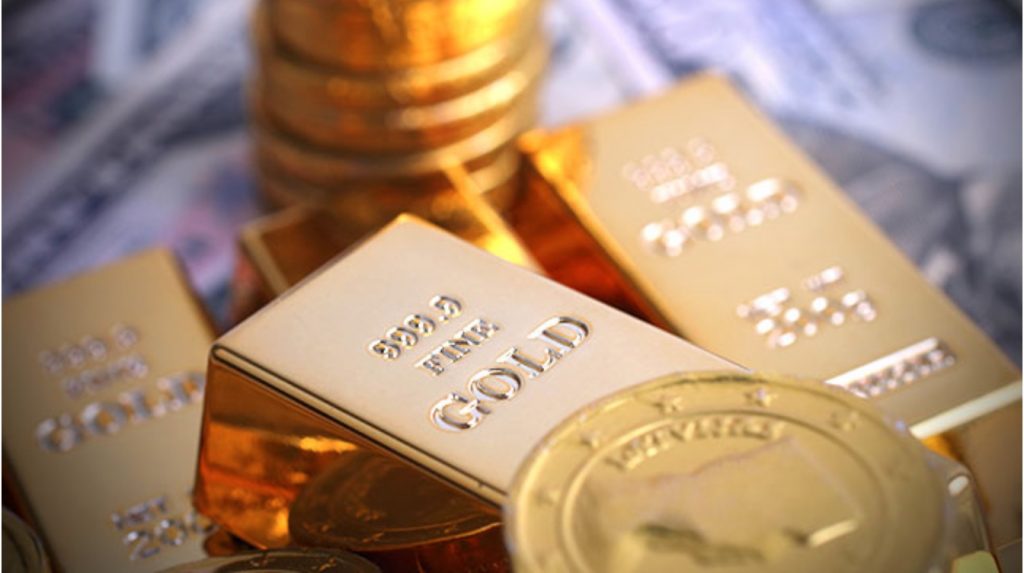 ---
Monetary Fantasyland
Some in the markets think that we're just going to go back to the days of 2021 and prior where inflation is going to magically and quickly go back to 1-2%, the Fed after hiking rates will soon cut them sharply, the monetary fantasyland that once existed will come back, and the temporary moderation off record high profit margins will be temporary. No, we are not going back anytime soon to that period of paradise. It's time to use a different investing playbook from the one used over the past decade. The world has changed, the macro environment is different, cheap labor out of China is over, blue collar workers have wage leverage they haven't had in decades, just in time inventory is dead, big cap tech just can't grow their businesses as fast as they once did, central banks don't want to lose this fight against inflation and thus rates will stay high for a while, QT will continue on and just maybe the idea of NIRP and ZIRP are gone forever. David Wooderson is not going back to high school, 'alright, alright, alright.'
Powell Won't Back Off Rate Hikes
Let's put ourselves in the mind of Jay Powell. Will his legacy from here be defined by where the S&P 500 is or where credit spreads are or where the level of inflation was, is and where it's going? I think we know the answer. He is determined to repair his reputation and when he repeats on Wednesday that while they don't have many more rate hikes left in them, believe him when he also says interest rates will stay higher for a while, remain above the rate of inflation and their balance sheet will continue to shrink by almost $100b per month. There is just no way he's going to back off from tight policy while he is Chairman until inflation CONSISTENTLY is around 2%. I highlight 'consistently' because a month here and a month there on the downside of lower inflation is just not going to do it. I also expect him to highlight the reopening of China as creating new upside risks for inflation.
Big Worry For Europe & Japan
In addition to the Fed raising rates this week by 25 bps, the ECB will hike by 50 bps as will the BoE. Also, the ECB is a few months away from beginning QT while the BoE will continue on. Ahead of all of this, yields are moving higher both in Europe and the US after Spain reported a higher than expected CPI print and that is also helping the euro. I still remain worried about how the ECB and BoJ are going to pull off further tightening and QT with the ECB since both Europe and Japan were the epicenters for the epic sovereign bond bubble. The Italian 10 yr yield is quietly at a 3 week high, up 9.4 bps today to 4.19%.
Italian 10 Year Yield Surging…Again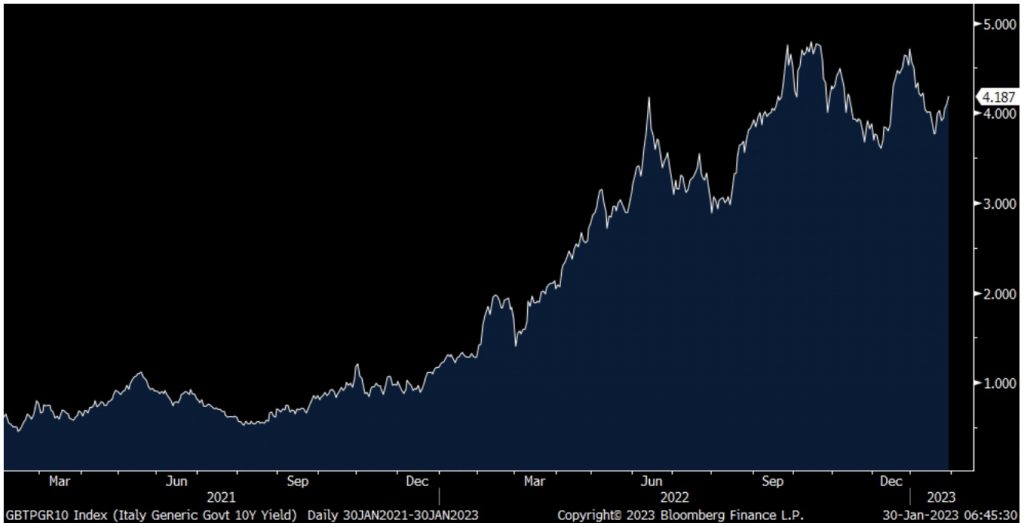 ALSO JUST RELEASED: This Is About To Drive The Next Earthquake In Global Markets And Gold & Silver CLICK HERE.
ALSO JUST RELEASED: CHECKMATE: The Options For The US Are Now Horrific CLICK HERE.
ALSO JUST RELEASED: Putin Close To Finalizing Asian Trade Settlement In Gold That Will Rock Global Markets CLICK HERE. To listen to Alasdair Macleod discuss this in his powerful audio interview CLICK HERE OR ON THE IMAGE BELOW.

© 2023 by King World News®. All Rights Reserved. This material may not be published, broadcast, rewritten, or redistributed.  However, linking directly to the articles is permitted and encouraged.