Look at how you can benefit from the takedown in the gold market, a big surprise on car and truck pricing, plus consumers are broke.
Benefitting From The Takedown In Gold
May 17 (King World News) – Fred Hickey:  I welcome what I believe is a healthy gold correction from overbought levels because – as HTS subs know – I have lots of cash(mostly in short-term T-bills) to put to work coming out of gold's seasonal weak period. Gold miner sell-offs have mostly been very beneficial for my portfolio…
---
This Company Has A Massive High-Grade Gold Project In Canada And Billionaire Eric Sprott Has A Huge Position! To Learn Which Company Click Here Or On The Image Below.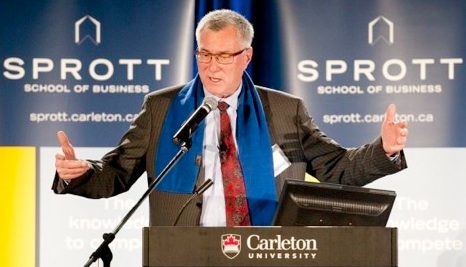 ---
Consumers Are Broke
Charlie Bilello:  Credit Card balances in the US increased 17% over the last year, the biggest spike since the 2001 recession.
Credit Card Balances Skyrocketing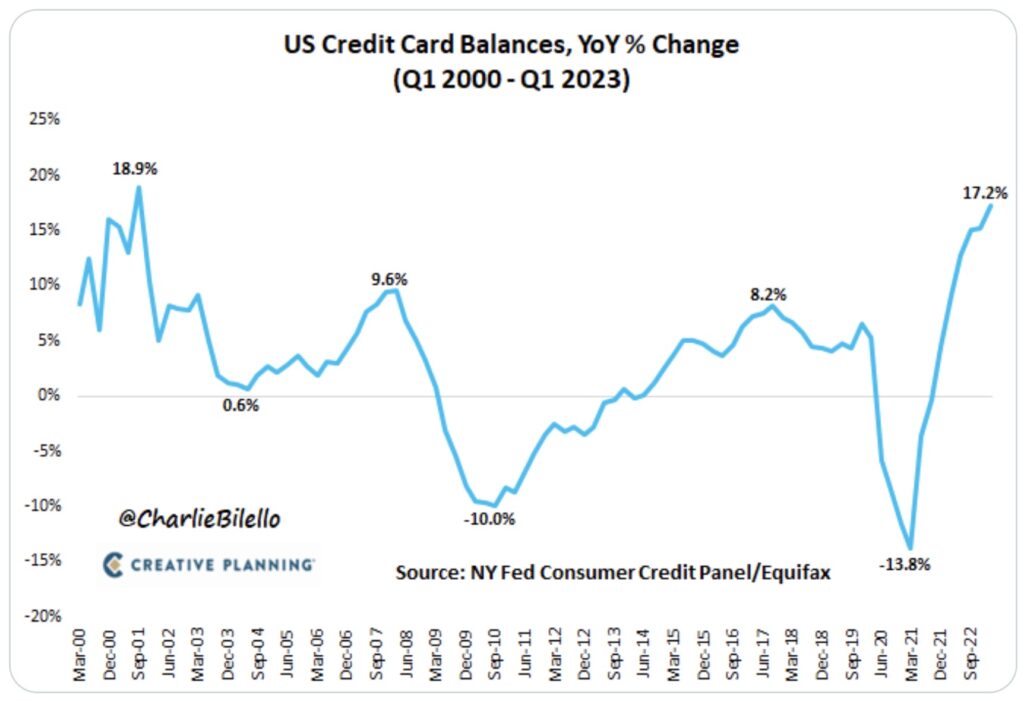 Expect Lower Car And Truck Prices
Liz Ann Sonders, Chief Investment Strategist at Charles Schwab:  U.S. motor vehicle production rose to record high in April.
US Car And Truck Production Hits Record High!
Reports Of Inventory Stacking Up At Dealerships As Bank Lending Tightens During Credit Crunch
Gold Update
Ole Hansen, Head of Commodity Strategy at Saco Bank:  Key points in this gold update:
The gold market is currently consolidating within its seven-month-old uptrend as focus turns to support in the $1975 area.
The drop back below $2000 has been driven by rising US Treasury yields supporting a stronger dollar and traders dialing back rate cut expectations.
We maintain a bullish outlook with the biggest short-term challenge being the risk of long liquidation from momentum-focused hedge funds, a group of speculators that have been strong buyers in recent months
Gold trades back below $2000 on a combination of a stronger dollar, rising US Treasury yields and the market pricing in a reduced pace of US rate cuts. All developments that in the short term may rattle a few nerves and potentially drive a deeper correction, especially if the market does not hold support around $1975, an area that attracted fresh buying on several occasions last month. As gold's current uptrend extends to a seventh month, the market has once again turned its focus towards consolidation. Since setting up a solid floor just above $1600 last November, the yellow metal has been trading higher within a 200-dollar channel, currently providing support around $1920. Ahead of that level several levels may provide additional support, starting as mentioned with $1975, followed by $1959 (February 2 peak), and $1941 (50% retracement of the latest run up from March 8).
Gold Nicely Retracing Bull Market Advance And Holding $1,975 Support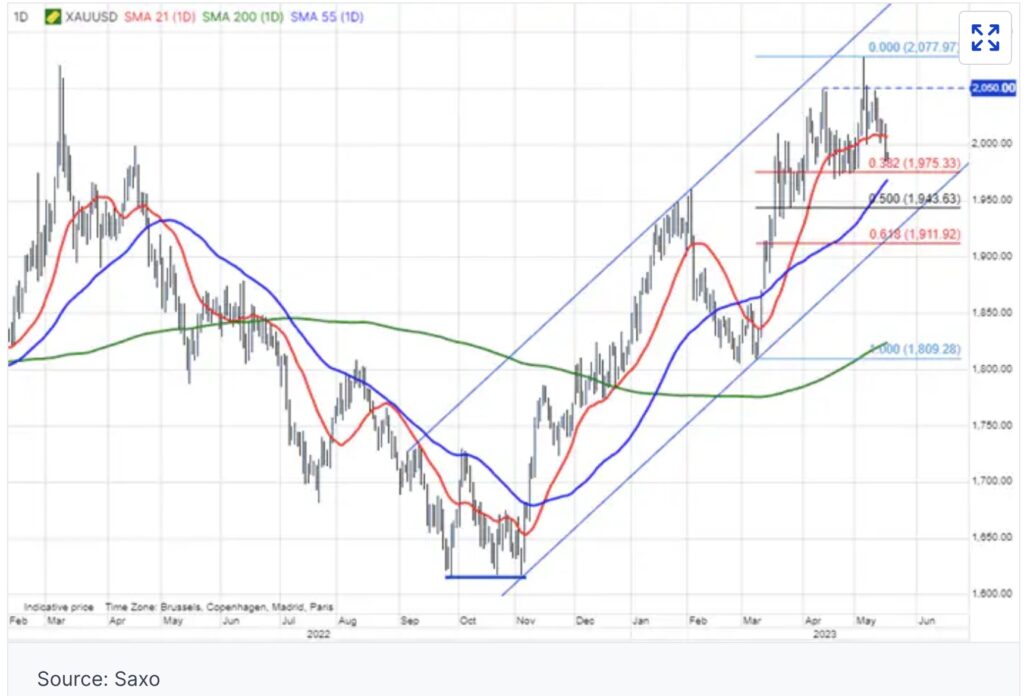 The latest weakness, leading to yesterday's slump back below $2,000 was triggered by robust US retail sales data and together with sticky inflation and a still robust job market, traders have started to dial back expectations for rate cuts this year. From a peak near 1% at the start of the month, the June-December SOFR spread is currently pricing in a 0.67% cut this year, while a 1.75% reduction remains priced in during the next twelve months. 
Several Fed speakers were on the wires on Tuesday, and many pushed for more rate hikes. Thomas Barkin (non-voter) said he is still not convinced that inflation is defeated and would be "comfortable" with more increases. Loretta Mester (non-voter) said she thinks rates aren't yet sufficiently restrictive. Lorie Logan (voter) was neutral and noted that a slower pace and vouched for a slower pace considering stability risks. John Williams (voter) was less hawkish, highlighting that the demand and supply in the economy is moving back into a balance as Fed hikes filter through the economy. Clearly, most voters are turning cautious while the other members on the committee still see further interest rate hikes…
---
ALERT:
Billionaire mining legend Pierre Lassonde has been buying large blocks of shares in this gold exploration company and believes the stock is set to soar more than 150% in the next 6 months. To find out which company CLICK HERE OR ON THE IMAGE BELOW.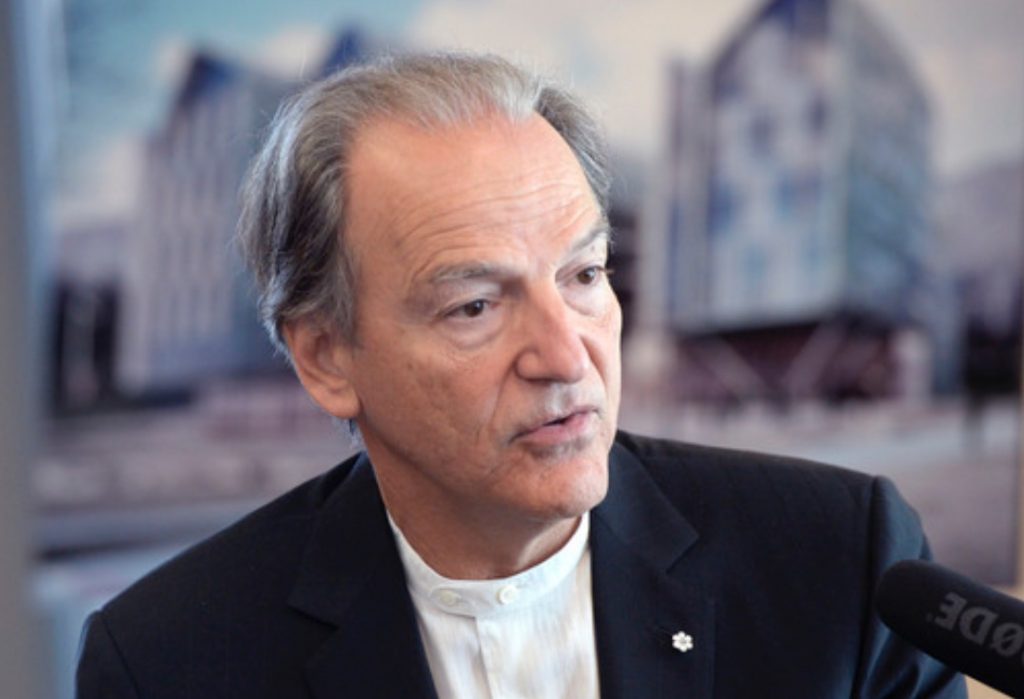 Sponsored
---
The table below shows gold's recent weakness coinciding with a pick-up in US yields, some of which is being driven by the US debt ceiling debacle which ultimately could see the US run out of borrowing capacity. Negotiations are still ongoing and until a deal is struck, hopefully before the weekend, the dollar will remain bid, thereby adding some additional headwinds to commodities in general and precious metals in particular. 
Apart from the headwinds mentioned, gold's potential biggest short-term challenge stems from its recent success in attracting demand from momentum focused hedge funds. Since early March hedge funds bought 122,520 lots of COMEX gold futures, and a deeper setback than the one already seen would likely trigger long-liquidation, not because these funds look for a change in direction but simply in order to reduce exposure while waiting for the next opportunity. Long-term focused investors using ETFs to gain exposure have been steady but not aggressive buyers of gold since March. During this time total holdings have risen by 72.5 tons to 2,923 tons but remain close to 400 tons below the recent peak from April 2022 and 525 tons below the record peak from October 2020. 
Gold vs US 10 Year Real Yield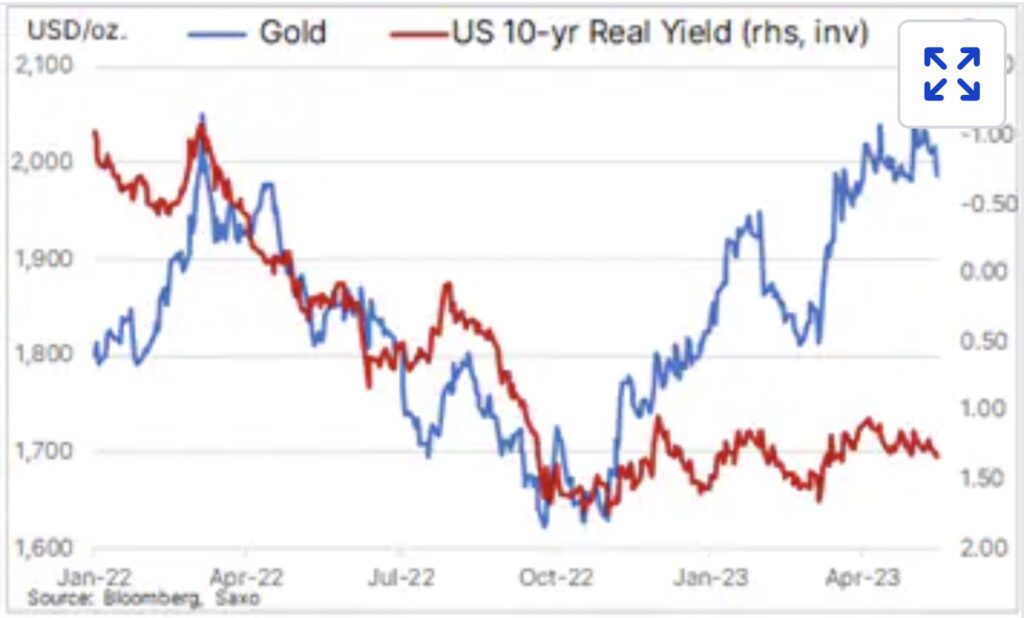 While the short-term outlook points to further consolidation as we await incoming economic data, we keep an overall bullish outlook for gold, driven among others by the following expectations, some of which are currently on hold as per the above update.
Continued dollar weakness as yield differentials continue to narrow.
Peak Fed rates, when confirmed, have historically on the three earlier occasions during the past 20 years supported strong gains in gold in the months and quarters that followed
Central bank demand look set to continue as the de-dollarization focus continues to attract demand from several central banks. One unknown is how price sensitive, if at all, this demand will be. We suspect it will be limited, with higher prices not necessarily preventing continued accumulation. 
We believe inflation is going to be much stickier with market expectations for a drop back to 2.5% perhaps being met in the short-term but not in the long-term, forcing a gold supportive repricing of real yields lower.
A multipolar world raising the geopolitical temperature
Low investor participation adding support should the above-mentioned drivers eventually provide the expected breakout. 
Summary:
Gold is currently consolidating within its well established uptrend, with the drop back below $2000 being driven by rising US Treasury yields supporting a stronger dollar and traders dialing back rate cut expectations. We maintain a bullish outlook with the biggest short-term challenge being the risk of long liquidation from momentum-focused hedge funds, a group of speculators that have been strong buyers in recent months.
The Good News For Silver & Gold
King World News note:  If you are dollar cost averaging your purchases of physical gold and silver do not get cute and try to time these markets. Just buy your physical gold and silver at the same time each week, month or quarter.  For those of you who feel like you missed the move in silver and have been looking for a good entry point, use any significant weakness to establish your position.  The bull market in gold and silver has been and continues to be fueled by the reckless behavior of central banks around the world and one thing you can count on is the fact that they will continue to be reckless in the years ahead.  Continue stacking physical gold and silver.
ALSO JUST RELEASED: SentimenTrader – Caution In The Silver Market CLICK HERE.
ALSO JUST RELEASED: Celente – Consumer Debt Just Hit $17 Trillion For First Time But It Gets Worse CLICK HERE.
ALSO JUST RELEASED: WARNING: The Economy Is Already In Full Collapse CLICK HERE.
ALSO JUST RELEASED: The Economic Collapse Continues, Plus Silver Looks Explosive CLICK HERE.
ALSO JUST RELEASED: Greyerz Just Warned The World Is Facing A Catastrophic And Disorderly Reset CLICK HERE.
ALSO JUST RELEASED: Man Connected In China At Highest Levels Warns Of US Dollar Collapse CLICK HERE.
***To listen to Alasdair Macleod discuss the takedown in the silver market and what's next for the precious metals markets CLICK HERE OR ON THE IMAGE BELOW.

© 2023 by King World News®. All Rights Reserved. This material may not be published, broadcast, rewritten, or redistributed.  However, linking directly to the articles is permitted and encouraged.