The economic collapse continues, plus silver looks explosive.
Silver
May 15 (King World News) – Graddhy out of Sweden:  The gold volatility index (think VIX but for gold) has broken out big time and is backtesting.
Here is the volatility index for silver. Backtesting.
Silver Backtest Nearly Completely:
Explosive Upside Comes Next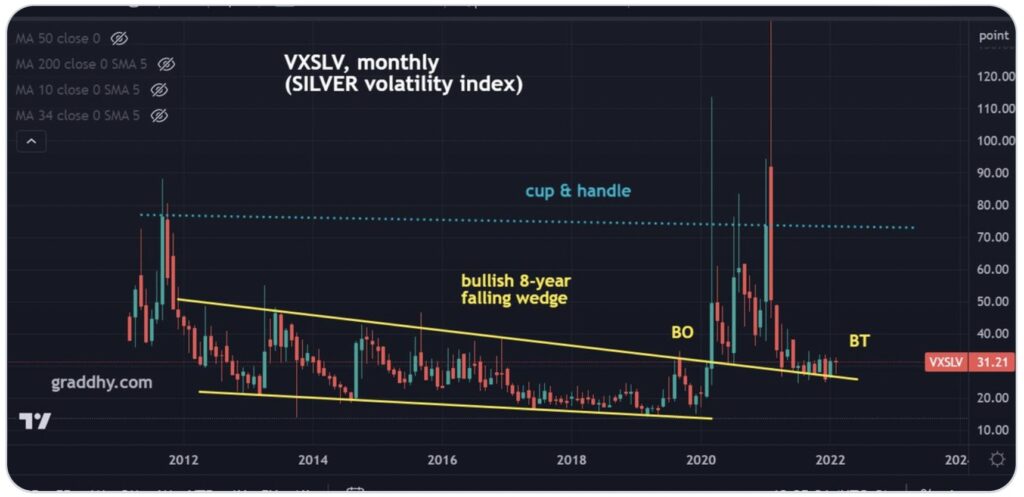 Remember that silver itself is backtesting on weekly and monthly.
This looks explosive.
The Collapse Continues
Peter Boockvar:  Here were some comments from Friday's UoM consumer confidence index which fell to the lowest since last November. "Year ahead expectations for the economy plummeted 23% from last month.
NY Manufacturing Index Plunges To -31.8%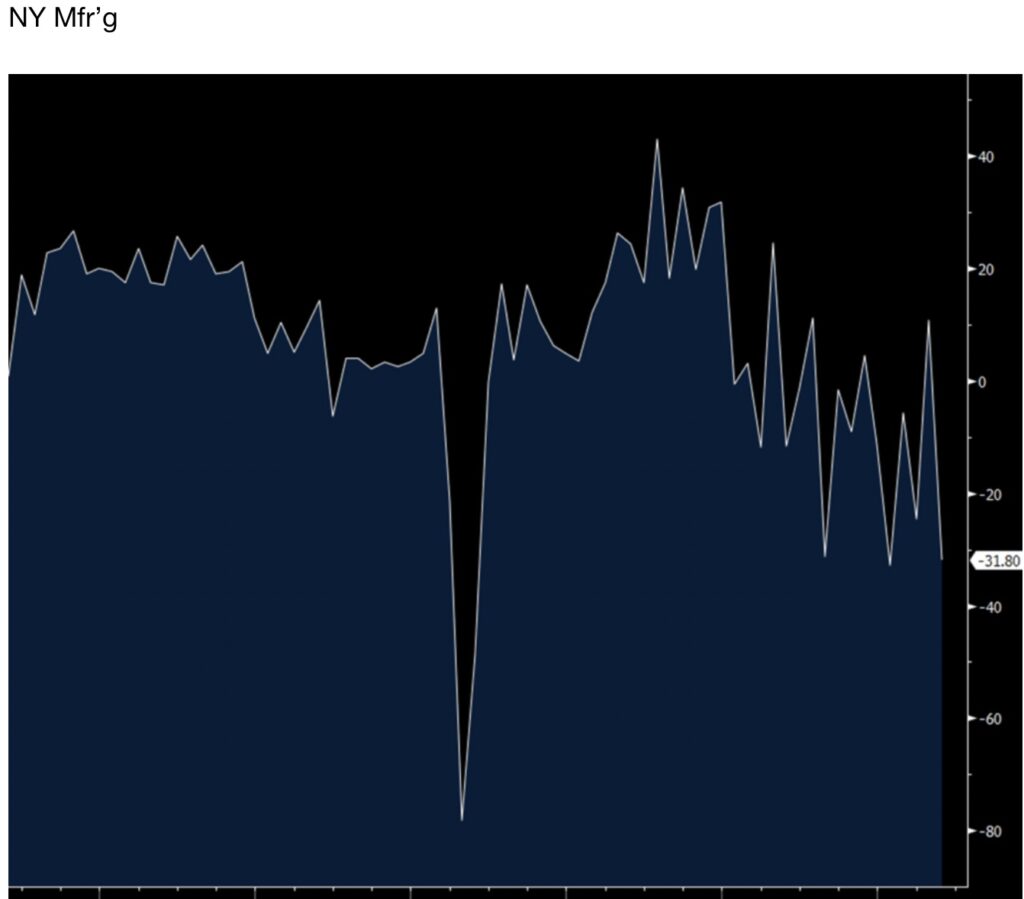 Consumers Believe High Prices Are Here To Stay
Long run expectations slid by 16% as well, indicating that consumers are worried that any economic downturn will not be brief." To the rise in longer run inflation expectations to the highest since 2011, "Consumers anticipate that the era of high prices will continue for longer than previously expected. About 42% of consumers blamed high prices for eroding their living standards, up from 40% last month. Concerns over the high prices of cars and durable goods rose again as well."
Here's more of note, "when asked about news they heard about developments in the economy, consumers' reports reached their most negative level in about a year, primarily due to unfavorable news about the government as well as unemployment. About 51% of consumers reported that the government is doing a poor job with economic policy, the worst reading since last July."
Consumer Confidence Continues To Worsen
With respect to the breadth of the consumer confidence drop, the Index of Consumer Expectations declined across age, income, education, and political party. In addition, the deterioration of expectations was apparent for multiple dimensions of the economy, reflecting the widespread risks consumer perceive."…
---
ALERT:
Legendary investors are buying share of a company very few people know about. To find out which company CLICK HERE OR ON THE IMAGE BELOW.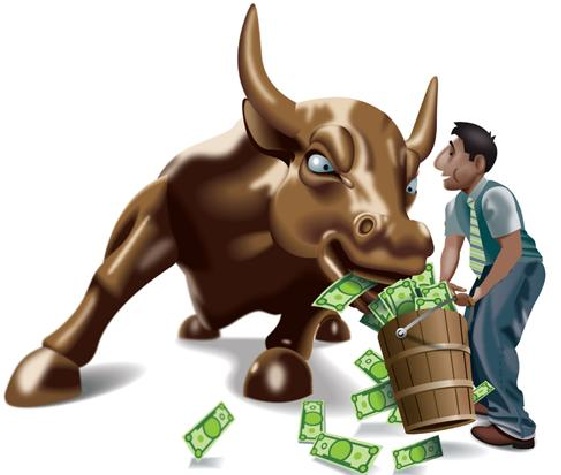 Sponsored
---
Regarding Inflation
On inflation that eats away at one's standard of living, I'm going to tweak the famous Milton Friedman inflation quote where he only blames the monetary side to instead read "Inflation is always and everywhere a monetary, fiscal and an ever growing regulatory state phenomenon." We learned the influence of the fiscal side over the past few years, financed by the Fed in inflating prices but enough is not talked about when it comes to the ever growing regulatory state over decades that has raised the cost of doing anything and companies try their best to pass on those costs to the rest of us.
Loans Contracting
Seen late Friday, C&I loans outstanding for the week ended May 3rd declined by $6.2b to $2.768T and that is now retesting the post $2.756T low in the weeks after SVB. As seen in the loan officer survey last week, this is not just a reduced supply of credit but also slacking demand for it. Loans for CRE rose $2.2b and were higher too for real estate development. As for the latter, there are projects in queue that need to get finished but as for new construction where shovels haven't entered the ground, pencils are down on that for many.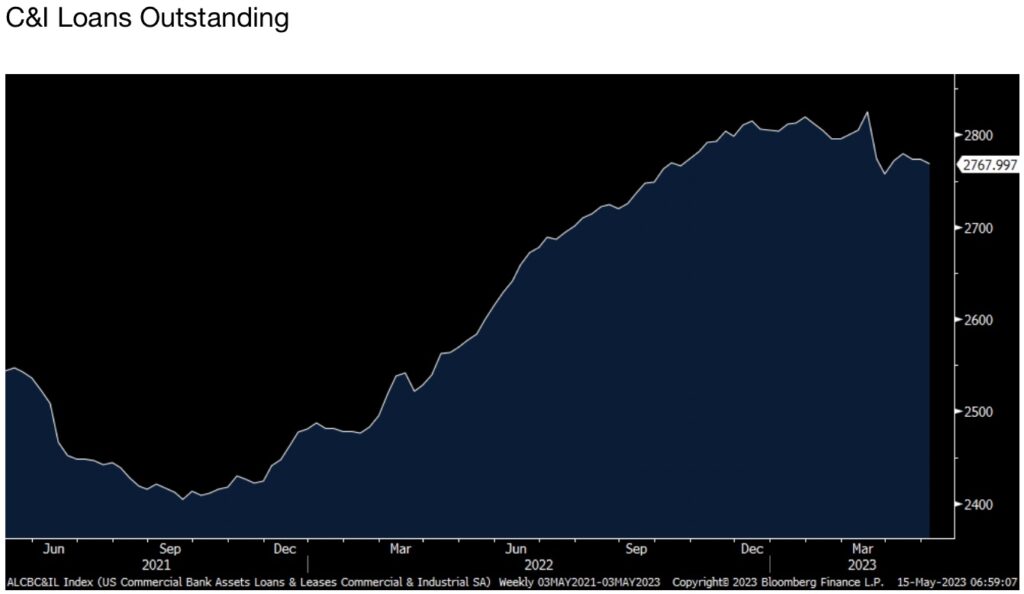 As for bank deposits, they declined by another $13.8b and in turn is less a source for bank lending and the buying of US Treasuries. At $17.15T, that's the least since early July.
US Bank Deposits Continue To Tumble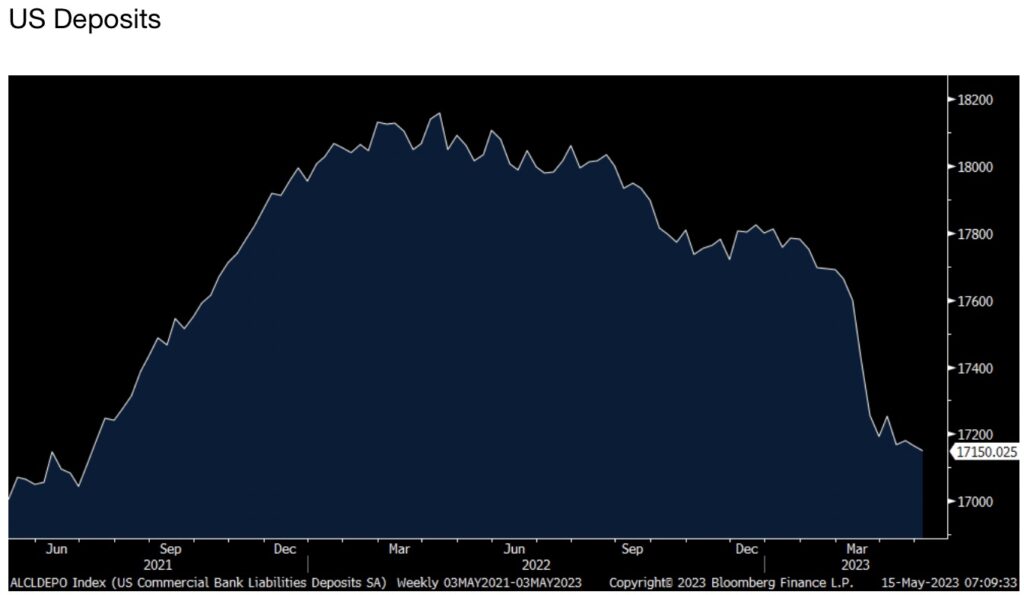 This said, banks got overloaded with deposits over the past few years, particularly the big ones and the big ones don't mind to see the deposits leave. The same of course can't be said for the small and medium sized ones. 
The manufacturing recession continues on in May
That bounce in April in the NY manufacturing index was an outlier, not just compared to its regional peers in the month but after seeing the 40+ pt drop from that 10.8 print last month to -31.8 in May. Shipments, new orders, inventories, and backlogs all were deeply negative. Employment was below zero for a 4th straight month and the workweek was negative for a 6th straight month. Supplier deliveries fell back under zero. Prices paid rose 1.9 pts to 34.9 but after falling by 9 pts last month. Prices received were little changed at 23.6.
The six month outlook was up 3.2 pts m/o/m to 9.8 and I guess that is the one positive in this report. That said, capital spending plans for the coming quarters fell notably to barely above zero. I'll say again, if the earnings/cash flow picture deteriorates, so will capital spending plans because you need the former to pay for the later assuming you don't have the balance sheet to do it alone.
Bottom line, we of course have a lot of other regional manufacturing survey's to see, with Philly next on Thursday, but if today's figure is any early indication, the manufacturing recession continues on.
ALSO JUST RELEASED: Greyerz Just Warned The World Is Facing A Catastrophic And Disorderly Reset CLICK HERE.
ALSO JUST RELEASED: Man Connected In China At Highest Levels Warns Of US Dollar Collapse CLICK HERE.
***To listen to Alasdair Macleod discuss the takedown in the silver market and what's next for the precious metals markets CLICK HERE OR ON THE IMAGE BELOW.

© 2023 by King World News®. All Rights Reserved. This material may not be published, broadcast, rewritten, or redistributed.  However, linking directly to the articles is permitted and encouraged.