US and Canadian consumers are broke but there are bigger problems that should have many people worried across the globe.
US & Canadian Consumers Are Broke
August 18 (King World News) – Peter Boockvar:  Here's more commentary on the US consumer from Walmart and Ross Stores:
Walmart
"As a global retailer, we see how our customers and members are affected by what's happening at a macro level and how that influences their behaviors. Jobs, wages, and pockets of disinflation are helping our customers, but rising energy prices, resuming student loan payments, higher borrowing costs, and tightening lending standards, and a drawdown in excess savings mean that household budgets are still under pressure."
The CEO went further,
"I was in Calgary visiting stores a couple of weeks ago, and our Canadian customers are feeling the pinch of higher interest rates faster than in the US, given their shorter term mortgages. When you put this all together, we see families that are discerning about what they're spending on. They're setting priorities and spending on the things they care most about…We see them buying more private brand items, and they're buying more grocery staples and in-home meal options consistent with eating at home." 
As for their customer demographic,
"We see people across income cohorts come to us more frequently looking to save money on everyday needs." 
The CFO gave some more color,
"kitchen tools like hand blenders and stand mixers have inflected higher as customers are preparing more food at home. They're also buying more necessities and focusing on lower priced items and brands." 
Ross Stores
Ross Stores, whose customers are mostly low to moderate income,
"Along with easing inflationary pressures, customers responded well to our improved value offerings throughout our stores."
That said,
"despite the recent moderation in inflation, our low to moderate income customer continues to face persistently higher costs on necessities. As a result, we believe it is prudent to continue to plan the business cautiously"…
…but they did raise their sales and earnings outlook.
On the inventory situation,
"At quarter end, total consolidated inventories were down 15% vs last year, while average store inventories were up 4%."
Used Car Prices
Manheim yesterday said wholesale used car prices were about flat from July in the first 15 days of August which is about "equal to the normal decline for the time of year."
Human Nature Never Changes
I forgot to point out stock market sentiment yesterday but we learn again that human nature NEVER changes and the market mood ALWAYS follows price. Inventors Intelligence said Bulls fell to 47.1 from 52.2 but almost all went to the correction side which was up to 32.9 from 28.4. Bears, still in their fox holes after the rally this year, rose just .6 pts to 20. AAII yesterday said that Bulls fell 8.8 pts at 35.9 but still remain above the Bears whose number rose by 4.6 pts to 30.1. The CNN Fear/Greed indicator closed yesterday at 45, in the Neutral category and this is a comedown from 62 one week ago and 83 one month ago. 
Bottom Line
Bottom line, this market pullback, with the largest company in the world taking part too, has certainly taken the wind out of the sentiment sails, as it typically does after a selloff which comes after everyone gets excited only after a huge rally. That said, sentiment is still mostly positive and more work needs to be done on the downside in markets in order to get people more negative that will then set us up for a bounce. Human nature, the only consistency out there.
Trouble In China
So China keeps fighting to stem the weakness in the yuan with the widest overnight FX setting relative to expectations in at least 5 yrs according to Bloomberg. The offshore yuan instead fell for the 9th day in the past 11 vs the US dollar and we're retesting last Oct/Nov levels. Unwinding its massive residential development property bubble and the hugely excessive debts seen at the local government level at the same time its manufacturing sector is facing soft overseas demand and the Chinese consumer is being selective in how they spend all means that the 2nd largest economy will be a drag on global growth this year and into next, to state the obvious at this point. Hopefully the debt cleansing that is and will take place sets them up for more healthier, sustainable and consumer led growth moving past that but will take time.
Chinese stocks traded lower again but so did the entire Asian region.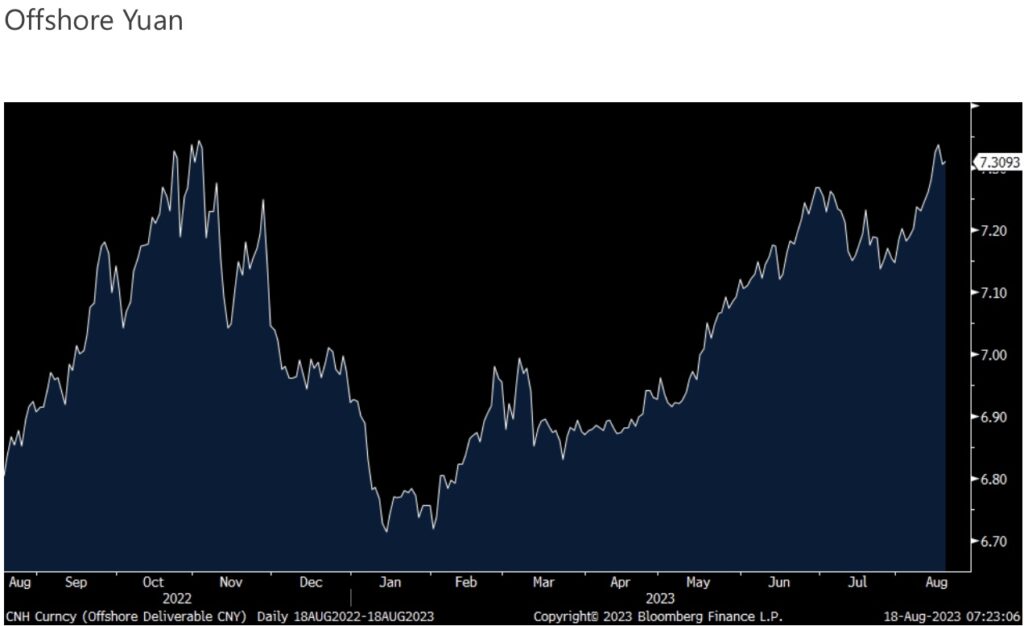 Speaking Of China: Will It Hold?
King World News note:  The following email was sent from KWN reader Roy B:  I thought this chart of the Shanghai Index may be of interest. Will it stay above the blue support line of which has held since 2005. As always, we wait to see.
WILL IT HOLD?
Blue Support Line Must Hold For China's Remaining Stock Market Bulls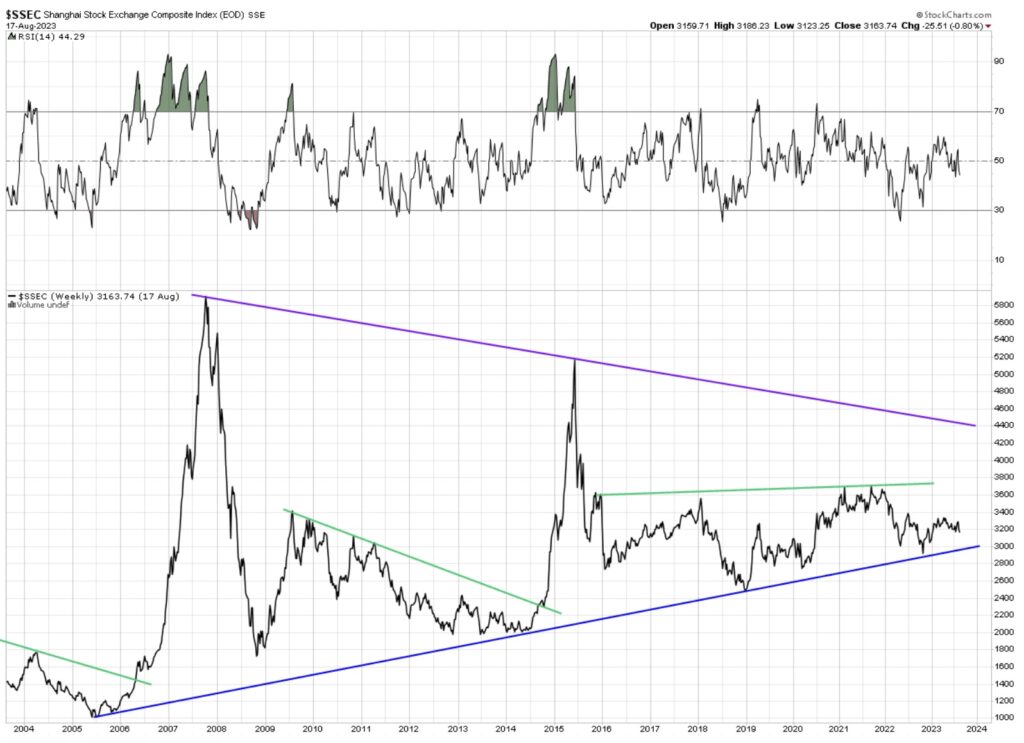 Japan
Peter Boockvar continues:  Japan reported its July CPI stats exactly as expected but a core/core rate of 4.3% y/o/y that is more than double what they want. Their core rate which just excludes food, and the one they really target, was higher by 3.1% y/o/y. As the figures were as forecasted, the 10 yr inflation breakeven was little changed overnight at 1.10%. The 10 yr JGB yield was down 1 bp at .635% while the 40 yr yield was unchanged at 1.81%. 
Japanese Bond Market Earthquake
I was always worried about the potential bond quakes coming from the JGB market and we have certainly gotten some violent tremors over the past few months when they shifted YCC again just as everyone was becoming comfortable that the Fed was almost done hiking short term rates.
Meanwhile In The UK
Finally, July UK retail sales ex auto fuel fell 1.4% m/o/m, which was double the expected decline of .7%. Some are blaming weather and maybe so but we know the inflation story in the UK that is stretching budgets (finally being helped though by higher wages), as is the adjustable rate mortgage shock for many homeowners.
ALSO JUST RELEASED: Art Cashin – One Of The Greatest Sell Signals On The Stock Market You Will Ever See CLICK HERE.
ALSO JUST RELEASED: BUCKLE UP: A Second Banking Crisis Is Going To Be Unleashed CLICK HERE.
ALSO JUST RELEASED: GOLD: Remain Focused On The Big Picture During Volatility CLICK HERE.
ALSO JUST RELEASED: Art Cashin – Stock Market Bulls Are Having Some Problems CLICK HERE.
ALSO RELEASED: Copper: The Metal Everyone Needs To Own CLICK HERE.
ALSO RELEASED: Forget Propaganda, Here Is The Truth About The Gold Market CLICK HERE.
ALSO RELEASED: BUCKLE UP: Greyerz – Another Massive Inflation Wave Is About To Be Unleashed CLICK HERE.
ALSO RELEASED: HISTORIC SETUP IN GOLD: Michael Oliver – The Gold Market Is About To Make History CLICK HERE.
© 2023 by King World News®. All Rights Reserved. This material may not be published, broadcast, rewritten, or redistributed.  However, linking directly to the articles is permitted and encouraged.