Today one of the greats in the business warned the stock market bulls are having some problems.
Bulls Having Trouble
August 15 (King World News) – Art Cashin, Head of Floor Operations at UBS:  So far, the equity bulls seem unable to shake off their current bond yield anxiety, even though the ten-year yield has moved slightly lower than its 4.27% earlier today.
The news is not really motivating things and again the market is taking its own temperature and pulse.  So, I would continue to watch those bond yields and, of course, pending any further equity weakness, can the S&P 4440 level and, more importantly, the critical level 50-day moving average at either 4432 (my sources) or 4460 (other sources).  So, we will be clearly watching that area, but as I said earlier, many traders for rule of thumb are just using the 4400 level.
So far, it is a nail-biting session, and it looks like the cuticles will remain in jeopardy.
Stay Safe.
Arthur
Recession
Peter Boockvar:  …the first look at an August manufacturing index, US manufacturing remains in a recession as the NY survey fell to -19 from +1.1 and well below the forecast of -1.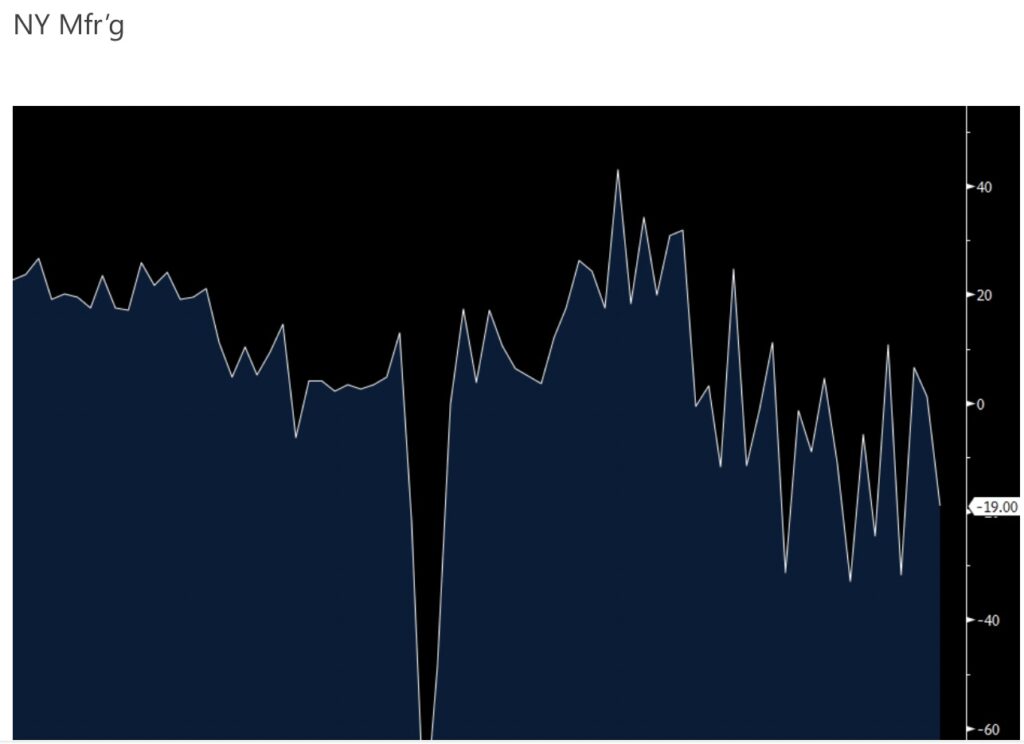 Shipments, new orders, backlogs and inventories were all firmly negative. Employment fell back under zero too and the workweek declined to a 5 month low. Delivery times got back above zero and prices paid and received both jumped to 3 month highs.
As for the 6 month outlook, it rose to 19.9 from 14.3 and likely due to the expected rebuild in inventories and new orders. Capital spending plans improved too.
Bottom line, the outlook rather than current conditions was the bright spot. The inventory destocking is all I hear but at some point that will stop and will shift to restocking and maybe the NY data points are pointing to that sooner rather than later.
ALSO JUST RELEASED: Copper: The Metal Everyone Needs To Own CLICK HERE.
ALSO JUST RELEASED: Forget Propaganda, Here Is The Truth About The Gold Market CLICK HERE.
ALSO JUST RELEASED: BUCKLE UP: Greyerz – Another Massive Inflation Wave Is About To Be Unleashed CLICK HERE.
ALSO JUST RELEASED: HISTORIC SETUP IN GOLD: Michael Oliver – The Gold Market Is About To Make History CLICK HERE.
To listen to Michael Oliver discuss the historic setup in the gold, silver and mining share markets CLICK HERE OR ON THE IMAGE BELOW.

---
To listen to Alasdair Macleod discuss what investors need to be doing right now with their money to protect themselves and their families from the coming financial destruction CLICK HERE OR ON THE IMAGE BELOW.

© 2023 by King World News®. All Rights Reserved. This material may not be published, broadcast, rewritten, or redistributed.  However, linking directly to the articles is permitted and encouraged.