Look at what is happening behind the scenes in the gold and silver markets.
US GDP Surprise Hits Gold & Silver
June 30 (King World News) – Alasdair Macleod:  Gold and silver declined further this week, as first growing suspicions that dollar rates would stay higher for longer undermined sentiment, and then a surprisingly strong US GDP revision for the first quarter of this year pushed gold to as low as $1883 yesterday, before it recovered to be unchanged on the day. This morning, in European trade gold was at $1906, down $15 from last Friday's close, and silver was at $22.45, unchanged on the week.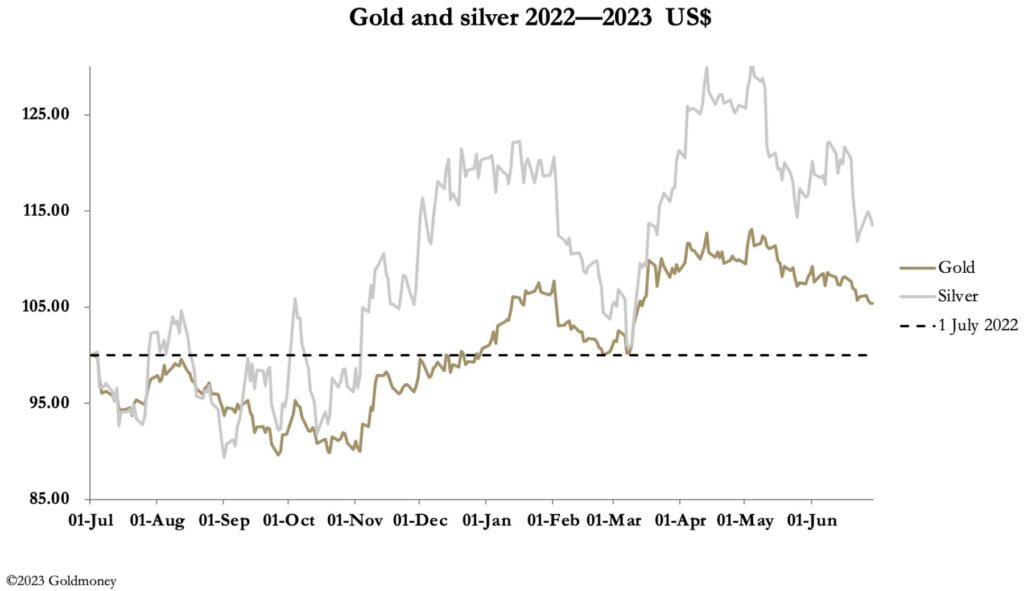 Silver's Open interest on Comex has collapsed to the lowest levels in ten years. That's over 34,000 contracts less than were open on 20 June, when the last Commitment of Traders numbers were posted — there will be an update for the position on Tuesday later today. But look out for the Swap's position, which is bound to have turned net long.
Interestingly, the Other Reported category has been stubbornly net long which tells us that the Managed Money category, which was net long 10,256 contracts on 20 June, are now net short. This is rare, as our next chart shows, whose last data point was 20 June.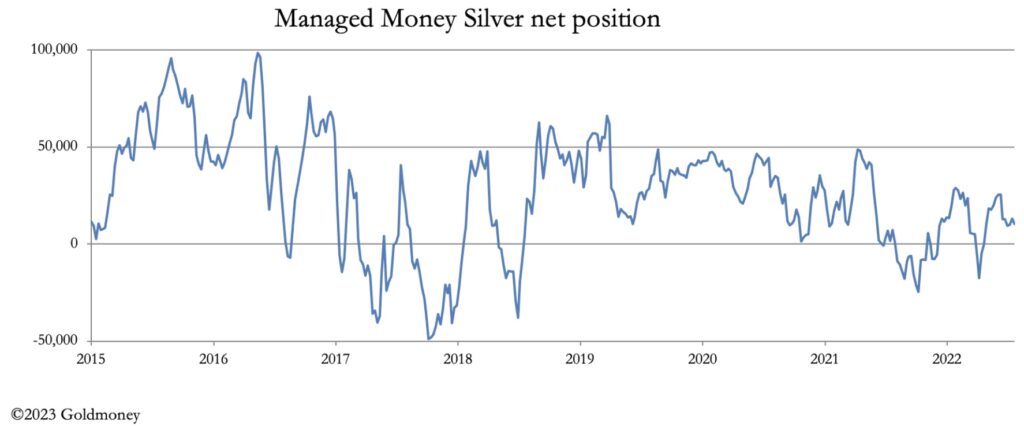 Managed Money is now probably net short over 10,000 contracts. For a commodity so much in demand due to green power factors, we can expect the Swaps to try not to get short again, which is likely to result in a bitter bear squeeze on the hedge funds in Managed Money.
Shakeouts such as that currently experienced often happen ahead of the half-year, when bullion bank traders, who make up most of the Swaps undoubtedly like to show their positions in the most favourable light. Sometimes, the bear raid runs into early July…
---
ALERT:
Powerhouse merger caught Rio Tinto's attention and created a huge opportunity in the junior gold & silver space CLICK HERE OR ON THE IMAGE BELOW TO LEARN MORE.

---
Open Interest in gold has declined to very low levels, though not so dramatically as silver. This is next.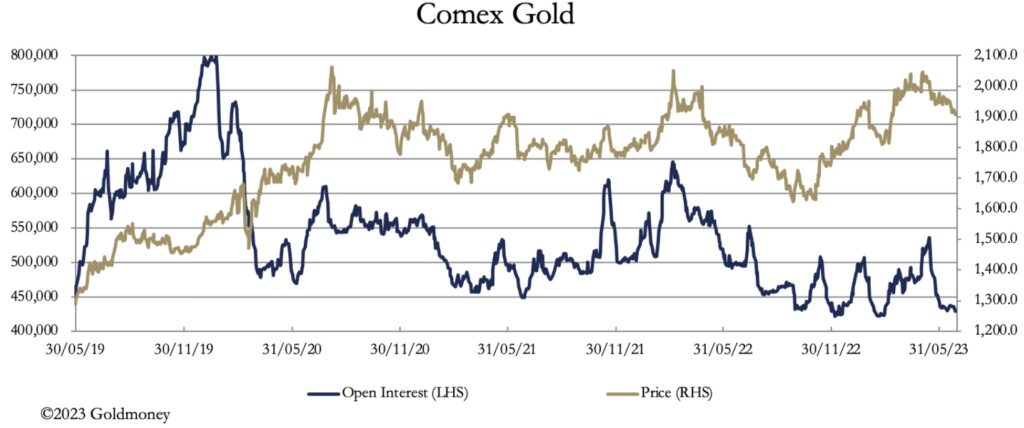 While we cannot rule out the sell off continuing for another week or two, it is worth pointing out that it is a mistake to view interest rates as driving the relationship between gold and the dollar. In early 1971, gold was $35, and the Fed funds rate about 4%. At the end of the decade, the Fed fund's rate was 15%, and gold peaked at $850. Clearly, what will tip the balance into sensibility is markets waking up to the risks arising from higher interest rates. These are systemic, in that higher interest rates destabilise overleveraged banks and businesses. And globally, bank credit is now beginning to contract, telling us that there is a credit squeeze in the offing likely to drive interest rates even higher.
Additionally, now that Ukraine's push against the Russians has failed, almost certainly the Russians will now counterattack. That will drive energy and commodity prices higher, which for gold and silver repeats the conditions which drove gold to challenge all-time highs in March 2022. This is shown in the technical chart below.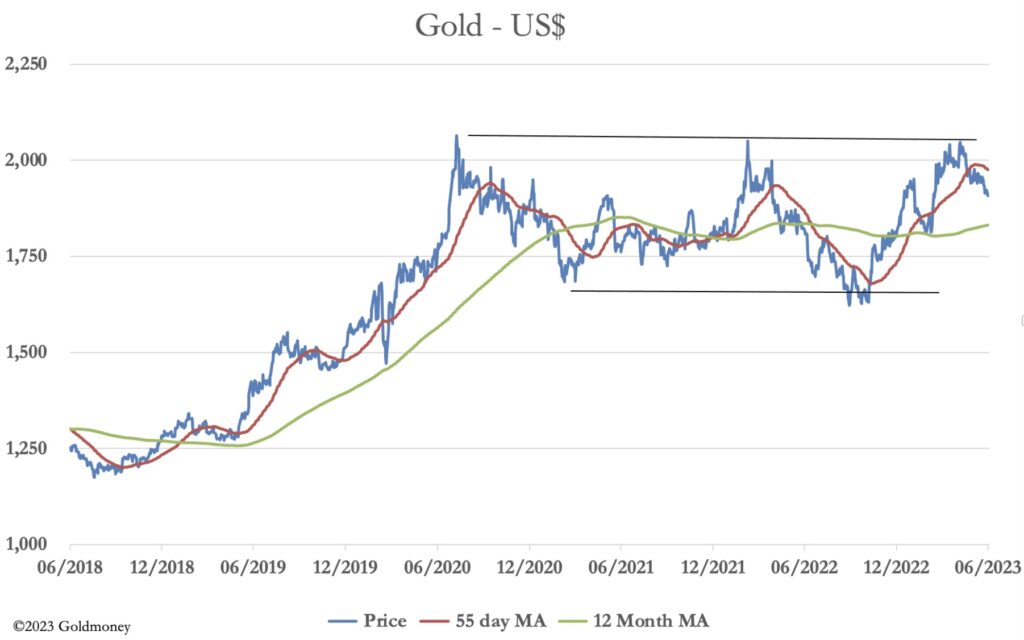 It shows that a test of the 12-month moving average at $1830 cannot be ruled out, but it gives gold the springboard for a resumption of the bull trend.
ALSO JUST RELEASED: ALERT: Epic Collapse In Silver's Open Interest CLICK HERE.
ALSO JUST RELEASED: Inflationary 2020s Gold Price Target $48,000 CLICK HERE.
ALSO JUST RELEASED: Putin Winning Decisively In Ukraine, Soon To Unleash Gold-Backed Ruble CLICK HERE.
ALSO JUST RELEASED: Silver At A Key Level, Plus Things Are Tough All Over The World CLICK HERE.
ALSO JUST RELEASED: Celente – The American Dream Has Turned Into The American Nightmare CLICK HERE.
ALSO JUST RELEASED: OWN GOLD: Jim Grant Just Issued This Warning About Business And Credit Conditions In The US CLICK HERE.
ALSO JUST RELEASED: STORM ON THE HORIZON: 3 Macro Events Poised To Unfold In Rapid Successions As Credit Crunch Intensifies CLICK HERE.
ALSO JUST RELEASED: Big Money Will Be Made In Silver, Plus A Commodity Boom Is Coming CLICK HERE.
ALSO JUST RELEASED: Waiting For The Fed Pivot As More Things Break And US China Financial War Heats Up CLICK HERE.
© 2023 by King World News®. All Rights Reserved. This material may not be published, broadcast, rewritten, or redistributed.  However, linking directly to the articles is permitted and encouraged.