While the shenanigans in the paper market continues, hopefully investors are buying gold to protect themselves. Look at this major fiat currency that is being destroyed as the global collapse accelerates.
Got Gold? This Fiat Currency Is Being Incinerated
September 27 (King World News) – Graddhy out of Sweden:  The YEN is being destroyed. Decades of QE are playing out. All FIAT currencies will follow.
Yen In The Latter Stage Prior To Hyperinflation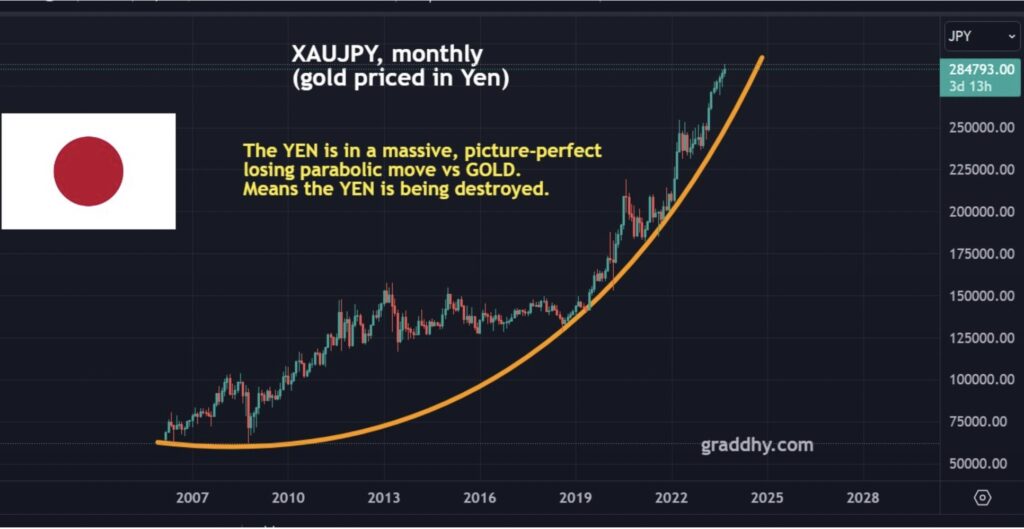 Get educated, get prepared.
Silver
Graddhy out of Sweden:  Always know the very big picture.
The big breakout level for silver using the yearly time frame is $31-32, and not $38-50 that is on lower time frames.
The blue tightening arrow pattern means a breakout is coming.
STAY FOCUSED ON BIG PICTURE:
Silver Coiling For Move To New All-Time High
A 43-year very bullish pattern. Let that sink in!…
---
ALERT:
Billionaire mining legend Pierre Lassonde has been buying large blocks of shares in this gold exploration company and believes the stock is set to soar more than 150% in the next 6 months. To find out which company CLICK HERE OR ON THE IMAGE BELOW.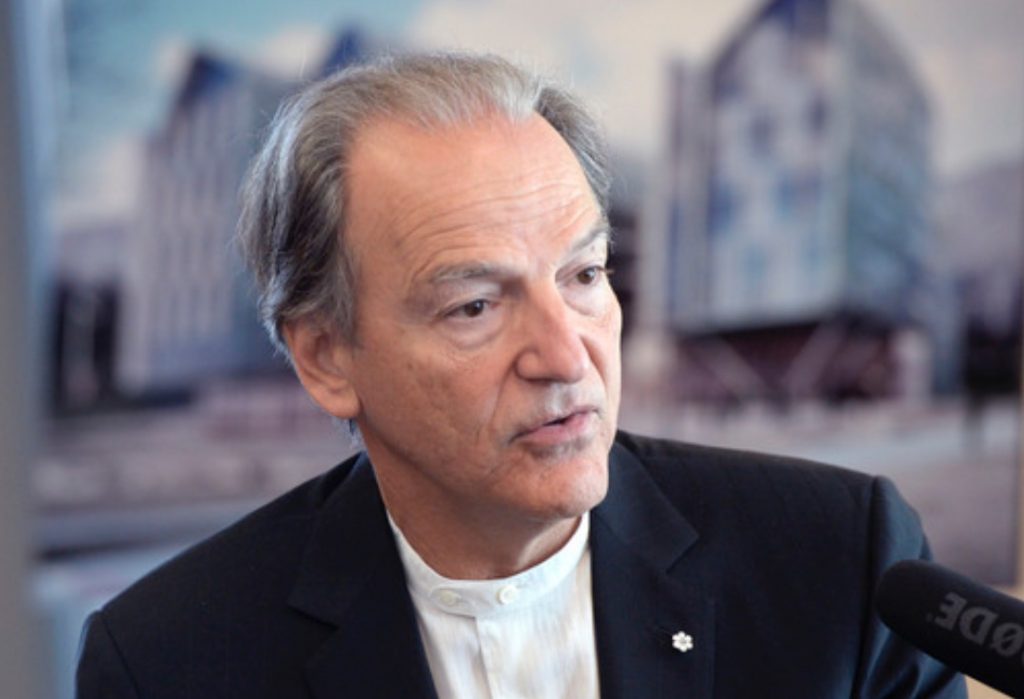 Sponsored
---
Rates Continue To Rise
Peter Boockvar:  With respect to bond yields, when the 10 yr yield was at 3.75%, I said if one just looked at the slowing inflation situation and fragile economy, I would understand a yield of something closer to 3% would be possible but implored anyone listening that a move to 4.50% was more likely and not for good reason and there were a lot more big picture factors at work here.
But, now that we're here, and I still believe for not good reason, though higher for longer definitely a factor, I'm much more uncertain in the short term about the direction of the 10 yr yield. Though a move to 5% or more remains more likely than a trip back to 3% I'm still leaning towards and open to the possibility. And when we talk about yields, we MUST talk about GLOBAL yields because this is one gigantic global rate move with everyone moving together. 
If you didn't see Friday, the Fed's balance sheet (and a big factor in the rise in yields) had its biggest one week decline since QT started of almost $75b, taking it to just above $8 trillion at $8.024 trillion. I'm still amazed at the number of people that ignore the influence of QT, many of whom loved QE.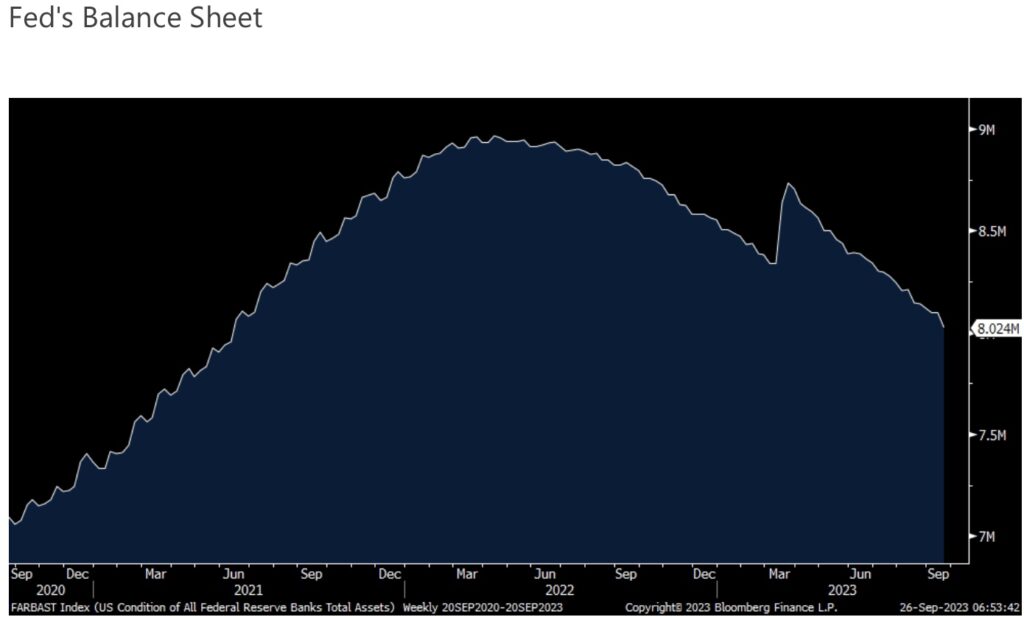 The dove turned uber hawk, voting member Neel Kashkari gave us an 'if' when it comes to the next steps with rates. "If the economy is fundamentally much stronger than we realized, on the margin that would tell me rates probably have to go a little bit higher and then be held higher for longer to cool things off." As I see the consumer's knees getting shakier, and more so now with higher gasoline prices and student loan repayments upon us, I don't think 'the economy is fundamentally much stronger than we realized' and thus think AGAIN, that the Fed is done on the short end with its hikes. But, it doesn't matter as the longer end keeps tightening. 
After seeing the crude oil rig count rise for two weeks in a row for the first time since last November, albeit only 3 rigs, it resumed its decline in the week ended 9/22 by 8 rigs (seen Friday) to 507, the least amount since February 2022. We still believe crude oil prices will surprise many to the upside.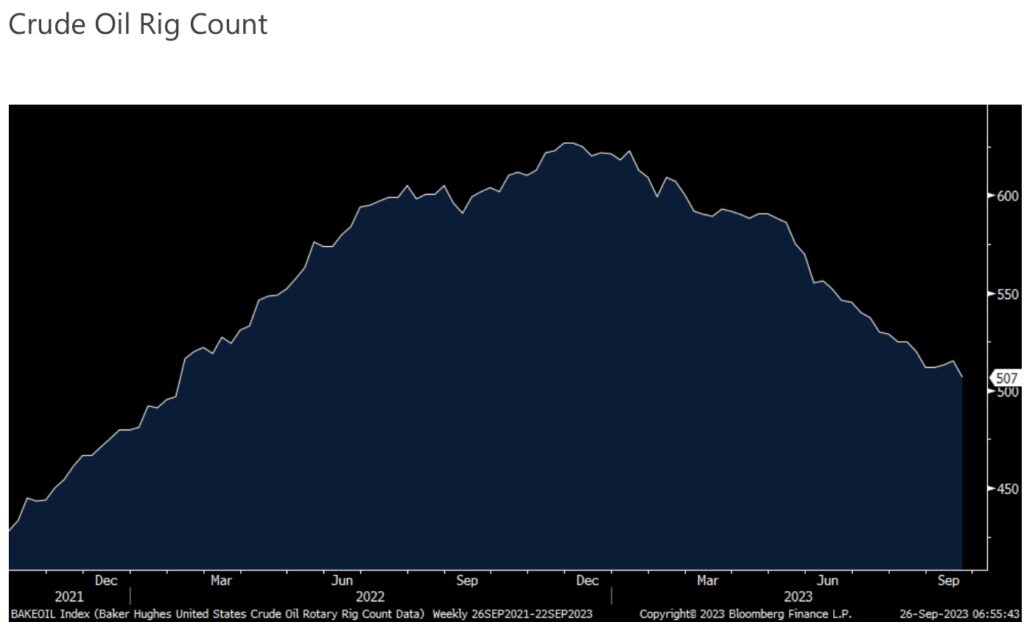 Consumer Confidence Collapsing…Again
The September consumer confidence index from the Conference Board was 103, down from a revised 108.7 (initially 106.1) in August and 2.5 pts below expectations. That's the lowest since May.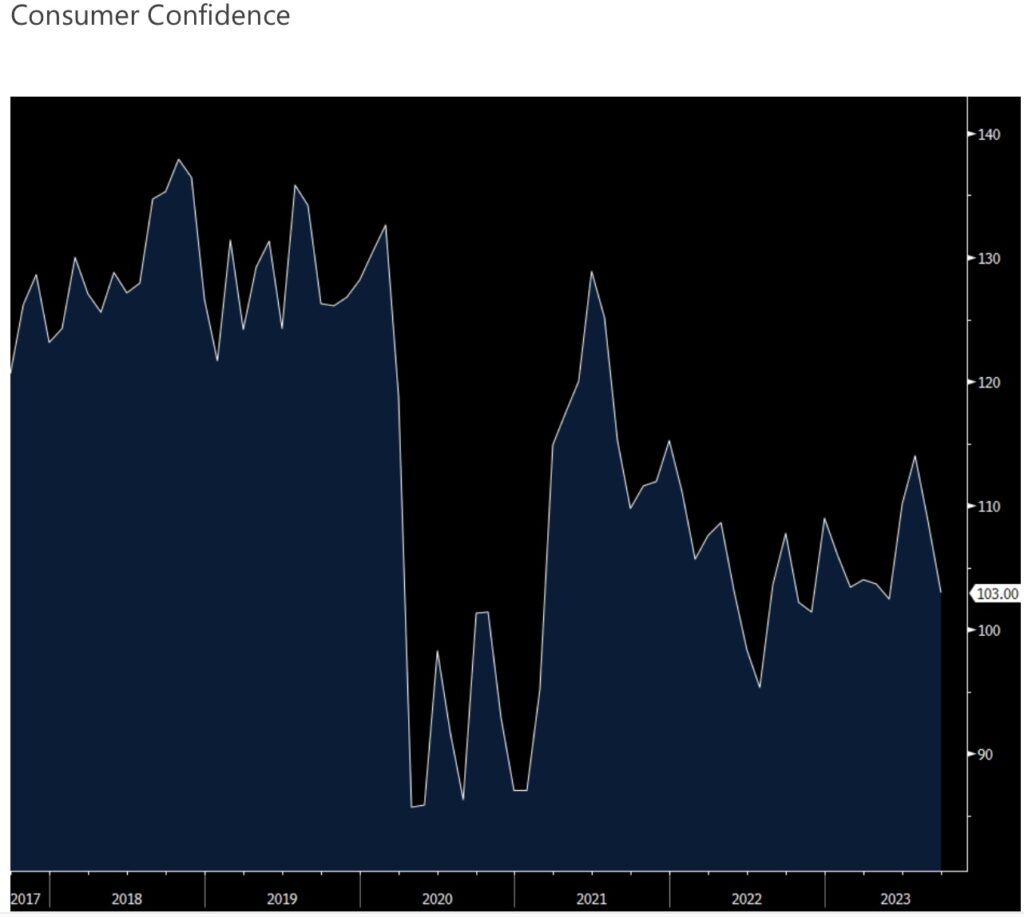 Spending Intentions Also Collapsing…Again
Spending intentions deteriorated with most likely much higher interest rates an increasingly negative influence on these big ticket items. Those that plan on buying a home fell to 4.9 from 6.1 and that is the lowest since July 2022.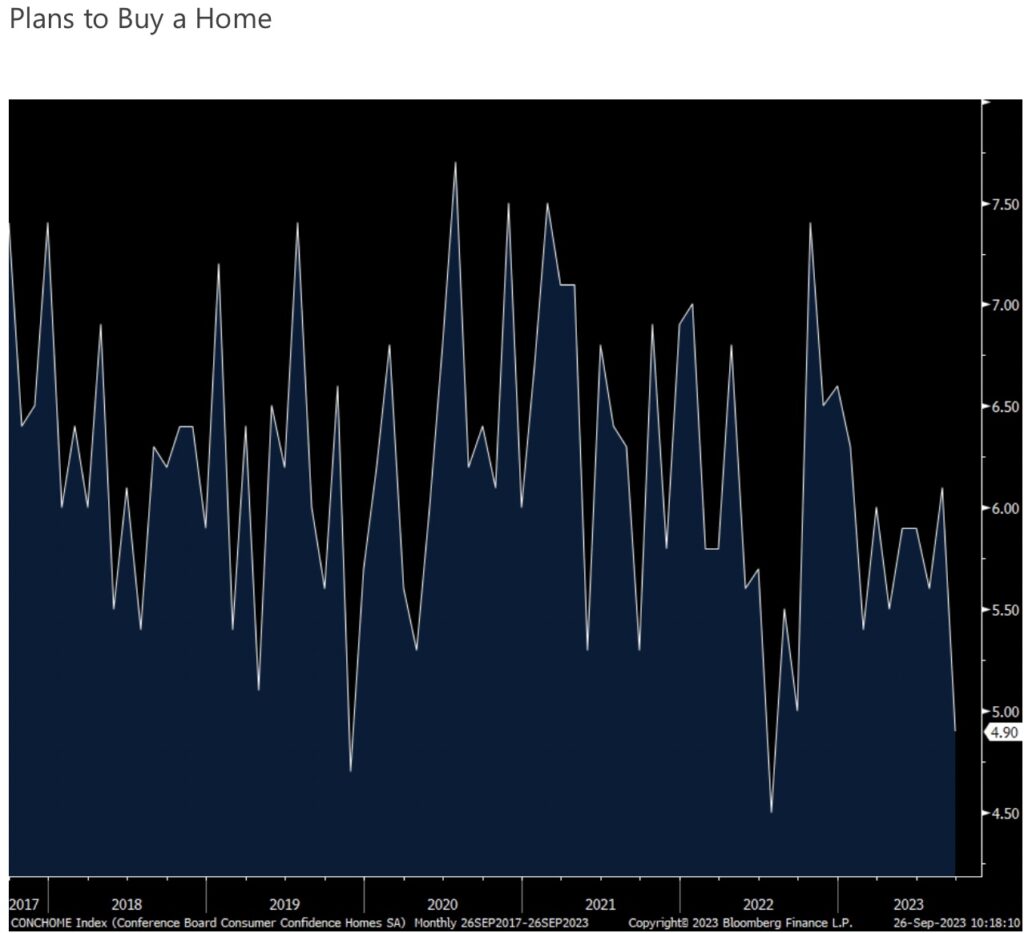 Those that plan on buying a vehicle within the coming 6 months fell 1.3 pts m/o/m to a 5 month low. After rising 3.4 pts in August, spending intentions on major appliances fell by 1.8 pts.
Those Making Above $125,000 Are Losing Confidence
In terms of the age and income breakdowns, the drop in consumer confidence was pretty much broad based. I want to point out specifically that confidence among those that make more than $125,000 per year is a hair from the lowest level since July 2022.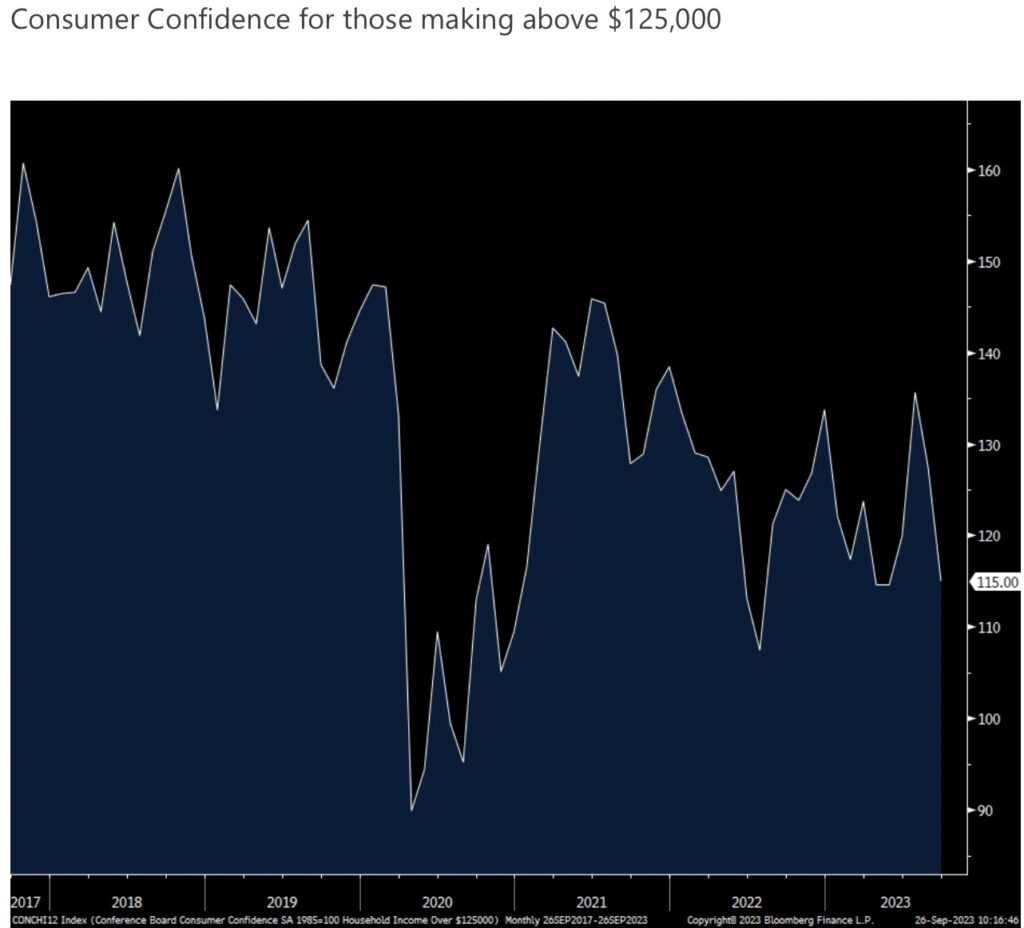 The Conference Board said "When asked about current family financial conditions, the share of respondents citing a 'good' situation fell again, and those citing 'bad' conditions rose, signaling rising concerns about current family finances."
Bottom Line
The bottom line from the Conference Board was this, "Write-in responses showed that consumers continued to be preoccupied with rising prices in general, and for groceries and gasoline in particular. Consumers also expressed concerns about the political situation and higher interest rates. The decline in consumer confidence was evident across all age groups, and notably among consumer with household incomes of $50,000 or more."
I'll add, after going thru countless earnings calls/transcripts on retail/restaurant earnings calls over the past month plus, the consumer seems on unstable ground where prioritizing spend is their main priority.
ALSO JUST RELEASED: Ignore Gold & Silver Takedown And Take A Look At This… CLICK HERE.
ALSO JUST RELEASED: James Turk – Silver Preparing For Massive Breakout That Will Take Price To All-Time High CLICK HERE.
ALSO JUST RELEASED: Greyerz – Gold Is On The Verge Of Being Revalued Thousands Of Dollars Higher CLICK HERE.
Timely And Fantastic Interview Just Released!
To listen to Nomi Prins discuss the radical moves she expects to see in the gold, bond and foreign currency markets CLICK HERE OR ON THE IMAGE BELOW.

NEW!
To listen to Alasdair Macleod discuss what to expect next week in the gold and silver markets as well as what surprises are in store across the globe CLICK HERE OR ON THE IMAGE BELOW.

© 2023 by King World News®. All Rights Reserved. This material may not be published, broadcast, rewritten, or redistributed.  However, linking directly to the articles is permitted and encouraged.