Today James Turk told King World News that the price of silver is poised for a massive upside breakout. That would be the launching pad that will take the price of silver to new all-time highs.
September 25 (King World News) – James Turk:  Given all the sour sentiment out there about the precious metals, Eric, one could be excused for thinking that gold and silver are not doing much. After all, both metals have just been moving sideways in a trading range all year with gold – for now – stuck below $2000 and silver below $26.
However, if we step back and take a long term view, these trading ranges are very telling. They indicate that support for the precious metals is building, even though silver has doubled in price from its March 2020 low, and gold is nearly double its December 2015 low. 
So from this perspective, both gold and silver are doing well. Their price is rising to protect the purchasing power of the people who own physical gold and silver, which is what both metals have done throughout monetary history. 
But I must admit it is frustrating to see them in this trading range for such a long time because they are undervalued. The prices of both should be much higher…
---
ALERT:
Legendary investors are buying share of a company very few people know about. To find out which company CLICK HERE OR ON THE IMAGE BELOW.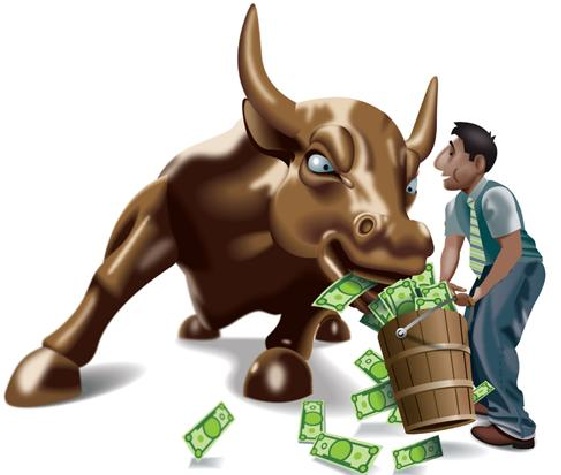 Sponsored
---
The bright side is that both gold and silver are developing support that I expect will take them higher, and probably soon. They are being accumulated.
We have to remember that each day there are about 9 tonnes of gold and 2 million ounces of physical metal being mined. This new metal coming on the market needs to be absorbed, which requires around $610 million of new buying each day. 
That's a lot of money, but this newly mined metal is inevitably bought – and I say "inevitably" on purpose – because demand for gold and silver is inelastic. There will always be a buyer at some price, and here's the important point. 
That demand this past year has been buying gold at or near record highs for every national currency. Though silver is not near its record high, demand for it has also been strong because it is recognized as being very undervalued.
Current prices have not weakened demand for the precious metals. We can conclude from this that gold and silver are headed higher, and we can see that potential on this weekly chart of silver.
Silver Preparing For Massive Upside Breakout That Will Take Price To New All-Time High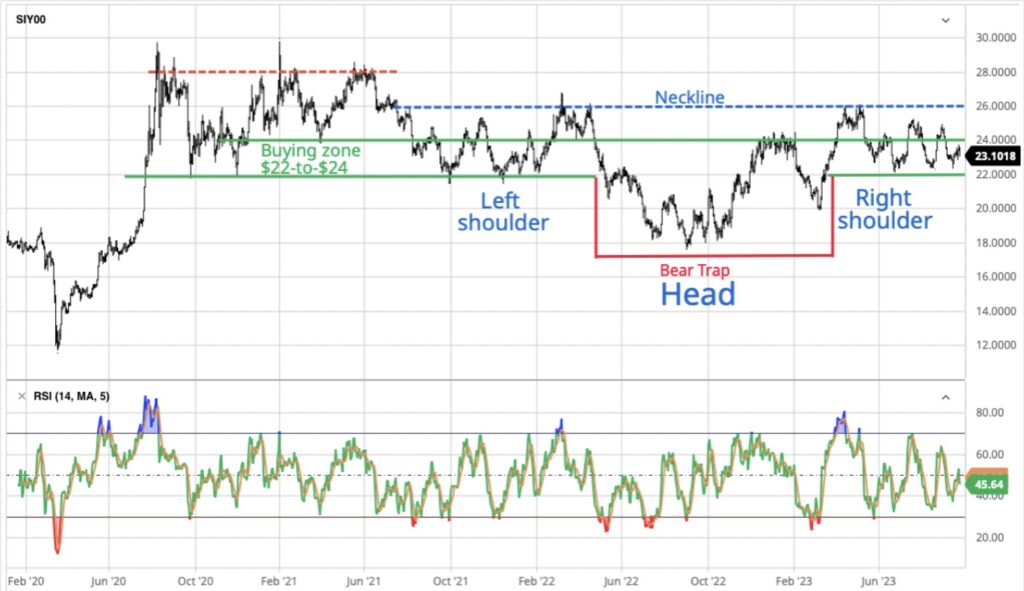 This chart will be familiar to KWN readers. We've been watching it develop for years, and recently I mentioned how silver is building a head-and-shoulders base, which continues to gather more support as the right should extends over time.
Markets of course can do anything, and we've seen some strange things like when crude oil went to below zero during the pandemic. We've also seen negative interest rates forced on markets by central banks, and who thought that was possible. But given all the monetary, banking, economic, debt, and geopolitical problems that are building, it is clear to me that the stars are lining up favourably for gold and silver. 
Once this quarter end is over – if not before – I expect gold and silver will start climbing as we move toward the end of the year. We'll know when it happens, Eric. Their advance begins when gold climbs back above $1950 and silver hurdles $24.
ALSO JUST RELEASED: Greyerz – Gold Is On The Verge Of Being Revalued Thousands Of Dollars Higher CLICK HERE.
Timely And Fantastic Interview Just Released!
To listen to Nomi Prins discuss the radical moves she expects to see in the gold, bond and foreign currency markets CLICK HERE OR ON THE IMAGE BELOW.

NEW!
To listen to Alasdair Macleod discuss what to expect next week in the gold and silver markets as well as what surprises are in store across the globe CLICK HERE OR ON THE IMAGE BELOW.

© 2023 by King World News®. All Rights Reserved. This material may not be published, broadcast, rewritten, or redistributed.  However, linking directly to the articles is permitted and encouraged.