If everything is okay with the economy, why is the price of gold surging $22 and back above $2,000, and this indicator collapsing near on the lowest level seen since the 1990s?
Smallest Number Since 2010
November 21 (King World News) – Peter Boockvar:  Existing home sales in October totaled 3.79mm, about 100k less than expected and assume many of these contracts were signed in the June thru September time frame. That compares with 3.95mm in September and is the smallest number of transactions of existing homes since August 2010 and is nearing the lowest since the 1990's.
Existing Home Sales Collapse Near Lowest Level Since The 1990s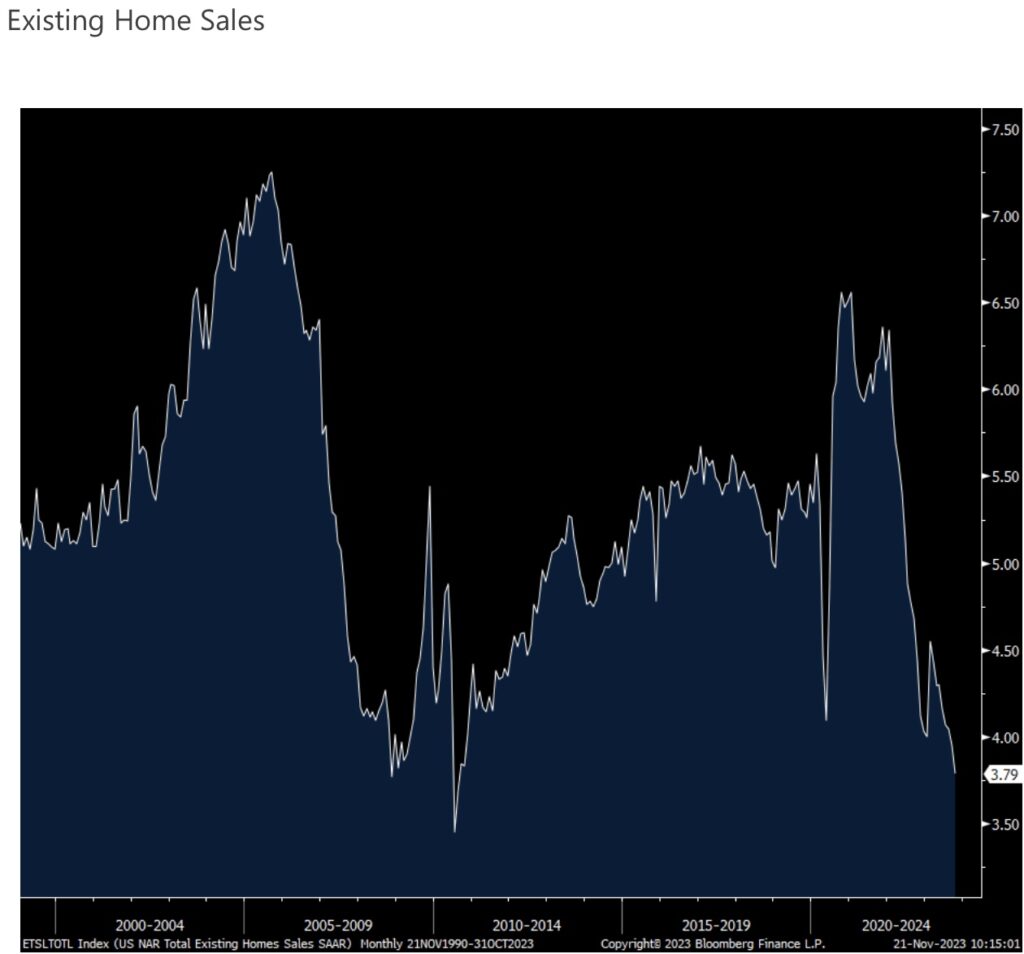 First time buyers still are making up less than 30% of purchases because of the obvious affordability challenges. It stood at 28% in October vs 27% in September and 29% in August. All cash buyers who don't need a mortgage totaled 29% of purchases, holding at its multi month high and up from 26% in October 2022. Coincident with the sales drop, months' supply rose to 3.6 and that is the highest since June 2020. It stood at 4.0 in October 2019. Home prices were up 3.4% y/o/y and is up a whopping 43% since December 2019. Thank you again Fed for buying all those MBS and for delivering zero rates again.
The NAR didn't tell us anything we don't already know but reminds us to how strange the housing market situation is. They said "Prospective home buyers experienced another difficult month due to the persistent lack of housing inventory and the highest mortgage rates in a generation." BUT "Multiple offers, however, are still occurring, especially on starter and mid-priced homes, even as price concessions are happening in the upper end of the market."
The positive angle from all this is the growing net worth for those that already own a home and is lucky enough to either have no mortgage or a very low rate on the one they have.
As for economic activity from this, outside of new construction and 'pro' type renovations, the existing home industry is in a recession and everything that is associated with that.
To listen to Alasdair Macleod discuss available physical gold disappearing off the market, and the coming storm that is already beginning to ignite the gold and silver markets CLICK HERE OR ON THE IMAGE BELOW.

ALSO JUST RELEASED: HYPERINFLATION ALERT: Look What Just Happened In This Country That Is Hyperinflating CLICK HERE
ALSO JUST RELEASED: Michael Oliver – Silver Price Is About To Explode To $50 CLICK HERE
ALSO JUST RELEASED: BUCKLE UP: The Fed Is Preparing To Unleash QE To Infinity CLICK HERE
© 2023 by King World News®. All Rights Reserved. This material may not be published, broadcast, rewritten, or redistributed.  However, linking directly to the articles is permitted and encouraged.