Look at what just happened in this country that is hyperinflating.
Inflation of 143% gives Libertarianism a try in Argentina
November 20 (King World News) – Peter Boockvar:  There hasn't been a more destructive economic policy than socialism in wrecking the Venezuelan economy and to a lesser but still dangerous degree on the Argentinian economy that has had to deal with hyperinflation and years of corruption. They reported national CPI last week that was up by 143% y/o/y for October. Well, now we get to test out the proof of concept economic policies of libertarianism and see if it does the opposite with the victory of Javier Milei. I saw a clip of his where he said this:
"I think that the big problem in Argentina is a cultural problem. This is a society infected by socialism and what we need to achieve is to remove socialism from people's minds and the main promoter of these ideas are the politicians…the libertarians are the only ones to confront the politicians and tell them that they are not the solution, that they are the problem. The politicians are a sort of sociopath who want to make us believe that we are mentally invaded and invalid in every sense because we cannot live without them. But in reality, those who cannot live without us are them…
"We are decent people, hardworking people and we don't advocate for envy, hatred, theft or unequal treatment under the law. That abomination of social justice is the most unjust thing that exists, because it means stealing the fruits of someone's labor and giving them to others just because I feel like it. And in that whole process, not only did they destroy the economy, they impoverished people. From 1970 to now, the size of the state tripled, and the number of poor people multiplied by six. And you know who the only ones who really prospered were? The politicians…The real income redistribution was from what we produce to the political parasites…The libertarianism was born to free us from the oppressive rulers."
Ayn Rand of course is the philosophical foundation of what Javier Milei believes in and here are two notable quotes from her on capitalism as opposed to socialism:
"America's abundance was created not by public sacrifices to the common good, but by the productive genius of free men (and I'll add women) who pursued their own personal interests and the making of their own private fortunes. They did not starve the people to pay for America's industrialization. They gave the people better jobs, higher wages, and cheaper goods with every new machine they invented, with every scientific discovery or technological advance and thus the whole country was moving forward and profiting, not suffering, every step of the way."
And finally from her, "Capitalism has been called a system of greed – yet it is the system that raised the standard of living of its poorest citizens to heights no collectivist system has ever begun to equal, and no tribal gang can conceive of."
I have my popcorn out on how this all plays out in Argentina as it will be a real life grand social, economic and political experiment of a society that has only known the opposite over the many decades. 
Ten years ago it cost 6.5 Argentinian peso's to buy $1 US dollar. As of Friday, it cost 354 pesos at the official,  now pegged rate. I believe on the black markets it trades near 900 pesos. Talk about a currency collapse and the hyperinflation associated with that.  We're awaiting it to start trading today and I believe it's a buy, along with their bonds. The equity ETF is ARGT and is looking up pre market.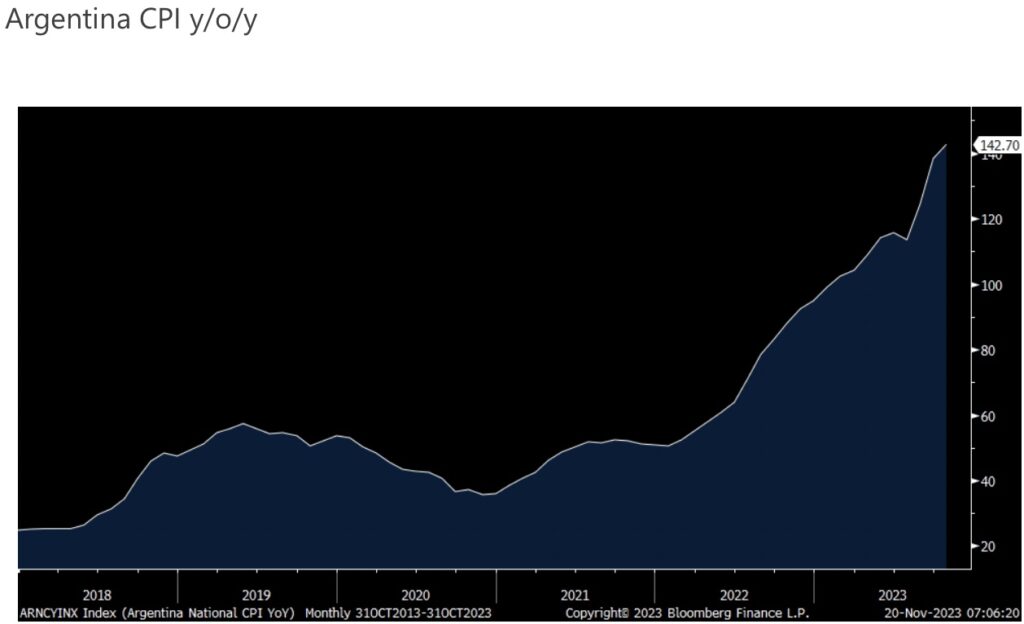 Taiwan said its exports in October fell by 4.6% y/o/y but that was better than the expected drop of 7.6% and maybe giving hope that the bottom in global trade is near. Trade to China and Hong Kong rose 1.2% y/o/y but were down by 1.4% to the US, by 18% to Japan and by a whopping 46% to Europe. For all the China/Taiwan worries, the TAIEX is up by 22% this year. 
Germany reported its October PPI and it was as expected, down by 11% y/o/y. Much of this is just the easy comp of a 35% spike in October 2022 which came after an 18.4% rise in October 2021. So, taking the two years together, German PPI is still up 42% since October 2021. Much of the drop last month was the 28% fall in energy costs. I'm amazed that some refer to the current moderation as deflation. 
ECB Governing Council member Pierre Wunsch is not happy with market expectations of rate cuts next year. He said today "Is it a problem if everybody believes we're going to cut? Then we have a less restrictive monetary policy. And I'm not sure that then it's going to be restrictive enough. So it increases the risks that you have to correct in the other direction…I think markets are relatively optimistic today that they exclude the possibility that we have to do more or that we have to remain at 4% for longer."
This is what the recent rally in bonds, rally in stocks and easing of financial conditions are driving and the tough balancing act the Fed faces now as well and we'll see if they push back too. The euro is higher and European bonds are weaker in response to the comments…
---
This silver explorer recently did a huge transaction with a $4.5 billion market cap producer CLICK HERE OR ON THE IMAGE BELOW TO LEARN MORE.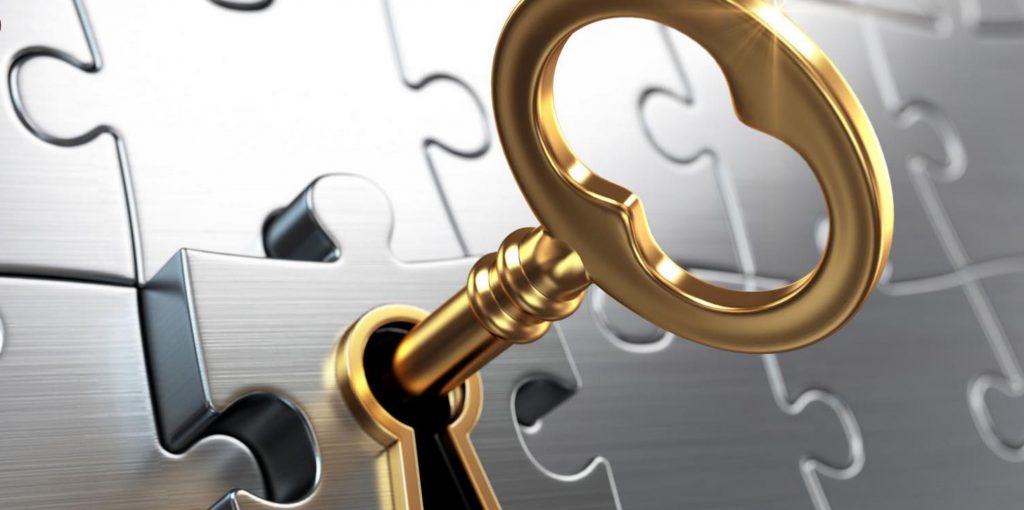 ---
Ahead Of Thanksgiving
Art Cashin, Head of Floor Operations at UBS:  As you will recall from the late morning update, Wall Street started the pre-Thanksgiving Day parade with Boeing as the primary float, at least as far as the Dow was concerned.
As we approached noon, the rally began to broaden out and they got an extra boost at 1:00 p.m. when the 20-year bond auction went very, very well (notice the two verys).  The successful auction drove down yields in general and, particularly the barometer yield, that being the yield on the ten-year, which as we go to press, is trading very near the low yield of the day. 
The market not only broadened, but picked up extra-strength because of that yield and they have seen the areas stretch from the mid-range stocks right back to the Magnificent Seve with everything related to AI, apparently benefitting from the soap opera that occurred over the last several days with the firing of a prominent leader and the strange goings corporately in that area that followed-up. 
Right now, the bulls are trying to consolidate near the session highs and, again, the primary beneficiary of the yields after 20-year auction, whose influence cannot be readily overstated.
So, as I say, they are looking to consolidate some of these smart gains we have seen over the last 90-minutes and, unless some surprise shows up in bond yields, they look like they should be able to hold on to the bulk of the gains going into the close, but again, it is pretty simple these days, keep an eagle eye on the ten-year yield.  If it starts to head back to the highs of the session, we can see several of these gains being given up.
The economic data was mediocre at best with the leading economic indicator falling yet again for a long session of low upon lower readings.  We will try to pick up on some further data so we can elucidate on the economic aspect in tomorrow morning's commentary.
So, as we just said, the next hour or two should be spent homing in on the yield, particularly the ten-year and that will be the auto-pilot we assume the market, particularly, the Dow will follow.
Pay attention and stay safe..
Arthur
---
To listen to Alasdair Macleod discuss available physical gold disappearing off the market, and the coming storm that is already beginning to ignite the gold and silver markets CLICK HERE OR ON THE IMAGE BELOW.

ALSO JUST RELEASED: Michael Oliver – Silver Price Is About To Explode To $50 CLICK HERE
ALSO JUST RELEASED: BUCKLE UP: The Fed Is Preparing To Unleash QE To Infinity CLICK HERE
© 2023 by King World News®. All Rights Reserved. This material may not be published, broadcast, rewritten, or redistributed.  However, linking directly to the articles is permitted and encouraged.