Today Michael Oliver, the man who is well known for his deadly accurate forecasts on stocks, bonds, and major markets, communicated to King World News that the price of silver is about to explode to $50.
Silver
November 20 (King World News) – Michael Oliver, Founder of MSA Research:  In our November 13th silver report we noted that silver had credibly broken out on its 3-mo. avg. momentum chart, shown in that report.
Well, it has also broken out via 200-day avg. momentum. The key structure there happened to coincide roughly with the zero line/200-day avg. And it was that abundantly clear momentum structure that has now been exploited. A trend shift back to positive after months of what was mostly redundant selling from above $25 to $22 area (except for the brief come-and-gone spike in early October).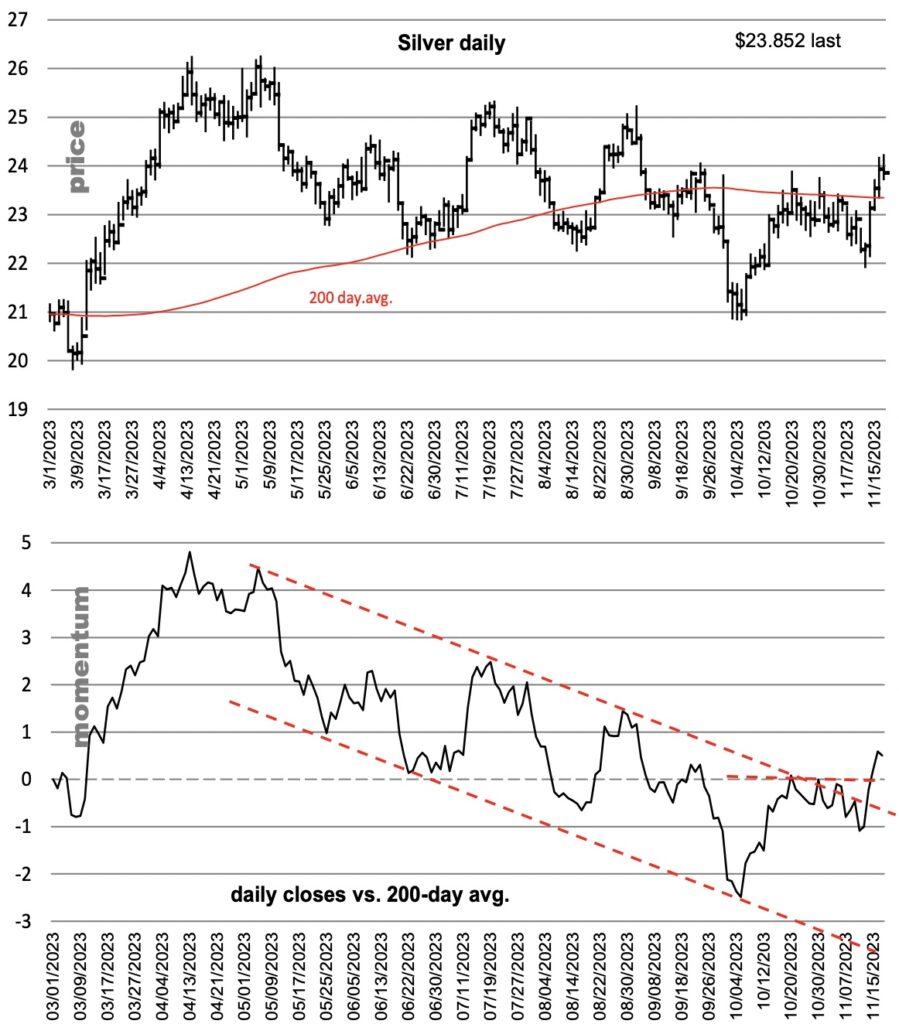 Again, the price chart crowd will likely start to take note once silver clears $25. Expect that.
Silver Price Preparing To Explode To $50
MSA has further reason to argue that $25+ is important, not solely due to price, but also annual momentum. Closing this month or next around $25.4 would take out a meaningful trigger structure on that time-scale. We suggest that even getting back above $25 is seatbelt time. We'd expect silver then to rapidly take out the $30 high of the past few years and rapidly begin an assault on its dual historic highs on either side of $50.
For now, watch for silver's ability to clear $25 again. This 200-day momentum breakout should enable that price level to be reached soon. There are so many predictions in this latest report targeting the price of gold, silver, GDX, silver mining stocks and more. To receive the special KWN discount to subscribe to Michael Oliver's internationally acclaimed MSA Annual Research which is used by serious investors and professionals all over the world CLICK HERE.
---
To listen to Alasdair Macleod discuss available physical gold disappearing off the market, and the coming storm that is already beginning to ignite the gold and silver markets CLICK HERE OR ON THE IMAGE BELOW.

ALSO JUST RELEASED: BUCKLE UP: The Fed Is Preparing To Unleash QE To Infinity CLICK HERE
© 2023 by King World News®. All Rights Reserved. This material may not be published, broadcast, rewritten, or redistributed.  However, linking directly to the articles is permitted and encouraged.