Here is a look at a currency war, "rent too damn high," and who is guzzling crude oil and commodities.
Stock Market: Split Personality
September 7 (King World News) – Art Cashin, Head of Floor Operations at UBS:  The split personality that we alluded to in the late morning update, continues to be in full effect. The Nasdaq continues to be in the weak link in the equity market, with the Dow being saved by a handful of stocks, most notably Intel among others. 
Bulls are spared too much anxiety since the yield on the 10-year backed off from the resistance up around 4.30% and the yields are trading near rather low of the day which is giving some of the equities some breathing room. The key will be how will they close and if anything important happens in the final 90 minutes. 
So keep watching yields. Another move up toward 4.30% could either cancel bids or bring some small sellers in to equites. In the meantime stay safe.
"Rent Too Damn High"
Peter Boockvar:  With the direction of rental growth being a key component of where CPI goes from here, ahead of the August read next week and we know the BLS has some catching up to do with what's doing on the ground, Equity Residential last night repeated its own expectations for rents. After a blended rate (new leases and renewals) of rent growth of 4.3% y/o/y in Q2, they repeated what they said in their Q2 earnings released that they expect this to moderate a touch to 3.5% y/o/y growth in Q3. They said
"The Company is finishing a good leasing season with healthy demand and pricing for its apartment units. Consistent with normal seasonal demand patterns, in early August 2023 rents peaked for the year and the Company expects rents to moderate for the balance of the year."
They have a major presence in big cities as opposed to the burbs and in Boston, NY, DC, San Francisco, Seattle, and LA. They've also expanded over the past few years in Denver, Atlanta, Austin and Dallas. 
We know there is a large amount of supply currently being constructed, some 1mm units I've heard and there is an immediate assumption that rent growth slows sharply in response. While I don't disagree, a 7.5% mortgage rate for home buyers will keep demand for rentals pretty solid I also believe which will help to absorb this supply. And once this construction is complete, there will be very little new supply because almost no new projects are getting started because of the new economic realities…
---
This Company Has A Massive High-Grade Gold Project In Canada And Billionaire Eric Sprott Has A Huge Position! To Learn Which Company Click Here Or On The Image Below.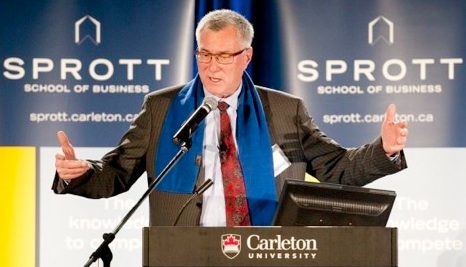 ---
"Buster, Can You Spare A Dime?"
There really wasn't much macro gleanings in some of the earnings releases last night, though Dave & Buster's badly missed estimates but didn't blame the macro. The most interesting earnings call comment yesterday from them ahead of the football season they said:
"We are also bringing back the successful All-You-Can-Eat Wings on Monday and Thursday's which our guests will particularly enjoy while cheering on their favorite teams."
RH (Restoration Hardware) reports tonight and Gary Friedman always leaves us with his colorful and honest thoughts.
Currency War In Japan
We saw another round of FX intervention threats yesterday, this time from Masato Kanda, the vice minister for international affairs as the yen approaches 150 but his colleagues at the BoJ are doing no help with their continued dovish talk. BoJ board member Junko Nakagawa today said getting to their 2% inflation target on a sustainable basis is not yet in sight even though it's currently running twice that. What will it take to get out of negative rate policy, the last in the world?
"The economy must strengthen enough to weather headwinds, and keep recovering. Demand also needs to be firm and underpinned by households' conviction that their income will continue to increase. When we see many people share prospects that wages will keep rising, we may be able to exit negative rates."
So, in the meantime, consumers will suffer from higher inflation waiting for an increase in wages to offset that? While all these comments are not yen friendly, she threw in this FX verbal intervention by saying the yen should reflect economic fundamentals and move in a stable manner.
Bottom Line
Bottom line, with this uneven, talk out of all sides of one's mouth from different parts of the government, no amount of FX intervention will help if they proceed to do so again. 
China Guzzling Crude Oil & Commodities
China's August trade data was about as expected with exports down 8.8% y/o/y. Exports were down by 9.5% to the US, lower by 20% to the EU and Japan, down by 13% to the Asean countries but jumped by 16% to Russia. Imports were softer by 7.3% y/o/y, a bit better than the estimate of down 9%. 
If people keep wondering why crude oil trades so well and thinks it's only due to supply constraints, crude oil imports in August to China was up 15% y/o/y and 21% m/o/m. Also of note, coal and copper ore imports rose to record highs. 
Following the soft July factory orders figure seen yesterday out of Germany, today they said IP dropped by .8% m/o/m, double the estimate of down .4%. We know all about the challenges that the Germany economy faces right now and it's both domestic and international. 
Bulls & Bears
Finally, with respect to stock market sentiment, today's AAII data saw Bulls jump 9.1 pts to 42.2, a 4 week high while Bears fell to to 29.6, down by 4.9 pts and that is a 4 week low. The CNN Fear/Greed index closed yesterday at 55, in Neutral territory and vs 52 one week ago. I don't have the II data for this week. 
ALSO JUST RELEASED: If You Are Worried About The Action In Gold & Silver Take A Look At This… CLICK HERE.
ALSO JUST RELEASED: CAUTION: Another Run On Banks Is Happening Right Now! CLICK HERE.
ALSO JUST RELEASED: Gold Volatility: Focus On Big Picture, Plus Prepare For Another Massive Wave Of Inflation CLICK HERE.
ALSO JUST RELEASED: UP IN SMOKE: On The Brink Of Default CLICK HERE.
ALSO JUST RELEASED: Gold & Silver Markets Near Historic Upside Explosion CLICK HERE.
ALSO JUST RELEASED: Financial Assets Are Now Set To Seriously Deflate CLICK HERE.

Alasdair Macleod discusses why gold, silver, and mining share investors should ignore the US dollar and all other fiat currencies as well as what other surprises took place this week in the metals markets CLICK HERE OR ON THE IMAGE BELOW.

© 2023 by King World News®. All Rights Reserved. This material may not be published, broadcast, rewritten, or redistributed.  However, linking directly to the articles is permitted and encouraged