On the heels of some very concerning trading action in Japan's stock market and their currency, this rattled global markets and led one of the legends in the business to warn "these are perilous times."
October 26 (King World News) – Art Cashin, Head of Floor Operations at UBS:  The yield on the 10-year backs clearly off its intraday high of 4.99, but that fails to give the stock Bulls the kind of latitude it traditionally does. I think that's because as we suggested in the Late morning update, stocks have turned to internalizing taking their own pulse and temperature. So we will assume that if bonds continue to remain ok the Bulls may take one shot in the afternoon to see if they can lift equites back off these intraday lows. 
So far however, stocks remain self-absorbed and there is no sense of direction building. So it is the nail bitter we feared, so hold on to your cuticles. Stay alert, watch the yields and above all stay safe, these are perilous times. 
Arthur
Lowest Level In Almost 23 Years!
Peter Boockvar:  There were no surprises with the ECB as they continue to fly in the clouds under the stars, like the Fed and every other central bank at this point. They seem intent on focusing on the length of time with monetary tightness rather than the level in that rates will likely stay at current levels for a while. While QT continues on too, they are still reinvesting maturing proceeds from their pandemic QE program (PEPP). Lastly, they said they would use their emergency bond buying powers if bond yields got unruly in any one country. On the likely hold for a while, and reiteration that they will keep yield spreads relative to Germany in line, European bonds are bouncing and yields dipping while the euro is down a touch around the $1.05 level. 
Off the lowest level in almost 23 yrs of data that the NAR has, pending home sales in September rose 1.1% m/o/m, better than the expected drop of 2% but follows a 7.1% decline in August.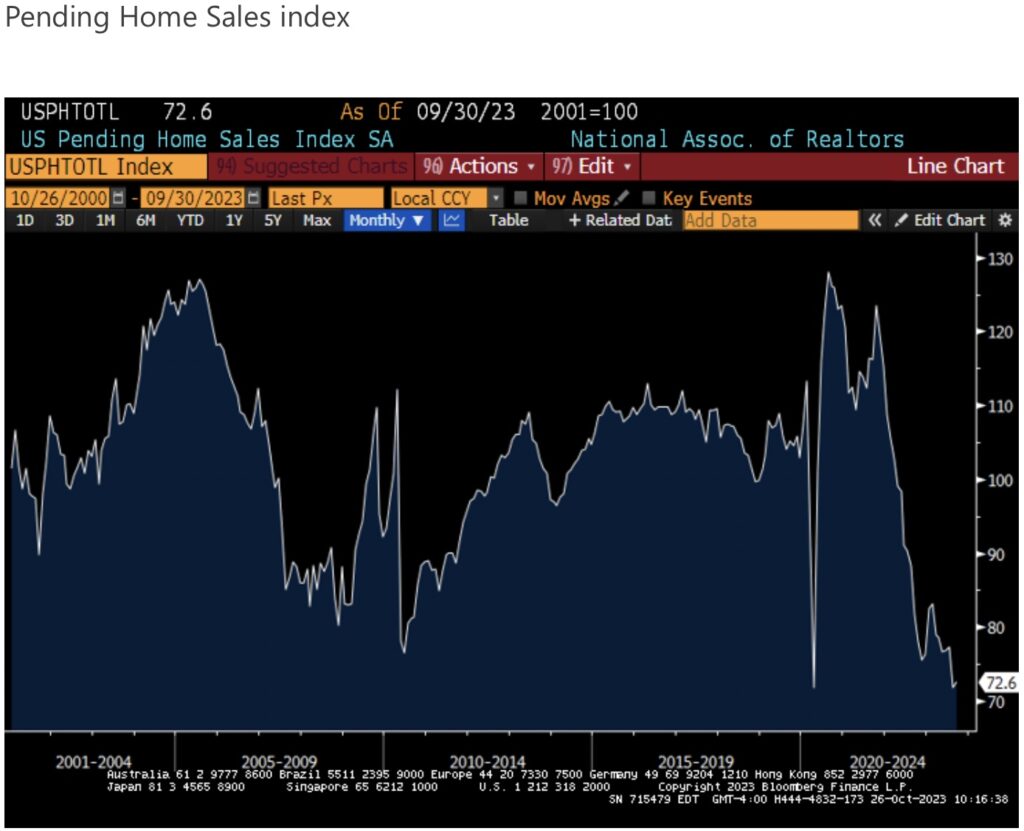 The story of course is well known and I'll use the words of the NAR as the bottom line, with the "highest mortgage rate in 20 years" while "inventory remains tight", the end result "hinders sales but keeps home prices elevated."
JUST RELEASED! A World In Chaos & Skyrocketing Gold
To listen to Alasdair Macleod's greatest audio interview ever discussing skyrocketing gold and a world in chaos CLICK HERE.

ALSO JUST RELEASED: THIS IS TERRIFYING: Society Not Prepared For Speed Of AI Transition CLICK HERE
ALSO JUST RELEASED: GOLD BULL CATALYST: Situation Is Dire As Worries Mount Over United States CLICK HERE
ALSO JUST RELEASED: DISASTER: Hurtling Toward Another U.S. Government Default CLICK HERE
ALSO JUST RELEASED: SPROTT: China Caused Gold Price Spike But Look At What Is Boosting Silver CLICK HERE
ALSO RELEASED: SentimenTrader: Gold Price May Finally Be Unleashed Higher According To This Indicator CLICK HERE
ALSO RELEASED: Gold May Continue To Surprise, Here Is Gold's Roadmap CLICK HERE
ALSO RELEASED: Another GLOBAL Long Term Rise In Interest Rates CLICK HERE
ALSO RELEASED: BUCKLE UP: Debt, Currency Debasement And War Unleashed CLICK HERE
ALSO RELEASED: Michael Oliver – Gold Price To Explode $600 Higher In 60 Days CLICK HERE
© 2023 by King World News®. All Rights Reserved. This material may not be published, broadcast, rewritten, or redistributed.  However, linking directly to the articles is permitted and encouraged.