On the heels of gold and silver surging, Peter Schiff says investors should brace themselves for the ride back up to $50 silver, plus many other looks at the gold and silver rally. 
Silver Above $18
August 27 (King World News) – Peter Schiff:  "Hi Ho silver, finally breaking above $18 per once today, on its way to $20. Once it breaks above that level, brace yourself for the ride back up to $50, and then beyond. It may be bumpy, but it will be worth it. The strength in silver is also a very good indicator for gold."
Insiders Selling $600 Million Of Stock Sold Each Day In August
Sven Henrich:  "Corporate insiders have sold an average of $600 million of stock per day in August, according to TrimTabs Investment Research."
Gold/Silver Ratio Breaks Lower!
Ole Hansen, Head of Commodity Strategy at SaxoBank:  "XAUXAG (Gold vs Silver ratio) breaking lower with gold stuck at $1530 while Silver continues to rally towards our $18.37/oz initial target. Silver probably being helped by copper where short-covering has emerged following Friday's failed sell-off. (See below).
SILVER TO OUTPERFORM GOLD: Gold/Silver Breaks Down In Favor Of Silver!
Bullish For Gold & Silver
Ole Hansen, Head of Commodity Strategy at SaxoBank:  "Gold's high-volume jump on Friday was followed by a low-volume retracement yesterday. China is ignoring all overtures by Trump and o/n fixed the CNY 240 pips higher at 7.081 (Now at 7.16). These developments support precious metals with Silver above $17.50 => $18.37…
---
ALERT:
Mining legend Ross Beaty (Chairman Pan American Silver) is investing in a company very few people know about. To find out which company CLICK HERE OR ON THE IMAGE BELOW.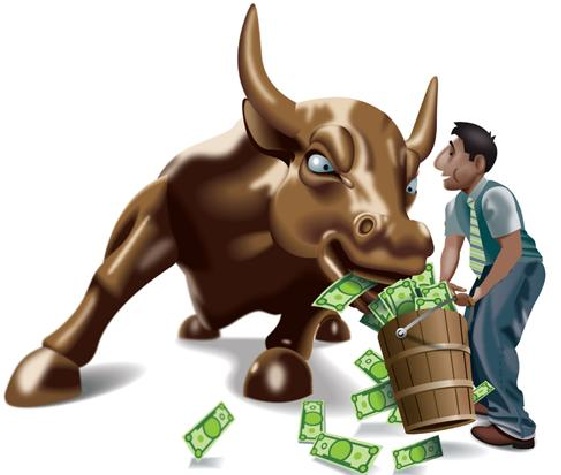 Sponsored
---
Big Picture
Ole Hansen, Head of Commodity Strategy at SaxoBank:  "The small price setback in gold and silver did nothing to dampen the bullish sentiment during the wk to Aug 20. The spec. long in gold rose by 7k lots on a combination of short-covering and fresh longs while the 27% jump in silver longs was primarily driven by short-covering. (See below).
Managed Money Heavily Long Gold
Managed Money Has More Room To Go Long Silver
Silver Is On A Tear
Jeroen Blokland:  "The price of silver is up more than 3% today! (See below).
Price Of Silver Surging More Than 3% Today!
Silver Attacks "Thin Zone"
Graddhy out of Sweden:  "We are now already up against that 18 level. We ought to get some kind of small pull back here and then we watch. As described many times previously, massive thin zone starting at circa 18, as I see it. (See below).
Silver Is Now Attacking Its "Thin Zone" Between $18 & $21
ALARMING: Big Trouble For The World, Plus Gold & Silver
READ THIS NEXT! ALARMING: This Spells Big Trouble For A World Already In Crisis, Plus Gold's Next Target And Hi-Ho Silver CLICK HERE TO READ
To listen to one of James Turk's best audio interviews ever that has just been released CLICK HERE OR ON THE IMAGE BELOW.
In the meantime, other important releases…
This Will Trigger Even Higher Gold Prices CLICK HERE TO READ
Gold Hits All-Time High, Plus Keep Your Seatbelt Fastened CLICK HERE TO READ
Greyerz – The World Is Minutes From Total Collapse As Panic Across The Globe Escalates CLICK HERE TO READ
Trey Reik – A Perfect Storm Of Events Is Igniting The Gold Price CLICK HERE TO READ
© 2019 by King World News®. All Rights Reserved. This material may not be published, broadcast, rewritten, or redistributed.  However, linking directly to the articles is permitted and encouraged