As we kickoff the final week of trading in March, one of the top money managers in the world told King World News that China has just launched a global game-changer that will lead to $20,000 gold and a gold-backed yuan and monetary system.  There is also a dire warning.

China Launches Global Game-Changer
(King World News) – Dr. Stephen Leeb:  "Oh, the irony of it. President Trump may go down as the president who solved America's trade problems. But it won't be because of tariffs or strong-arming our trading partners…
---
IMPORTANT:
To find out which company is the #1 junior mining takeover target in the world that the
biggest money on the planet is lining up to buy – CLICK HERE OR BELOW

Sponsored
---
Dr. Stephen Leeb continues:  "Rather it will come from China speeding up the transition to a new reserve currency, likely a basket of currencies backed by gold, creating a gold-centered monetary system. China has been carefully laying the groundwork to give it the wherewithal to define such a new reserve currency that will hold sway in the East, if not globally. And with China not only the world's largest trader but also the possessor of a military that can shield its Eastern trading partners (see below), its abilities are not in doubt.
China Oil Is Now Trading With A Gold-Backed Yuan
Mark the date: Today the new Eastern oil benchmark Began trading in Shanghai. Oil suppliers are now able to hedge their yuan with gold futures, whose settlement will be in gold. In effect, oil is now trading with a gold-backed yuan.
Signs that China wants to accelerate yuan- and gold-backed trading well beyond oil appeared in an article in the South China Post in late February. The article quoted Cheung Tak-hay, president of the Hong Kong Gold Exchange, as saying:
"Hong Kong's gold exchange is in talks with Singapore, Myanmar and Dubai to establish a gold commodity corridor to promote yuan-denominated products under China's Belt and Road Initiative. The gold commodity corridor… could connect the proposed bonded warehouse in Qianhai with commercial users and precious metals traders in the countries along the Belt and Road."
1,500 Tonne Gold Warehouse In Free Trading Zone
Qianhai is part of a free trading zone in Shenzhen and Hong Kong. The bonded warehouse, according to the article, will be able to store 1,500 tonnes of gold. Custodial and physical settlement services will likely begin within the next several months.
Trump's stance on trade policy is helping to push China's move to extend trading well beyond oil. So far these amount to slapping tariffs all in the name of "national security" (talk about irony). The claim is that the U.S. economy and military can't be secure if the country doesn't produce enough of its own steel. And so President Trump announced the tariffs will hurt reliable allies while having a far lesser impact on China, whose trade practices Trump has repeatedly slammed. The tariffs were then modified to exempt Canada and Mexico, at least for now, but still apply to many other U.S. allies.
The Real Danger
But the real danger would come from an all-out trade war. PBOC chairman Zhou has often noted the downside when a sovereign nation has the world's reserve currency. Either the currency is overvalued, leading to that country running large trade deficits. Or else (if the issuing country seeks to avoid this by limiting the supply of its currency), world growth will suffer.
Don't get me wrong: I'm not claiming that China and other trade partners play fair. I am saying that the only way the U.S. can challenge the trade deficit is through a major slowdown in world growth or by giving up the dollar's role as a reserve currency. The dollar is sharply overvalued and will remain overvalued as long as it is the world's reserve currency.
I see China as urgently seeking a way to avoid the kind of economic collapse a trade war might entail. We are our own biggest threats to our national security, not just by risking a trade war that would inflict massive damage to the world's economy, but also because of our own specific vulnerabilities. especially and surprisingly in the military arena. U.S. ignorance and complacency concerning these threats is breathtaking.
China Could Bring The U.S. To Its Knees
The relevant adage is that if you live in glass houses, don't throw stones. Any trade penalties we impose on China, while no doubt causing some pain, would come nowhere near to crippling China's economy. But if China responded in kind, it could bring the U.S. to its knees. The reason: While Trump is focusing on steel and aluminum, China along with some other countries controls resources — in particular rare earth metals — far more vital to our military and our security.
Each year the U.S. Geological Survey (USGS), the agency charged with providing data and analysis of natural resources and hazards, publishes a yearbook detailing the world's reserves, resources, and production of commodities and minerals. Over the past two decades the reports have become ever more dismal reading. Once largely resource-self-sufficient, the U.S. has become ever more dependent on other countries, some of which, including China, could easily be turned into foes. No one can argue that it's smart, or a boon to national security, to have to depend on your enemies for critical resources.
Air Force General Robert Latiff Issues Dire Warning
I have talked about rare earths before. Indeed my 2011 book "Red Alert" was in part an effort to alert America to the danger arising from our growing lack of access to these metals. In the seven years since then, we've done nothing to face up to our deficits. In his 2017 book "Future War", retired U.S. Air Force General Robert Latiff wrote:
"Ever-smaller and more capable personal electronics…depend critically on rare earth metals…More worrisome from a weapons standpoint, rare earth metals are ubiquitous in high-performance aircraft, missiles, and advanced electronics."
Perhaps more frightening in view of recent military assessments is his comment:
"Rare earth magnets enable control of fins on highly maneuverable and very-high-speed missiles."
China's Hypersonic Missiles
China has developed hypersonic missiles that can fly at five or more times the speed of sound and are exceedingly difficult to detect or counter. They have the potential, without a nuclear payload, to bring down an aircraft carrier.
A report by the National Academy of Sciences, commissioned by the U.S. Air Force in 2016, noted that when it comes to such technologies:
"(this country's) absence of a clear acquisition pathway… stands in stark contrast to potential adversaries' feverish pace of research and development…Their investments have been significant… and their accomplishments in some cases startling."
To which I can add that without rare earths, "a clear acquisition pathway" does not exist. The fact that the report was written in 2016 and that in the two years since then nothing has changed is more than enough to keep me up at night.
More recently two major think tanks, the RAND Corporation and the International Institute for Strategic Studies (IISS), have released wide-ranging reports on U.S. defense capabilities. The RAND report asserted that U.S. forces are "failing to keep pace with the modernizing forces of great power adversaries" and are "poorly postured to meet key challenges in Europe and East Asia."
China Has Already Achieved Its Goal
The IISS report makes similar comments. For example, it asserts:
"China's emerging weapons developments and broader defense-technological progress are designed to further its transition from 'catching up' with the West to becoming a global defense innovator: in some areas of defense technology, China has already achieved its goal."
To which I can add that these assessments come from what can be seen, not from what China may be hiding, which could be a helluva lot.
I'm not asserting that any loss of our military supremacy is due solely to a lack of supply of rare earths, cobalt, and other critical commodities that China virtually controls through natural endowment and/or its refinery capacity. But it should be obvious that it's dumb, and against our national security interests, to do anything that risks restricting our access to these key materials. In other words, a trade war risks not only the world's economy but also our own ability to defend ourselves as well as produce high-quality consumer equipment.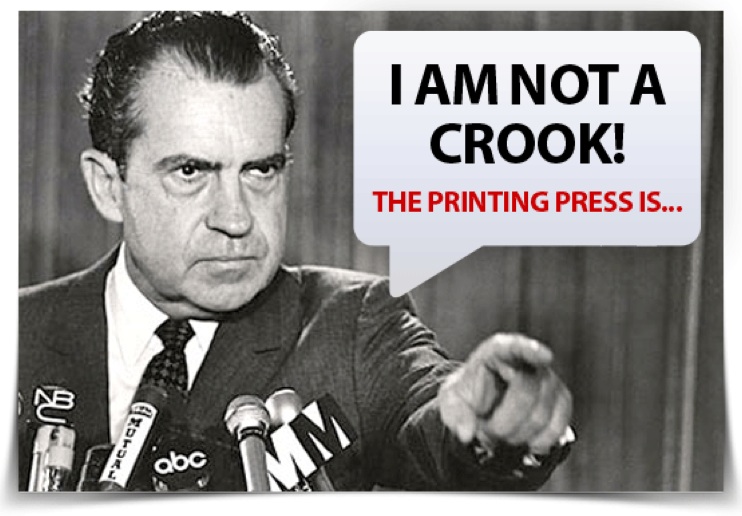 The less than enviable position in which we find ourselves didn't start with Trump or Obama or Bush. Rather it traces all the way back to when Nixon took us off the gold standard in 1971 and to the short-sighted policies that flowed from that unfortunate decision. It has left us nearly half a century later hoping that a new version of a gold-centered monetary system will bail us out.
$20,000+ Gold
That will propel gold far higher. And if China somehow doesn't succeed, that would likely mean major geopolitical turmoil – in which case, gold, again, is what you'd want to own. Gold is getting ready for an upleg of staggering strength and duration. Eric, the price of gold is headed at least to $20,000 and possibly higher, and KWN readers around the world should not be on the sidelines anymore — it's too late in the game for that because time is running out.
Here is one of those great opportunities in the gold market that Stephen Leeb is talking about…
I Recently Purchased Nearly $300,000 Of This Stock
Eric King:  "I recently purchased nearly $300,000 of stock in your company because I believe it will be one of the big performers in 2018.  You have not one, but 3 properties (projects) that various companies and entities want to acquire and that puts you in the drivers seat in terms of being one of the best performing stocks this year as your company moves to monetize and increase the value of those assets dramatically."
This May Send Our Share Price Multiples Higher
Ivan Bebek, CEO of Auryn Resources:  "The financing we just closed guarantees that Auryn will be funded for 2018, a year in which a series of catalysts could send our share price multiples higher than what is being quoted today, especially if the gold market performs.  
A Junior With The Scale Of A Major
And yes, the scale of our gold exploration upside is unparalleled in the industry based on the amount of prospective real estate we have and are currently exploring.  Auryn is pursuing multiple significant gold discoveries.  We look at our company as a junior with a majors exploration portfolio backed by a majors exploration team.  We are about to get access to our Sombrero Project in Peru, which is the best pre-drilling prospect we have seen in our careers based on gold and copper grades on surface along more than a 30 kilometer trend.  We also have over 420 kilometers of prospect gold greenstone belts in Canada and over 100,000 hectares of prospective land in Peru.
Goldcorp Just Increased Its Investment Stake In Auryn Resources
The recent downturn in the gold equities and lack of discoveries has set the stage for substantial investor returns when the next discovery is made and we believe Auryn Resources will make that major discovery.  The bottom line is that Goldcorp did not invest in Auryn to help the company finance mines.  Goldcorp invested in Auryn to help the company find mines that they would eventually acquire.  There are two types of mines that you can find, one that makes investors money and one that makes investors rich, and Auryn has both of those opportunities in its portfolio." For those of you who have not yet acquired a stake in this high-quality company, now is the time. Auryn Resources stock symbol AUG in Canada & the US.

ALSO RELEASED: Greyerz $33,750 Gold And $575 Silver And The Biggest Wealth Destruction In History CLICK HERE TO READ.
© 2018 by King World News®. All Rights Reserved. This material may not be published, broadcast, rewritten, or redistributed.  However, linking directly to the articles is permitted and encouraged.