With the price of gold surging above the $1,900 level, massive gold & silver breakouts have been unleashed!
Gold Breakout
January 12 (King World News) – Graddhy out of Sweden:  Gold has risen 550% vs GBP last 15 years, see earlier posted parabolic chart (pink line below).
The chart below shows it has now broken out above its 2 year consolidation. Means its next depreciation phase has now started.
Gold Has Broken Out On The Upside In British Pounds!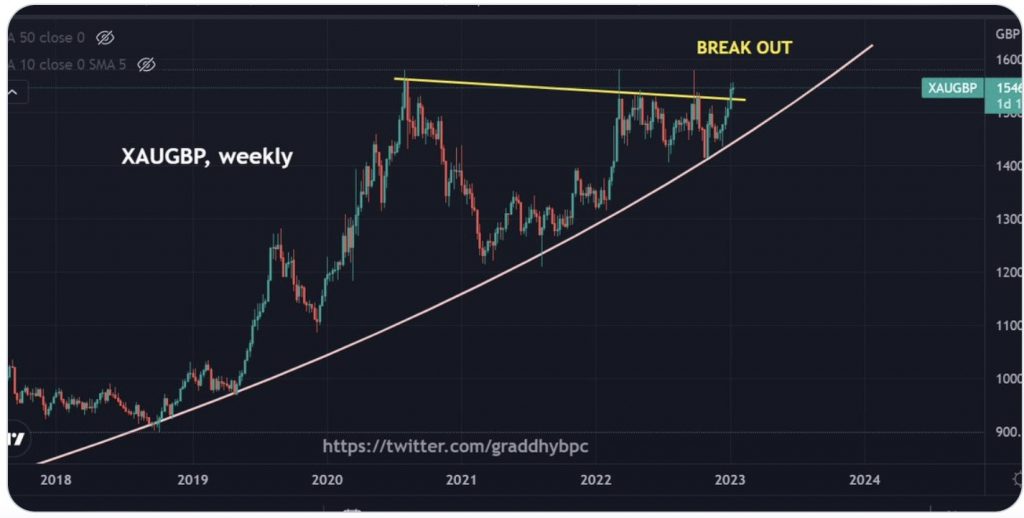 Another Gold Breakout
Graddhy out of Sweden:  The gold break out in Chinese Yuan from its 2 year consolidation looks very strong, with blue rising wedge right after break out.
Geopolitics with, for example, Saudi Arabia in play.
As expected, commodities are at the core of very big change.
This Is An Extremely Powerful Breakout For Gold Priced In Chinese Yuan!
The Chinese Have Been Buying Massive Quantities Of Gold Which Is Helping To Fuel The Breakout!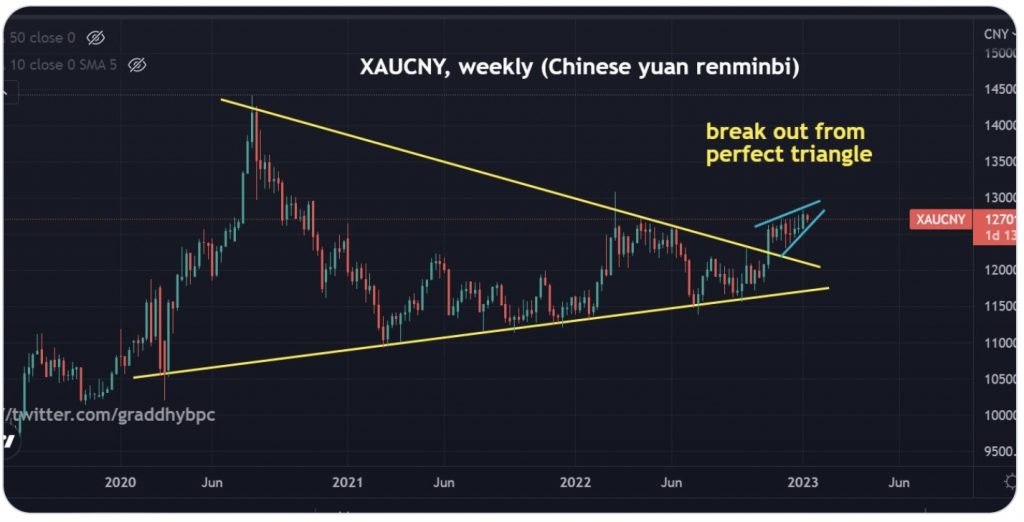 Silver
Graddhy out of Sweden:  Silver is still stair-stepping up right side of the green rounded bottom.
…Said before yellow break out: "That very probable yellow inverse head & shoulders looks like a launch pad."
Pink triangle sitting just below big break out blue level.
Silver Stair-Stepping Higher In "Launch Pad" Formation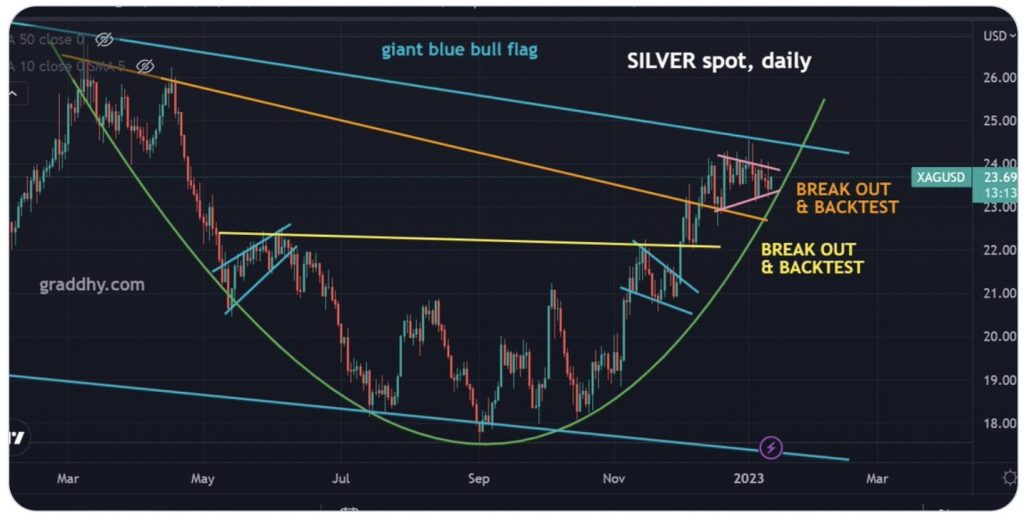 Silver Breakout
Graddhy out of Sweden:  So silver priced in euros now has a big break out. And it is now backtesting.
Next upleg has started.
Silver Priced In Euros Just Broke Out!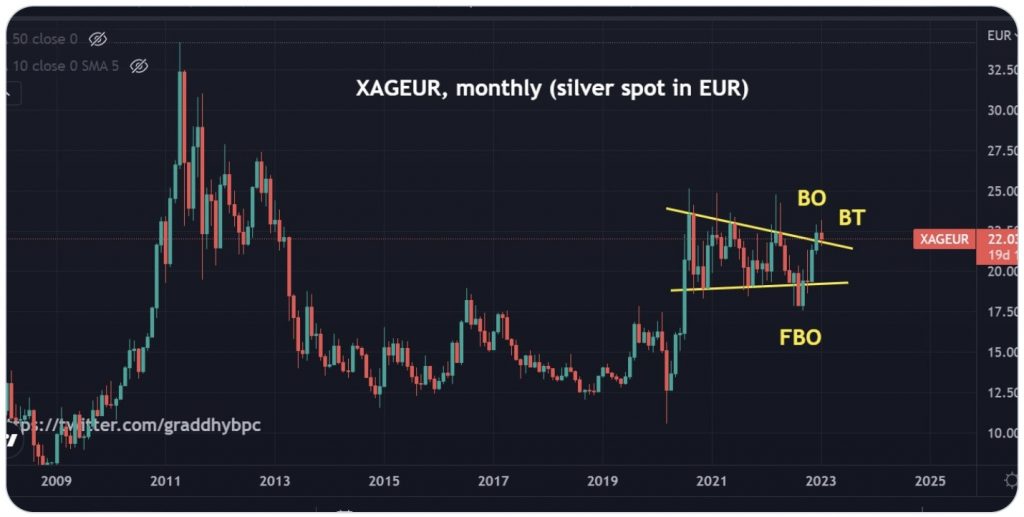 Also of importance…
Eric King:  "Simon, I think some people were stunned by the announcement this morning from IAMGOLD stating that their Nelligan Project now has a monster 5 million ounce resource. This is only 9 kilometers from your property, and as you already know, you are rapidly expanding your resource with the continued solid drill results your team continues to deliver."
Simon Marcotte:  "Yes, Eric, that announcement makes this camp very, very real and has put this camp on the map in a big way. A 5 million ounce deposit like this increases the value of the ounces surrounding it in a big way. We continue to be impressed by the results from the 2022 drill program. Results continue to show high-grade gold over considerable widths along strike and down dip. We still have a lot of drill results to come. We remain on track for an updated resource estimate on Philibert in the next few months, which we trust will establish Philibert as a pillar of this rapidly emerging gold camp.
Keep in mind that in 2022, Norther Superior consolidated pretty much everything surrounding Nelligan, once again increasing the value of those ounces as they can ultimately be part of an integrated mine plan.
The year ahead promises to be a busy and exciting year. Not only do we still have 23 holes pending from the Philibert program, but results from the recently completed drilling campaigns at Lac Surprise and Croteau Est, cumulating over 19,000 metres, will also provide for significant news flow in the weeks and months ahead, leading to the resource calculation on Philibert. Northern Superior Resources, symbol SUP in Canada and NSUPF in the US.
---
ALSO JUST RELEASED: 2023 Is Going To Be A Wild Ride For Gold And Currency Markets CLICK HERE.
ALSO JUST RELEASED: SIDELINE MONEY IN THE TRILLIONS: Commodities & Gold Will Go On A Tear CLICK HERE.
ALSO JUST RELEASED: Silver "Rocket Ship" Breakout Is So Close CLICK HERE.
ALSO JUST RELEASED: "Debt Spiral For Borrowers" For Car Buyers, Good News & Bad News For Gold Short Term CLICK HERE.
ALSO JUST RELEASED: James Turk: This Is About To Trigger The Next Major Move For Gold & Silver CLICK HERE.
ALSO JUST RELEASED: SPROTT: Gold And Mining Shares Are Severely Under Owned CLICK HERE.
ALSO JUST RELEASED: Greyerz Just Warned Investors To Prepare For A Hyperinflationary Collapse CLICK HERE.
ALSO JUST RELEASED: Greyerz – The Clear Path For The World Is Now Full-Blown Collapse CLICK HERE.
© 2023 by King World News®. All Rights Reserved. This material may not be published, broadcast, rewritten, or redistributed.  However, linking directly to the articles is permitted and encouraged.