Today the man who has become legendary for his predictions on QE and historic moves in currencies and metals told King World News that investors need to prepare for a hyperinflationary collapse.
Each week Egon von Greyerz articles are published first on King World News
MAJOR MOVES IN MARKETS
January 9 (King World News) – Egon von Greyerz, Managing Partner of Matterhorn Asset Management continues in part 2 of his powerful two part series:  I will now cover what I see in markets in 2023 and coming years.
Stocks have had a major down year globally. This is just the beginning of the extreme overvaluation based on printed money. I would be surprised if stocks on average decline by less than 90% in real terms. The measure for real terms is of course gold.
It will not be a straight line fall and many investors will buy the dips until they have exhausted most of their wealth.
Bonds will probably perform even worse than stocks. Many borrowers, both sovereign and commercial, will default.
The 40 year decline in interest rates has finished. Central banks will lose control of the interest markets as investors panic out of bonds.
The combination of high inflation, collapsing currencies and defaults on a massive scale will turn the bond market into a historic horror story…
---
Listen to the greatest Egon von Greyerz audio interview ever
by CLICKING HERE OR ON THE IMAGE BELOW.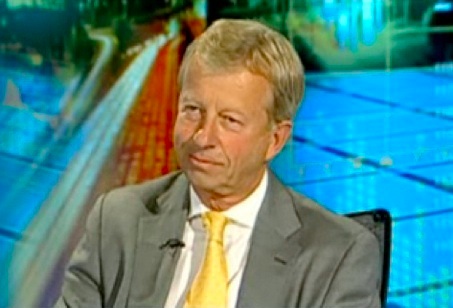 ---
The bond equation is simple:
Hyperinflation + Currencies going to Zero + Defaults = BOND VALUE ZERO
Good luck to bond holders. They will need it.
Investment properties will also fare badly. Low interest rates and unlimited credit have created a bubble of historic proportions.
In many countries it has been possible to borrow up to 15 year money at 1% or less. Anyone who didn't take advantage of free money will regret it badly. The risk reward calculation was obvious. At 1%, rates could only go to zero which is a 1% fall. On the other hand rates could go to 20%+ like they did in the 1970s.
Falls of 75-90% in real terms will be commonplace in the property market.
If you have no mortgage or a low one at a fixed rate, don't worry. But just look at it as an abode and not an investment. 
Lastly and most importantly let's look at GOLD.
We invested heavily into gold in early 2002 at $300 for ourselves and the investors we advised. This was based on our risk assessment of the financial system and a gold price which had declined for over 20 years. We were certain that gold was undervalued at the time and also that it was the ultimate wealth preservation investment.
Since that time we and our clients have not ever worried one day about our gold holdings.  As a matter of fact, gold today in relation to money supply is cheaper than in 2002 and therefore represents superb value.
The Start Of Another Golden Era
2023 will be the start of another gold era. The circumstances are perfect for this.
Back in mid September I tweeted that gold was bottoming when the price was $1665 and that we would see $2,000 at least in 2022. Well as I often say, forecasting is a mug's game and we are "only" at $1,860 today. See graph below which was Tweeted.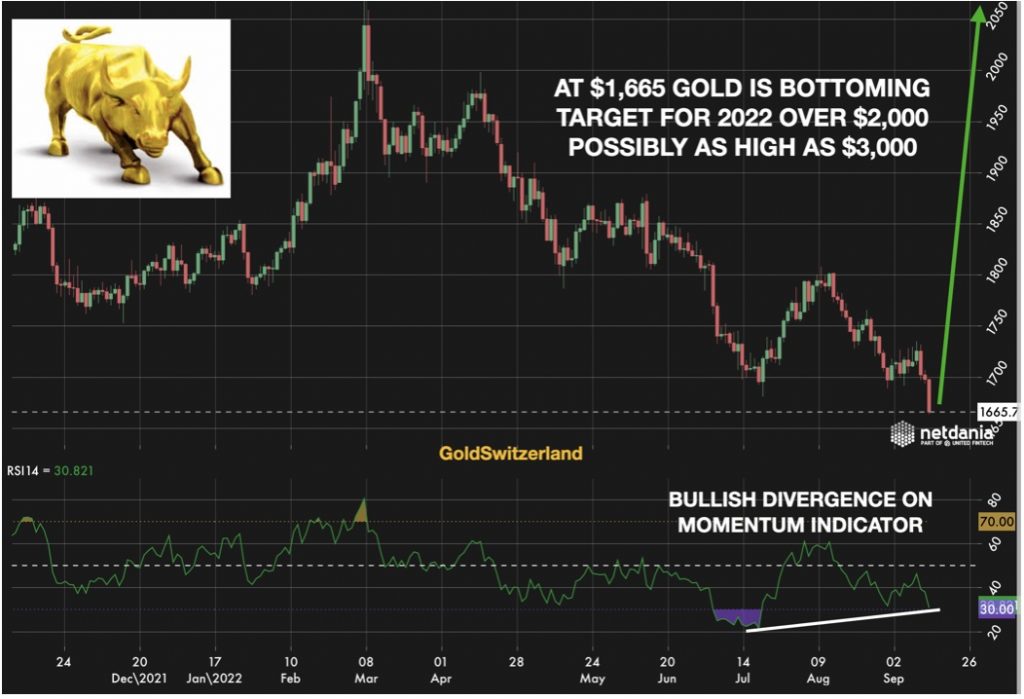 When you are looking at the two nuclear risks discussed in part 1, the gold price becomes irrelevant. Physical gold is the ultimate wealth preservation investment. The value should be measured in ounces or kilos and not in ephemeral currencies.
Gold is likely to reach levels that no one can imagine today. But to forecast a price in paper money serves no purpose without defining the purchasing power of the fiat money at some future point.
Gold is the metal of kings and should be the primary wealth preservation holding. Silver has a massive potential but is much more volatile and much bulkier.
It is extremely important how gold is stored. The principal part of your gold holding should be outside your country of residency. You should be able to flee to your gold.
Do not store gold at home. With crime rates surging globally and likely to go up much further, it is extremely unwise to store gold at home. Add to that likely social unrest in most countries, whatever valuables you store at home are at risk, however well hidden you think they are.
There is no perfect country to store gold today. The world has become a generally unsafe place. Our company has carried out a major review of the best countries to store gold globally. This will be published at some future point.
Switzerland is still one of our favourites. The combination of the political system, history and 70% of gold bars being refined in Switzerland plus most private gold being stored here, makes it an obvious choice.
Our company also has a major advantage in being able to offer the only private vault which is nuclear bomb proof and can operate fully under any such circumstances. We also offer full data backup even against EMP risks (Electro Magnetic Pulse). I am not aware of anyone in our industry that offers this protection.
To summarise (parts 1 and 2), the risks today are greater than anytime in history. A full nuclear war between the US, Russia and China is the end of mankind and no one can protect against this kind of event.
But there are more limited situations, whether nuclear or with conventional weapons which necessitate the best protection possible of your wealth preservation asset.
Let's hope that a major nuclear war will not take place. In any case, there is very little we can do about it.
The financial nuclear risk is very real and also very likely to be triggered in my view. Anyone who has the ability has a responsibility to organise protection against this risk as discussed in this 2 part article.
Finally, remember that in periods of crisis family and friends is your most important protection. Helping others will be essential in a coming crisis…This will link you directly to more fantastic articles from Egon von Greyerz CLICK HERE.
ALSO JUST RELEASED: Greyerz – The Clear Path For The World Is Now Full-Blown Collapse CLICK HERE.
***To listen to Alasdair Macleod discuss what is happening in Asia as well as what Russia is up to in the gold market along with what surprises to expect as we kickoff 2023 CLICK HERE OR ON THE IMAGE BELOW.

© 2023 by King World News®. All Rights Reserved. This material may not be published, broadcast, rewritten, or redistributed.  However, linking directly to the articles is permitted and encouraged.