With everyone wondering what surprises are in store for 2023, many investors don't realize the silver "rocket ship" breakout is so close. Plus a look at two sectors that should power forward this year.
Got Silver?
January 11 (King World News) – Patrick Karim:  While everybody is talking recession, the chart is telling me something else.
Got silver?
Once we close above $28, then all-time highs within 6 months.
Break Above $28 Triggers Move To New All-Time High Within 6 Months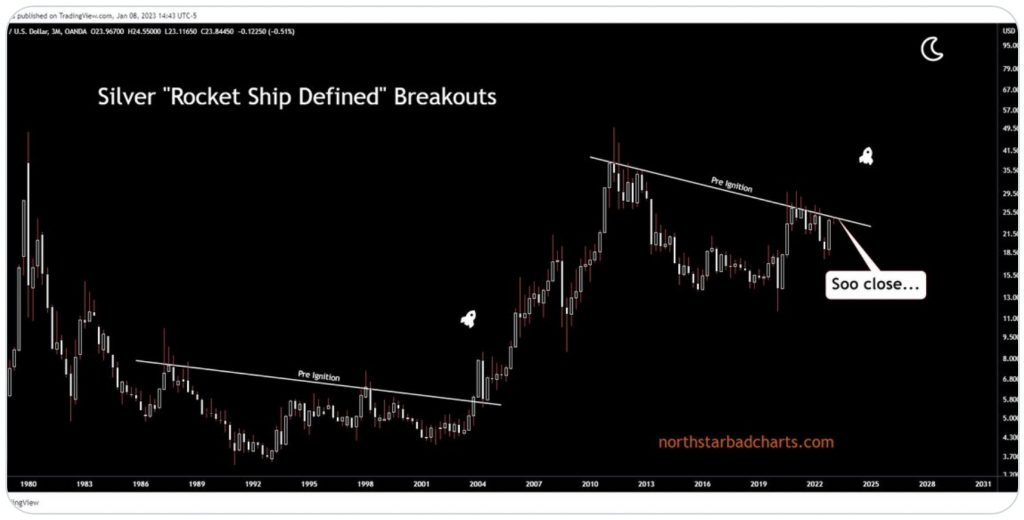 northstarbadcharts.com
FROM RUST BELT TO BATTERY BELT
Gerald Celente:  States and localities that lost manufacturing jobs to Asia in past decades are getting some back now as the U.S. battery industry flourishes.
The effort is fertilized by $2.8 billion in grants from the U.S. energy department, allotted under the bipartisan Infrastructure Investment and Jobs Act, to create a domestic battery industry.
The agency's effort is complemented by president Joe Biden's American Battery Materials Initiative, which mobilizes federal agencies to secure reliable sources of the minerals needed to make batteries.
The initiative is intended to develop enough lithium to power at least two million electric vehicles yearly and boost domestic production of graphite and nickel.
Among projects under development:
FREYR Battery, a Luxembourg company, will invest more than $2.5 billion to build a battery plant and create more than 700 jobs by the end of this decade in Coweta County, Georgia. Battery plants are already at work or being planned in four other Georgia counties.
Hyundai has broken ground for a $5-billion battery-making facility in South Carolina, where BMW and Volvo already have battery plants. Redwood Materials is about to begin construction of a $3.2-billion battery recycling facility outside Charleston, South Carolina.
Form Energy has partnered with the state of West Virginia to build a battery factory in Weirton, a town once known for making steel. The $760-million plant is projected to employ at least 750 people before 2025. 
Ford and SK Innovation, a South Korean energy company, have formed a joint venture called BlueOval SK that will make batteries in the U.S.
Stellantis, which owns the Chrysler and Fiat brands, is building a battery factory in Kokomo, Indiana, where it already makes internal combustion engines. Samsung also has announced plans for a battery facility in the state.
U.S. battery maker KORE Power is planning a two-million-square-foot battery complex in Buckeye, Arizona, that will turn out up to 12 gigawatt-hours' worth of lithium-ion battery cells annually, putting "thousands" of people to work, the company says.
The energy department has loaned $2.5 billion to Ultium Cells LLC, a joint venture between General Motors and LG Energy Solutions, to construct battery plants in Michigan, Ohio, and Tennessee. The three plants are projected to create 6,000 construction jobs and 5,100 in plant operations, including at least 700 United Auto Worker slots in the new Warren, Ohio, factory.
The Biden administration has committed more than $128 billion to investments in battery plants for electric vehicles, recycling facilities for EV batteries, and EV manufacturing plants.
TREND FORECAST:
As we said in "Climate Change: Going Green, Like it or Not" in our 3 Jan 2022, Top Trends issue, green energy will be a primary investment and OnTrendpreneur® opportunity of the century. As companies and governments invest more in alternative energies, new ones will be developed beyond what currently exist.
Among them, more advanced battery systems for electric cars are being developed to replace the batteries that are based on 1800s technologies. We have detailed several such innovations in articles such as "Million-Mile EV Batteries Coming Soon", "Breakthrough in Massless Batteries", and "Next-Generation EV Batteries Cut Weight, Extend Range", among others.
We will continue to keep readers at the edge of new battery technologies in our Trends in Hi-Tech Science section.
Also, as Gerald Celente has noted, if governments invested research and development into alternative energies rather than the hundreds of trillions they spent on wars and to enrich the military/industrial/surveillance complex… not only would we have Peace on Earth, we would have an abundance of clean energy products and services…
---
To Find Out Which Uranium Company Is Positioning Itself To Become A Powerhouse In Nevada Click Here Or On The Image Below.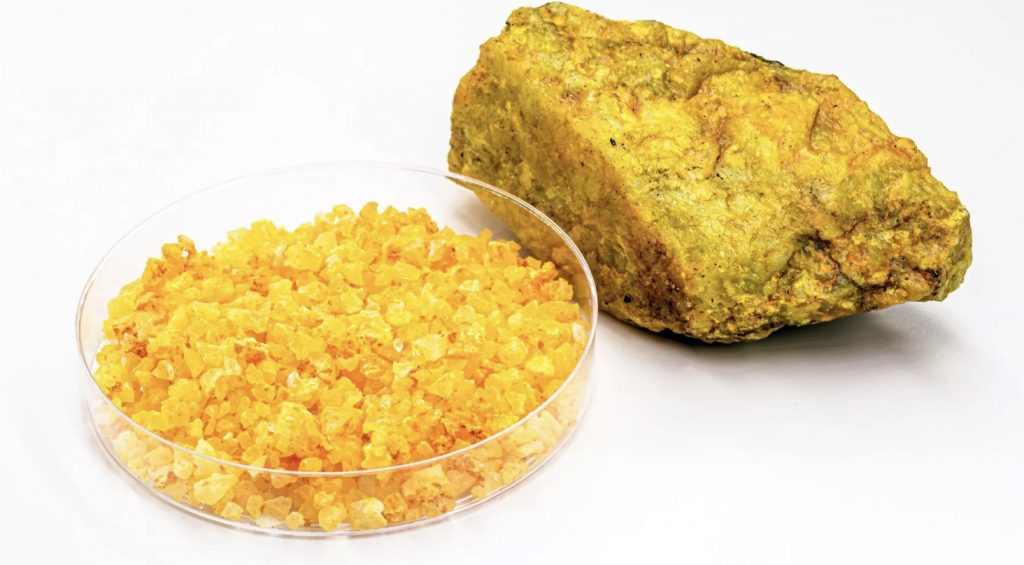 ---
COMPANIES IN GERMANY, NORWAY PARTNER IN NUCLEAR DEAL
Equinor, Norway's state-owned energy company, will partner with German utility giant RWE to build new electricity generating plants in Germany.
The new plants first will burn natural gas, then be fueled by hydrogen distilled from natural gas. This second phase will incorporate carbon capture and long-term storage.
Ultimately, the plants will be powered by "green hydrogen" made from renewable sources, probably water.
The two firms also will cooperate in developing battery technologies and offshore wind farms, they said.
"The energy crisis has heightened Norway's importance as a reliable supplier of gas to Europe but also underscored the need to accelerate the transition to renewable energy," Jonas Støre, Norway's prime minister, said in a statement announcing the partnership. 
"The collaboration has the potential to develop Norway into a key supplier of hydrogen to Germany and Europe," Equinor CEO Anders Optedal added.
"This is an opportunity to build a hydrogen industry in Norway where hydrogen can also be used as a feedstock to domestic industries," he noted.
Norway is now Europe's largest single supplier of natural gas after Russia slashed gas exports to Europe in the wake of the Ukraine war and resulting Western sanctions.
Norway also is positioning itself as a friendly alternative energy supplier to Europe, in contrast with Asian and Middle Eastern dictatorships, the Financial Times noted.
Gassco, a Norwegian pipeline operator, says it will build a hydrogen pipeline to Germany by 2030. 
Germany itself has targeted production of enough hydrogen by 2030 to generate 14 terawatt-hours of electricity, which would be about 15 percent of current demand.
COAL PRODUCTION, PROFITS JUMP AS WORLD SCRAMBLES FOR FUEL
In 2022, the world's 20 largest coal mining companies tripled their collective profits to $97.7 billion as the world ran short of fuel, especially after the West embargoed Russia's seagoing fossil fuel exports, including coal; Russia cut off almost of its natural gas exports to Europe; and Europe curtailed its imports of Russian oil.
Profits totaled $28.2 billion during 2021, the Financial Times reported.
In Europe, the benchmark price for high-grade coal last year was $295, double its average price the year before and four times the cost from 2010 through 2020, the FT noted.
The price rose on the tail of soaring natural gas prices, which shot up by four to seven times across Europe in 2022.
Globally, coal demand increased by 1.2 percent last year to an all-time record volume, according to the International Energy Agency.
Australia's BHP booked a 33-fold increase in profits last year, from $288 million at the end of June 2021 to $9.5 billion in the following 12 months. Glencore saw its coal earnings climb from $1.2 billion to $13.2 billion.
The surge in global demand benefited companies shipping coal internationally more than it did miners producing for domestic markets, the FT said. 
TREND FORECAST:
Many nations that turned to coal last year to make up fuel shortfalls did so reluctantly: they had to shelve plans for accelerating their shift to renewable energy sources.
Those green ambitions remain, meaning that coal's place in the global fuel matrix will shrink again as 2022's fuel crisis eases and the irreversible shift to green energy, one of our Top 2023 Trends, will continue.
ALSO JUST RELEASED: "Debt Spiral For Borrowers" For Car Buyers, Good News & Bad News For Gold Short Term CLICK HERE.
ALSO JUST RELEASED: James Turk: This Is About To Trigger The Next Major Move For Gold & Silver CLICK HERE.
ALSO JUST RELEASED: SPROTT: Gold And Mining Shares Are Severely Under Owned CLICK HERE.
ALSO JUST RELEASED: Greyerz Just Warned Investors To Prepare For A Hyperinflationary Collapse CLICK HERE.
ALSO JUST RELEASED: Greyerz – The Clear Path For The World Is Now Full-Blown Collapse CLICK HERE.
***To listen to Alasdair Macleod discuss what is happening in Asia as well as what Russia is up to in the gold market along with what surprises to expect as we kickoff 2023 CLICK HERE OR ON THE IMAGE BELOW.

© 2023 by King World News®. All Rights Reserved. This material may not be published, broadcast, rewritten, or redistributed.  However, linking directly to the articles is permitted and encouraged.